Tour de France 2021 – Stage 6 preview
By David Hunter
Tours > Châteauroux 160.5km
Another one for the sprinters.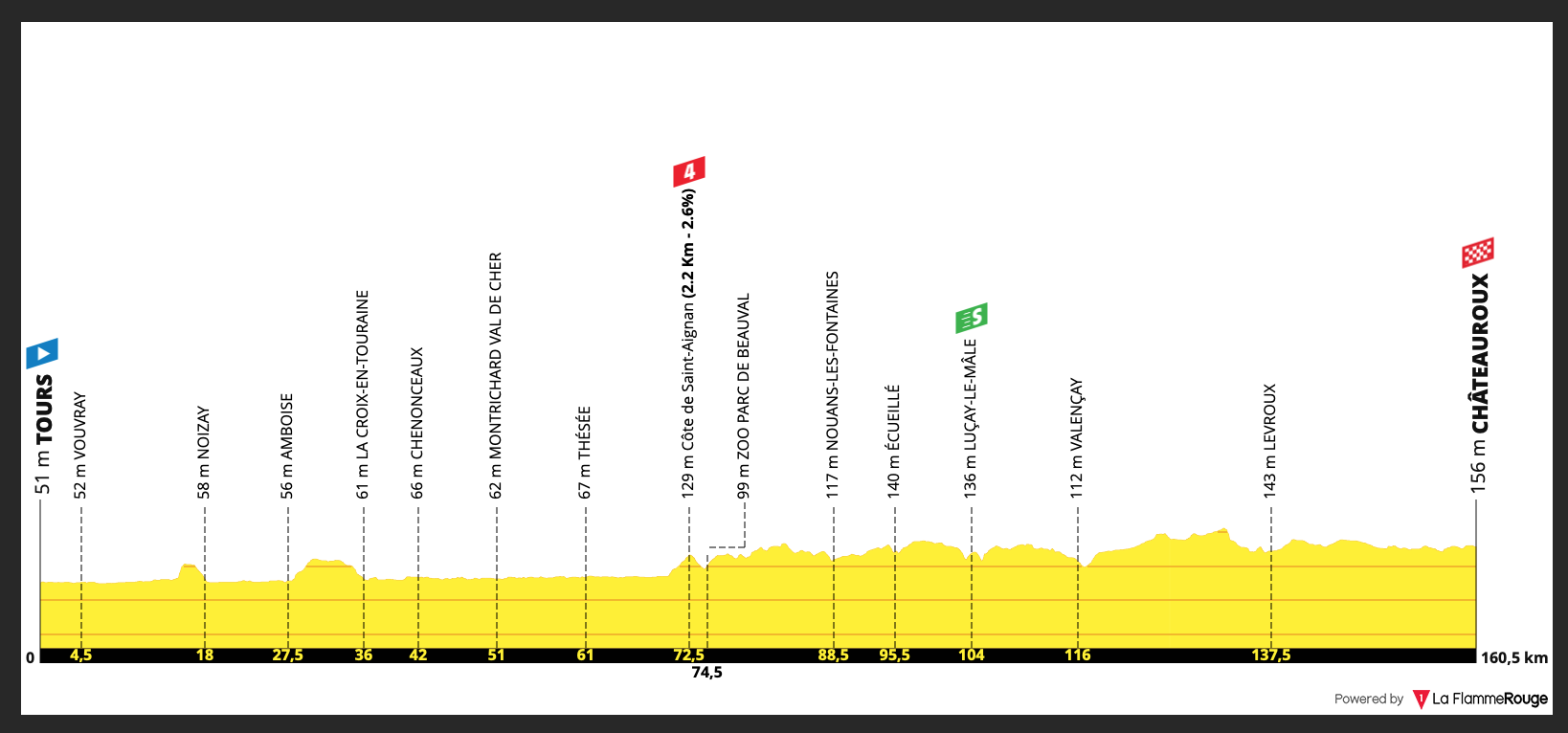 The only thing that could stop the sprinters would be potential echelons as the bunch approach the finishing town via an exposed piece of road, but what do the weather Gods say?
Weather
Sunny and only a light wind. There will still be some nerves as the bunch head south to the finish, but the wind isn't strong enough and is coming too much from the north to cause splits, this will be a big sprint finish.
Finale
The approach road is relatively narrow, it's a standard two-lane road, but it does widen at points making it possible to move up the bunch. I would favour getting to the front nice and early, it's easier to hold that position than try and move up.
Roundabout with 4km to go. Only the left-hand side is open, which means the bunch will be funnelled into a single line.
3.5km to go, a fast left turn at the roundabout.
3.3km to go, only the left-hand side of the roundabout is open.
Left turn with 2.2km to go.
Fast right-hand turn with 1.6km to go, then it's straight to the line. The finish is quite technical from 4km to 3km, but then gets easier. The finishing straight is wide enough to move up if you have a poor position and it's a tailwind sprint.
Stage 4 Debrief
It was a funny finish on Tuesday, one that the bunch almost made a mess of. Alpecin-Fenix did a great job of controlling the final 500m, but Merlier launched Philipsen with 200 to go, remember it was a headwind and uphill finish, no way Philipsen could win going from 200.
Team DSM impressed, they controlled much of the final 5km, having a long sprint train will always give them an advantage over the other teams at this race.
Cav won, but he had to do a fair bit of work himself. The issue was that Ballerini had a mechanical, but they still had Alaphilippe willing to take a big pull and get them to the front at the right time.
Groupama – FDJ were the big losers, in my opinion. They have such a well-established sprint train; I really was surprised by their decision to leave Sinkeldam at home. This decision has been made worse by the abandon of Konovalovas, they now look short-handed. Rewatching the sprint they had a terrible position with 2km to go, but Scotson put in an enormous pull and got both he and Guarnieri to the front, but Démare wasn't with them as his old enemy Bouhanni had muscled him out of the way.
Despite only have two men, Trek-Segafredo, did a great job in positioning Pedersen. Keep an eye on them, they could surprise.
DS Cycling Mole
I'm back with one of my favourites, Trek-Segafredo.
Hey, De Jongh, where the fuck is Kirschy? Three men, what the hell do you expect me to do with three men? Go on, get out of the room, leave me with the boys.
Looney Theuns, Jappy and Madso we can still do this. We stick together in our little block of three and wait until the final kilometre. Eddie, you need to keep us up the front, but not on the front in the final 5km. This is a tough job, blame De Jongh, not me. Jappy, you make a big surge with 1km to go, but make sure Madso is in your wheel. Tailwind sprint Madso, you can launch nice and early. Now get out there and bring back one of those lions.
Contenders
Mark Cavendish – did you get emotional too? Cavendish hasn't always been my cup of tea, but it was brilliant to see him taking his 31st Tour de France stage. This is a man who looked a shadow of his former self just a matter of months ago, he looked destined for the scrap heap. Then along comes Pat Leferve and it all changes. Most of the credit must go to Cavendish, it's amazing he has the motivation to get back to the top of the sport at the age of 36. Now just three wins behind Merckx, it's starting to look like a possibility. With Ballerini and Mørkøv ahead of him, there is every chance he repeats Tuesday's win, especially as this is where he won his first ever Tour stage back in 2008. Then we'll all get to see the COVID super spreader dish out the cuddles!
Tim Merlier – Merlier is faster than Philipsen, I hope Alpecin-Fenix now realise that. It's nice to give opportunities to others, but this is the biggest bike race in the world, you go with the best option to get the win. We've had two sprints and Alpecin-Fenix have nailed the lead out on both occasions, I think I might need to revisit my sprint train rankings. With van der Poel, Rickaert and Philipsen they'll likely control the final 2km and put Merlier in a great spot for the sprint, then it's over to him.
Arnaud Démare – I've not lost faith in him yet! Démare was in sparkling form just before the Tour started, the last week hasn't changed anything. The team need to fix their lead out problems, I have confidence in them to do so. If Démare starts his sprint in a good position he has the speed required to win.
Nacer Bouhanni – second on Tuesday was a great result, but I still don't see him winning a stage.
Cees Bol – as I said in a previous preview, Bol will need some time to get back up to level required to win a stage, as he recovers from a recent illness. His sprint train is strong, and he'll be better than he was on Tuesday.
Mads Pedersen – Theuns and Stuyven are worth their weight in gold, but I do wonder about the decision to leave Kirsch at home. Pedersen is their best shot at a stage win, not Mollema. They should have backed the Dane by bringing an extra man for the sprints and left one of the climbers at home. Having just two men to lead him out will make it very hard to win a stage, but he cannot be written off.
Wout Van Aert – says that he'll now start sprinting. He'll have Teunissen to support him, but it might take him a stage or two to get into the swing of things.
Prediction Time
Alpecin-Fenix to get it right and Tim Merlier to win his second stage.
A message from Cycle Pal: During the Tour de France, we'll add some extra pressure onto David as we'll be giving away a care package that includes tools worth up to £85 every time he predicts a stage winner correctly. To enter, all you have to do is click the link below and enter your email. Enter here: http://cyclepal.co.uk/tdf
Cycle Pal is a small UK-based cycling company that specializes in unique tools to help you with everyday cycling problems. If you struggle with changing stubborn tyres, you may be interested in our Tyre Seating Tool, you can find more information here: http://cyclepal.co.uk/cyclepal
David Hunter
Follow us on Twitter and Instagram
Join us on facebook: Ciclismo Internacional
Copyright © 2012-2021 Ciclismo Internacional. All Rights Reserved