Tour de France 2021 – Stage 8 preview
By David Hunter
Oyonnax > Le Grand-Bornard 151km
After today's craziness, strap yourself in for another bonkers day.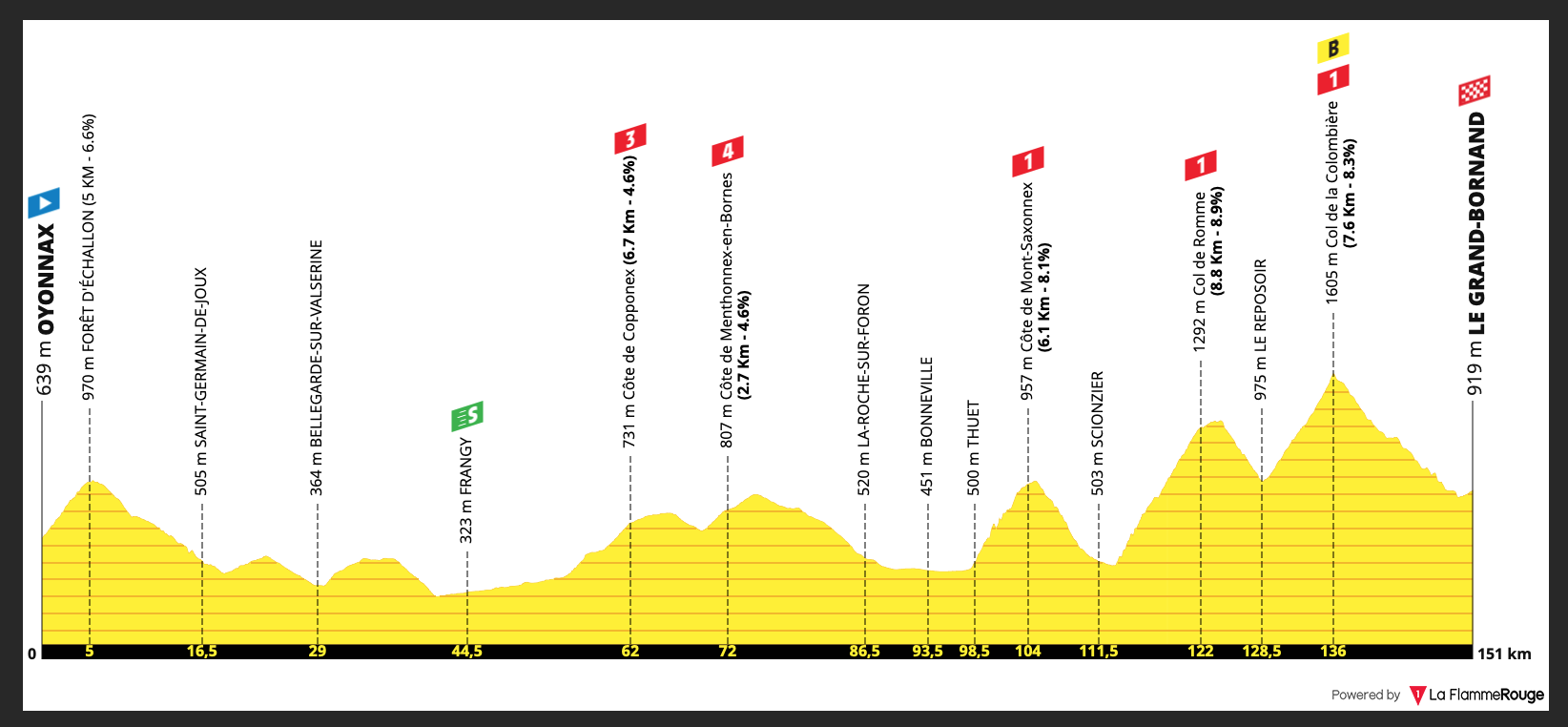 The first of the mountain stages, this is a hugely significant day in the battle for the yellow jersey. We have a relatively short stage, an uphill start and three big cat 1 climbs that come very close together. The downhill run to the line might make some think we won't see big GC action, but I disagree. The combination of the Romme and Colombière was last used in 2018 when Julian Alaphilippe took the win from the breakaway, it's a great double act.
Weather
There is a chance of rain in the second half of the stage. With quite a lot of descending, it's going to make the peloton a little nervous.
Key Points
4.8km at 6.4% is a good way to start a mountain stage. The climbers will be praying this is where the break gets established as we have a lot of downhill and flat roads after.
Côte de Mont-Saxonnex is quite a short climb for a cat 1 effort, but the average of 8.1% over 6.1km is tough.
Col de Romme is 9km at 8.7%, it is a horrible climb. The opening 2km is basically a wall, it gets a little easier, then ramps again in the second half. A short descent follows before the last climb of the day.
Col de la Colombière is 7.2km at 8.6%, the final 2km of the climb averages 10%, it really does save the best for last. The crest comes with just under 15km to go and there is a special bonus sprint at this point.
The descent to the line is fast, but not overly technical.
Tactics
After what happened today, I almost didn't want to write this section.
Still in the race lead is van der Poel, but Alpecin-Fenix will not look to control the stage. Wout Van Aert would love to move into the yellow jersey after this stage, he is 3:43 ahead of Pogačar and 1:19 in front of Asgreen. If he had last year's form, he would do this easily, but he's not going as well as he did in 2020. He might look to go for the break, just like today, it would seem like his best option. I would also expect to see a certain world champion trying to jump in the break, just like he tried to do today. UAE were weak today; the big riders will sense a weakness that can be exploited.
Also keep an eye out for teams trying to get satellite riders up the road, Ineos and Movistar seem the most likely. The end of the stage is very hard, having a teammate to help could be the difference between winning and losing. Today showed us that both Ineos and Movistar are strong, but they need to attack together, then we'll see Pogačar under pressure.
Despite sitting in a healthy position on GC the Slovenian should be a little worried about this stage. His team are not strong enough to control the race, he is going to be forced into working much earlier than he would like. Attack could well be his best form of defence, but that is a risky strategy. This stage could be one that you remember for a very long time.
So let me try and summarise this. I expect another crazy start with lots of big names trying to get in the break. I don't see who will chase the break in the long, flat section after the first climb. Once we hit the cat 1 climbs the pace will be set by Ineos as they look to isolate Pogačar, and the attacks will fly on the Col de Romme. It's up to the break to have already established a big enough gap to stay away, this is not certain, but the break certainly has a chance of taking the stage.
Contenders
Tadej Pogačar – despite everything that I've said about his team, he's still in a great position in this race. Some will be nervous, a big ride from him would certainly calm everything down. Despite only being in the first week, if he wins this stage, I think most would be realistic enough to say that the yellow jersey is his. He won't mind if it rains, and the flat finish is perfect for him as he's the fastest sprinter of the GC riders. Winning the stage will depend on others chasing the break, we'll have to see if that happens.
Richard Carapaz – I liked his attack today but think he should have gone earlier on the climb to build a bigger advantage. This is a day where he'll look to try and gain time on his rivals, it should tell us a lot about what type of race we'll get over the next two weeks. He was climbing very well in the Tour de Suisse, but can he really put Pogačar into difficulty? For the sake of the race, I hope so.
Enric Mas – currently Movistar's best man, he is 1:50 behind Pogačar on GC. The Spaniard will have high hopes for this stage, and his team are strong enough to control proceedings. Mas hasn't always hit the heights since moving to Movistar, but he did finish 5th in both the 2020 Tour and Vuelta. He is a rider with massive self-confidence, he'll fully believe that he can win the yellow jersey. This stage will tell us if that faith is misguided or not.
Miguel Ángel López – he's over 5 minutes down to Pogačar, but I don't expect to see him going in the morning break. I would expect the Colombian to attack later in the stage, he should have some freedom due to his relatively low position on GC. At his best López is one of the best climbers in the world, remember how fast he recently climbed Ventoux. This is the perfect chance for him to ride himself back into GC contention and pick up a stage win.
Michael Woods – breakaway hopeful number 1.
Nairo Quintana – breakaway hopeful number 2.
Ben O'Connor – breakaway hopeful number 3.
Ion Izagirre – breakaway hopeful number 4.
Guillaume Martin – breakaway hopeful number 5.
Prediction Time
The breakaway's hopes are in the hands of Ineos and Movistar, how they approach the stage will decide if the break wins. I think as it's the first mountain stage we'll see the winner come from the GC group, but if teams wait until the final climb, then Pogačar will win. I think we'll see a win for Miguel Ángel López, with a big attack on Col de Romme. I would be surprised if Pogačar and Carapaz don't finish together.
A message from Cycle Pal: During the Tour de France, we'll add some extra pressure onto David as we'll be giving away a care package that includes tools worth up to £85 every time he predicts a stage winner correctly. To enter, all you have to do is click the link below and enter your email. Enter here: http://cyclepal.co.uk/tdf
Cycle Pal is a small UK-based cycling company that specializes in unique tools to help you with everyday cycling problems. If you struggle with changing stubborn tyres, you may be interested in our Tyre Seating Tool, you can find more information here: http://cyclepal.co.uk/cyclepal
David Hunter
Follow us on Twitter and Instagram
Join us on facebook: Ciclismo Internacional
Copyright © 2012-2021 Ciclismo Internacional. All Rights Reserved