Tour de la Provence 2021 – Overall Preview
By David Hunter
The Tour de Provence continues the run of French stage races happening in February. Just like Bessèges, the field is very strong with teams needing to get race kilometres into the legs of their team leaders. The route is lumpy, with just one properly flat stage, which means we don't have many top sprinters here.
Stage 1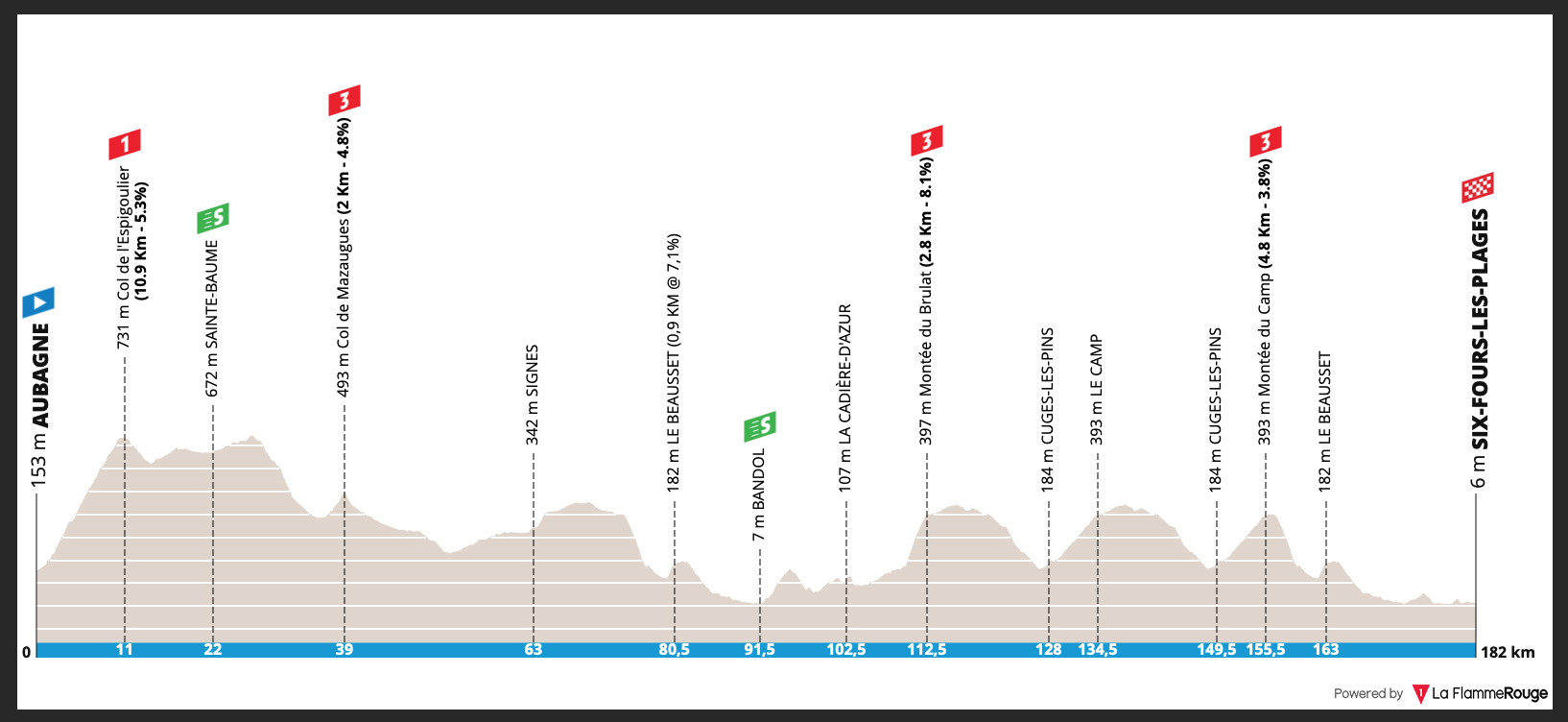 The climbing starts right away, with a cat 1 climb of 10.9km at 5.9% from the gun. It is very unusual for a stage race to start off in this way, it will be interesting to see how the teams decide to race it. The rest of the day has a few more hills, we're talking about 2500m of climbing. The stage finishes right on the coast, which means the wind could cause some gaps in the closing kilometres.
Stage 2
The second stage starts with 7km at 4.9%, the organisers won't be popular with many of the riders. The rest of the day features quite a few relatively easy climbs, but the finish is quite challenging, 2.75km at 3.5%. The uphill kick will interest some of the GC riders, as well as the puncheurs and sprinters.
Stage 3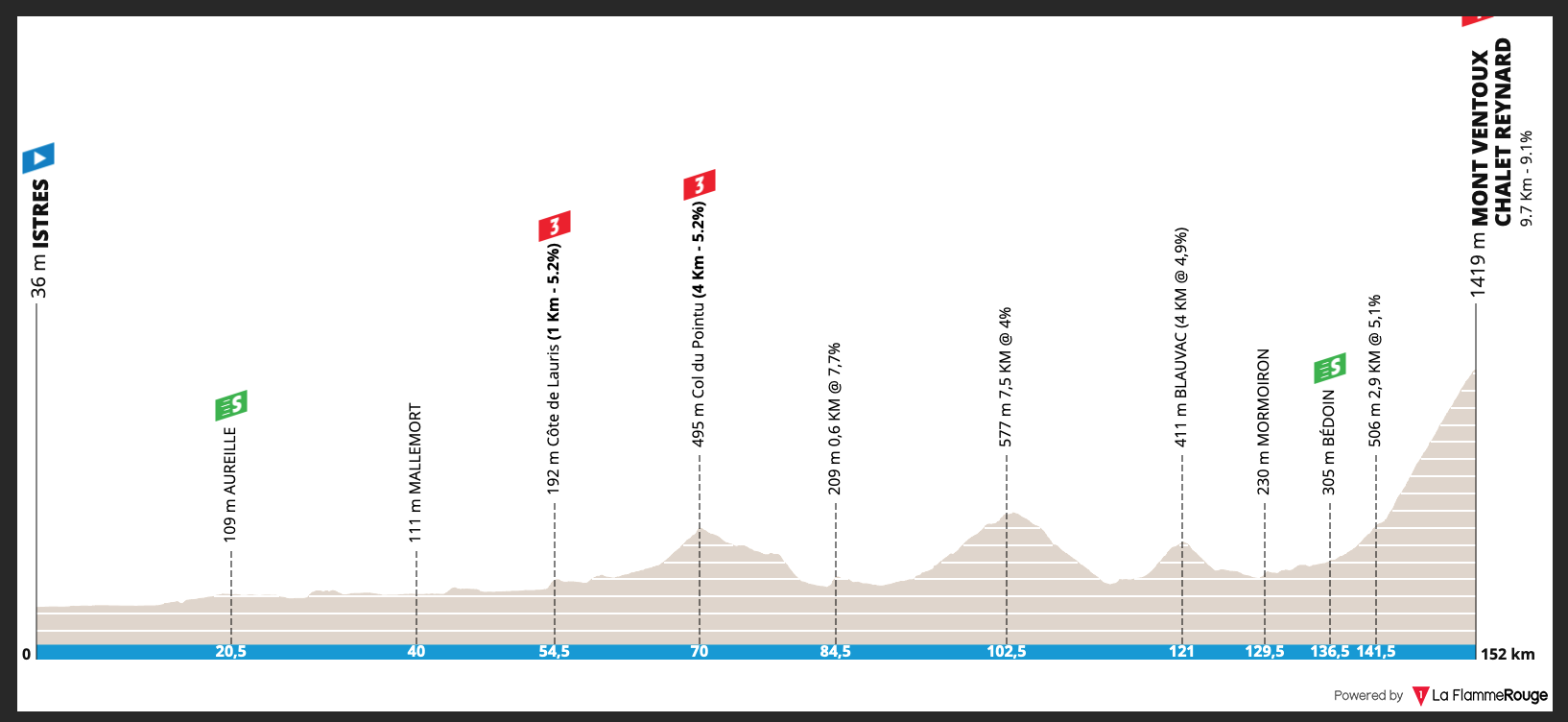 Same as last year, with the riders climbing Mont Ventoux, but only up to Chalet Reynard. The climb is 9.7km at 9.1% and will settle the GC fight.
Stage 4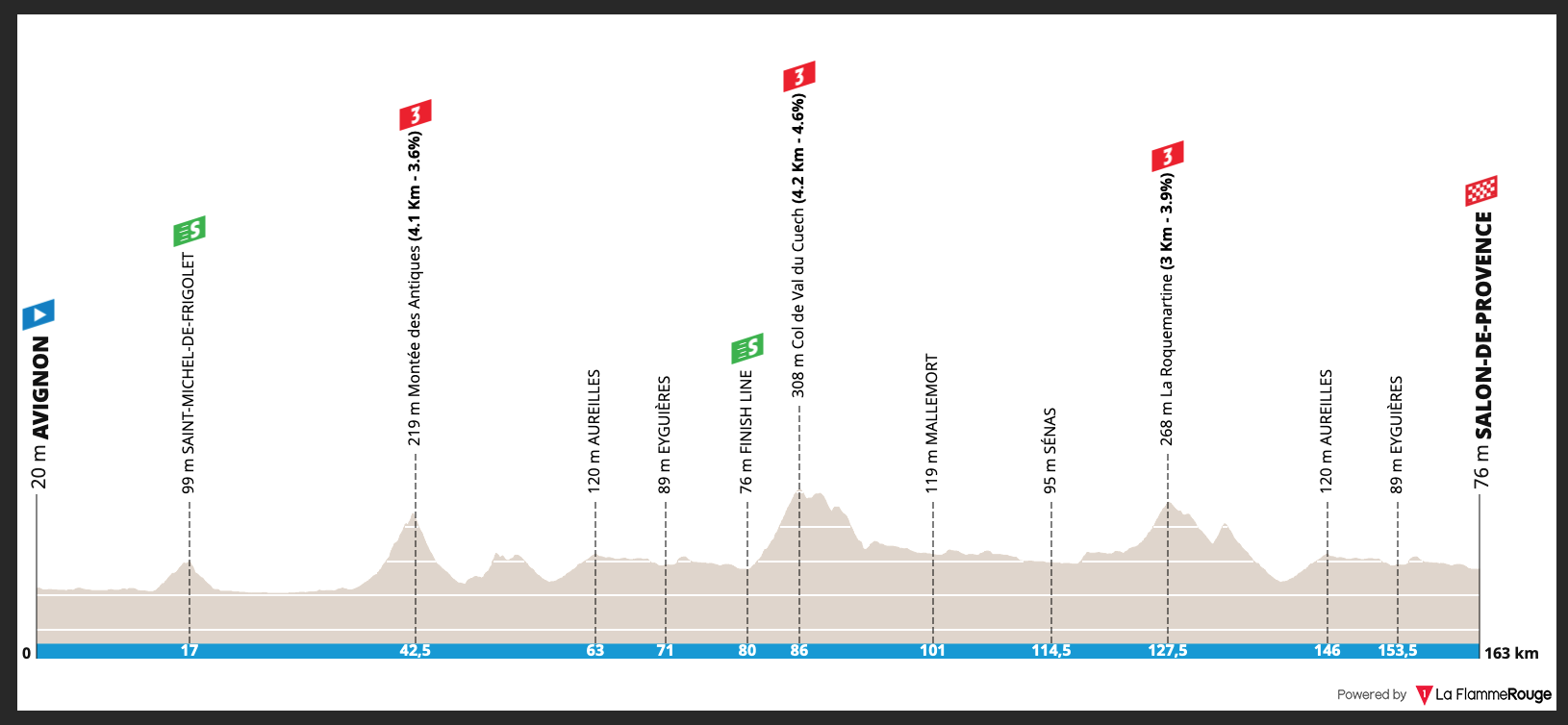 The flat stage, but it might not be a sprint. As we don't have many fast men at the race, this could be a good day for the breakaway.
Tactics
The opening stage has ambush written all over it. Normally this race would be all about the Chalet Reynard stage, but the opening day offers something a little different. If the right break gets away, the GC fight could be over for the riders left in the bunch. I'll just put it out there, we could get a surprising result.
Weather
The current forecasts suggest that we'll see a mixture of rain, sun and wind over the four days.
Professional Insight
For this race we are joined by Ben O'Connor who is about to start his first race for AG2R Citroën.
How was winter in Europe? 
"Winter had both good and bad moments. It started with a broken collarbone, I got engaged to my girlfriend, and I met all my new teammates at AG2R Citroën at the big camp in Denia. It's been a little wild, and full of good memories, and now I'm ready to knuckle down and start this new part of my career!"
What's your current shape like?
"I think I'm ok… I genuinely feel acceptable, but racing is another beast, which can find you out very quickly. Normally I do start well; last year in Bessèges it was amazing to get a win early, but after the collarbone issue, who knows haha!"
AG2R arrive with a couple of strong climbers, yourself included. What's your role going to be?
"To be honest – I don't know. Aurélien was moving real well last week, so we can assume he'll be up there. I would like to give it a go up Chalet Reynard, but I'm happy to help on other stages too… once I really know how well I'm climbing, then I'll be more confident for later races. It is only February."
Have you climbed Ventoux before? 
"Never climbed Ventoux before. Sadly it's not to the top, but I guess it is just another big climb in the end."
What are your personal hopes for the race?
"Personally, it would be nice to get a win in the team. Maybe me, maybe Clement, maybe Tony, anyone! Nothing better than starting the season with a win, and building confidence from there."
Contenders
Astana – lining up with Lutsenko, Vlasov and both Izagirre brothers gives the squad plenty of options. Lutsenko always starts the year in form, I don't see why this year would be any different. In 2020 he was 3rd here and in the UAE, and he won the Tour of Oman in 2019 and 2018. Lutsenko always starts hot.
Vlasov was 2nd here last year, the start of an incredible season for him. He struggled a bit on the Chalet Reynard climb, but he went deep and finished 4th. He then returned to the climb in August, in the Ventoux race, he won that with ease and that went all the way to the top.
Both riders will be team leaders, and I would expect both of them to be in contention towards the end of the Chalet Reynard stage. If that's the case, I think Astana will once again win the race.
Ineos – are they all in for Bernal? As expected, he was way off the pace in Bessèges, but should be better here, but to challenge in this race he'll need to be close to 100%. They also have Sosa, an outstanding climber but someone who is inconsistent. De Plus makes his debut for the team, but as he only finished two races in 2020, I don't think he'll be the team leader. That leaves Eddie Dunbar, who went well here in 2020. This could be a rare opportunity for the Irishman to show what he's got.
Trek-Segafredo – Mollema and Ciccone are their main men, and both could do well here. Mollema got some important racing in his legs in Bessèges, he'll be much more competitive here. Ciccone didn't have a great 2020, a lot of which was due to the Corona virus, he should be back to his usual self in 2021. Having two cards gives the team options, which is important as Astana and Ineos both look very strong.
Deceuninck – Quick Step  – Alaphilippe's here, but don't expect much from him just now, which will give a chance for one of their talented youngsters to shine, step forward Mauri Vansevenant. You might remember him from last year's Flèche Wallonne, where he put in a quite remarkable ride. The 21-year-old is an enormous talent, he'll be challenging for GC in some of the biggest races in the world in just a couple of years. This is an ideal race for him to test himself against some of the very best.
AG2R – another team with options. Not only do they have our friend Ben O'Connor, but they also arrive with Paret-Peintre and Calmejane. Paret-Peintre surprised everyone by winning the sprint in Marseille, I'm still not sure how he managed to beat the sprinters. He was 11th here last year, and with the Giro in his legs, he should be able to beat that this year.
Bahrain-Victorious – yet another squad who arrive with multiple options, they have Teuns, Haig and Poels as their leaders. It's likely that Chalet Reynard will be too hard for Teuns, which leaves them with the two. Haig is making his debut for the team, and he is a very solid climber. We all know what Poels brings to the party, he loves steep gradients, normally the steeper the better. I would expect him to be their best option, but that depends on his current shape.
Bora-hansgrohe  – another team favouring the multiple options approach. They have four very talented climbers in their squad: Großschartner, Konrad, Fabbro and Aleotti. After getting some racing in his legs in Bessèges, I would imagine that Großschartner will be their best option, but Konrad is a very talented rider. Fabbro had a strong end to 2020, but he's likely to be a worker, the same goes for the youngster Aleotti who makes his debut for the team. A top 5 is possible for the Germans.
Warren Barguil – it's the season debut for the likeable Frenchman, who ended 2020 in fine form. It's been a while since we've seen him being competitive in the high mountains, I do wonder if we'll ever see his 2017 form again?
Enric Mas – 5th in the Tour and Vuelta, 2020 was a decent year for the Spaniard, but no wins. As his race schedule again includes both the Tour and Vuelta, I would doubt he's near top shape in February, but we'll just have to wait and see.
Mark Donovan – beware the Keswick Pencil. After a pretty sensational grand tour debut, I expect big things for the young English climber in 2021. Team DSM arrive with a relatively inexperienced squad, but Donovan will be given the opportunity to see what he can do in the Chalet Reynard stage. A top 10 result would be a brilliant start to the year.
Tim Wellens – he's in cracking form, but Chalet Reynard would normally be too hard for him. However, if Tim can manage to get into the stage 1 break, and it succeeds, you just never know.
Prediction Time
With so many teams having multiple options this isn't an easy race to predict. A break could disappear up the road in the opening stage, having a massive impact on the overall, but with FDJ here to ride for Démare, they are likely to control that stage meaning the GC battle all comes down to Chalet Reynard. With multiple options for each team, we could see the race getting very tactical and the strongest rider won't necessarily win, it could be a funny old climb.
As Astana have the best team I think they'll win the race, but which of their superstars? I'll go with Alexey Lutsenko to start the year with a bang.
David Hunter
Follow us on Twitter and Instagram
Join us on facebook: Ciclismo Internacional
Copyright © 2012-2021 Ciclismo Internacional. All Rights Reserved