Tour de la Provence 2021 – Stage 1 Preview
By David Hunter
Aubagne > Six-Fours-Les-Plages 182km
Not your average opening stage.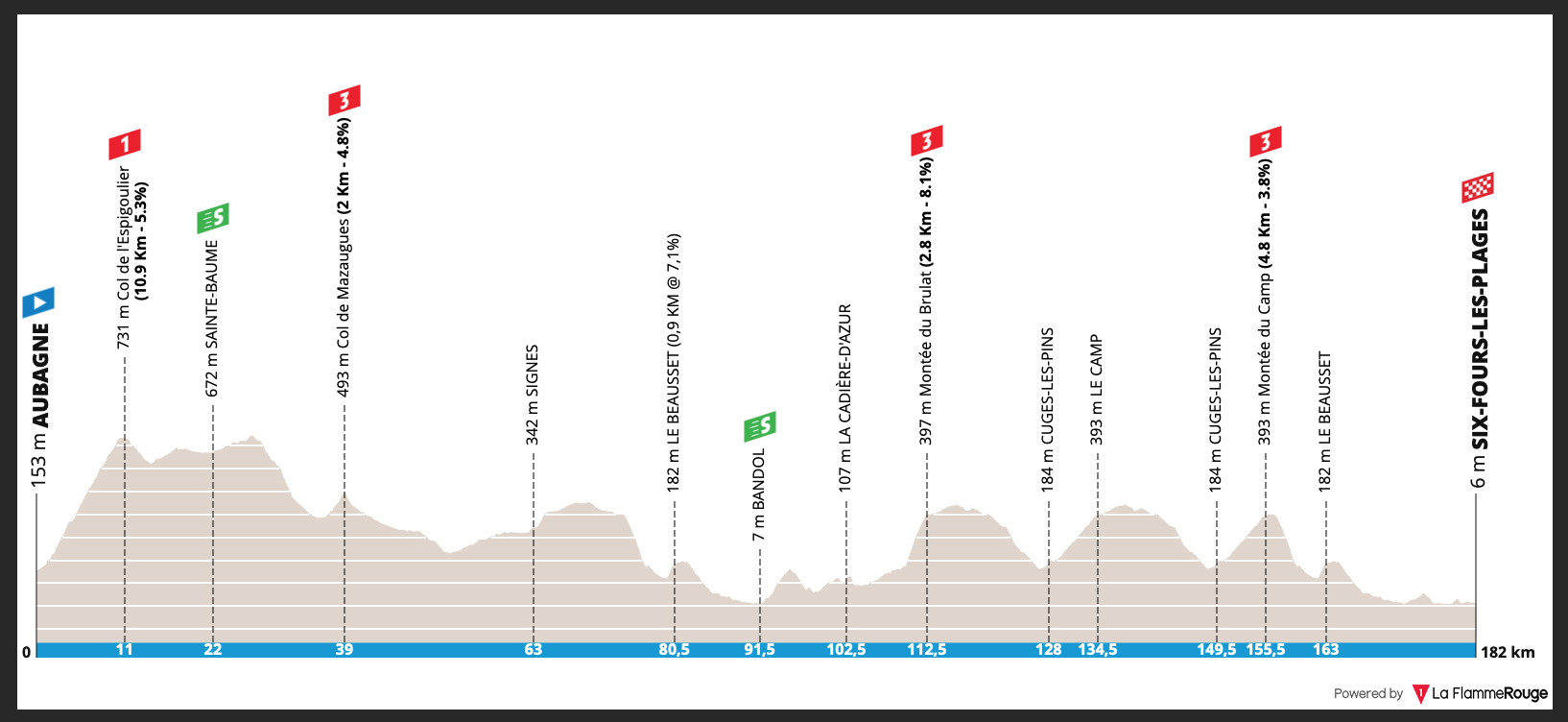 This stage that starts with a bang.
The Col de l'Espigoulier is 10.6km at 5.4% and is a cat 1 climb. I don't know who decided to start the day with this climb, but I love them, but they might need to hide from the sprinters. Just 10km after the climb comes the first intermediate sprint point, which will certainly interest a few riders chasing the GC. What impact the climb has on the overall stage is hard to predict, we'll just have to wait and see how the bunch decide to race it.
Le Brûlat is the next tough climb, 3km at 7.6%, but it crests with 70km to go, so it's unlikely to have an impact on the race.
To point the stage into context it has 2514m of climbing, but 635m of this climbing comes in the opening 16km. That leaves 1879m to climb in the next 166km of the day. The stage is lumpy, but not ridiculously so.
Weather
A sunny day, but certainly not warm. The wind will be around 20-25km/h for the majority of the stage, but it will get up to nearly 40km/h as the bunch head for the finish.
Tactics
First of all, I need to think about the impact the opening climb will have. We have a few teams who want a sprint, FDJ being the main one. They will look to control the attacks on the climb, knowing that if a large group escape up the road it could be very hard to bring them back. Will some of the GC teams look to attack? I think they will, but not with their main leaders. The good news for FDJ is that there will be a headwind on the climb, making it much harder for the attackers to create a big gap. Once the climb has been dealt with, the rest of the day is straightforward, apart from the final 5km, which is exposed to strong crosswinds.
This stage looks like being a classic fight between the attackers and sprint teams. The size and composition of the breakaway will determine their success, it needs to feature a number of strong teams to have any chance. Even then, when a team like FDJ commit to riding for Démare, they normally get what they want.
Finale
With a 35km/h wind coming off the sea, the final 5km looks tricky to me. There is a chance for teams to put it in the gutter and cause some gaps, but not all of the road is exposed. It could split, but there is no guarantee.
The bunch have to take this fast right hand turn with 500m to go. You can see the road narrows down to a single lane, making it very important for the sprint teams to have a good position.
DS Cycling Mole
Today I'm taking over the reins at Groupama – FDJ, step aside Mr Madiot.
Gentlemen take a seat. You've all seen the profile, stop panicking about the cat 1 climb. We'll be on the rollers before the stage, it's important to start the race well. There is no need to flap when the attacks roll, we'll simply ride to a decent tempo up the climb. How much time are the attackers going to take out of us on a 10km/5% climb? 90 seconds, 2 minutes, that's fine by me. We have a strong team here to support Arnie, but we'll also get some help from the others.
Once the climb is done, settle in for a nice day in the saddle. Don't panic, we'll catch the break, then it's all about the final 5km. Watch out for the wind coming from your right, I want a good position near the front of the bunch. Once into the closing stages, it's time for the train to get moving. Remember, we have Scotty, Raymundo and Jacko to lead out our main man, you guys are the best here by a mile, the others won't even get close. Once you smash the final 3km, it's over to Arnie to do the business, and I know he will. Who's going to beat you? Bouhanni? He's not got a chance against my darling Démare. Now get out there and control that first climb. Allez! Allez! Allez!
Contenders
Arnaud Démare – after a brilliant 2020, he'll be looking for a fast start to 2021. He has a very strong lead out train, they always seem to deliver. The opening climb will cause some problems, but FDJ will hope for cooperation from the other sprint teams, especially if the break includes Ineos and DQS riders. If we get a sprint, Démare will be the favourite.
Davide Ballerini – just one win in 2020, but he was close on a number of occasions. It will be interesting to see how DQS approach the stage, they have a number of riders who will be keen on attacking, but they also need to save some men for the lead out. If Ballerini has Asgreen, Lampaert and Štybar to help, he should be able to start his sprint from a good position and get close to Démare.
Max Kanter – the young German didn't manage to take a win in 2020, but his two third places at the Vuelta will have given him some encouragement for the season ahead. Kanter is quick, and after completing his first grand tour, he should see a bounce in his performance.
Bryan Coquard – I expected a lot from him in Bessèges, but he didn't deliver. As we are now moving into races involving more world tour teams, I wonder if his chance of taking a win has now gone.
Matteo Trentin – made a right mess of his sprint in Marseille, it was bordering on the comical. Despite his climbing ability, Trentin can still sprint fast, but not fast enough to beat a rider like Démare. UAE will need to decide if it's Trentin or Kristoff who sprints. Both are good contenders for the top 5, but I don't think either can beat Démare.
Nacer Bouhanni – second place in the opening stage in Bessèges was a good start to his season. Bouhanni still has the speed to compete for wins in bunch sprints, but his climbing can let him down. We'll have to see if he can survive the first climb, but if he does get to sprint for the win it wouldn't surprise me to see him on the podium.
Tim Wellens – breakaway option 1, but I sense the GC riders won't be keen on letting him get a big advantage with just one mountain stage in the race.
Philippe Gilbert – breakaway option 2.
Gorka Izagirre – breakaway option 3.
Lilian Calmejane – breakaway option 4.
Remi Cavagna – breakaway option 5, 6, 7, 8, 9 and 10!
Prediction Time
Headwind on the climb = bunch sprint, sorry folks. Looking at the sprinters and their lead outs, I think this will be a win for Arnaud Démare.
David Hunter
Follow us on Twitter and Instagram
Join us on facebook: Ciclismo Internacional
Copyright © 2012-2021 Ciclismo Internacional. All Rights Reserved