Tour de Romandie 2014 – Stage 3 Preview
By David Hunter
Stage 2 Recap
As predicted the stage was too tough for Marcel Kittel. Both Hofland and Mezgec made it to the end but didn't manage to fully contest the sprint. My pick, Nizzolo, had to go from far out and dragged Albasini with him. The Swiss rider had the power to pass the Italian and claim his 2nd win of the race. It was unfortunate for Nizzolo, but he paid for being too far back in the sprint.
Stage 3 Le Bouveret – Aigle 180.2km
The Queen stage arrives.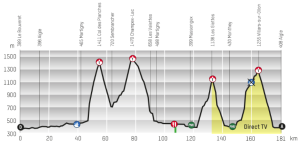 We have 4 cat 1 climbs and very little flat road. The opening climb is actually the toughest, 10.4km at 8.7%. We then have 15km at 5%. These 2 climbs are only separated by a small descent, so it will be hard going for the peloton. They then have a chance to re-group and eat before the next climb. It's 9.9km long at 7.4%, before the final climb of 15km at 5.6%.
It's the day the GC boys have been waiting for and it'll be very interesting to see how the tactics play out. OPQS lost the yellow jersey today and that is actually a good thing. They don't have to waste riders at the front of the peloton, so can save a few to help Kwiatkowski. In my overall preview, I said that he would be tired from the Ardennes and I stick by what I said. I don't see the brilliant young Pole managing to keep pace on this stage. Same goes for Tony Martin. Yes, he has been climbing well but he doesn't stand a chance on a day like this.
The main riders are Froome, Nibali, Talansky, Spilak, Pinot, Uran and Peraud.
There are 2 major issues in this stage:-
1. The final climb isn't that hard.
2. The descent to the finishing line.
The final climb is long but not that hard. The opening 5km is at 5.4%, the 2nd 5km is at 7.6%, but the final 4.2km is only at 3%. This means that the penultimate climb is very important. Teams need to attack there to try and reduce the size of the peloton.
Despite lacking Brajkovic, Astana have the strongest team. They arrive with a lot of their tour riders and want to show the world that Nibali is ready. He has Fuglsang, Westra and Kangert to help set a fierce pace. Team Sky have been weak so far, can Porte and Nieve step up for Froome?
The descent to the finish is obviously in the favour of Nibali, especially if the road is wet and there is a strong chance of rain. Chris Froome needs to try and lose Nibali on the climb, but will he be able to?
Talansky showed off is own descending skills on stage 1 and he will be a big threat tomorrow and will hope to benefit from Froome and Nibali battling with each other.
Pinot is great at going up but not so great at going down! It will be difficult for him to win this stage.
I think the main threat to the big two will come from Rigoberto Uran. His form was unknown but he's looked good so far. He is an aggressive rider and can descend and sprint well. If we have a small group at the finish, he will be the fastest finisher. He should also benefit from not having to work as hard, with Kwiatkowski in his team.
Simon Spilak is a very dangerous rider and will be hoping for some rain. He loves a bit of bad weather and is in good form.
If anyone wants to win the KOM jersey, then they have to be in the break. Will Tschopp want to keep a hold of the jersey? If he goes in the break, then it's doomed!
I have ruled out Van Garderen and Rui Costa as I don't think they are fully recovered form their crashes. I also think that Frank and Roche aren't at the level required to win this stage, although if Roche can survive the final climb he can descend and sprint well, but it will be hard for him.
What about JC Peraud? He is in form and goes well on these climbs. He doesn't cope well with attacks on the climbs, so he would benefit from Team Sky driving up the mountain.
Prediction time…
This is a 2 man battle! It's all about Froome v Nibali. The downhill finish means that the stage is better suited to the Italian. He has the stronger team and with doubts about Froome's health, it looks like he could strike a blow before the tour. For me it has to be Nibali!
David Hunter
Follow us in facebook https://www.facebook.com/CiclismoInternacionalLatinoamerica?fref=ts … or Twitter @CiclismoInter