Tour de Romandie 2021 – Stage 1 preview
By David Hunter
The first proper road stage.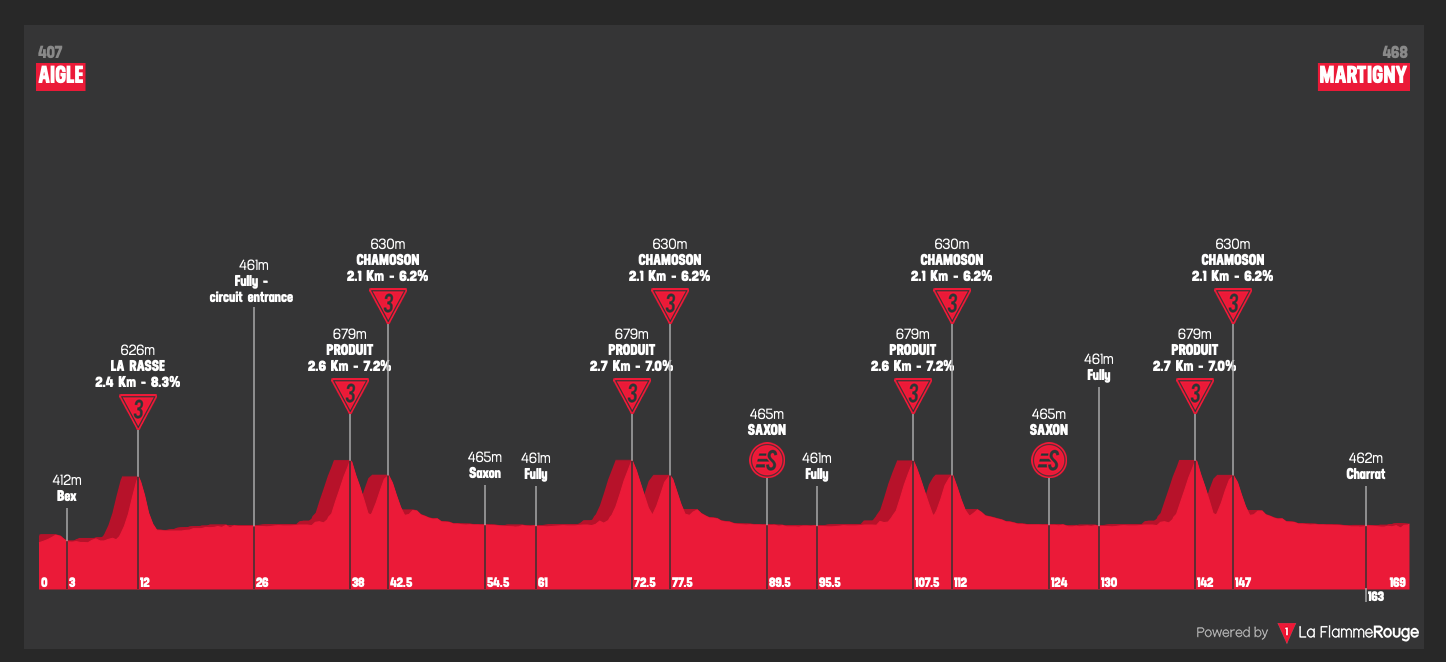 We have a relatively straightforward day which is basically three times around a big lap, featuring two climbs. With 2000m of climbing, this should be a day for the sprinters.
Weather
There is a fair amount of rain around tomorrow, but the riders might get lucky and avoid the worst of it.
Key Points
The climb is 2.8km at 6.7% and it takes place on a relatively narrow road. This climb is a little harder than it seems, but it's under 3km, which means it's very hard to drop riders. A 2km descent follows, which bounces straight into the next climb.
1.7km at 7.3%, but it takes place on a nice wide road. This climb is easier than it seems, and the last time up crests with over 20km to go.
Finale
The final 2.5km is full of corners, a good sprint train can really take advantage and boss the closing stages.
With 2.4km to go, the riders turn left off the main road.
Just 400m later and they make a right turn. This leads onto a straight which is 1km long and it can be used by some to make a move up the bunch, but the road isn't that wide.
Just under the flamme rouge and the bunch take a left turn.
200m later and it's another right, which leads onto the finishing straight. A good sprint train will be worth their weight in gold.
Tactics
The penultimate climb is where some will try and push the pace, but I just don't see it working. The stage is quite short, not hard, and the final climb is still 20km from home. This is one for the quick men. However, if it does rain, the day will feel harder than it looks. Another thing to remember is the closeness to the Giro. If sprinters are getting dropped in this stage, it's going to be a long three weeks in Italy.
Contenders
Peter Sagan – after a good win in Catalunya, he was 15th in Flanders. We all knew that race came too soon for him, 15th was a decent result. This is a good stage for the former world champion, especially as we're missing the fastest sprinters in the world. He will have Jordi Meeus to lead him out, not that he normally needs a sprint train. Sagan will start the sprint from a good spot, we'll then see if he has the speed to win a full bunch sprint.
Phil Bauhaus – started off the season with a confidence boosting win in Provence. He followed that up with top 10 results in the UAE Tour and Paris-Nice, he seems to have found some of his old speed. He'll have Colbrelli to help guide him into position, which means he should start in good spot. Can he take his first world tour win in over three years?
Dion Smith – he's going well just now, but he's not fast enough to beat the pure sprinters here.
Matteo Moschetti – after such a horrible crash at the start of 2020 it was brilliant to see him winning recently. The Italian was one of the rising stars of the sport, but such a serious injury raised doubts he wouldn't be able to get back to the top. Signs are positive, but I don't want to put pressure on him just now. He won't have much help in the closing stages, winning will be complicated.
Jake Stewart – speaking of rising stars, what a season young Jakey has had this year. He's really taken his chance at the top level, but he's still looking for that first win. This week looks good for him, he should have two shots at glory. One problem is his sprint train, he only has Lienhard in the closing kilometres, getting a good position will be hard.
Gerben Thijssen – he's not really got going yet this season, but I still have hope for the young Belgian. He has the speed required to win stages like this, hopefully Gilbert can lend a hand in the closing kilometres. Riding with someone who so much experience will help the sprinter learn.
Elia Viviani – after a tough 2020 it was good to see him getting his first win for Cofidis in Cholet. The Italian is a confidence rider, it must have taken a battering last year. Like most of the sprinters at this race he doesn't have a big sprint train, but Bohli and Sabatini should be able to help him in the closing kilometres. On paper, he's the fastest at this race.
Magnus Cort – rarely competes in bunch sprints these days, he doesn't like the rough and tumble.
Clément Venturini – fast, but not fast enough.
Stefan Bissegger – we've not really seen him sprinting this year, but he's fast. Like many, he won't have much help in the finale.
Deceuninck – QuickStep – they are here without a sprinter, that means danger! They'll be looking to attack on the final two climbs and see if they can steal the win away from the fast men. Cavagna is the obvious choice, but riders like Cattaneo and Garrison shouldn't be underestimated.
Prediction Time
It all depends on how hard they hit the penultimate climb. Someone will push the pace and final group should be around 80 riders big, but which sprinters will be there? Time for Jake Stewart to take his first pro win.
David Hunter
Follow us on Twitter and Instagram
Join us on facebook: Ciclismo Internacional
Copyright © 2012-2021 Ciclismo Internacional. All Rights Reserved