Tour de Romandie 2021 – Stage 3 preview
By David Hunter
Estavayer > Estavayer 169km
Like stage 1, but just a little harder.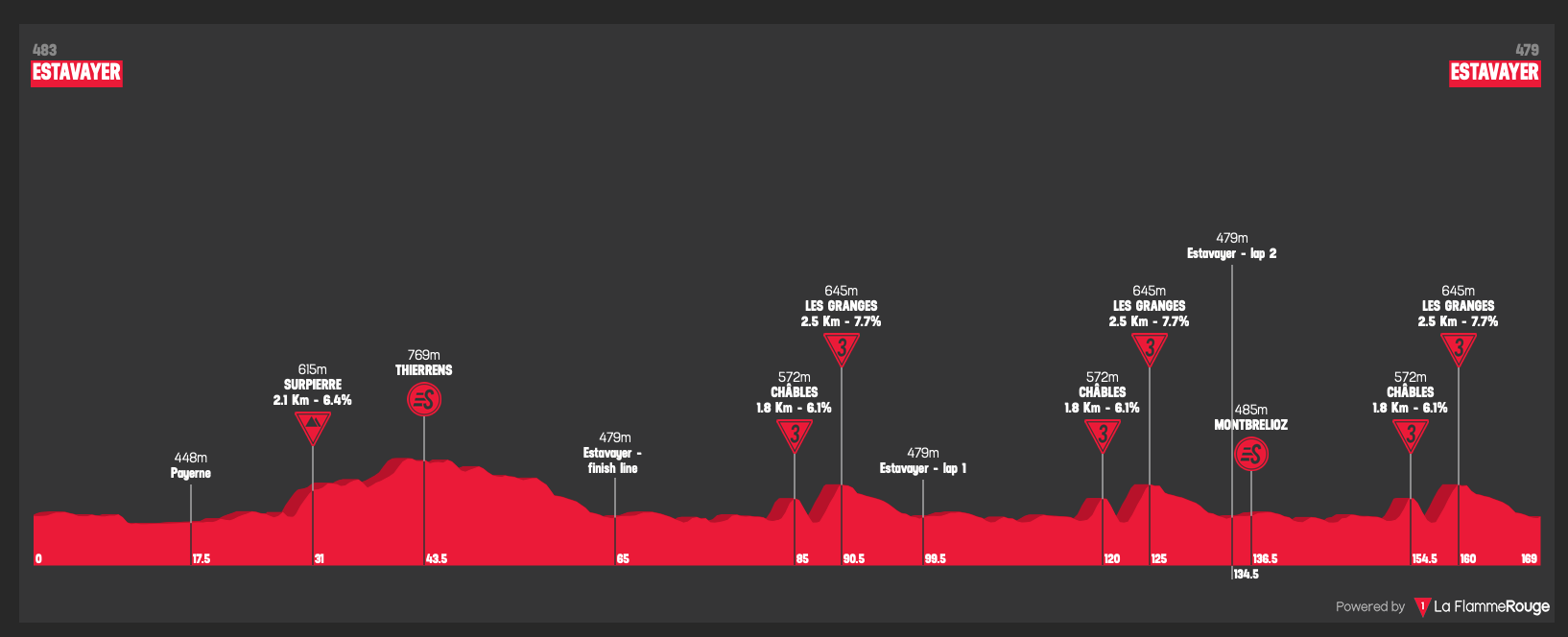 We have another lap circuit that contains two climbs, both of which are tough.
Key Points
It's a punchy little climb, but not long enough to cause real damage.
2.1km at 8.6% and it crests with just 9km to go. Unlike stage 1, we will see attacks on this climb, but this time there's a tailwind in the final 7km.
Weather
They've managed to dodge the rain this week, but not in this stage. Expect lots of rain, and they'll be a nice tailwind in the closing kilometres.
Tactics
The final climb is closer to the finish than in stage 1, but Sagan and Colbrelli will still fancy their chances. That means it will be Bora and Bahrain versus the breakaway. We have big gaps on GC, but the start of the stage isn't ideal for those looking to force a strong move. No doubt we'll see the Swiss riders trying to get up the road, ideally the move would have some big TT engines in it.
If the move does get caught, Bora and Bahrain will have to try and control the attacks on the final climb. The final climb is close to the finish, after two stages without real attacks I'm hoping we eventually see some action.
Contenders
Peter Sagan – this is a good test for him. He won stage 1 with a convincing sprint; it was very reminiscent of Sagan in his prime. Bora don't have the strongest team in this race, but they should have someone to help chase any moves in the closing kilometres. The important thing is to ensure a weak break escapes, all the rain increases the chances of a surprise. If we get a sprint, Sagan is the big favourite.
Sonny Colbrelli – that was some win today, I didn't see him surviving the climb. This is another good opportunity for him, but can he beat Sagan in a sprint? He made a huge mistake on Wednesday; he opened the sprint with 300m to go and it was a headwind. There was no excuse for that mistake considering how experienced he is. Today he launched at the right time, so he did learn. I would be tempted to stay on Sagan's wheel, let him launch the sprint, then see if you can come round him.
Paddy Bevin – clearly in amazing form, but the big win has just eluded him. He'll find it hard to beat Sagan and Colbrelli in a sprint, I would like to see him risk it all and attack on the climb.
Jake Stewart – was up there in stage 1 but had to unclip as the sprint launched. This is exactly the type of stage he can win; he does have the speed to challenge Sagan. He's still looking to find his form after a short break caused by Bouhanni, but I think this is a big chance for him.
Mark Hirschi – there's no point waiting on the sprint, he needs to go on the climb. It is crucial that UAE get him into a good position for the last two climbs, then increase the pace to try and drop some domestiques. Once that happens, Hirschi needs to make his move.
Stefan Küng – breakaway hopeful number 1.
Rémi Cavagna – breakaway hopeful number 2.
Josef Černy – breakaway hopeful number 3.
Johan Jacobs – breakaway hopeful number 4.
Prediction Time
Looks like another sprint and a win for Peter Sagan.
David Hunter
Follow us on Twitter and Instagram
Join us on facebook: Ciclismo Internacional
Copyright © 2012-2021 Ciclismo Internacional. All Rights Reserved