Tour de Romandie 2021 – Stage 5 preview
By David Hunter
Fribourg > Fribourg 16.2km ITT
The race ends with a TT.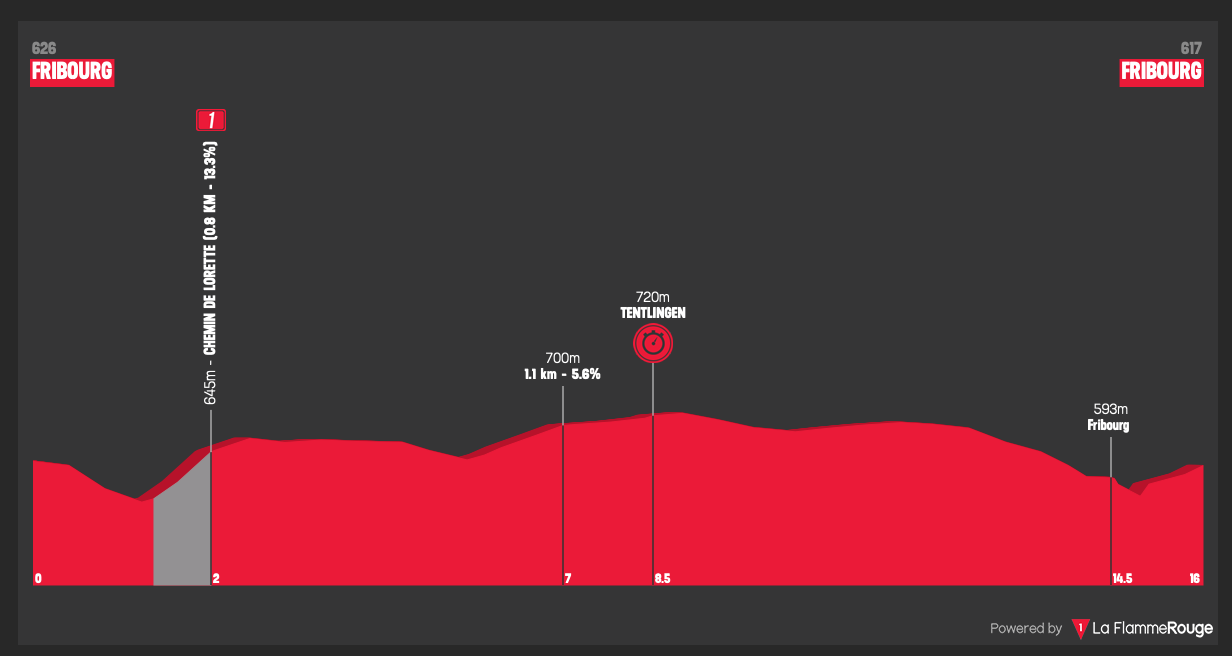 16.2km in length, and it starts with a bang. After just 1.5km, the riders are faced with cobbles and a steep climb.
The cobbles look quite rough, and the climb is around 1.1km at 11.7%. Some will be wondering about starting on a road bike and jumping on the TT rig at the top of the climb. The rest of the route is fairly rolling, there is 1.3km at 5.6%, but that shouldn't hurt the pros. Despite the climb at the start, this is a route which is good for the TT specialists.
Weather
More rain. It looks like the roads will be wet for all the riders. The forecasters can't decide about the wind, hopefully it's the same for all.
Contenders
Pippo Ganna – he's gone two TTs without winning, you can bet he's itching to stop that run. With the opening TT of the Giro just under a week away, Ganna will be hoping for a big performance. He's worked hard this week, but crucially seemed to have a bit of a rest today. The cobbled climb will be tough, but he has the seated power required to grind up that test. Once over it he'll start to make gains, but can he be the best Ineos rider?
Rohan Dennis – his win in the prologue was brilliant, that's two TT wins a row for the former world champion. He's worked his ass off this week, that will have an impact on his performance in this stage. He'll still be up there challenging, but the fatigue in his legs might stop him from winning.
Stefan Küng – his crash on Friday will have taken a little out of him, we'll have to see if there is any lasting damage. This is a good-looking stage for Küng, he's quite good on cobbles. His crash makes it hard to predict how he'll get on.
Rémi Cavagna – another TT comes round and he's still waiting for the win. If the early starters do have an advantage, this could be the day he breaks his duck.
Stefan Bissegger – he led the prologue for a long time, but in the end, he couldn't match the Ineos boys. This is another chance for him to impress, especially as the Ineos riders have all been working hard this week. If they are tired, he has a chance of taking the win.
Geraint Thomas – what on Earth happened today? Despite the crash he's still in a very commanding position in terms of the overall race and he gets to wear his own skinsuit. I mentioned in my preview that he was looking back to his best and today he showed that. I love watching him race like this, the power he can generate from a seated position is very impressive. This TT is a good one for him, he'll get up the cobbled climb faster than everyone else, but the wet weather isn't great news. Thomas will have to be a little cautious in the corners, he doesn't want to crash and blow the title. Those who aren't challenging for GC can afford to take some risks. This means winning the TT will be hard, but not impossible.
Richie Porte – he had a difficult patch today but fought back and finished 6th. He now sits just 25 seconds behind Thomas, the Aussie will hope to disappoint his teammate. Ineos are in a great position, they should be finishing this race in 1st and 2nd, just like I predicted. The wet weather is even worse for Porte, he's not always the best in these conditions, so I don't see him winning the stage.
Mattia Cattaneo – 9th, 9th, 12th, 14th and 16th in the stages this week, that is a very consistent return for the Italian. This season we've seen him doing well on his TT bike, he's finished in the top 15 in all four of his rides. He'll sense a chance to move up the GC, he's sitting in 14th and could get up to 12th by the end of the day.
Prediction Time
No way a GC rider wins this, they can't afford to take risks in the wet. Will Ganna push it so close to the Giro? The weather really does increase the chances of an upset. I'll go with Stefan Bissegger, he can afford to risk it. In the GC battle Geraint Thomas will take the win.
David Hunter
Follow us on Twitter and Instagram
Join us on facebook: Ciclismo Internacional
Copyright © 2012-2021 Ciclismo Internacional. All Rights Reserved