Tour de Suisse 2015 – Stage 8 Preview
By David Hunter
Bern – Bern 38.4km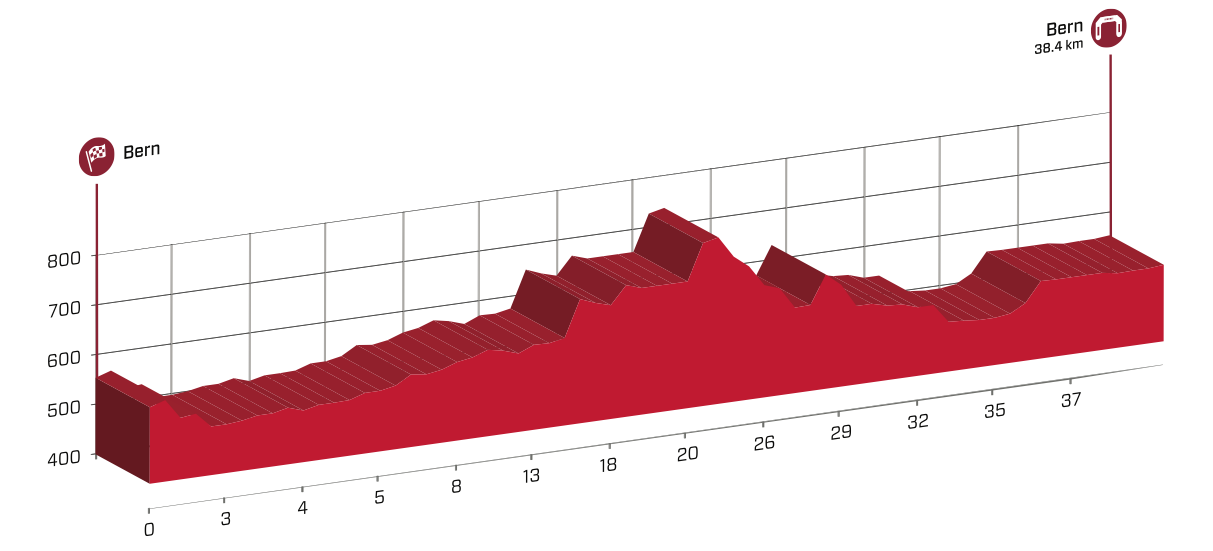 This profile should look very familiar, as it's the same as today. It gave the riders a perfect chance to see the climbs, involved in the stage, and get ready for the TT. At 38.4km, it's a long one, where we could see big time gaps. That's bad news for Thibaut Pinot, but great news for his chasers.
The weather forecast seems okay, with only a small chance of rain. There is a bigger chance of rain, for the end of the day, bad news for the GC riders.
As we saw today, this is a challenging circuit. There are 5 climbs:
800m at 9.3%, 1.5km at 2.4%, 1.6km at 4.6%, 1.1km at 5.2% and 900m at 6.3%(partly cobbled).
On the surface, these climbs aren't the hardest of the week, but any climbs in an ITT are hard. Riders have to go full gas, so any elevation can be difficult to cope with. Most of the climbs are in the middle section of the race, so it's important to not go out too fast. Having a carefully thought out plan, is very important.
The route is tough, really tough. To me, it looks good for the big riders on GC. Riders who have shown good form, this week, will certainly be at an advantage. Just look at the size of the bunch today, for an indication of difficulty. To win this TT, you need to be 100%.
Time to look at the challengers for the stage:-
Fabian Cancellara – close to winning the prologue, despite being ill. A brilliant TT rider, but over the distance, his lack of condition could be exposed. Apart from the prologue, he has been poor this week. I don't expect him to surprise, although it is Spartacus!
Bob Jungels – has taken a massive step forward, in 2015. Spends a lot of time on his TT bike and a good performance will move him into the top 10. Won 1 TT this season, in Etoile de Besseges. Will contend but won't win.
Matthias Brändle – very close to taking the prologue and fast becoming a bit of a star. Is not best suited to a longer TT, especially one with hills. Another who will not win.
Geraint Thomas – bang in form! I think this is the strongest I've ever seen him. His TT performance has gradually improved, since dedicating his time to the road. Won his first major TT in Bayern Rundfahrt, in 2014. This year, he was 3rd in Algarve, just 3 seconds behind Malori and Martin. He disappointed in PN, finishing 7th, but he did crash the previous day. He has to go fast to make up the 34 seconds on Pinot. He rides a great bike, with great equipment and is in great form. G is the favourite for the stage.
Simon Spilak – developing into one of the best GC, TT riders, in the peloton. He was 2nd in PN, just 13 seconds behind a flying Porte. He was 2nd in Romandie, just 11 seconds behind Tony Martin. His best in 2014, was 4th in Pais Vasco and 7th in Romandie. He's made a big move, this season, and I expect it to continue here. He is 47 seconds behind Pinot, 13 seconds behind Thomas and 37 seconds ahead of Dumoulin. This is going to be fun!
Tom Dumoulin – won the prologue and now one of the best TT riders in the world. His performance in the mountains, was amazing and he deserves a big day. He's usually thought of as a specialist on shorter courses, but he was 3rd in the World Championships and 2nd in the TDF 54km TT. His TT record in 2014 was:- 2 wins, 4 second places and 1 third place. This year:- 1 TT and 1 win, in Pais Vasco. I still can't believe he took that win, on those slopes! He's had a big week and really dug deep, on many occasions. I think this will have taken quite a bit out of his legs, and it's a position he isn't used to.  How he responds to a challenging week, will be interesting to see.
Adriano Malori – you know my thoughts on his performances, out of Spain and Italy!  His TT record is strong this year, with a win in San Luis and Pays de la Loire, plus, 2nd places in Tirreno and Algarve. He doesn't usually excel in long TTs, finishing down in 6th in the World Championships. Would rather prefer a flat, shorter circuit.
Michal Kwiatkowski – has been in the break for two consecutive days. Today, he blew up, quite spectacularly. I seriously doubt he'll have the energy to contend.
Domenico Pozzovivo – the wee man is flying. I'm so happy to see him contending here, after a disaster in the Giro. You might think he can't TT, but he can surprise, especially with a few hills thrown in. Could go well and finish in the top 7.
Peter Sagan – you might be surprised to see me list him for such a long TT. He won in California, over 10.6km, but he is included due to his climbing form. He has been amazing, this week. Easy, one of the strongest riders in the bunch. On such a demanding route, he must be included in the challengers. He rarely tries his hardest, in the long TTs, but was 17th in the 2013 TDF, over 33km. It will be fun, if he tries!
Greg Van Avermaet – another rider who I've included due to this form. This route is not for the TT specialists, it's for the top riders. We'll see most GC riders, in the top 10, but like Sagan, he has been riding well.
The most nervous rider is Thibaut Pinot. His lead is looking a little small. Yes, he has improved as a TT rider, but not enough! In Romandie, he lost 45 seconds to Simon Spilak, over 17.3km. He leads Thomas by 34 seconds, Spilak by 47 seconds and Dumoulin by 1:24. On a bad day, he might even finish off the podium. That would be a real shame. Having the time splits will help, but I'm worried for the Frenchman.
Prediction Time
This is a technical course and hard. Being a TT specialist is fine, but the route is really for GC riders. I see it as a 3 man shoot out: Thomas, Spilak and Dumoulin. However, if we get rain, the win goes to a rider from earlier in the day. There are a lot of corners and rain would be a disaster for the later starters. Early starters who should go well include: Cancellara, Brandle, Malori and De Gendt. If the rain stays away, I think that Geraint Thomas, will take it all. He's look the best rider this week.
David Hunter
Follow us on @CiclismoInter
Join us on facebook: Ciclismo Internacional
Copyright © 2015 Ciclismo Internacional. All Rights Reserved