Tour de Suisse 2018 – Stage 3 Preview
By David Hunter
Oberstammheim – Gansingen 183km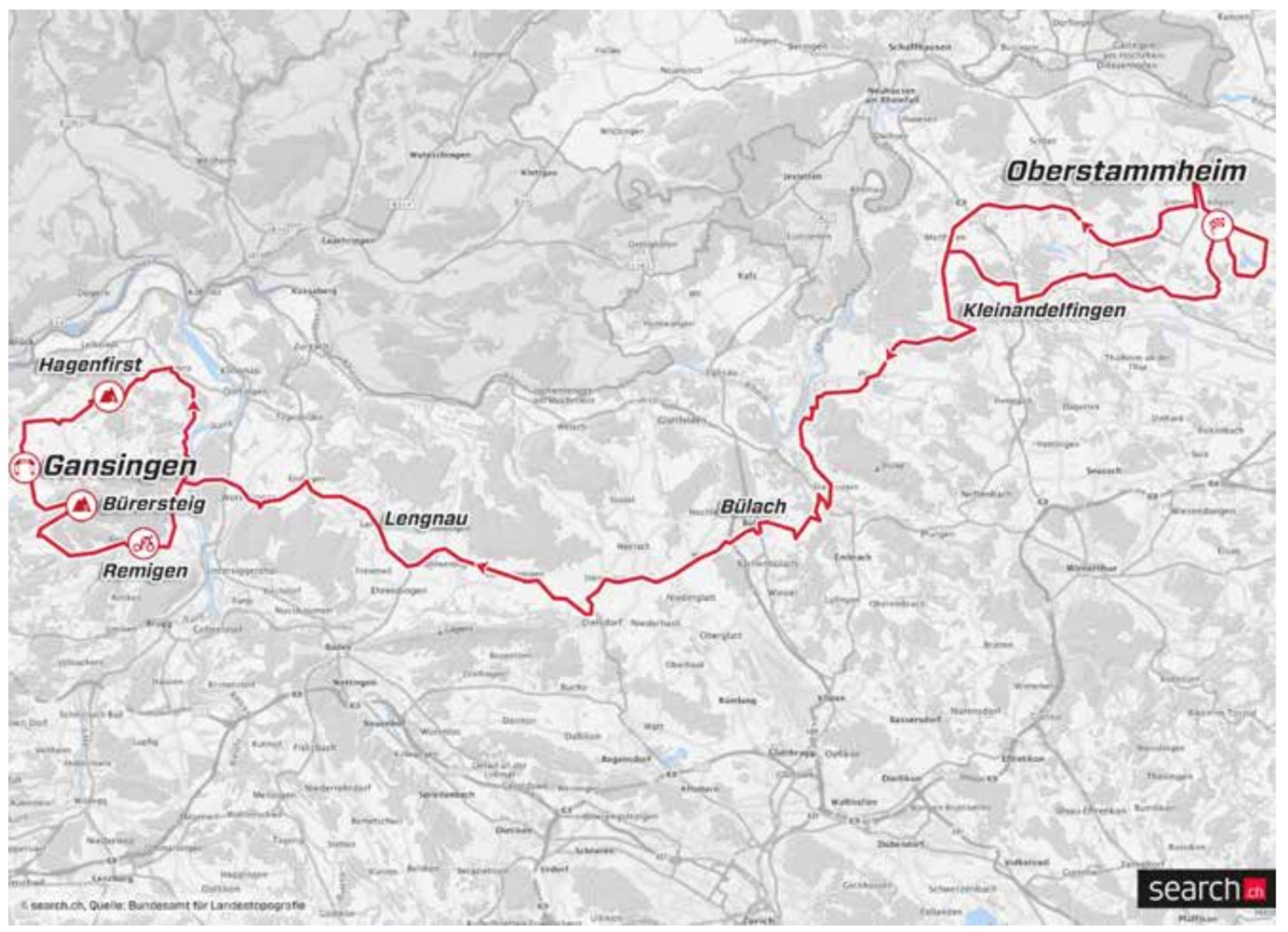 Just like today, this could be another frustrating day for many of the sprinters.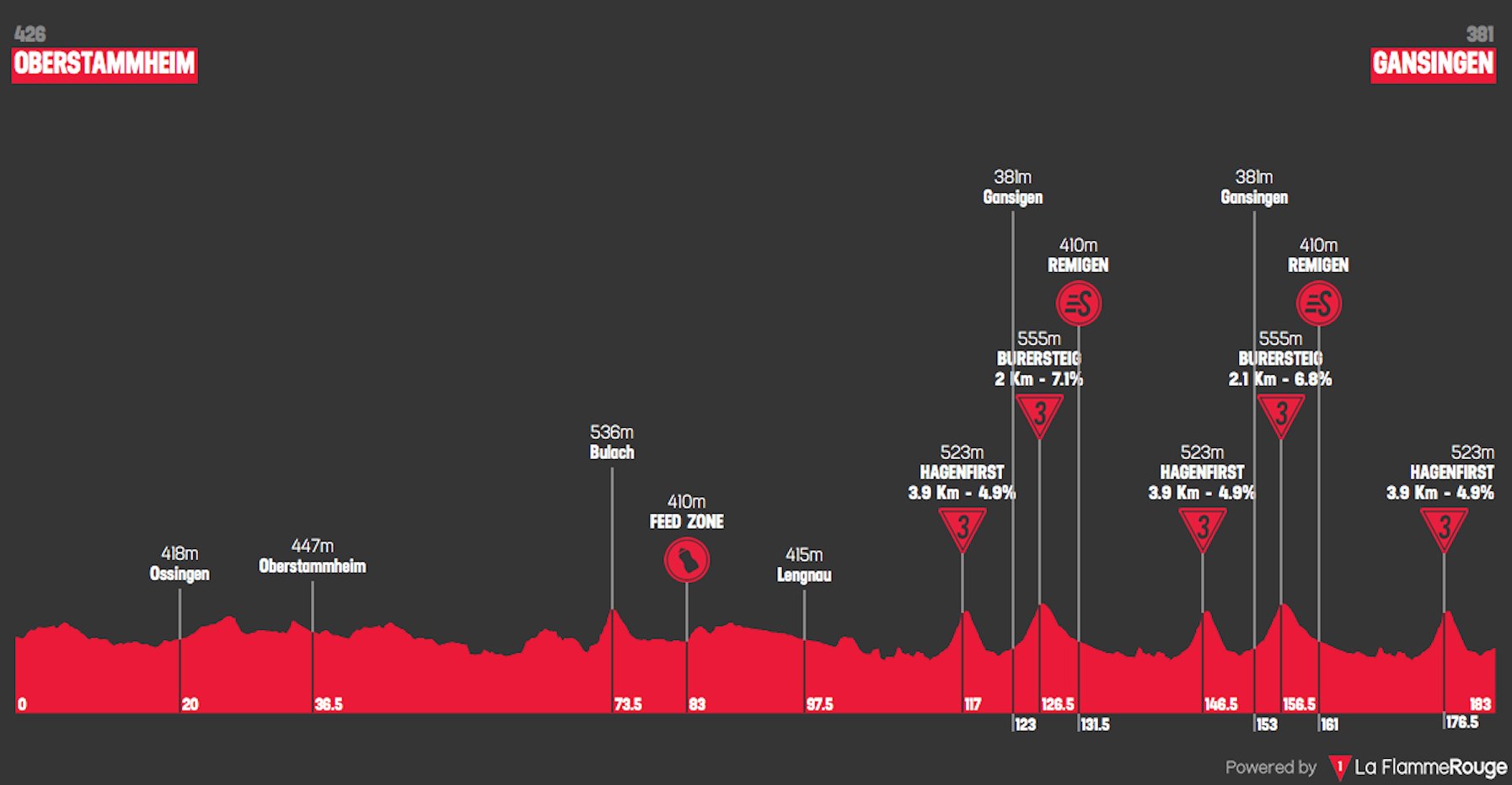 This stage looks relatively easy, but there is a fair bit of climbing in the second half. In total we have 2260m of ascension, which is more than stage 2. Once again we have a lap circuit, this one contains the climbs of Hagenfirst, 3.9km at 4.9%, and Burersteig, 2km at 7%. Neither climb is particularly difficult, but the final climb crests with just 6.5km remaining. This is the main problem for the sprinters.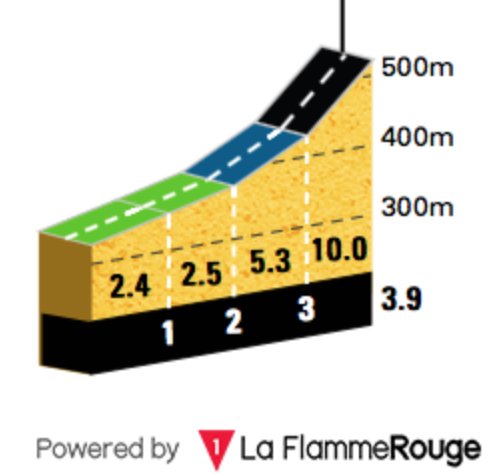 The climb is a sneaky little effort, it looks relatively easy, but it does ramp up near the crest. That final section will provide the perfect launchpad for any rider looking to escape the bunch. Once over the top, the descent is narrow and very fast.
Weather
Warm, humid and a chance of a large thunderstorm!
Finale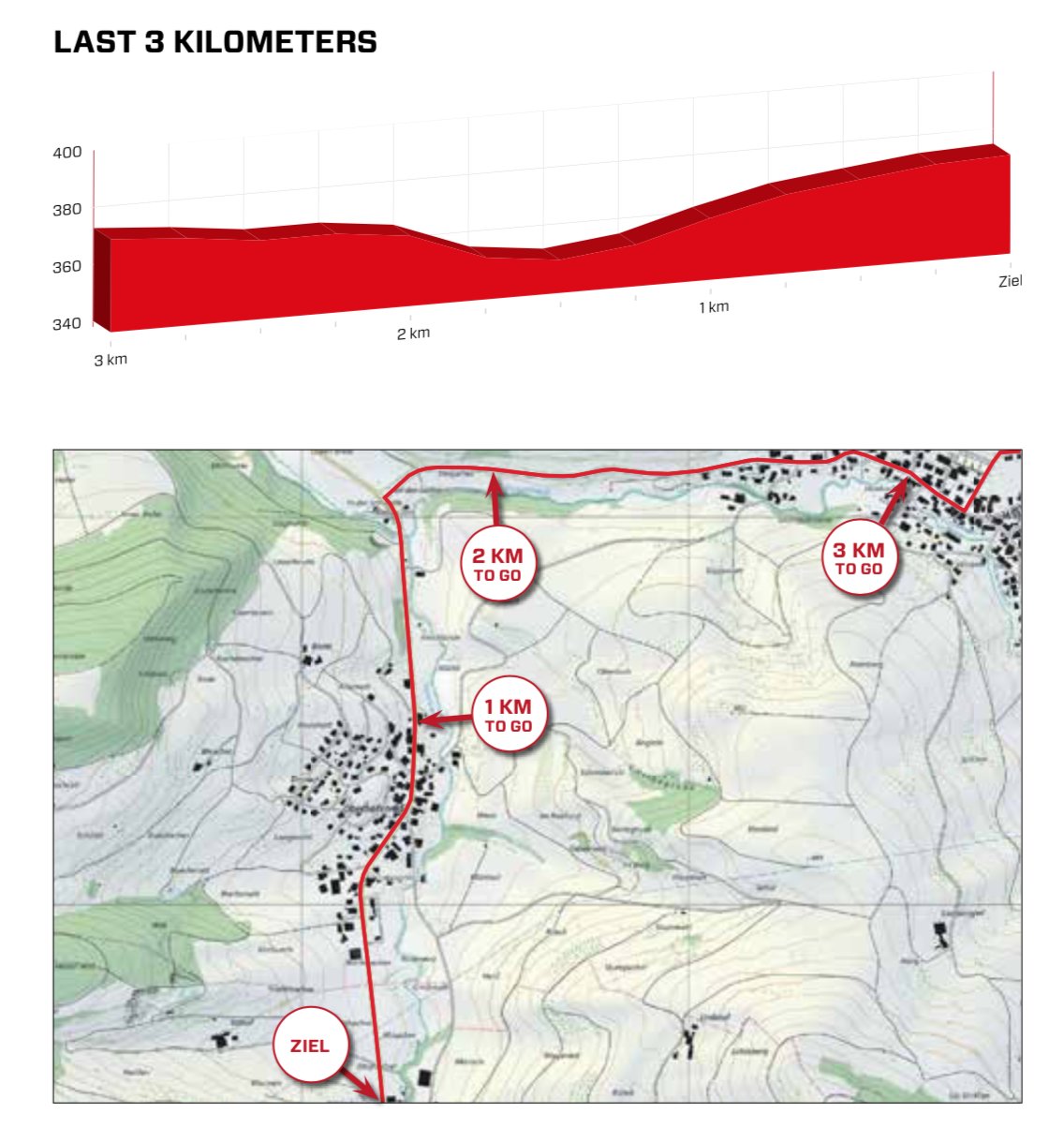 The straight roads will make it hard for the attackers to hold off the bunch. The final 1.5km does rise, but we're only talking about 2%. The final 3km is on a typical two lane road, so there is space to move up. The slight climb will make timing your launch very important, there is no point jumping with 250m to go. The best sprinters will be patient and wait until 150m.
Sprint Or No Sprint?
Today's stage gives an indication of what to expect. Rider after rider was happy to attack and this snapped the elastic of the bunch. As the final climb is so close to the finishing line, I expect to see attacks and we won't have a big sprint.
Given the way a number of the sprinters climbed today, I can't see this getting better for them in this stage. Some might have struggled with this being the first real stage and might hope for better, but I'm not convinced. If you were dropped today, you'll probably be dropped tomorrow.
Contenders
Peter Sagan – he loves this race! After taking his 16th win, he starts this stage as the favourite. He'll look around on the final climb and decide what his best strategy will be. Sagan can wait for the sprint, but he also loves attacking and I wouldn't be surprised to see him move on the climb. Bora did a great job today and they have the power required to put Sagan into the best position.
Fernando Gaviria – launched his sprint too early today, but he'll be happy enough with 2nd place. Looking at the final climb, he'll expect to survive and contest the sprint. Unlike Sagan, I don't think he has the punch to attack on the climb, instead he'll look to survive in the middle of the group and hope his team can close down any moves.
Michael Matthews – today wasn't a great sprint by the Aussie. Gaviria and Sagan breezed past him and his confidence will have taken a knock when Nathan Haas beat him to 3rd place. Matthews will have to think carefully about his tactics, I think he should try and attack on the climb and not wait to be beaten by Sagan in the sprint.
Nathan Haas – the surprise of the day. To get up and finish 3rd was a brilliant result for Haas and one that will give him lots of confidence. Like all the other riders, he'll have to decide how he approaches the final 10km. He has the kick required to attack on the climb, but will he risk it all?
Michael Albasini – I'm still not sure why he attacked so early today. If he didn't want to wait for the sprint, he should have made his move in the final lap. Maybe he was just looking to get some intensity in the legs, heading into this stage. Given his attack today, I think he'll try and distance his rivals on the final climb.
Greg Van Avermaet – as we get ever closer to the Tour, Van Avermaet will be wanting to sharpen his form. His classics campaign was a disappointment, he only reached the podium in E3, but he returned to form when winning the Tour of Yorkshire. It will be interesting to see if he can reverse his Spring form.
Philippe Gilbert – team tactics will determine if he gets freedom or not. QuickStep have Gaviria, and Gilbert would be an important part of his sprint train, but he might be allowed to cover moves and take his chance if it presents itself. Something similar happened last year when he sprinted to glory in Cham. He's not managed to net any big wins yet in 2018, that's something which will surely change soon.
Prediction Time
If the heavens open, this stage will be carnage. If the rain doesn't come, it will still be a fun finish but one for the punchy riders. Judging by the way he was riding today, it should be another win for Peter Sagan.
David Hunter
Follow us on @CiclismoInter
Join us on facebook: Ciclismo Internacional
Copyright © 2012-2018 Ciclismo Internacional. All Rights Reserved