Tour de Suisse 2019 – Stage 4 preview
By David Hunter
Murten – Arlesheim 164km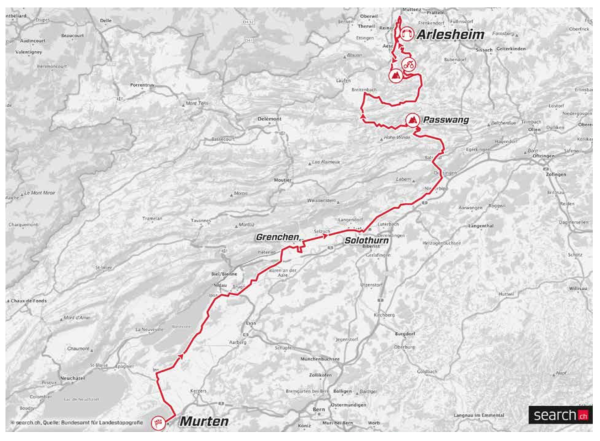 A day for the sprinters?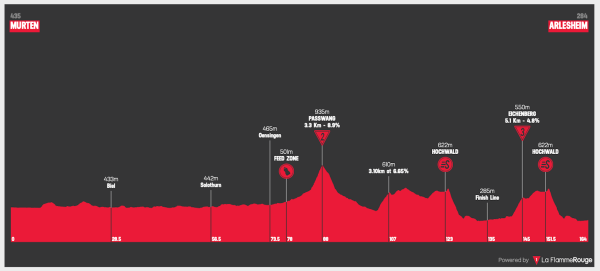 The Climbs
The climbing begins with Passwang, 3.4km at 8.3%. This climb is too far from home for it to have any real significance.
3.4km at 6.4% and it's not even categorised! It crests with 57km to go, which is still a long way from home.
The final categorised climb is 3.1km at 6.9%, with a maximum of 8.7%. The full climb is actually 7km at 4.2%, but it does include a flat section. The peloton will crest this with 15km to go, but the climbing isn't finished yet.
600m at 5.6% isn't very difficult, but cresting with 11km to go, it gives attackers a chance to get a gap on the chasing bunch. A fast descent follows, before a little kicker of a climb, almost 1km at 4%. Most of the sprinters should survive for the sprint, but probably not all of them.
Finale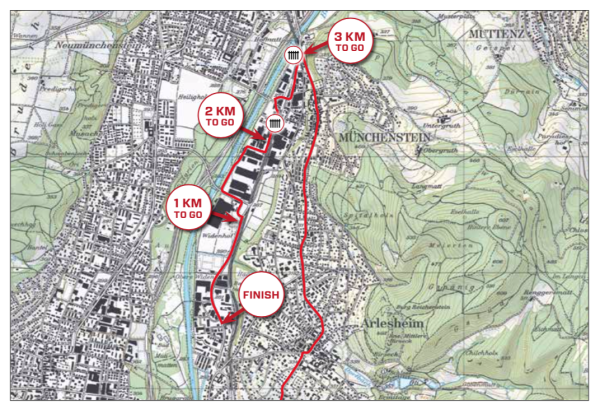 This is the last chance for the pure sprinters to challenge for a stage win, but it's not guaranteed they all make the end of this day.
We have a series of corners from 2km to go, until the flamme rouge. This will help to line out the bunch and bring order to the closing stages. Once through this section, the final kilometre is straightforward.
Weather
Another warm day for the peloton, with a little wind coming from the west.
Contenders
Elia Viviani – can he survive the late climbs? Most of the sprinters at this race will cope fine with the hills, but Viviani will be a little worried about them. 7km at 4.2% is long enough to put him into some difficulty, particularly with the little kicker coming just after it. Now, as he's about to head off to the Tour, you would expect him to be climbing well and confident of surviving. If he does, he still has the challenge of beating Sagan, but the flat sprint is good for him. QuickStep will work hard for the Italian, taking this win is huge in terms of building momentum for the Tour. The pressure is on, can he deliver?
Peter Sagan – there was no doubt he was going to win today. His ability to surf wheels in the closing kilometres is almost Jedi like, he seems to do what he wants. Bora will be keen on setting a high pace on the climbs, just to test Viviani out. Sagan is capable of beating the Italian in a flat sprint, especially as his current form looks excellent.
Matteo Trentin – possibly the only man capable of beating Sagan and Viviani, but would need one hell of a performance to do so. If he's going to cause a big surprise, he needs the perfect lead out by Alex Edmondson.
Szymon Sajnok – maybe a name some of you aren't familiar with. The 21-year-old Pole rides for CCC and is an up and coming sprinter. There is no guarantee he survives the climbs, but he is a rider who has potential and can surprise some of the bigger names. In a race of this stature, a top 10 finish would be huge for him.
Matej Mohorič – did somebody say a descent close to the finish? It's not very technical, but Mohorič has the ability to get a gap on the peloton and take his chances on the run for home. Bahrain do have García as a sprint option, but it's unlikely he'll win a flat sprint in this race. I hope to see Mohorič allowed some freedom in the closing stages.
Prediction Time
Viviani will survive the climbs, but he'll still lose the stage, with Peter Sagan taking another win.
Remember I've now got a podcast too. Go and give it a listen
David Hunter
Follow us on @CiclismoInter
Join us on facebook: Ciclismo Internacional
Copyright © 2012-2019 Ciclismo Internacional. All Rights Reserved