Tour de Wallonie 2021 – Stage 3 Preview
By David Hunter
Plombières > Érezée 173km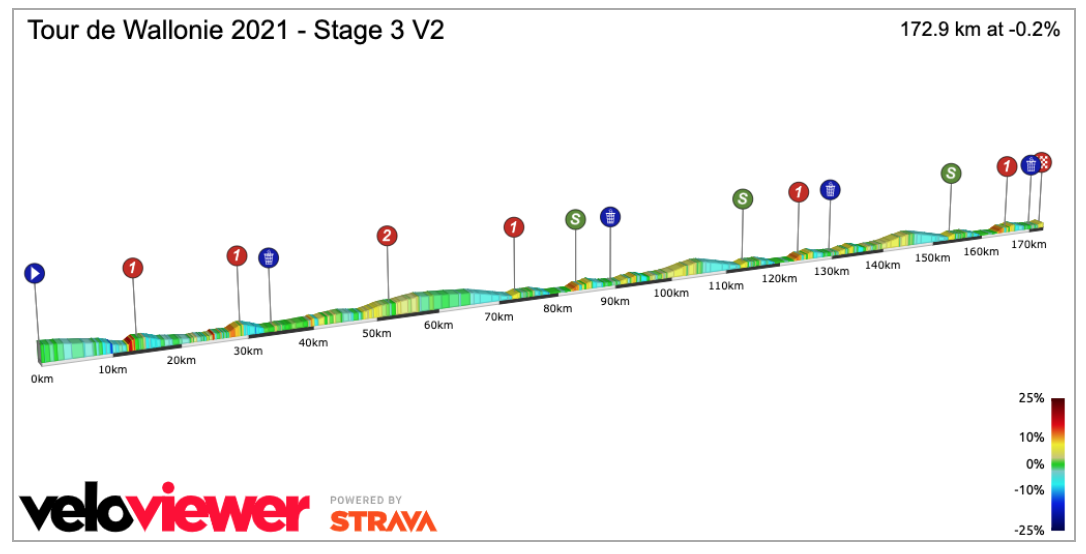 The organisers have had to change the planned start to the stage, the peloton start the day 46km into the old route. This removes a long drag of 13.5km at 3%, but they've decided to add another lap of the finishing circuit, which means we now have three ascents of Côte de Beffe. This makes the stage harder than it was before, it should be a selective day.
Weather
Hot and sunny.
Key Points
After just 12km we hit the first cat 1 climb of the day, and it's a tough one. Côte de la Ferme Libert is 1.3km at 11.3%, it's gonna hurt. Coming so early in the race is a worry for many riders, it's possible we could see a very strong break form here, one that will be hard to catch.
Côte de Wanneranval comes very soon after and is 1.9km at 8%. Having two cat 1 climbs in the opening 30km does make the opening of the stage incredibly hard to control, I sense a real chance for an elite break to establish.
We now climb the Côte de Beffe on three occasions, the final ascent crests with just over 8km to go. 1.5km at 9% is tough, but last year we saw Arnaud Démare only losing contact near the crest, he was able to re-join the front group soon after thanks to his teammates. It's one of those climbs where you know the elastic is going to snap, but you don't know when. Having an extra ascent makes this stage tougher than last year, there won't be many domestiques left to help anyone chase back on. The bad news for the attackers is the headwind on the climb and the run for home, this makes it tough for solo attackers to survive.
This is the final kilometre, it averages 5.6%. Last year Philippe Gilbert launched his sprint early, but he was passed by Démare in the closing metres. It's a grippy finish.
Tactics
Chaos! The two big teams at the race are Deceuninck – Quick Step and Jumbo-Visma but both teams are down to just six riders, controlling the stage will be hard for them. The climbs in the stage aren't long, they suit the puncheurs a little more than pure climbers, but there is no guarantee the winning move goes on a climb.
I think we'll see a lot of riders trying to force the pace early in the stage, the opening 30km really is perfect for a large break to establish. If this does happen, we'll have to see who wants to chase it. If it has representation from all the big teams it could stay away until the end, we'll just have to wait and see.
The climbers in the peloton will want to hit the climbs hard, they'll sense a chance to put the Quick Step riders under pressure. The Wolf Pack are here with Lampaert and Sénéchal, two quality riders, but they can be put under pressure on the climbs. Someone like Tim Wellens will want to test his legs and see if these two can respond. The Quick Step duo will know what's coming, they'll not just sit and wait for it to happen. I think we're in for a brilliant stage, one where many different outcomes are possible.
Contenders
Deceuninck – Quick Step – they have Bagioli, Lampaert and Sénéchal which gives them lots of options. This is Bagioli's first race for a long time, it's unlikely he'll already be at the level required to win, but he can be used as an attacking option. Both Lampaert and Sénéchal are brilliant, but they do sometimes struggle on tough climbs, it all depends on how the stage is ridden. Sénéchal survived last year, he finished 7th on stage after fading in the sprint. With three strong options expect to see the Belgians ride an attacking race and try to put the other teams under pressure.
Tim Wellens – if he's 100% he'll win the stage, simple as that! He didn't go to the Tour as he had an issue that meant he wasn't performing as well as he would have wanted. There's been no word about what the issue was and how long he's back able to train the way he wants to. It's a tough stage, he'll need to be at his best to challenge, which we'll find out on the road.
Jake Stewart – the extra final lap isn't great news for him, he would have preferred the old stage. Jake packs a punch, he'll hope the race isn't that selective and we get a reduced sprint. Groupama – FDJ were able to hold the race together last year, but they don't look as strong this year.
Matteo Fabbro – the Italian packs the punch required to win this stage but winning is something he struggles to do. He's been getting closer to landing a big one, but he's yet to take his first professional win. He's unlikely to have teammates to help in the closing stages and he'll need to attack early and not wait for the sprint.
Loïc Vliegen – he finished outside the time limit in the Tignes stage at the Tour de France, but his form should still be good. Wanty are one of the strongest teams in the race, they have Vliegen, Eiking, De Gendt and Hermans as options for this stage. Hermans is one who has a solid shout for this one, he took bonus seconds today and clearly wants a good spot on GC. The team aren't used to being in a dominant position, I wonder how they'll approach the day. I expect them to race aggressively, they need to use their options instead of just waiting for the final climb.
Timo Roosen – the Dutch champion will be keen on showing off his new jersey. Roosen has long been considered a strong classics rider, but he struggled in 2020, it's good to see him back to his best. Roosen has a very fast uphill sprint, no one will want to take him to the line.
Quinn Simmons – this is a great stage for the young American. He is very strong on short climbs; he'll want to use them to drop some of the faster riders. He's had a long break from racing, he should be fresh and raring to go. Trek-Segafredo have a strong team at the race, they'll expect Brambilla to be there with Simmons at the end of the stage. This could be the time for Quinn to take his first pro win.
Valerio Conti – his recent form has been good, he was 2nd in both Appennino and GP Lugano, and this is a good stage for him. He is strong on short climbs and likes to ride in an aggressive way, perfect for this type of stage. UAE have an okay team at this race, hopefully Alessandro Covi will be able to help Conti deep into this stage.
Rasmus Tiller – he'll love the look of the final kilometre, but he'll need to hang tough on the climbs. The Norwegian is a big guy, when the smaller riders push the pace on the climbs, he won't find it easy, but it is possible for him to survive. If he's in the front group at the end he'll be one of the favourites to win the sprint.
Andrea Vendrame – he's another rider who has a very fine sprint. The Italian took a brilliant stage win at the Giro, he followed that up with a stage win in Occitanie, before having a well-earned rest. This is exactly the type of stage he should be challenging to win, lots of little hills and a good chance of a sprint.
Prediction Time
This is the Queen stage; it's going to be raced hard. I think we'll see a very selective day and a win for Quinn Simmons.
David Hunter
Follow us on Twitter and Instagram
Join us on facebook: Ciclismo Internacional
Copyright © 2012-2021 Ciclismo Internacional. All Rights Reserved