Tour de Yorkshire 2019 – Stage 4 Preview
By David Hunter
Halifax – Leeds 175km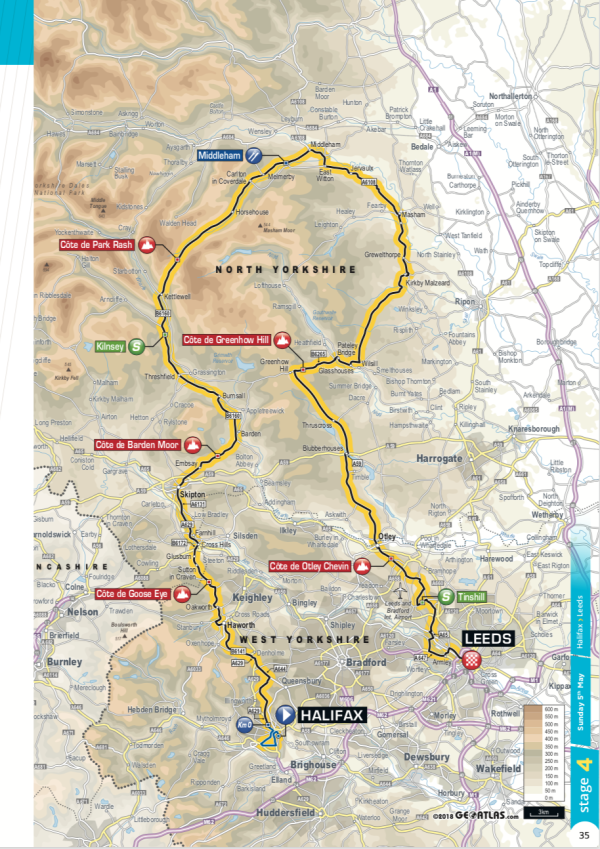 The race ends with almost a carbon copy of last year's stage, which was a beauty!

With over 3000m of climbing, this is going to test the legs of all the riders. The peloton climb from the gun with 6km at 3.4%, which is uncategorised. The opening 20km contains lots of steep ramps, all of which are unclassified, it should be a crazy start to the day, with a huge fight to join the morning break.
Once things start to settle down, the GC group should remain relatively calm until the climb of Greenhow Hill, which marks the start of the finale.
3.5km at 8.1%, with a maximum of 16.8%. This is the longest climb of the day and the elimination will begin. A long descent follows before a series of unclassified bumps, before another fast descent which leads into the next climb.
Otley Chewin is 1.7km at 9.8%, with a maximum of 19.3%. The opening kilometre of the climb is actually at 11%, it is a tough little hill. It's the final categorised climb of the day, which means we'll see lots of attacks, but with 22km still to go, it's unlikely the winning move goes here. The next climb comes just 7km after this and has an intermediate sprint at the top.
1.3km at 5.5%, with three crucial seconds waiting for the first rider to crest, I like this! With just 12km remaining, there is every chance a winning move gets away at this point, but the climbing still isn't finished.
1km at 6.1% is another opportunity for the strongest riders to put everyone else into difficulty. Once over the top, the riders only have 5km left of the day.
Finale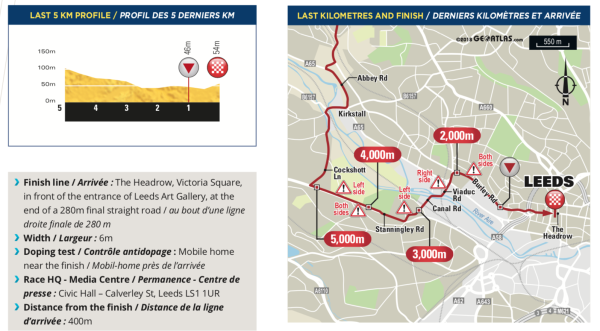 The finish has lots of twists and turns, which would be a problem if this was a big sprint finish, but it isn't. The final 300m does gently rise at about 2%, but it's nothing to worry about.
Weather
The peloton will be happy to hear that it's going to be sunny! The wind isn't particularly strong, but coming from the north-west, it does offer a chance of some fun up in the moors.
Tactics
Ineos made a mess of it today. With multiple riders in the front group, it was a mistake to ride for a sprint with Lawless. Moving into this stage, just how will they approach the crucial sections? It looks certain that they'll have the most riders in the front group, but Van Avermaet is looking very strong. Unlike today, Ineos will need to attack and try to isolate the Olympic champion, but are they strong enough to do this?
CCC also managed to get numbers in today's front group, this needs to happen again if Van Avermaet is going to win this race. Teammates will be required as Ineos are bound to try and attack and make Van Avermaet chase. The other team with numbers will be Riwal, they seriously impressed today. If they again manage to get multiple riders in the front group, it will be fascinating to see how they approach the finale.
In summary, Ineos will try and blow the race apart and isolate Van Avermaet. Once this happens, they'll take it in turns to attack and see if they can get away. Simple!
Contenders
Ineos – they still have Lawless, Golas, Froome, Dunbar and Doull in contention to win this race, that's an embarrassment of riches. Having that many riders in the front group will give them a tactical advantage, but that doesn't mean they simply win the race. When we hit the climbs and the pace is on, I just wonder which of their riders will be able to cope. Doull looked to do a considerable amount of work today, and I would think that Lawless and Golas won't survive in the front group. Does Froome really have it on the short climbs to beat Van Avermaet? Will it be all down to Eddie Dunbar?
Greg Van Avermaet – I did think he would have been tired after such a long classics campaign, but he looked in great form today. Due to the profile, he has to start as the overwhelming favourite for the race, but he'll find it very difficult to win without teammates. Ineos will have numbers, there is no way that he'll be able to chase down all their attacks, it is vital that he has help to do this. The other concern is the presence of Alexander Kamp, a rider who is faster than him in a sprint. Van Avermaet will need to ensure the Dane is dropped, as well as keeping an eye on the Ineos riders; this is going to be a complicated day for him.
Alexander Kamp – took a brilliant win today, now, can he hold on for the GC win? Riwal surprised me, to have four riders in the front group was huge for a team at their level. He is now joint with Lawless on GC, but the Ineos rider will wear the leader's jersey, which is really good news for his team. Having to control the race would have been bad for Riwal, now they can sit back and try to repeat today. This is a much harder stage than today; Kamp will need to be at his very best to survive. If not him, Andreas Stockbro provides a strong second option.
Connor Swift – great to see him moving up to 6th on GC. The British champion is taking his chance to impress the bigger teams and a move to the world tour will happen in 2020. Moving into this stage, he needs to try and follow wheels and hope that he gets a little bit of luck. Riding against world tour teams is very difficult, I wouldn't waste any energy by trying to attack.
Scott Thwaites – another rider who is looking strong and trying to prove a point. He was 5th today and sits 5th on GC, which his team will be delighted with. This is a massive opportunity for him to prove that he belongs back at world tour level and I expect him to do exactly that.
Prediction Time
Ineos will have the numbers, but not the strongest rider. Somehow I think the race will come back together and Greg Van Avermaet will take the stage and overall win. Turns out he doesn't get tired!
Remember I've now got a podcast too. Go and give it a listen
David Hunter
Follow us on @CiclismoInter
Join us on facebook: Ciclismo Internacional
Copyright © 2012-2019 Ciclismo Internacional. All Rights Reserved