Tour Down Under 2018 – Stage 2 Preview
By David Hunter
Unley – Stirling 148.6km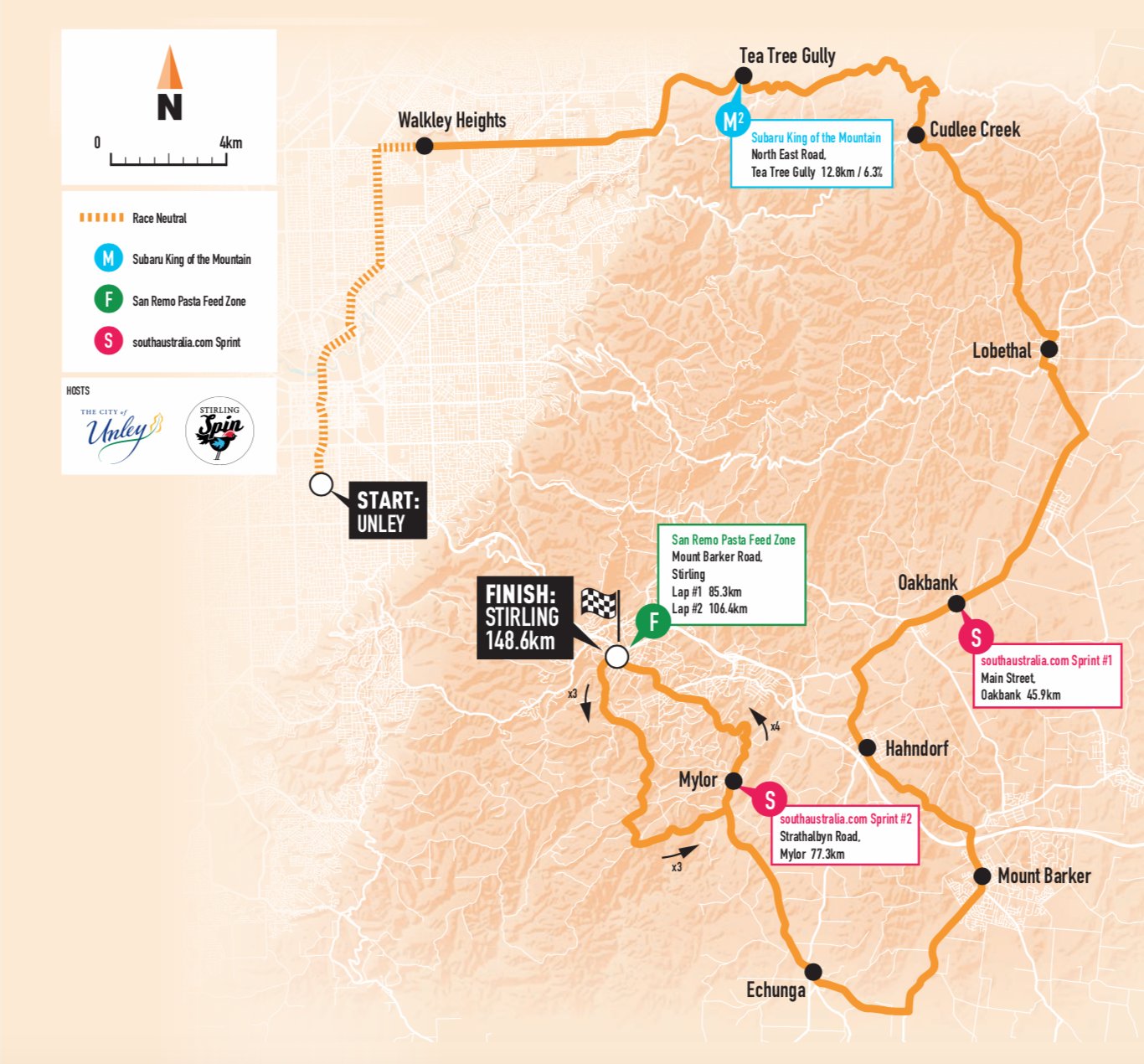 Last year the organisers decided not to have the usual finish in Stirling, thankfully, they have brought it back. For those that love an uphill sprint, it doesn't get much better than this.

The stage is slightly easier than in previous years, with just four circuits to be negotiated. This significantly decreases the level of difficulty, but it all depends on the speed the bunch decides to take the early laps. It's still possible to make this a difficult stage, but I don't see many teams keen on this.
The climb isn't particularly hard, only around 4km at 4%. The riders then dip down and hit a fast downhill, involving a roundabout, before the road rises for the final 1.8km. This is a very dangerous point of the race, it is possible for a late attack to stick. If not, we could still see a surge from the 500m mark. The road is very wide, allowing attackers to switch away from the bunch and find some clean air. This isn't a guaranteed sprint.
Bonus Seconds
The opening intermediate sprint comes after 46km. If the break takes a while to form, we could see some of the GC boys interested in the bonus time. They know that BMC are vulnerable in any sprint. We then have 10, 6 and 4 on the finishing line. BMC are faced with an interesting choice about who sprints, as Gerrans is their quickest man, but Dennis would also like a chance of making the podium, just like he did in 2016. The BMC director has some big decisions to make.
Late Surge
With the likes of Sagan present, it will be hard for the puncheurs to take a win. Both Haas and McCarthy know that they need bonus seconds before we head to Willunga, that could see them adopting a risky tactic. An attack with 1km remaining will either end in victory, or a place in the bunch. Realistically, both could challenge for 3rd in the sprint, but will they risk the 4 second bonus for a stage win and 10 seconds?
Weather
Roasting hot! This will make the stage seem very difficult for a lot of riders.
Contenders
Peter Sagan – won the People's Choice Classic and finished 3rd in the opening stage. If this was in July, no one would be able to get close to Sagan. Bora are here to support Jay McCarthy, does that mean Sagan will be leading him out? It certainly is an interesting dilemma for the team boss, as McCarthy really does need the bonus seconds, but Sagan is the favourite for the stage. I can't help think that if Sagan wants to win this stage, he will.
Caleb Ewan – it is easy to write him off for this stage, but I see no reason to do so. Given the way he was climbing in the Aussie road nats, he must be confident of making the sprint. This stage is known for being too hard for a lot of the quick men, but Ewan is a capable of getting over small climbs. The uphill sprint isn't a problem for him either, his Vuelta stage win in 2015 was an uphill sprint. If the opening laps are easy, Ewan will not be dropped. He seems to be having a few problems with his lead-out, I still think it was a mistake to leave Kluge and Mezgec back home.
Andre Greipel – has a terrible record in Stirling. The German has started the race in fine form, but this circuit is not to his liking and I don't see him competing for the win.
Simon Gerrans – was 2nd here back in 2014, just losing out to Diego Ulissi. As I have mentioned, he should be BMC's best option, but we will have to see if he gets the nod. Now 37 years old, I'm not sure what zip he has left in his sprint. I would be surprised to see him win, but maybe there is life in the old dog.
Jay McCarthy – won this stage in 2016, but a crash did take out some of his main rivals. The Aussie has a very fast jump, something that helped him take silver in the recent Aussie road nats. No doubt he is Bora's main man for the race, but will they favour him over Sagan in this stage? If he is lucky enough to be led out by Sagan, he would have a massive advantage over his rivals.
Diego Ulissi – won the stage in 2014 and just lost out to McCarthy, back in 2016. Now riding for UAE, Ulissi enjoyed a good 2017, including a win in GP Montreal. He likes a tough finish, but would prefer a steeper gradient. Looking at the kick of his rivals, I think it will be difficult for Ulissi to win this stage, but a podium is possible.
Nathan Haas – he's in a very similar position to McCarthy, with pressure on him to pick up bonus seconds. Haas has always been an underdog in this race, it will be interesting to see how he deals with the pressure of being one of the favourites. His team looks very strong, I can see them lining out the bunch in the closing kilometres. A strong sprinter, Haas has a good chance of making the podium, especially with Restrepo leading him out.
Prediction Time
It all depends on what Bora want to do. I think they'll try and set up McCarthy, but Nathan Haas will take the win.
David Hunter
Follow us on @CiclismoInter
Join us on facebook: Ciclismo Internacional
Copyright © 2012-2018 Ciclismo Internacional. All Rights Reserved