Tour Down Under 2018 – Stage 5 Preview
By David Hunter
McLaren Vale – Willunga Hill 151.5km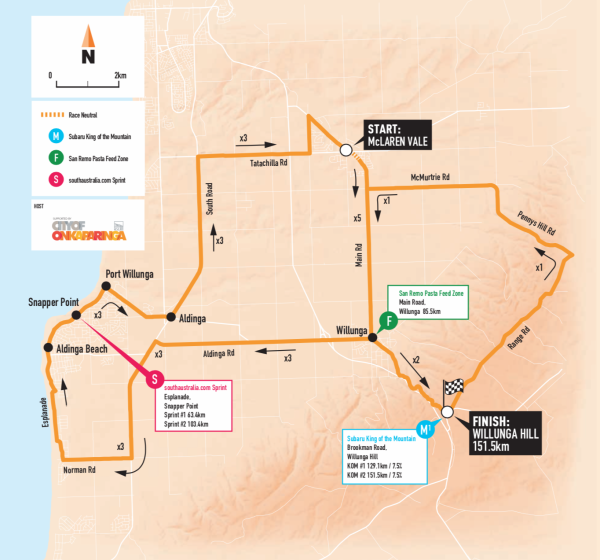 It's Willunga time!

Richie Porte is aiming for his fifth consecutive win on this hill, that would be some achievement. All the other riders will be asking the same question, how do you beat Richie on Willunga?
The Climb
3km at 7.5%, doesn't sound all that difficult, but Porte is incredible on slopes like this. He is capable of a sustained attack that eventually breaks the legs of his opponents. They will know it's coming, but it is very difficult to beat. It will be interesting to see if other teams try and attack early, there is no point simply rolling until the final kilometre and letting Porte do what he always seems to do.
Weather
Hot as hell, but a headwind on the climb. This is brilliant news for all but Richie Porte. The headwind will make it a whole lot harder for Porte to drop his rivals. It is possible we will also see echelons on the road into the foot of the climb. This section is wide open and we've seen teams attacking here before.
Tactics
If you have strong teammates, you can either get them to set a fierce pace on the climb, or attack and out pressure on the other teams. In recent years, we've seen teams go for the defensive option. With a strong headwind, it really is crazy to attack from distance. The wind will have a big impact on tactics and don't think we'll see any big attacks until the final kilometre of Willunga.
Contenders
Richie Porte – has to start as the overwhelming favourite. We have all seen that very few riders can match Porte on such a climb, but is he 100%? He seems to have recovered well from his Tour de France crash and looks as slim as I've ever seen him. He starts the stage 14 seconds behind Sagan, 12 behind Impey and 5 behind McCarthy, he'll be delighted that none of his major rivals have won a stage this week. With 10 seconds for the win, Porte doesn't need a big gap to the others, he can wait until the final kilometres and launch one of his massive attacks.
Nathan Haas – had an awful time in stage 4, he didn't cope well with the heat. If recovered, he poses a threat to the others, especially as he is no longer a challenger for the ochre jersey. However, yesterday would have taken a lot out of him and it will be tough to recover so quickly.
Jay McCarthy – just 5 seconds ahead of Porte, the pressure is on McCarthy. He might pick up some time in the intermediate sprints, and in the final stage, but McCarthy can't afford a big gap to Porte. If Richie wins and McCarthy is 2nd, that means he immediately loses 4 seconds. This could be very tight. He has performed well this week, without wasting too much energy, he knew it would come down to this stage. Can he stay with Porte in the final kilometre? That will determine if he wins the race or not.
Peter Sagan – after a brilliant stage win, people will again be talking about Sagan for the ochre jersey. If he does win it, I'll have to eat some humble pie! I stick by my original thoughts, Sagan is not here for GC, Bora will be working for McCarthy.
Daryl Impey – the South African has been here before. Back in 2015, he was riding for GC, but just couldn't follow the big moves on Willunga. He seems to get to the final 800m and something goes pop! He is an incredible rider and does start with a nice advantage over his rivals, but I think we'll see a repeat of 2015.
Diego Ulissi – the Italian likes this finish, his last three visits have seen him finish 4th, 4th and 2nd. A gradient of 7% seems to be perfect for him, but I think his results would be even better if the race was in May. Don't expect to see him attack, Ulissi is a very negative rider, he'll simply follow wheels and sprint at the end. He is capable of making the podium.
Egan Bernal – of all the other riders, I think the Colombian has the best chance of success. This sort of finish is very good for him and he could surprise the others. He might just have turned 21, but he already has lots of experience of racing at a high level. Could he start his Sky career with a big win?
Prediction Time
The headwind will have a big impact on the climb, as it would be foolish to attack from distance. Simon Gerrans will be used to set a fierce pace and we might even see an attack by Rohan Dennis, to force the others to chase. Inside the final kilometre, Porte will attack and we'll have to see who can follow. It looks like another win for the King of Willunga, Richie Porte. He should also win by enough to take the ochre jersey.
David Hunter
Follow us on @CiclismoInter
Join us on facebook: Ciclismo Internacional
Copyright © 2012-2018 Ciclismo Internacional. All Rights Reserved