Tour Down Under 2018 – Stage 6 Preview
By David Hunter
Adelaide 90km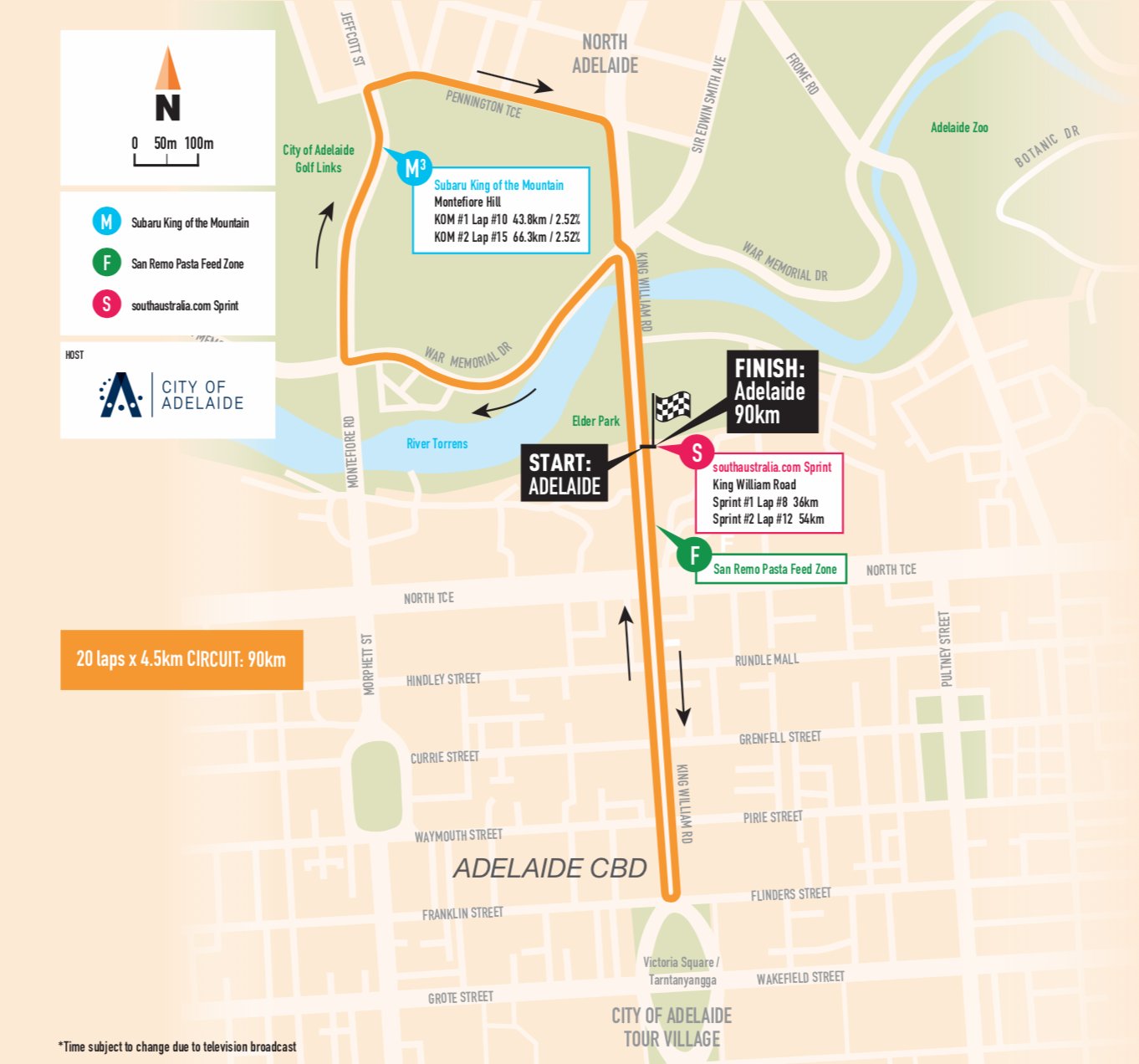 The race ends with a criterium around the streets of Adelaide.

After an epic ride by Daryl Impey, he now leads the race, joint on time with Richie Porte. Impey is a far superior sprinter, he'll have no worries finishing off the job. He will be looking to stay safe and his team can keep a close watch on BMC, just incase they try something at one of the intermediate sprints.
Count Back
When cyclists are joint on time, the organisers use a system called count back. They add together they finishing positions throughout the week and the cyclist with the lowest score is first. As it stands Impey is on 38 and Porte is at 150. If they remain joint on time, it's virtually impossible for Porte to win. He needs to try and do something at a sprint, but this is very difficult for him, as he can't sprint!
We also have Ulissi, Devenyns, Bernal and Gorka Izagirre joint on time and fighting for 4th place. Further back we have nine riders all equal and fighting for the top 10. You might not think that's a big deal, but to finish in the top 10 of a World Tour race is a huge deal to these guys and earns crucial points for their teams. This means we'll see a very busy sprint at the end of this race, with lots of GC riders trying to move up the overall classifications.
Route
The organisers are sticking with the route we have used for a number of years. It is more interesting than the People's Choice Classic and even contains a little bump that helps to line out the bunch. Being in a good position for the final corner is vital and due to the large number of riders interested in the final sprint, we always see some riders getting boxed.
Weather
Another hot day, but temperatures are much better for the riders.
Contenders
Caleb Ewan – despite a brilliant win in Stirling, his week hasn't exactly gone to plan. He has made a number of mistakes that have cost him more wins, but the team won't be too bothered as Impey has made up for this. It will be interesting to see what the team do in the sprint, as they need to keep Impey safe. I think we'll see Ewan having to look after himself, with the rest of the team ensuring Impey takes the ochre jersey. That will make it hard for Ewan to win, but he is a fantastic criterium rider.
Sam Bennett – as McCarthy is no longer in contention for the GC and Sagan has a win, it should be time for the Irishman to get a chance. He'll now be fully recovered from his cold and will benefit from a sprint train that is looking in good condition. Expect to see plenty of Bora in the closing laps, especially Rudi Selig. Now, you should all know that I love a good lead-out man, the big German is right up there. When Bora signed him, I don't think they fully appreciated what a brilliant rider he would become. Make no mistakes, he is one of the best in the business.
Andre Greipel – the Gorilla will leave Australia a happy man. He has looked impressive in the sprints and his train is working well. It is good to see Lotto decide to race Greipel and Debusschere together at the beginning of the season. If they want more success, they must keep these two together for the majority of the year. That means Debusschere will have to sacrifice some personal glory, but it's a decision that has to be made.
Elia Viviani – like Greipel, he will leave this race with a lot of confidence. I mentioned earlier in the week that I was excited to see his partnership with Fabio Sabatini. The early signs are very positive, it is always good for riders to work with fellow countrymen. It looks like the pair of Italians have a natural understanding and QuickStep will be delighted with how the pair have gelled together. Coming into this stage, the lead-out will be very important and QuickStep have lots of speed with Morkov and Sabatini. I think Viviani will be fighting for the win.
Phil Bauhaus – he started the week with 6th place in the opening stage, but his 2nd place in Victor Harbour was a massive improvement. Sunweb have been working hard on the understanding between Bauhaus and Arndt, two German riders. Similar to QuickStep, it is good to have countrymen riding together. Sunweb have Oomen and Hamilton sitting in 14th and 15th on GC, but with potential to move up into the top 10, that could see resources move away from the sprint train to help their GC boys.
Sam Welsford – the young track star is one with a bright future ahead. He started the week off by performing well in the People's Choice Classic, but hasn't been seen since. This hasn't been a surprise, as he's not ready for this level of road racing yet. As we finish with a criterium, Welsford will again have a chance at upsetting the bigger riders. He'll be guided into position by Steele Von Hoff and he'll be hoping for a top 10 finish.
Prediction Time
After a quiet week, I think we'll see Sam Bennett taking his first win of the season. Given the level of Bora's train, he should be in prime position with 250m to go. In the GC battle, there won't be any surprises as Daryl Impey completes a brilliant win.
David Hunter
Follow us on @CiclismoInter
Join us on facebook: Ciclismo Internacional
Copyright © 2012-2018 Ciclismo Internacional. All Rights Reserved