Tour Down Under 2019 – Overall Preview
By David Hunter
The organisers have been bold this year and decided to change things up. Out goes the final stage in Adelaide, no easy criterium stage this year. Instead, Willunga Hill will be the last stage, but that's not the only change. Out goes the finish in Stirling, back in comes the Corkscrew climb and a new circuit in Uraidla. It's a bold move by Mike Turtur and I like it!
Route
Stage 1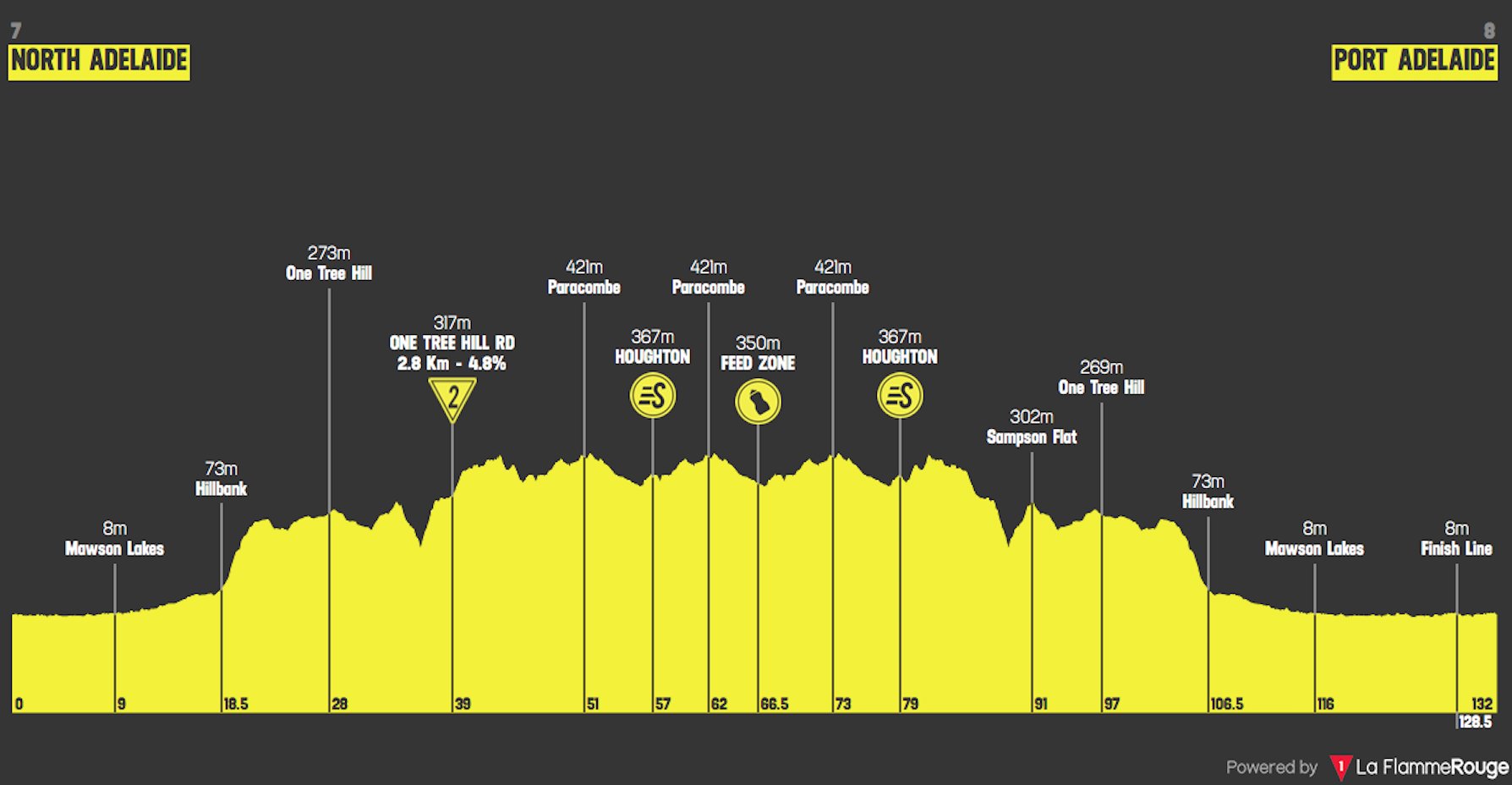 The opening stage looks a little lumpy but should still end in a bunch sprint. With many sprinters in attendance, we should see a number of teams wanting to control the morning break, setting up the inevitable sprint.
Stage 2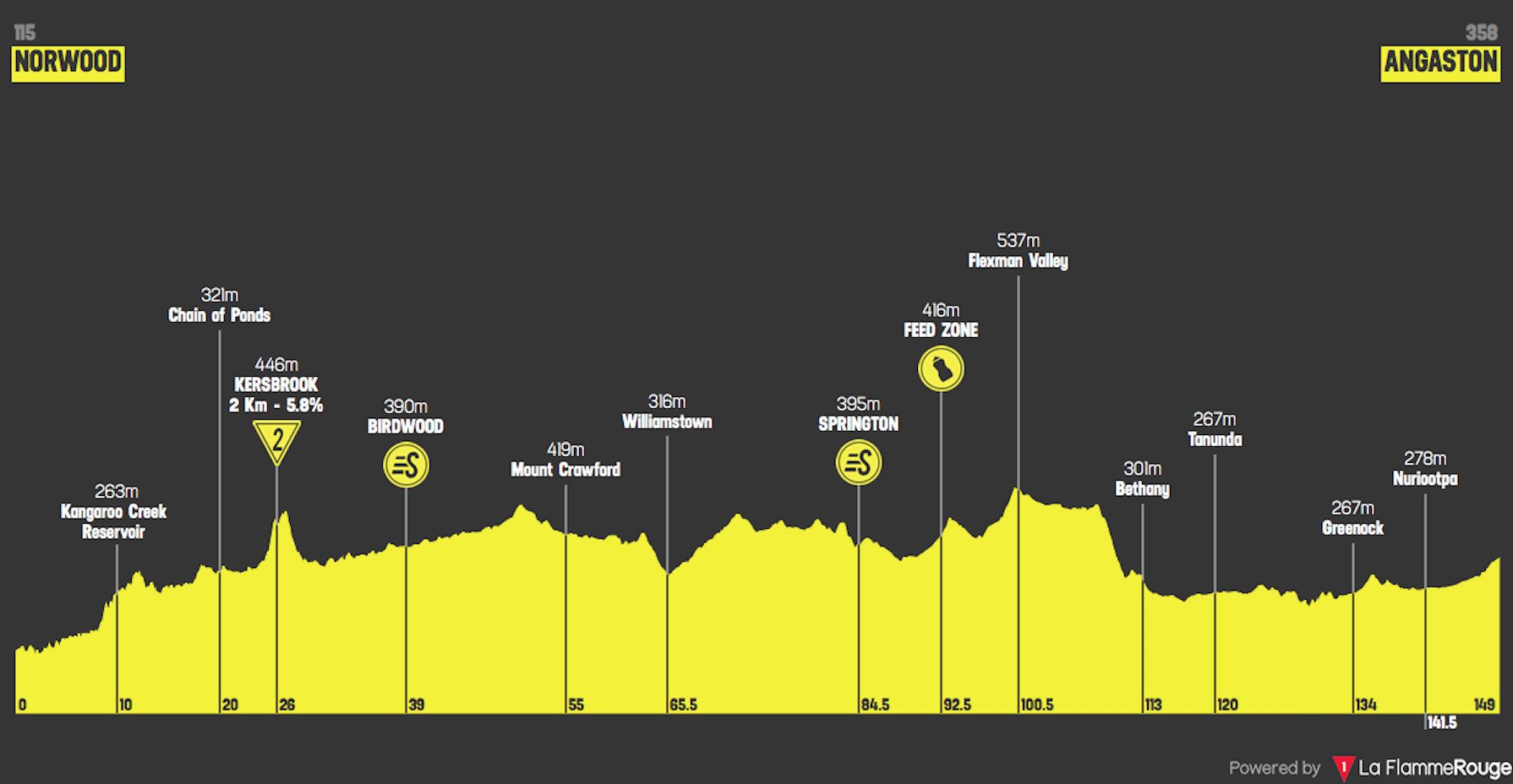 The second stage will again end in a sprint, but this time the road kicks up in the final kilometre. The gradient is only 3%, making it a finish all the sprinters will be confident of challenging in.
Stage 3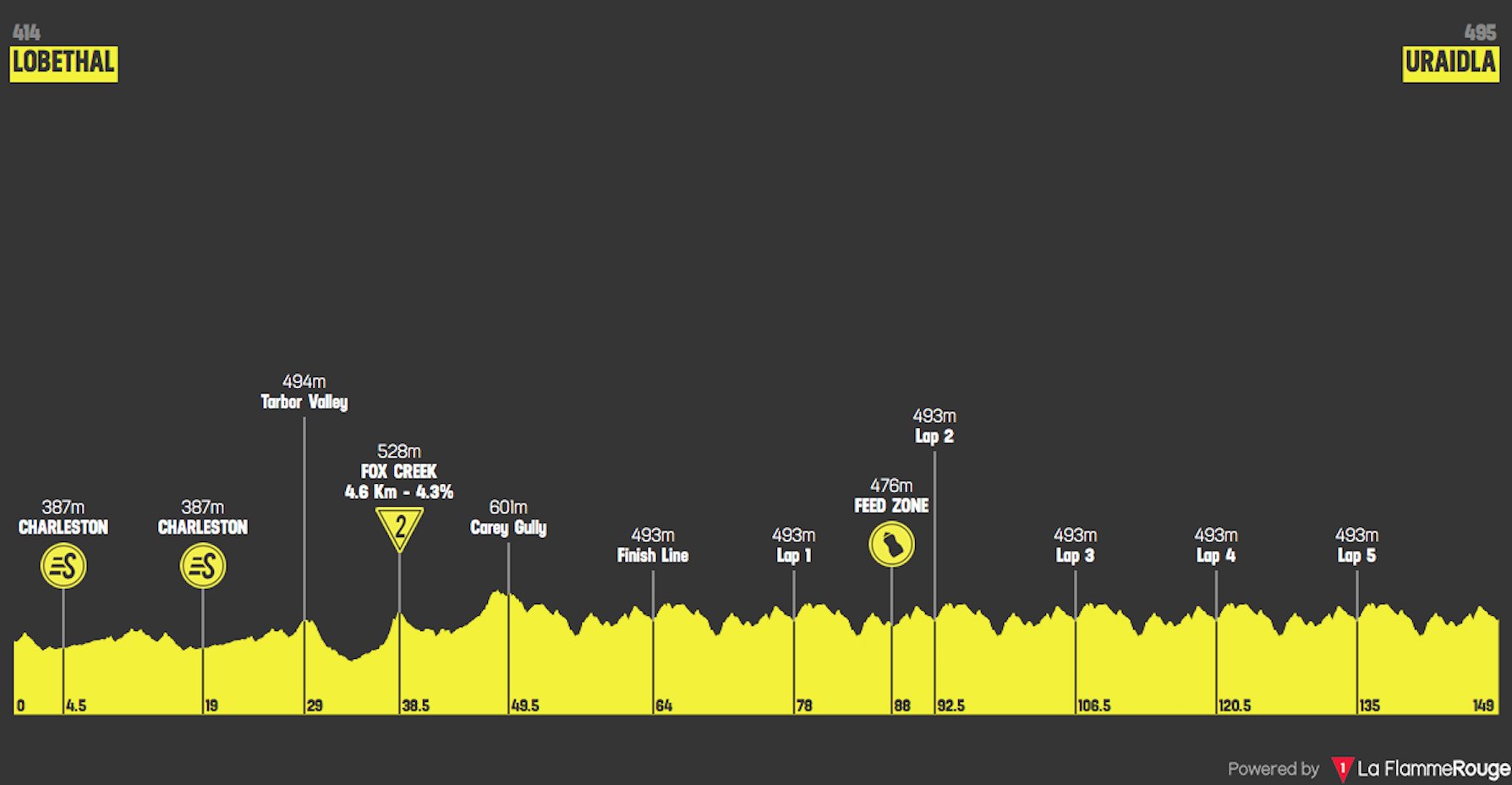 The third stage is new to the race. The finishing town is where Sagan won in 2018, but the stage is different. The lap features some very steep climbs, but they are short. With over 3500m of climbing, it's certainly too hard for a number of sprinters, but those that challenge in Stirling will hope to hang tough and make it to the finish. On the other hand, if the GC boys start attacking, we could see a very selective sprint finish.
Stage 4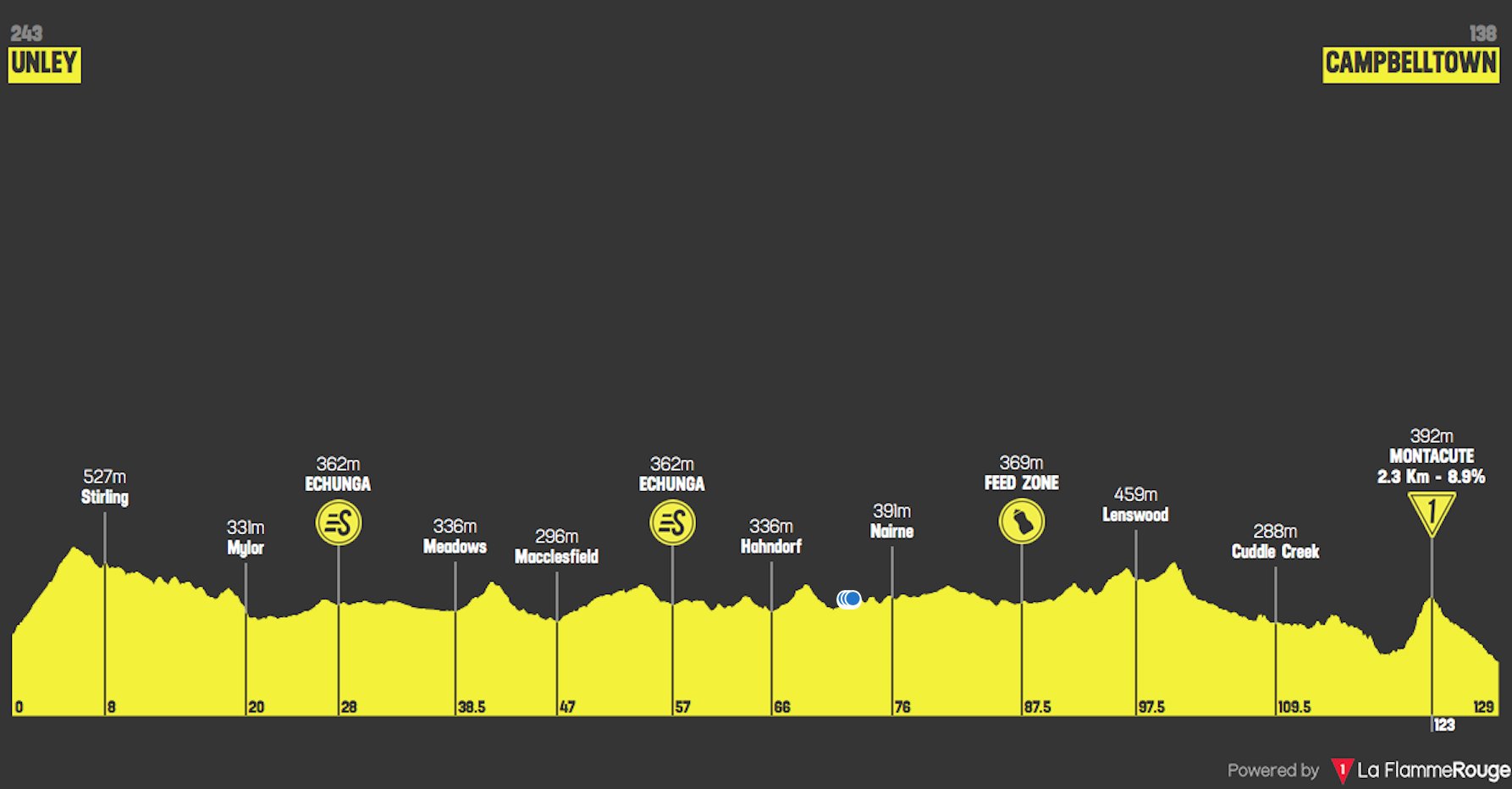 After being rested for a couple of years, the Corkscrew Road climb is back. Simon Gerrans won this stage in 2016, sprinting from a group of 10. The climb is a real leg breaker and we'll see a number of riders drop out of the GC picture. Once over the crest, we have a fast descent to the finishing line. This is a brilliant stage and I'm delighted to see it back.
Stage 5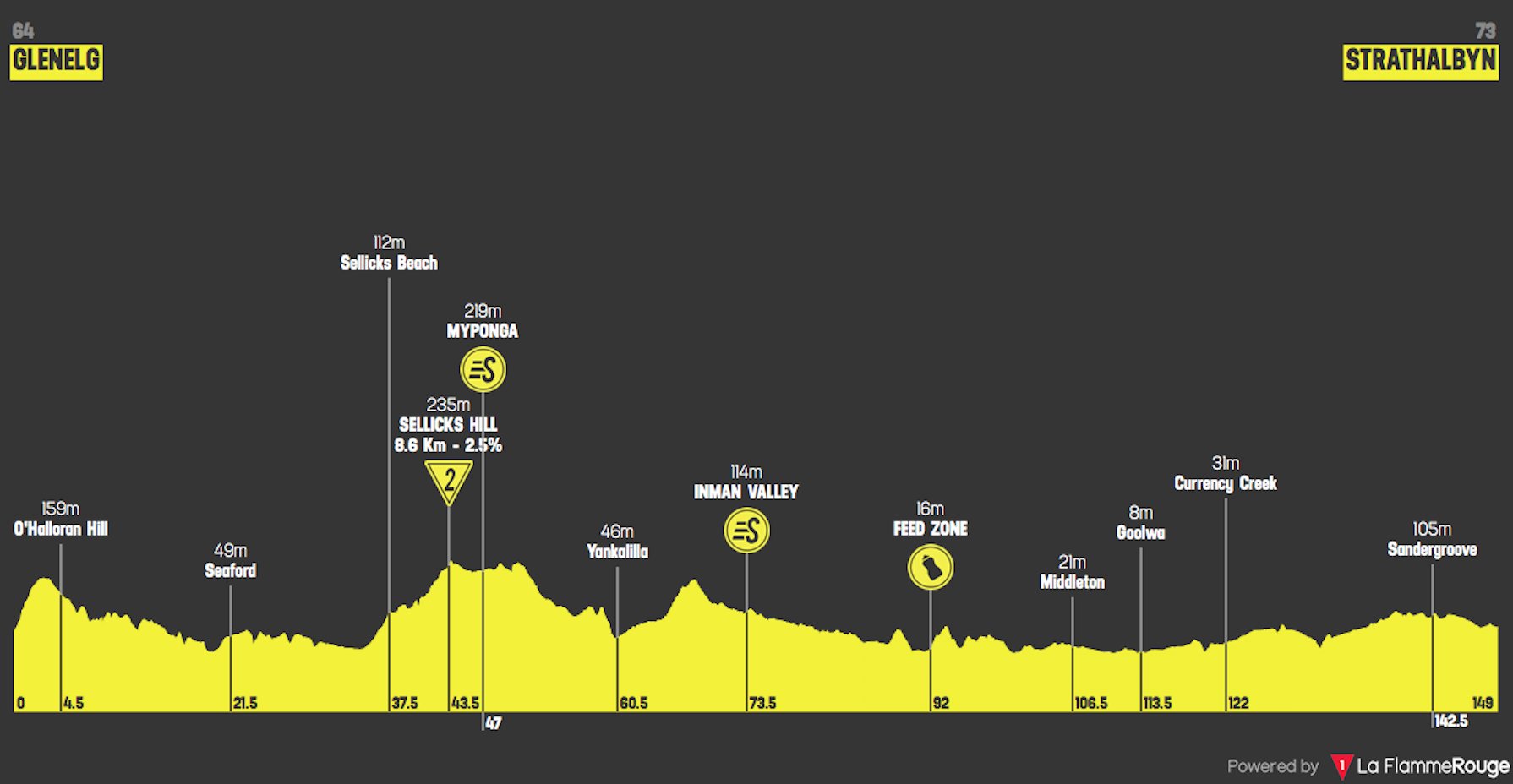 The sprinters come back into play for the 5thstage. It's an easy day in the saddle, but some tight corners in the closing kilometres will make for a nervous peloton.
Stage 6
It's great to see Willunga as the final stage. This climb is the highlight of the race and it's only fitting to see it finish it off. Will the King of Willunga win the race?
Fancy a Bonus?
As always, bonus seconds will have a large impact in this race. If a GC rider can take a stage win, the ten second bonus is crucial. Not only that, but intermediate sprints also provide an opportunity for those with a fast sprint to steal some time. Everyone knows that Richie Porte can't sprint, that gives riders like Impey, Haas and McCarthy a chance to move ahead of him before the final stage. Bonus seconds usually win this race, which is why some eagle-eyed riders will be looking towards the 3rdstage, where both intermediate sprints come in the opening 20km of the race. Those 6 seconds could be the difference between 1stand 2nd.
The third stage is one that will concern some riders. I've heard reports that it's a very demanding stage, but I've also been told that it's easier than the Stirling circuit. A lot will depend on how it's raced, as it does look hard enough to create a big selection. If we get a third GC day, it would be great news for the fast finishing GC riders. If they manage to win this stage, it will put a huge amount of pressure on Richie Porte heading into the traditional GC days.
Hot as Hell
Only the first two stages should see ridiculous temperatures, the rest of the race will be warm but enjoyable so. That is good news for the Europeans.
Contenders
Daryl Impey – his win last year has to go into the surprise category. The South African is a brilliant rider, but he always faltered on Willunga. Last year he managed to finish 2ndon that stage, 8 seconds behind Richie Porte, but his bonus seconds throughout the week meant he won the race by the narrowest of margins as he was on the same time as Porte. Mitchelton-Scott do not arrive with a sprinter, that is very unusual for them. This is good news for Impey, as they can give him the full support of the team. He says that winter training has gone well, which means he has to be a serious contender for the title. Can he be the first man to win consecutive TDU crowns?
Jay McCarthy – was the only one who tried to follow Porte on Willunga Hill in 2018, this led to him blowing and losing 24 seconds and destroying his GC bid. McCarthy has all that it takes to win this race, he loves the steep climbs and packs a very fast sprint finish, but can he step up to take a breakthrough win? Bora have a strong team to support him, but it will still take a huge ride from him to take home the ochre jersey.
Richie Porte – 2018 was a fairly typical season for Richie, with some brilliant performances in one-week races and a crash in the Tour de France! It still seems weird that he went to the Vuelta and cruised around Spain for 3 weeks, but who am I to judge? The last time someone else won on Willunga was back in 2013, that is a crazy statistic. Despite those five wins, Porte only has one title to his name, but he does also have three 2ndplaces. He must hate the bonus seconds that the other GC riders pick up in "sprint" stages. I would imagine he's a little worried about two potential GC days where it finishes with a sprint. That could really hurt him.
Diego Ulissi – the Italian is a consistent performer in this race, finishing 3rd, 4thand 5th. Like most Europeans, Ulissi finds it difficult to compete with the level of the Australian riders in January. On paper he has everything required to challenge for the title, but his sprint is a little slower than Haas, McCarthy and Impey. To finish on the podium, he really needs to win a stage.
Rohan Dennis – the ITT world champion will be looking for a fast start to 2018, especially as he's switched teams to Bahrain. They arrive with Dennis as leader and Pozzovivo as a strong 2ndoption. Dennis won this race back in 2015, crazy to think that was four years ago! A lot still see him as a TT specialist, but the Aussie is so much more than that. He can cope with all the climbs in this race and if he gets a gap on his rivals, they won't see him again. He's a strong contender for the win.
Michael Woods – I think we were all touched by his win in the Vuelta, especially when it was revealed his wife had a still born child earlier in the year. The Canadian is a rider who I have criticised for not winning enough, but his Vuelta win could change all that. I sense a new-found confidence, making him a very dangerous rider. When most of the Europeans were finding hard to train, Woods was cracking out 7-hour training rides! It seems to me that he is highly motivated to challenge for the win.
Nathan Haas – had an awful day in the Aussie Road Race, which makes me dubious about his current form. He has the ability to challenge for the title, but only if he's 100%. After suffering last year, I wonder how confident he actually is about this race?
George Bennett – the Kiwi is a rider I do like to watch. He has made gradual improvements throughout his career, but 2018 did end with a disappointing ride in the Vuelta. Bennett seems a very grounded individual and responds well to set backs. This race is one he'd love to do well in and he has the punch required to put some of his rivals under pressure. He'd like the climbs to be a little longer, but you can't have everything! Supported by a strong team, he's sure to be one of the big riders in the race.
Chris Harper – after his brilliant ride in the Aussie Road Race, Harper has to be an outsider for the podium. Riding for the UniSa-Australia squad, he'll be joined by many of his BridgeLane colleagues. The 24-year-old clearly has enjoyed a great Winter and he'll love competing against his World Tour rivals. Put in a big week and a World Tour contract will be waiting for him in 2020.
Wout Poels – initially I wasn't convinced about putting Poels in this section, but I've reconsidered. The climbs are very good for him and he packs a relatively fast sprint. Team Sky arrive with a strong team and never go to races to make up the numbers. Poels has said that this has been a target of his since before the turn of the year, which makes me believe he is here to try and win. Does he have the form to beat the Aussies in January?
Video Preview
Watch as I discuss the race with Chris Hamilton of Team Sunweb.
Prediction Time
Richie Porte has to start as the favourite, but his team worry me a little. With a lack of climbing quality, a lot will depend on Jarlinson Pantano. It looks like we could have three GC days, if Richie is isolated, teams with multiple threats can exploit Trek. I think the change to the route could throw up a slight surprise and I'll go with Michael Woods for the win.
Remember to head over and subscribe to my podcast. If you have a moment, please rate and review it too.
David Hunter
Follow us on @CiclismoInter
Join us on facebook: Ciclismo Internacional
Copyright © 2012-2019 Ciclismo Internacional. All Rights Reserved