Tour Down Under 2019 – Stage 1 Preview
By David Hunter
North Adelaide – Port Adelaide 132.4km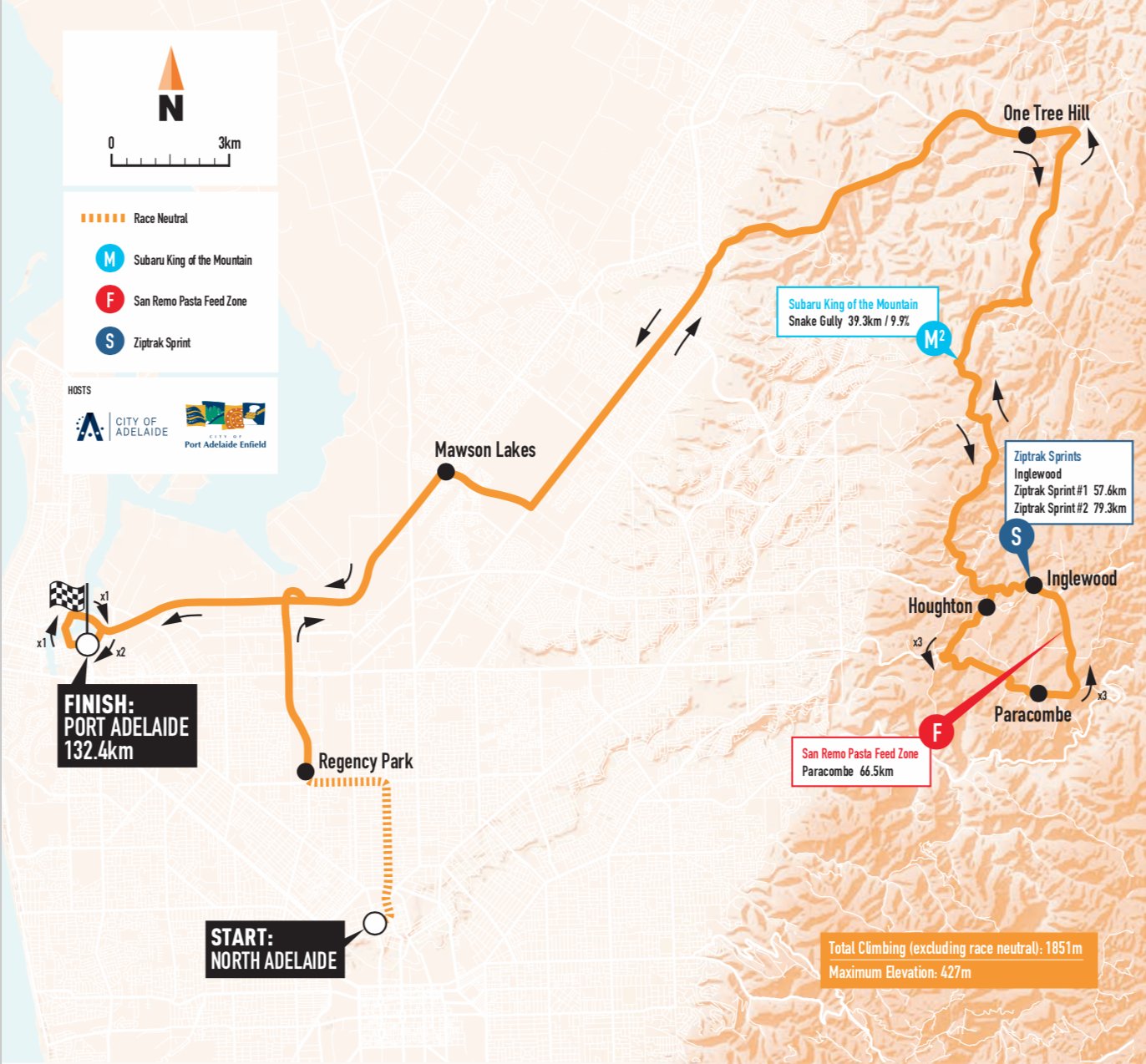 The race kicks off with a sprint stage.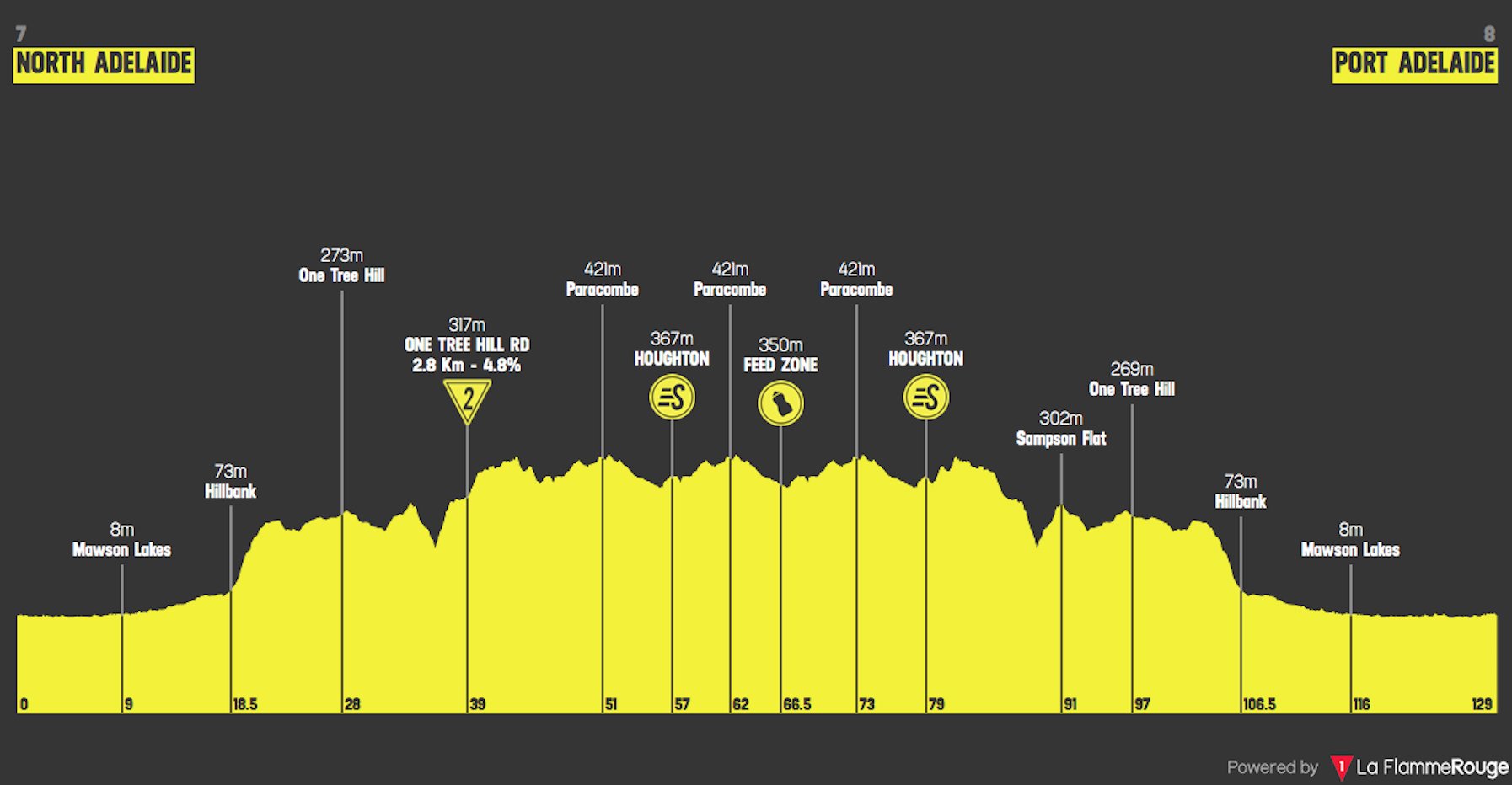 The middle section of the stage certainly has a few bumps, but this shouldn't be a concern for any of the riders. As we head towards the finishing circuit, the bunch should be big, and the fans will get to see a full-on sprint.
Weather
The main issue for the bunch will be the soaring temperatures. This stage will feature a high of 41 degrees, which will have a big impact on the race. The peloton will be very happy when a small break goes up the road, I pity the poor riders who have been told by their DSs to make the morning move. Both the break and peloton will be happy to set an easy tempo, only increasing the speed in the closing kilometres. Basically, the temperatures will make this a very boring stage. The organisers have slightly shortened the stage due to the wind, as there are reports of gusts up to 35km/h. There is a chance of some echelons, something we rarely see in the Tour Down Under, that could liven up a dull day in the saddle.
Sprint Trains
Lotto Soudal – I do like the look of this train. Ewan has his trusted lead out man, Roger Kluge, who really impressed during the Bay Crits. Ahead of them should be Adam Blythe, who has to sacrifice any personal ambitions he might have. These three men are capable of totally dominating the closing kilometres of the race.
QuickStep – the Belgians arrive with the train that worked very well in 2018. Ahead of Viviani will be Sabatini and Mørkøv, two of the very best in the business. Ahead of them we might just see one of my riders to watch, Mikkel Frølich Honoré. As this is the first race of the season, we need to see exactly where these guys are in terms of their current condition, but it's a very strong train on paper.
Bora – despite not usually needing a sprint train, they do arrive with a lot of help for Sagan. With Bodnar, Pöstlberger, Gatto and Oss, they should certainly be able to compete for control of the bunch in the closing stages. Even if they get it wrong, we all know Sagan is brilliant at surfing wheels.
Sky – it's not often we see Sky in this section! They don't have a long train, but it's full of pace and experience. Don't expect to see them until the final 2km, but they can certainly surprise some of the big names with Knees, Rowe and Doull looking to guide Halvorsen into position.
The other teams could surprise, but I don't see a lot of depth to their trains.
Closing Stages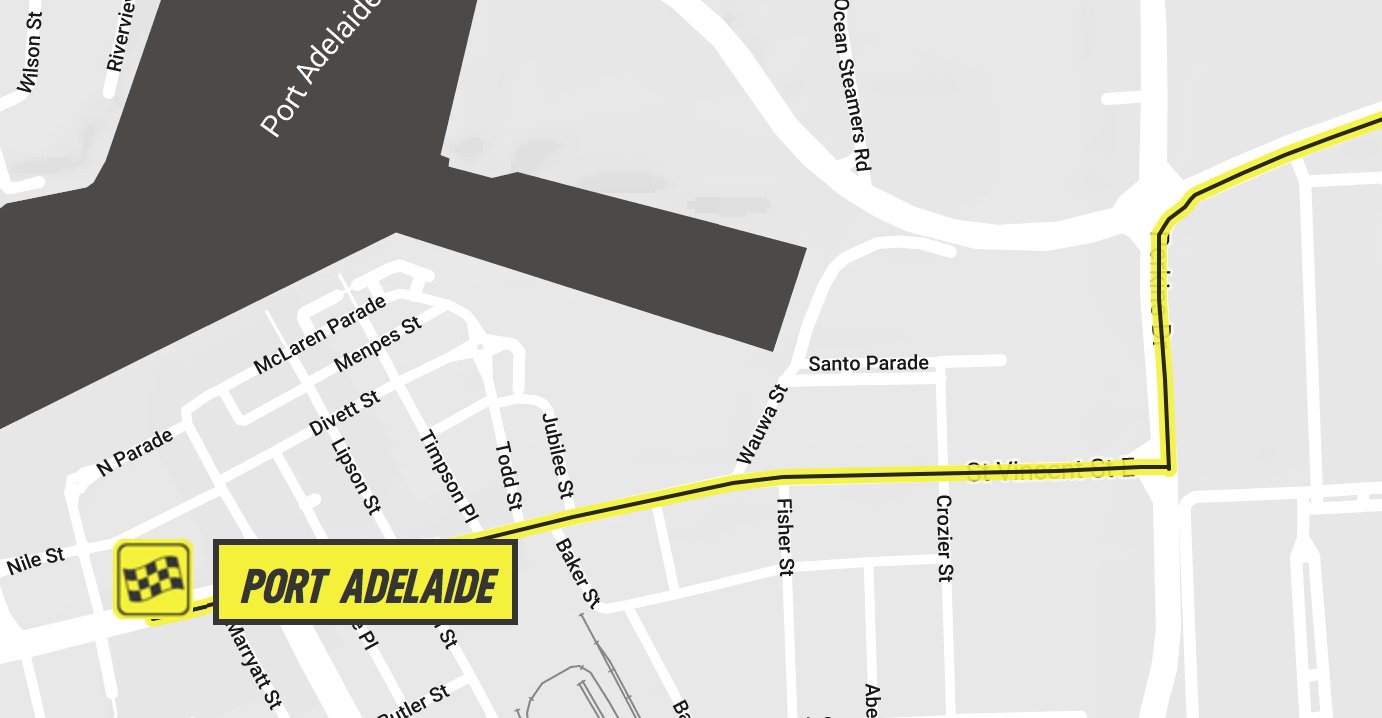 This is the new finish. The peloton are on a straight road for a very long time, which will probably make them very nervous. The roundabout comes with 1.2km remaining and the right turn is at the flamme rouge. With two pinch points so close together, the battle will be for control heading into the roundabout.
Contenders
Caleb Ewan – it was no surprise to see Caleb taking home the People's Choice Classic, he really is an expert in criterium racing. Unlike the rest of the quick men, Ewan has been back in Australia for a while now and has enjoyed a long training block and some quality racing. He took two stages in the Bay Crits and used those races to fine tune his legs. Not only that, but his lead out man, Roger Kluge, has been with him too. These two form a very strong partnership and Ewan seems to have total confidence in his teammate. Riding in 40-degree heat isn't great, but out of all the sprinters Ewan should be the one that copes the best.
Elia Viviani – the Italian also likes hot conditions, but he's not been in Australia for long and might need some time to adjust to the heat. He was taken down in a late crash on Sunday, so we don't know what his legs are like, but I expect him to already be in good form after some track racing. His lead out men arrived in Australia at the same time as him, meaning they might not be at their best, but only time will tell. After a brilliant 2018, the Italian will be keen on starting 2019 off in the same style.
Peter Sagan – is he on form? The same questions surrounded Sagan last year and he still managed to walk away with a stage win. We saw in the People's Choice Classic that he is looking quite good but didn't have the power to come past Ewan. I don't think Sagan will enjoy the extreme heat, but he'll still be up there challenging in the sprint.
Phil Bauhaus – we have a lot of second tier sprinters at this race, the German is probably the best of the rest. He's just switched from Sunweb to Bahrain, it sometimes takes sprinters a little while to settle in and adjust to a new sprint train. Bauhaus possesses the speed required to challenge the big stars and if his team can do a good lead out, he has a chance of surprising and taking the win.
Prediction Time
It's very difficult to look past Caleb Ewan. Being home for a while will be a massive advantage, especially in the hot conditions. I expect to see a dominant performance by Lotto Soudal and the ochre jersey for their new signing.
Remember to head over and subscribe to my podcast. If you have a moment, please rate and review it too.
David Hunter
Follow us on @CiclismoInter
Join us on facebook: Ciclismo Internacional
Copyright © 2012-2019 Ciclismo Internacional. All Rights Reserved