Tour Down Under 2020 – Overall Preview
By David Hunter
Time for the first stage race of 2020. We've all been waiting patiently for the racing to get started, let the fun begin.
Route
Stage 1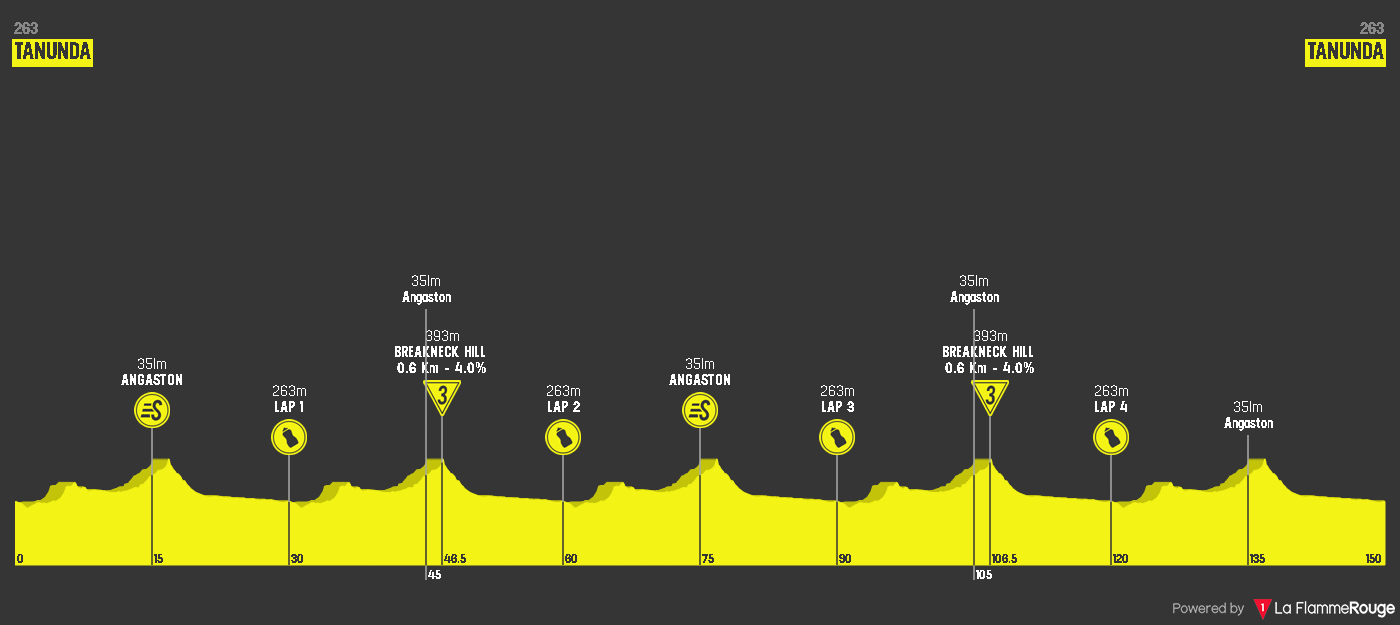 We begin with a lap circuit, something we don't often see in the opening stage of this race. With very little climbing, this is a nailed-on sprint finish. Some of the GC teams will be interested in the opening intermediate sprint, which comes just 15km into the stage. This race is often won by the slimmest of margins, expect to see someone trying to hold the race together and a fight for the 3 second bonus.
Stage 2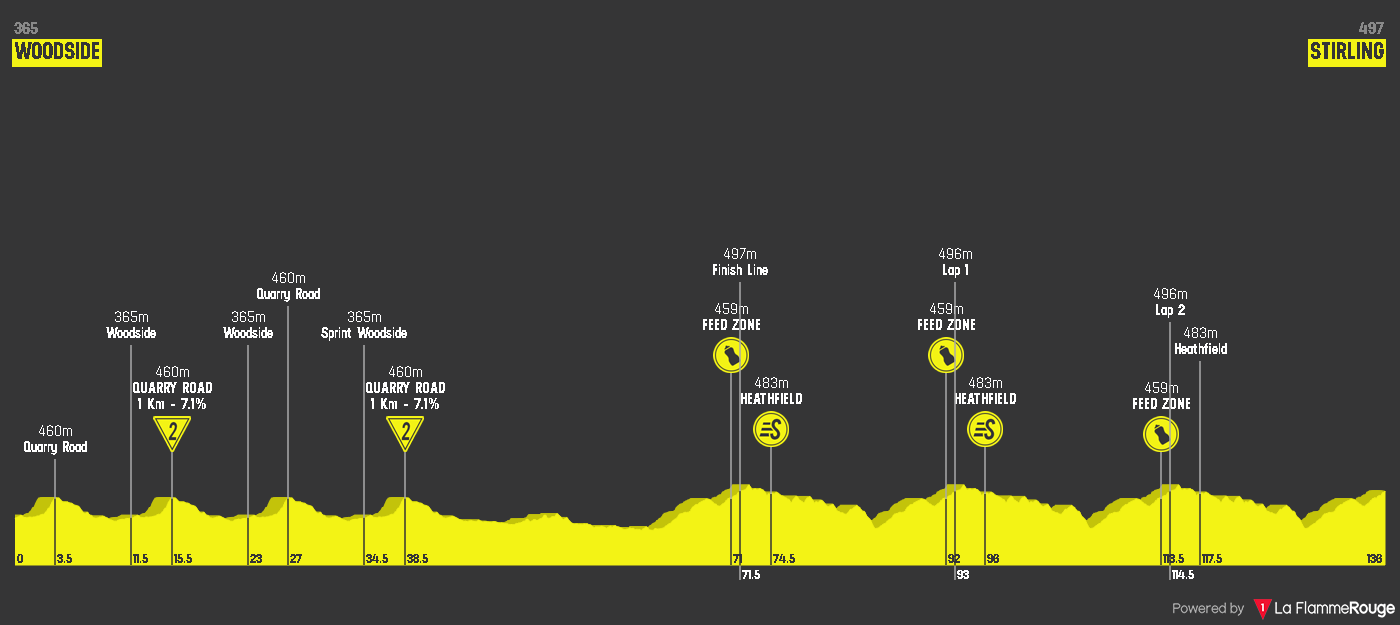 After missing out in 2019, we head back to Stirling for the well-known finish. This is one that is sometimes won by sprinters, but can also go to a puncheur. Caleb Ewan won in 2019, he'll be hoping for good climbing legs and another stage win to go to his collection. Watch out for teams like Mitchelton-Scott making this a tough day out, it's a chance for Impey to take crucial bonus seconds, but the sprinters need to be dropped.
Stage 3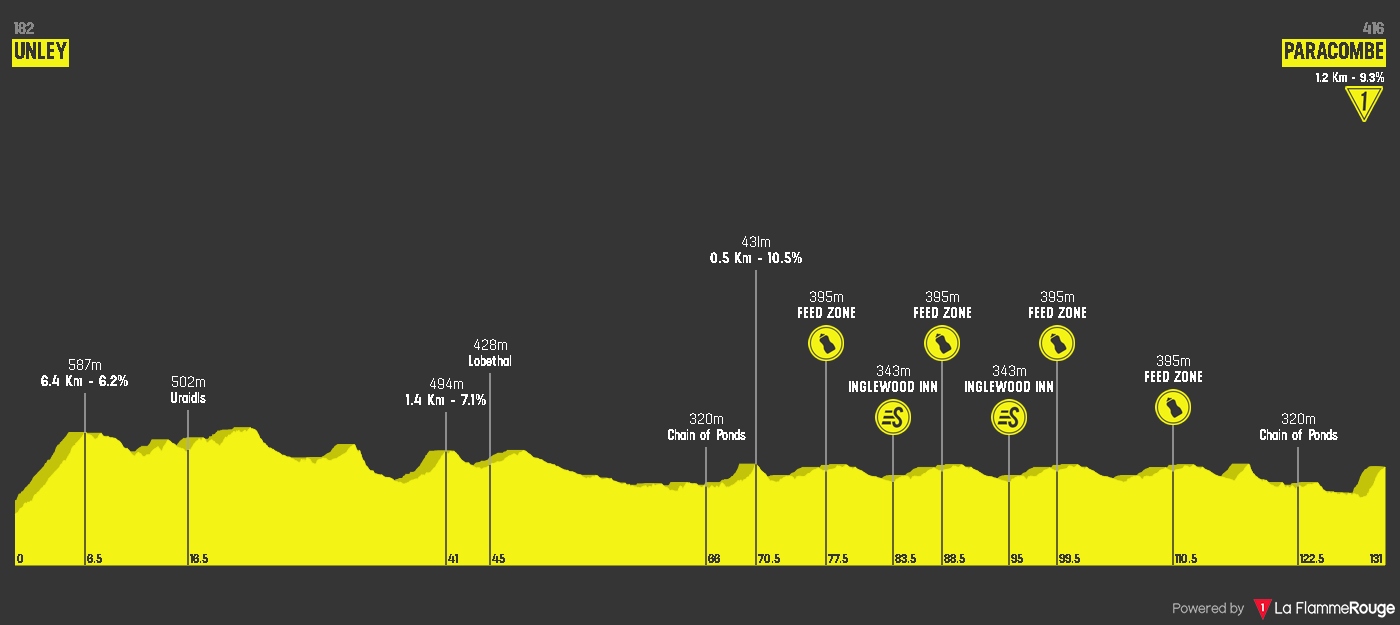 Forget about Willunga, the ochre jersey can be won in stage 3. The peloton head back to Paracombe, a finish that's been used on just two occasions. Past winners are Porte and Dennis, both of whom went on to win the GC. This is a little devil of a finish, one for those who've worked hard over the winter.
Stage 4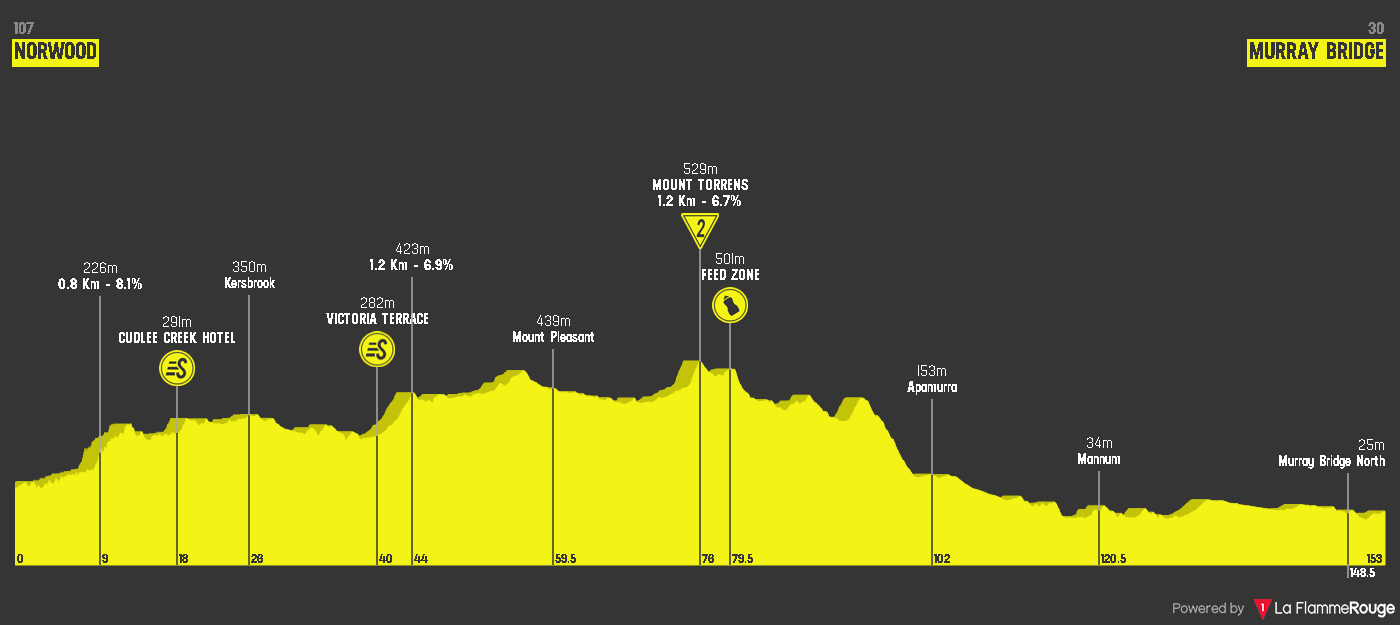 This should be another sprint, but breakaway riders will sense an opportunity. The previous day will have led to big gaps on GC, something that could be exploited by riders like Thomas De Gendt. However, it should still be a sprint, especially as it could be the last full bunch finish.
Stage 5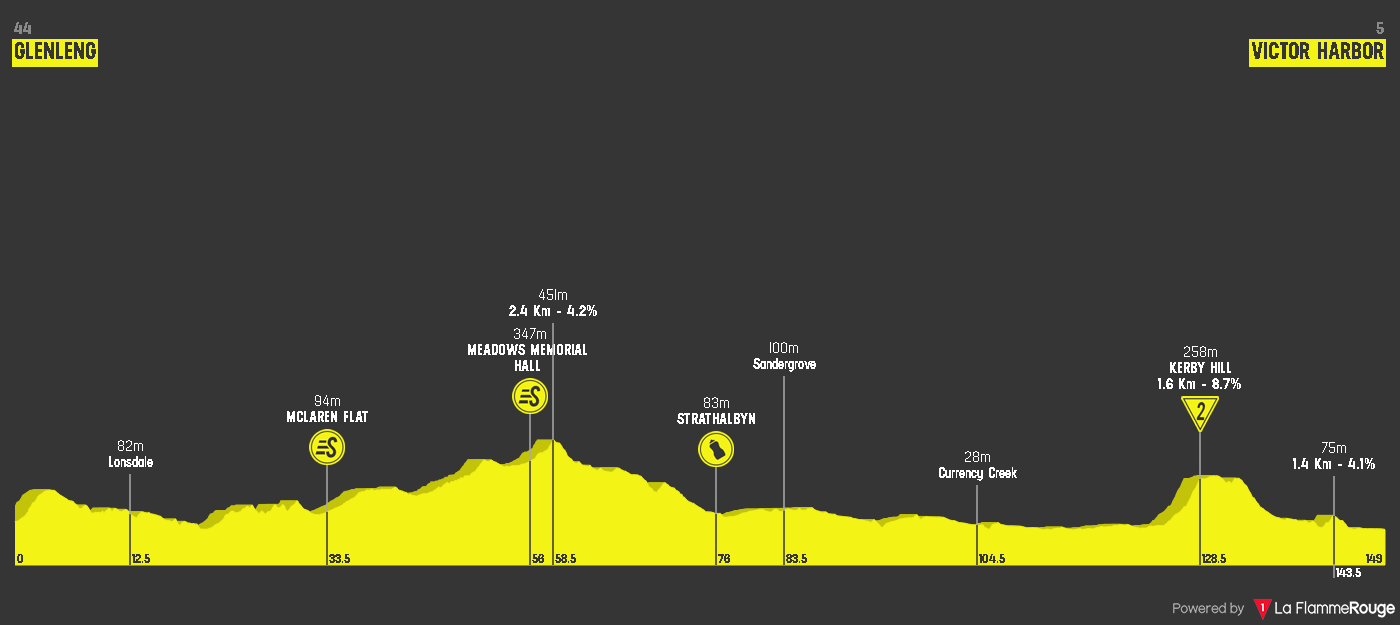 Victor Harbor is a popular finish for the race, but the route to the finishing line does change. The organisers have decided to go for the difficult option, one that could see sprinters dropped. The climb of Kerby Hill isn't easy, expect to see attacks and some of the quick men will drop out the back door. This should be a reduced bunch sprint, just as it was back in 2016 when Simon Gerrans took the win.
Stage 6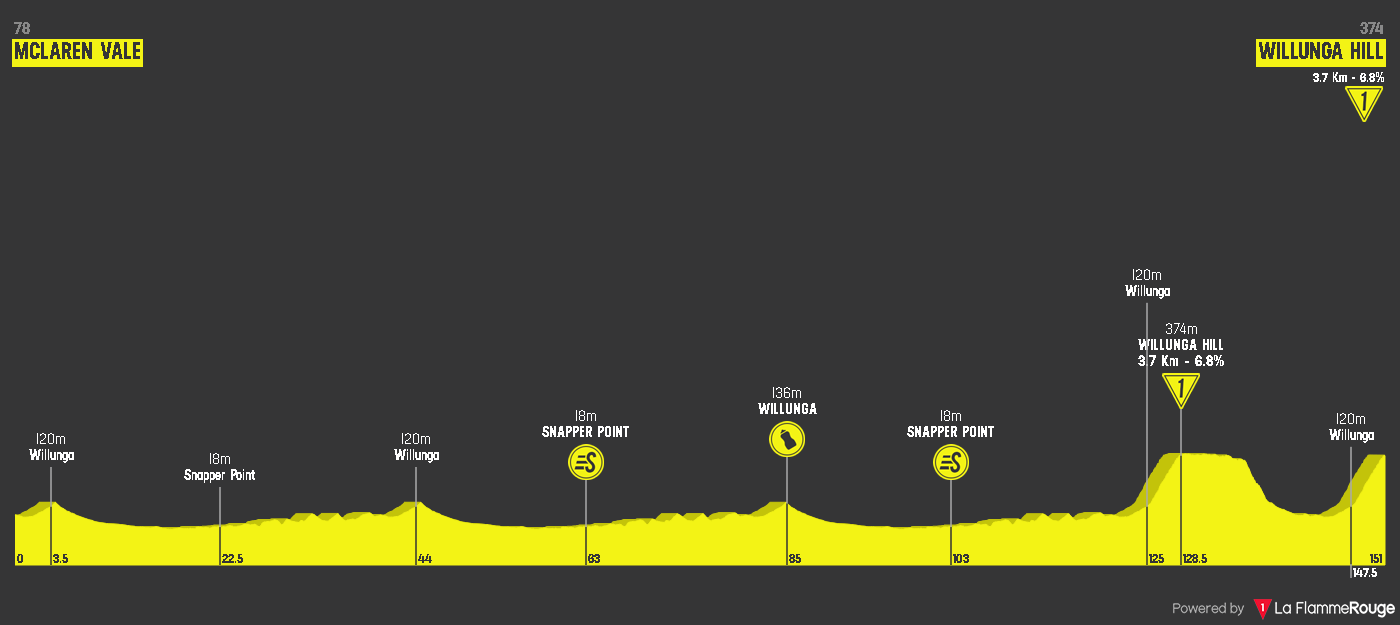 Final stage and we return to Willunga Hill, or has it officially been renamed Richie's Ramp? The Tasmanian is looking to win here for the seventh consecutive year, that would be an incredible achievement. It's a brilliant finish to the race, I'm happy the organisers have continued with it as the final stage, it's where it should be.
The Paracombe Effect
It's been part of the race on two occasions, both times the winner of the stage went on to win the GC. Although shorter than Willunga Hill, the steepness of the climb means that we can see some serious gaps. In 2017 Richie Porte finished 16 seconds ahead of second place. Although when Rohan Dennis won in 2014, he was only 3 seconds ahead of the next rider.
Being the third stage, it means this is what will shape the GC. The winner, whoever that is, can then ride defensively on Willunga Hill. Any real gap will be important, particularly with the 10 second bonus for taking the stage. If you don't know the climb, the riders approach it at high speed, before grounding to a halt to take a tight corner. This means that positioning at the foot of the climb is vital, if you start too far back you don't stand a chance. That means you need a team with some fast men, even better if they're good at holding position. Everyone knows that if you win this stage, the ochre jersey is yours to lose.
Professional Insight
Joining me to share his thoughts on the race is Laurens De Vreese. Now in his sixth year as an Astana rider, he is a regular competitor in the Tour Down Under. When not cycling, he can be found hanging out with the gangsta rappers!
This is your 6th consecutive TDU, why do you keep coming back?
"I really like this country. In general, people are friendly and love sports! There is always a great atmosphere over here, and people from the whole country come to watch this event. This is one of the reasons why I try to come back every year. Second thing is, I'm from Belgium and the weather at this moment of the year is not good enough to do good training, on a high level. The level of the races here are very high, so it fits perfect if you ask me!"
What has your winter training been like?
"My winter training was quite good; we did a long training camp with my team and I saw that everybody was motivated/professional which resulted in a high level."
Are we likely to see you in the break this year?
"First I need to follow the team orders. If one of the days I have a free role, for sure I try to do something!"
How are the team looking? Anyone nice and sharp?
"My team is always looking good! Haha. Luis Leon Sanchez won this race already once in the past and he wants to try to win again… so we put all our cards on him."
The Paracombe stage has been brought back. Do you think this makes it a race for the climbers and too hard for the puncheurs?
"All races are unpredictable, so you never know what's gonna happen. This makes cycling so beautiful, so watch and see!"
 Contenders
Richie Porte – given his success in this race, it's surprising that he's only won the ochre jersey on one occasion. The inclusion of the Paracombe finish means that Porte will sniff a big chance to take his first GC win since the 2018 Tour de Suisse. His move to Trek hasn't been a success, with illness ruining a large section of last season. This is contract year; it will do Richie no harm in starting fast and posting some impressive results. Porte arrived back in Australia at the beginning of November, and he's been training hard ever since. His level of training has been very impressive, and I get the sense he's already close to top form. Trek have a solid team to support him, Kenny Elissonde always seems to go well in this race. Porte will start the race as the big favourite.
Romain Bardet – he's taking this seriously, he's not one of the Europeans simply looking to get kilometres in the legs. Bardet arrived in Australia before the turn of the year, this has given him a long time to acclimatise to the heat and post some impressive training times. 2019 was an awful year for Bardet, the first poor period he's had for many a year. I'm looking forward to seeing how he fights back from adversity; I expect to see a big reaction. Europeans don't often win this race, Slagter in 2013 is the only time the ochre jersey has travelled to Europe since the organisers put the finish line at the top of Willunga Hill. Bardet looks like the best chance since.
Rohan Dennis – the ITT World Champion can be described in many ways, enigmatic is probably the best fit. After a troubled period with Bahrain, he's now made the move to Team Ineos and most expect this to be a successful partnership. As a former winner of this race he has to be considered as one of the favourites, especially as he's won in Paracombe. Ineos have a strong team to help support him, but he knows it won't be easy against superior climbers.
Daryl Impey – can he be the first rider to win three consecutive ochre jerseys? The South African knows that he'll have to be at his very best to win this edition of the race, two summit finishes really does swing it towards the climbers. To hold onto the ochre jersey, Impey will need to win the Stirling stage and the one into Victor Harbor. He will also have to finish close to the winner in Paracombe and on Willunga Hill. This will be tough, but not impossible. Cast your mind back to last year, Impey actually finished on the same time as Richie Porte up the famous old climb.
Simon Yates – the Brit gives Mitchelton-Scott a plan B. With all eyes on Impey, there is a chance that Yates will have a little bit of freedom in the key stages. Now, Yates won't have the same level of winter training compared to the southern hemisphere riders, and he also favoured a slow start to 2019, but I wouldn't put it past him. Winning this race is very important to Mitchelton-Scott, they won't bother which of their riders takes the glory, be that Impey, Yates, or even Lucas Hamilton.
Diego Ulissi – the Italian is a regular at this race, finishing 3rd back in 2014. He brings a level of consistency which others struggle to match, his worst result since 2014 was 11th, which is nothing to sneer at. Ulissi won't have a huge amount of help in the big stages, but I would still expect to be hanging around the top 10.
George Bennett – was looking like a proper challenger in 2019, but a feeding/drinking issue during the Willunga Hill stage ruined any chance of success. Bennett had surgery to remove three ribs at the beginning of November to try and solve a long-term problem. Despite that he's enjoyed a good period of training and arrives in form, looking to challenge for the podium. Jumbo-Visma also have Chris Harper as a viable option, having two cards to play could give them an upper hand in the big stages.
Luis León Sanchez – recent seasons have shown us that Astana start the season with a bang, I expect this trend to continue. The Spaniard is entering the twilight of his career, but he's capable of winning a race like this. His 4th place in 2019 shows that he's a rider who cannot be underestimated and the two uphill finishes suit him well.
Prediction Time
Two summit finishes is just too much for riders like Impey, this will be won by a climber. It's hard to see any of the Europeans already being anywhere close to 100%, so I'll go Aussie and pick Richie Porte.
David Hunter
Follow us on Twitter and Instagram
Join us on facebook: Ciclismo Internacional
Copyright © 2012-2020 Ciclismo Internacional. All Rights Reserved