Tour Down Under 2020 – Stage 1 Preview
By David Hunter
Tanunda – Tanunda 150km
We start with a sprint.
The opening stage of the race features four laps of a 35km circuit.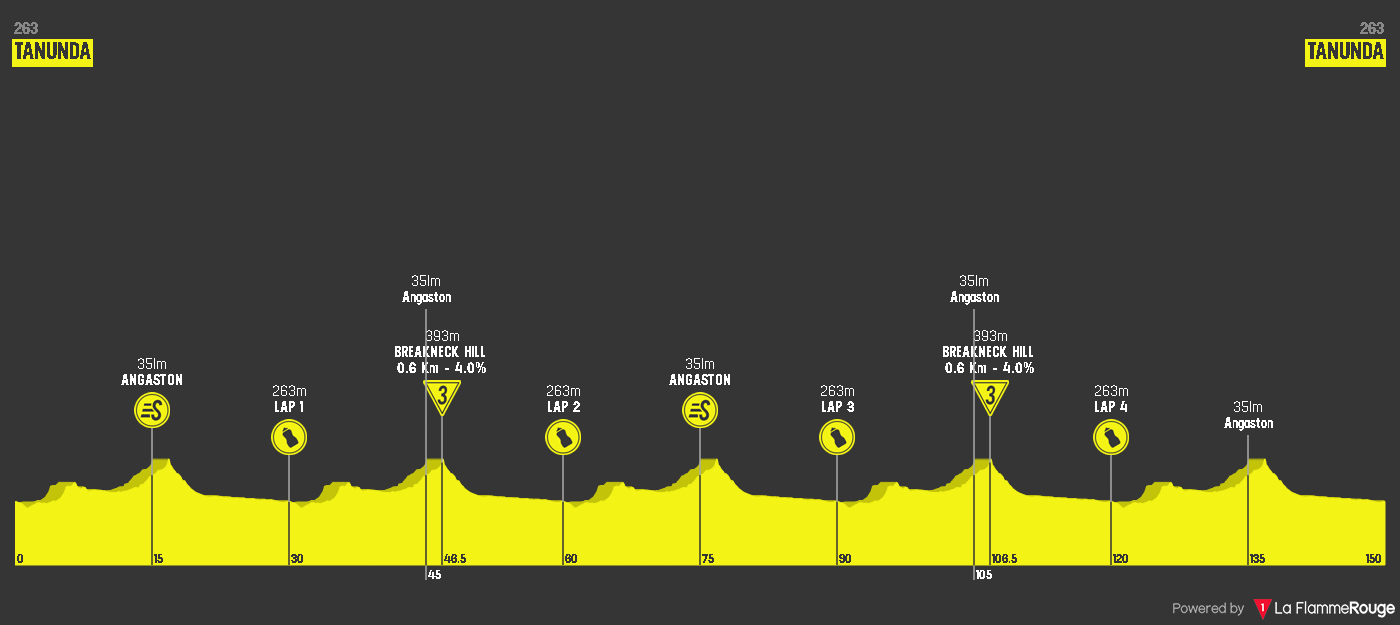 The route is incredibly dull, with hardly any corners. The small climb is 3.4km at 2.3%, that's not going to hurt any of the sprinters, so we're in for a big sprint to kick things off. There might be some early interest as the opening intermediate sprint comes after just 15km of racing, but sprinters interested in the points jersey will likely be too fast for the quicker GC men.
Finale
Nothing much to see here. The riders take the final turn with just over 7km to go, this is as untechnical as finishes get. With 3km remaining, the road makes a slight change of direction, but this is hardly worth a mention, basically we have a final straight of 7km! The main difficulty for the bunch is the width of the road. The bunch are on a narrow two-lane road with a little extra on either side, but it still looks a bit tight to me. Teams who leave it late to hit the front could well find a lack of room to make their movement. If I was the DS, I would direct my troops to hit the front nice and early and hold position, it looks the best move.
Finishes like this often see teams mistime their move, going too early. Once you get a position near the head of the bunch you need to be patient, very patient. This is all about sitting in and then starting the proper lead out with 2km to go. As this is the first stage of the year, it will be interesting to see which riders come flying out the traps. With such a long straight, and a relatively narrow road, this is a sprint that could get very messy.
Weather
A sunny day to begin with, but temperatures won't get too hot. The wind should be relatively light, and current forecasts suggest a slight tailwind for the sprint.
Contenders
Caleb Ewan – the criterium showed everyone that Caleb has enjoyed a good winter. As he launched his sprint you could see the difference in speed between him and his rivals, it looked enormous. With that win in the bank, he can now head into the real thing with a little confidence boost, not that he needed it. Lotto Soudal are here with a short train, with only Tosh Van Der Sande and Roger Kluge to call on in the closing kilometres. The inclusion of Van Der Sande is a great move, he is a rider with a lot of speed and a huge engine, perfect for riding in position three. Final man will be Kluge, the huge man punches a big hole in the air, and he has a great understanding with Ewan. Having such a short train means that they won't always get it right, something which must be considered in a potentially messy sprint, but Ewan will start as the favourite.
Sam Bennett – the Irishman has a longer train that Ewan, something which should give him a little advantage. He won't have lost any sleep over his performance in the criterium, it's not really a proper race. QuickStep are masters at delivering the perfect lead out, especially that man Mørkøv, he's worth is weight in gold. I'm looking forward to seeing how Archbold slots into the train, he should still be final man, and a bloody good one. Bennett hasn't had much luck when riding in Australia, he'll be hoping that stops and he gets an early win for his new team.
Elia Viviani – did someone say messy sprint? The Italian is a master at dodging his way through a crowd of sprinters, perhaps the very best. Many of his wins have come in sprints where riders are all over the road and he somehow manages to dance through at ridiculous speed. Cofidis looked okay in the criterium, with Haas, Vanbilsen and Sabatini forming a strong sprint train. Much has been said about Viviani's decision to step away from QuickStep and move to the French team, most of this hasn't been very complimentary. This finish is a perfect chance for Viviani to silence many of the critics.
Andre Greipel – with 18 wins at this race, the Gorilla is a man who knows how to win down under. Now with ICA, he'll be hoping that his new sprint train can hit the ground running. The lack of corners is great news for Greipel, this is a finish that suits him well and he's super motivated to continue his great run in Australia. With Boivin, Dowsett and Zabel the sprint train is looking good, especially as the other teams don't have their full lead out trains available.
Kristoffer Halvorsen – EF nailed the lead out on Sunday, but Halvorsen hesitated and the chance was gone. The performance of the train will have given the team a boost, especially as most wouldn't have thought they were capable of dominating against QuickStep and Lotto. Halvorsen is a rider who is very fast, but after a frustrating spell at Sky/Ineos, he'll be a little low on confidence and in need of an early win. Given the way they rode on Sunday, EF have to be considered as one of the favourites in the sprint stages.
Jasper Philipsen – managed to get himself in a good position on Sunday, mainly due to his own positional sense. The Belgian is a very impressive sprinter and one that enjoyed his time here in 2019. Looking at this stage, he'll need someone to step up and help with positioning, we'll have to see who's capable of doing this. If in the right position, he has the speed to win.
Alberto Dainese – the young Italian is a very fast sprinter, one that Sunweb will have been delighted to sign for the next two years. This race won't be easy for Dainese to secure big results as his sprint train is weak compared to the other teams. He'll need to carry a lot of luck in the closing stages, but he does have the speed to push for the podium.
Prediction Time
You'll all be waiting for me to pick Caleb Ewan as the winner, and I know I really should, but I'm not going to. I think we'll see things get messy in the closing kilometres and that brings out the best in one man. I'll go with a win for Elia Viviani.
David Hunter
Follow us on Twitter and Instagram
Join us on facebook: Ciclismo Internacional
Copyright © 2012-2020 Ciclismo Internacional. All Rights Reserved