Tour Down Under 2020 – Stage 2 Preview
By David Hunter
Woodside – Stirling 135.8km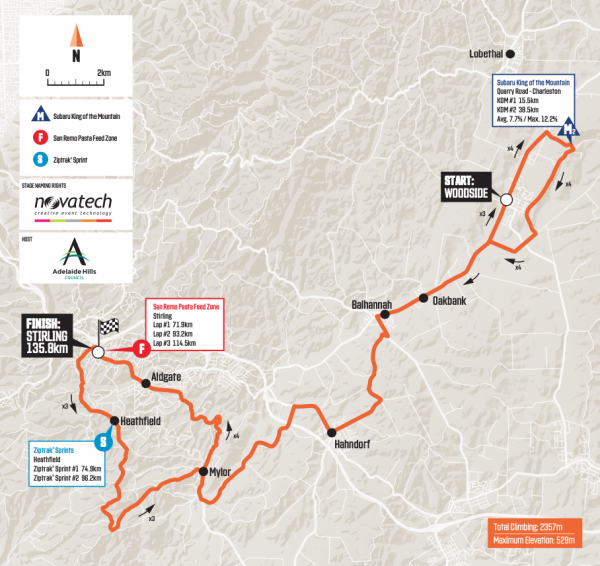 We head to Stirling, a very popular stage in this race, although it did miss out in 2019. This is a finish which is well known to most, but the organisers do like to tinker with how many laps of the circuit we get.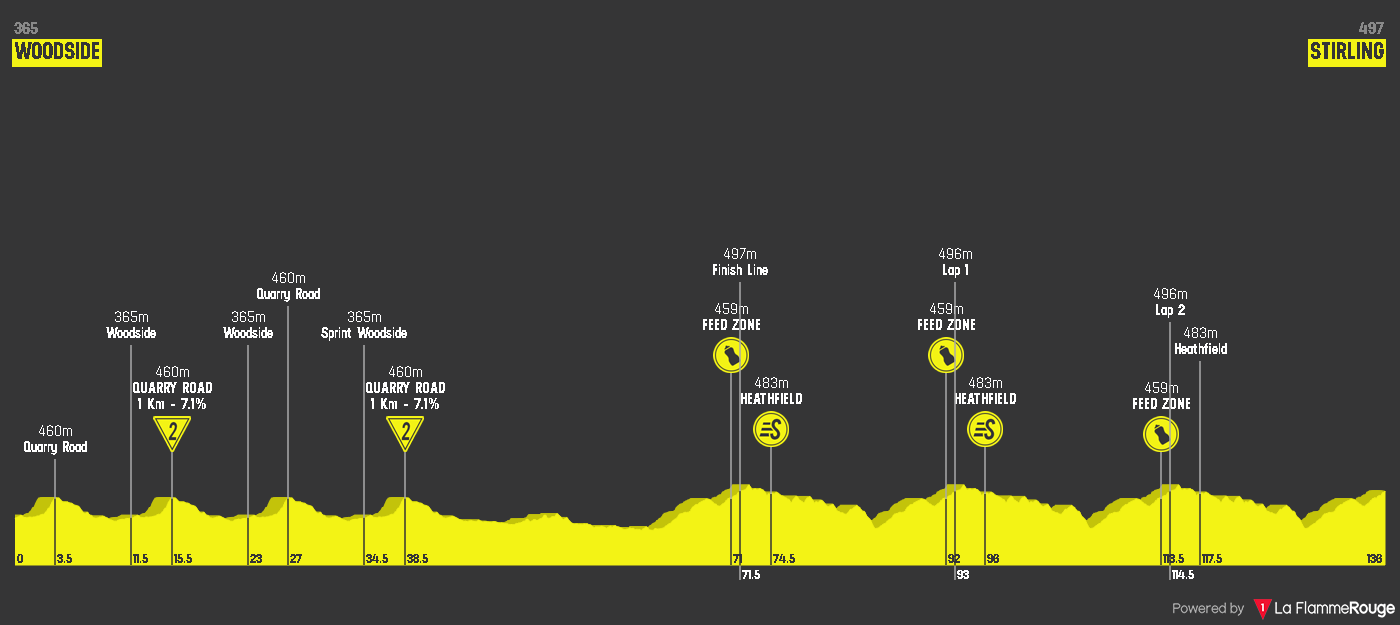 This time, we get four laps of a small circuit featuring the climb of Quarry Road, which is around 1.5km at 5.7%, before we head down to Stirling and face four laps of the closing circuit. The overall stage is relatively similar to 2018, when Caleb Ewan took the win from Daryl Impey and Jay McCarthy. Elia Viviani finished in 6thplace, but we only had two pure sprinters finishing in the front group of 48 riders. Despite having around 2000m of climbing, this is a stage that is usually beyond most of the quick men, but not all. The previous winners include Ewan, McCarthy, Lobato, Ulissi, Slagter and Matthews but remember that different editions vary the number of laps the riders have to face. The history books show us that a sprinter is still the best option, but if teams make it hard, the puncheurs do have a chance of taking the glory.
Weather
The weather is nowhere near as hot as usual, which will please the Europeans. There will be a strong breeze coming from the west, but the vast majority of the route is well protected from the elements and it won't have an impact on the race. It does mean a headwind for the finish, something the quick men will be happy to hear.
Lap Circuit
The gradients aren't overly steep, but the peloton fly around the course, which usually sees most of the quick men getting dropped. The fast-downhill section which leads into the final 2km is important, you really don't want to be far down the peloton as the road rises to the finishing line. There is also a pesky little roundabout inside the final 3km, which most of the riders bunny hop over, but it does add a small element of risk to proceedings.
The final 2km rises at just under 4%, but it is grippy and seems worse than the figures suggest. As it rises all the way to the line, it's better to wait and launch your sprint as late as possible, especially as some will run out of gas, just before the line.
Contenders
Caleb Ewan – the last winner in Stirling, can he double up? In 2018 Ewan had already shown off his climbing skills in the Australian Road Race, but this year we have no reference point. The little Aussie is a good climber, but there is no guarantee he delivers another win. His current Lotto squad isn't as strong as the Mitchelton one that helped him win in 2018, which could be another issue. It is a massive help if you have someone to help guide you in the final 2km, a lead out is vital as the grind starts to bite.
Sam Bennett – another sprinter who doesn't mind a bump or two. The Irishman has won a number of stages that include a hill, his win in an uphill sprint in Turkey was actually a little harder than this stage. Compared to Ewan, he has a strong squad at his disposal, I think he will have a decent lead out for the final 2km. My concern is this is only January, he might not have the legs required to win.
Elia Viviani – too hard for the Italian, but not by much. 6th here was a good result, but I doubt he can better it.
Jasper Philipsen – the young Belgian is one of the best uphill sprinters in the peloton, but he would probably prefer something a little steeper. At the tender age of 21, he still has a lot to learn, but I reckon he's a fast learner! UAE have a decent team for this type of finish, Ulissi and Marcato should be on hand to help in the final kilometre. To beat the likes of Bennett and Ewan will take a huge effort, but I think he'll be quietly confident.
Daryl Impey – he'll need his team to make the stage as hard as possible, to either drop the sprinters, or slow their final sprint. Impey has done this finish on a number of occasions, he knows exactly where to position himself, and when to launch his sprint. To successfully defend his ochre jersey, he really needs to win this stage and take the 10 second bonus, but that will be a big ask against the sprinters already mentioned.
Jay McCarthy – unlike Impey, he has won this stage before. After a disappointing 2019, he looked good in the Aussie Road Race, an important marker for him. He has the speed required to win, but like all the puncheurs, he'll be worried about the pure sprinters hanging on.
Nathan Haas – if you watched the coverage of stage 1, you would have seen Haas sprinting to third place at the intermediate sprint. That might not impressive you much, but he came from a long way back and made up a lot of ground on Impey. After his strong showing in the Aussie Road Race, I'm liking what I see from Haas, which is quite something for me! On a good day this is a great finish for Haas, as he climbs well and has a quick sprint. Cofidis will go into the stage with two options, as they have Viviani and Haas, it will be interesting to see if Haas can land a big win.
Luis León Sánchez – if anyone can win with a late attack, it's the crafty Spaniard. The chance of a late attack succeeding depends on how many riders are left to do a final lead out in the last kilometre. If the pace slows, expect to see a rider attack from the bunch and take their chances.
Prediction Time
Mitchelton-Scott know this is a huge day in the battle for the ochre jersey, Impey really needs to win to have a chance of defending his title. This means they have to commit to making this a tough stage and setting a fierce pace up the climb. I don't think we'll see them dropping all the sprinters, but it should be enough to slow their sprint down to let Daryl Impey take the win.
David Hunter
Follow us on Twitter and Instagram
Join us on facebook: Ciclismo Internacional
Copyright © 2012-2020 Ciclismo Internacional. All Rights Reserved