Tour Down Under 2020 – Stage 5 Preview
By David Hunter
Glenelg – Victor Harbor 149.1km
A stage you might remember.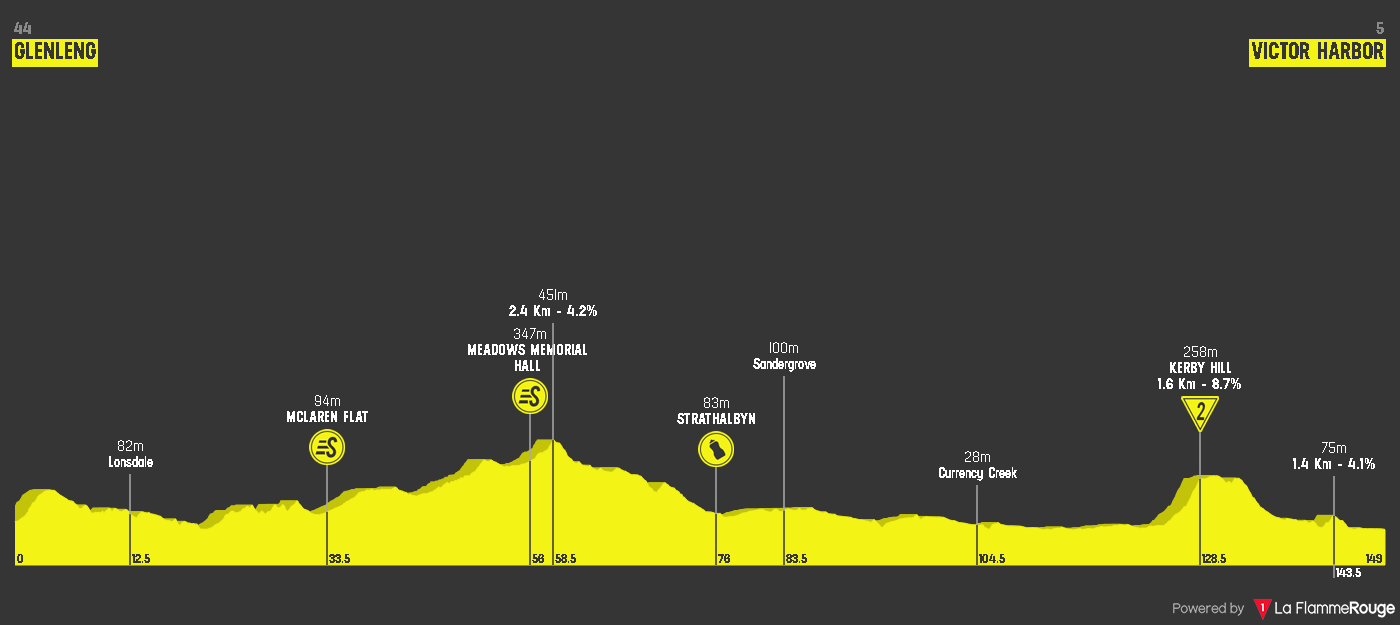 Victor Harbor is a popular finishing town for this race, we've been here on countless occasions in the race's history. Over the years we've seen a number of routes used to get the race into town, this year we're going back to the finish which seen Simon Gerrans win in 2016 from a bunch of around 70 riders.
The Big Climb
The Crow's Nest climb is hugely popular in the local area, but not often used in this stage. As you can see it's 3.9km at 5.7% and it will take the pros around 8 minutes to ascend this little lump. The main difficult comes in the final 2km as it averages close to 8% and this is where some riders can find themselves in difficulty and the back door opens. Those who get dropped won't enjoy the plateau section at the top of the climb, there isn't a descent to allow them back into the peloton.
Finale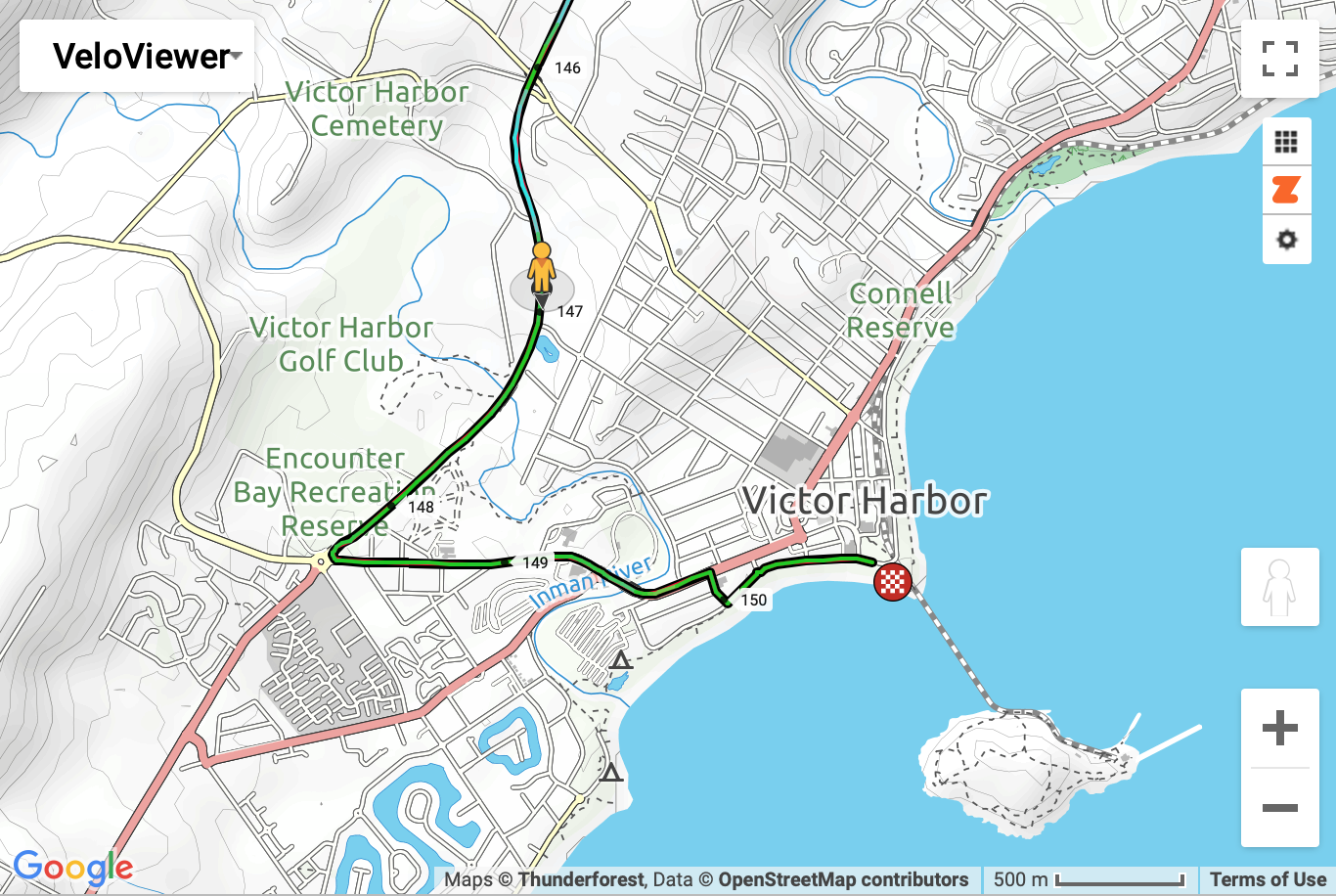 A fast finish which has a couple of technical sections to deal with. In the closing 1.5km the bunch have to deal with a roundabout, before a tight double corner which opens up onto the finishing straight. This finish has seen time gaps in the peloton, this is something the GC riders will be wary off, as they cannot afford to lose cheap seconds.
Weather
This is a stage which could have seen echelons, but with a wind of only 10km/h it's not strong enough for any action.
Tactics
The Mitchelton-Scott section. We have two intermediate sprints, one at 33.5km and the other is 58.5km from the start. No doubt we'll see the team looking to control the opening of the race and trying to set Impey up for 3 seconds, but as Jasper Philipsen seems very interested in the points classification, this won't be easy for the South African. Holding everything together until 58.5km seems too much for me, but we'll have to wait and see if they agree.
Once we get near the climb we'll start to see Mitchelton hit the front again. Impey needs to take some seconds at the end of this stage, which means some of the sprinters need to be dropped. It is possible to do a fair bit of damage on an eight-minute climb, but it's highly unlikely all the sprinters will be dropped. Since we were here last in 2016 almost all sprinters have realised they can no longer be poor on climbs and the vast majority of them can cope with this effort, but it is January, some of them won't be on top form yet.
Strangely, the team can't afford to go too fast on the hill, as reducing the bunch significantly will increase the chances of a solo rider escaping in the closing kilometres and stealing the stage. This is a delicate balancing act for the team, will their dominance become a disadvantage?
Contenders
Caleb Ewan – has two victories to his name, can he make it three? He was dropped the last time the race used this finish, but much has changed in the past four years for him. The pace will need to be very high to put the little man in trouble, I would be surprised if he didn't make it over with the lead group. He might find himself a little isolated on the way to the line, but we've seen how good he is at using other sprint trains to his advantage, so he won't be worried about doing it again.
Sam Bennett – this climb wouldn't be a problem for him in March, but January could be a little different. When the climbers hit the accelerator, he could well find himself in a bit of difficulty. On the plus side, QuickStep are masters at ensuring their fast man survives difficult moments, expect to see them getting Bennett to the front for the climb and allowing him maximum sliding room. They might even try getting on the front and deliberately trying to slow the bunch down. If he survives, he'll be challenging for the win.
Jasper Philipsen – lighter than Bennett, he'll be confident of making it over the climb. Remember, the Belgian sees his future in the classics, he's not simply a fast man. His form in this race has been very good, but he's yet to take a win, something he'll hope to put right in this stage.
Chris Lawless – the Ineos man enjoyed a good 2019 season, including winning the Tour of Yorkshire. He's a rider that can handle hills, but also has a fairly handy sprint at the end of a tough day. Ineos have been quite active in this race, but haven't really had anything to shout about, this stage looks like a good opportunity for Lawless to challenge for the podium.
Daryl Impey – it was his brilliant lead out that helped Simon Gerrans win here in 2016, he knows what needs to be done in the closing stages. Impey is sitting 3 seconds behind Richie Porte, but with Willunga to come on Sunday, he knows that he needs time. If he can somehow manage to finish 2nd to Porte, and on the same time, he'll still lose 4 seconds due to the bonuses. This means Impey is on the hunt for 7 seconds, at the very minimum. Will his team try and hold the race together for the two intermediate sprints? Will they save their energy and try to blow all the quick men away on the climb? Mitchelton-Scott have some big decisions to make, but winning this stage won't be easy, but it certainly can be done.
Luis León Sánchez – if the peloton is heavily reduced, someone like Sánchez will look to attack in the final 5km. The crafty Spaniard is used to this type of move and it wouldn't be a surprise if he upset the sprinters.
Prediction Time
A third stage win for Caleb Ewan, I just can't see him getting dropped on the climb.
David Hunter
Follow us on Twitter and Instagram
Join us on facebook: Ciclismo Internacional
Copyright © 2012-2020 Ciclismo Internacional. All Rights Reserved