Tour of Flanders 2017 Preview
By David Hunter
Antwerp – Oudenaarde 261km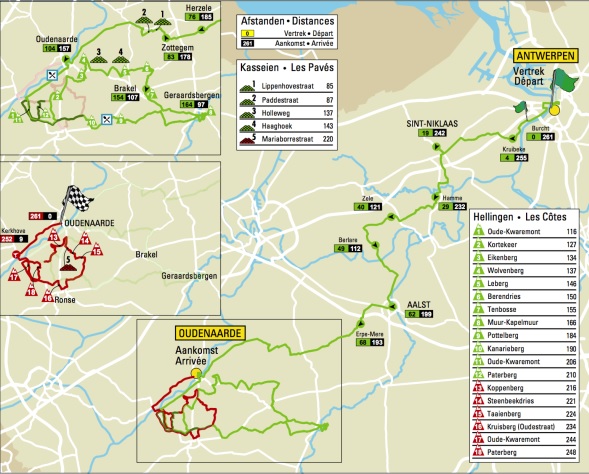 What most people regard as the best race of the year is here. It is packed full of drama, suspense, tears and joy.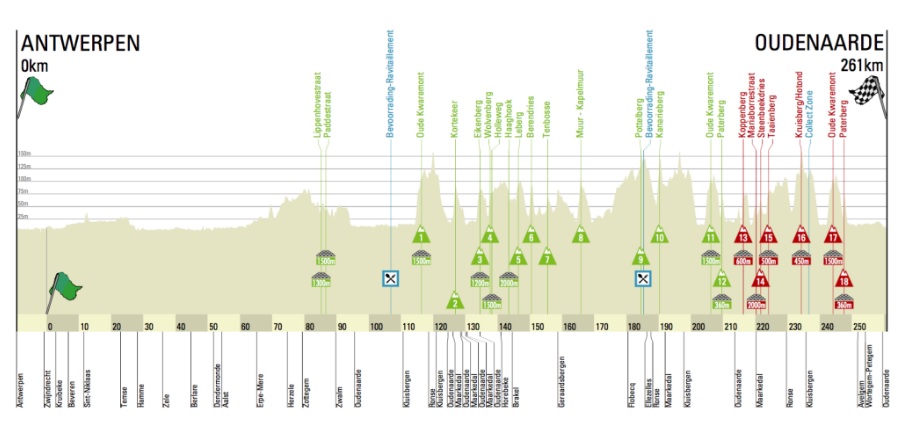 The first thing to note, is the return of the Muur. I am delighted that the organisers have seen sense and reintroduced this iconic climb to the race. It does come with an awful long way to go(95km), but given the attacking racing we've had recently, I would not be surprised to see a selection made on the climb.
Due to the race being so demanding, you can never be sure when the winning move will be made. However, you do know where riders will lose the race. Expect to see many riders get dropped on the Taaienberg, Kwaremont and Paterberg. These climbs are even harder than usual, as the organisers place barriers in the gutters, forcing the riders into the middle of the road. With the crowds on top of them, the warriors battle through pain to get to the top. Many never see the front of the race again.
Weirdly enough, the strongest riders often wait and attack on the flat roads after the climbs. If a rider goes into the red on the climb, they need a few minutes to gather themselves. The strongest riders use that opportunity to drive away and create a gap that doesn't get closed down. There is no resting time in the closing 50km, it's full gas!
QuickStep
Most of the pre-race fascination is with QuickStep. Just how will they use their numbers to defeat Sagan and Van Avermaet? We all know that these two are head and shoulders above the rest of the field, but QuickStep have a depth to their squad the others can't match.
Realistically, they could win this race with Boonen, Gilbert, Terpstra and Stybar. That should put them at a huge advantage, but it will still be very hard to win the race. In previous races, we've seen a willingness to attack early and put the others under pressure. I expect to see this continue and the Muur will be the launching pad for the first in a series of attacks. I think Boonen will be one of the riders used early, his form doesn't seem quite as strong as they would hope.
A big move from Boonen will get the others panicking. Some teams will get riders to go with him, but QuickStep will hope that BMC and Bora miss out. Attacking early is all about wearing down these teams, forcing their big stars into working. Of their riders, Gilbert has the best form, but I don't think they'll hold him back to the end. Gilbert will go long, that will force a huge reaction from the other teams. The captains will need to follow this move, they cannot let a domestique go away with Phil, he will destroy them!
Looking to follow the wheels will be Terpstra and Stybar. For these tactics to pay off, they need to be able to go with the moves of Sagan and Van Avermaet. Each time they will look to act as an anchor, hoping to slow their move and gradually grind them down. If they do make it across, expect to see the QuickStep pair attacking on the cobbles. Stybar is brilliant on the Oude Kwaremont, probably even better than Sagan and Van Avermaet. Terpstra is good on the Paterberg, but I doubt any stronger than the big two.
What About The Rest
The other contenders will have to carefully judge what moves to follow. 2017 has been a year for attacking riders and this will continue in Flanders. If Gilbert moves early, I'd be wanting to go with him, I wouldn't be overly concerned with how long was left in the race. Away from QuickStep and BMC, I don't see another team capable of controlling the race, the rest are equal in strength.
Weather
A sunny day with only a little wind. That will be very pleasing for some riders, but not all!
Contenders
Peter Sagan – the world champion is in incredible shape. He was 2nd in Omloop, 1st in Kuurne, 2nd in Milan-Sanremo and 3rd in Gent-Wevelgem. In all of these, we've seen him at the very front of the race, dictating the outcome of the race. He seems on a different level to most riders and made a big point in Gent-Wevelgem, do not try to lean on him! Bora are not the strongest team, I don't expect to see him having much support in the last 50km. That will lead Sagan into trying to attack from a distance, a tactic I really hope we see him use. He will not let QuickStep bully him! This race is used to riders winning it in consecutive years, he has a big chance of adding his name to that list.
Greg Van Avermaet – the only rider on a par with Sagan. This season has been spectacular for the Olympic champion, he was 1st in Omloop, 7th in Kuurne, 2nd in Strade, 1st in E3 and 1st in Gent-Wevelgem. That is a stunning set of results. Despite having a very strong team, he can often be found attacking from distance. As he is so strong, that often leaves the other teams struggling to catch him. Do not expect to see him wait for the final ascent of the Paterberg, Van Avermaet will be thinking of attacking further out.
Philippe Gilbert – 2nd in DDV, 2nd in E3 and 1st in De Panne. He is the only rider with the form to rival the big two. It has been great to see Gilbert back to his very best, it's been a while! After losing out to GVA in E3, he will be carefully plotting how to beat him and Sagan. He knows that his best chance is to arrive without them, but that certainly won't be very easy. Riding for the strongest team, gives him a big advantage, but he still needs to beat two riders who can sprint faster than him. That is a challenge.
Oli Naesen – my big mate from Flanders! I've been so delighted for him, as he continues to grow into one of the best riders on the planet. His 3rd place in E3 was a big reward for his bold riding, something that he loves to do. He loves the Kwaremont and is one of the riders who can put time into the others on this climb, most hate it! His form is good enough for the podium, that would be sensational for him.
Tiesj Benoot – bad luck is hanging over him. So strong, especially considering his age, but recent races have been ruined through no fault of his own. I'm still frustrated that Lotto Soudal don't throw all their resources behind their young star, he is their only real hope for success. If he can get through the race without experiencing anymore bad luck, he will finish in the top 5. He is that good!
Sep Vanmarcke – not for me, form isn't good enough and still seems to be recovering from injury.
Ian Stannard – I have a funny feeling about him for this race. Luke Rowe was allowed to target the early classics, leaving Stannard free to go after Flanders and Roubaix. He might be a little on the heavy side for some of these climbs, but he is a very dangerous man to be allowed to get up the road. He could benefit from some freedom and has a good chance of a big result. Sky seem to be picking up form in monuments!
Niki Terpstra – what role will he fill? His form has looked good, but not at the very top level. He is a strong rider, who is an excellent option for QuickStep. Given the form of Gilbert, he might be forced into a supporting role, but I hope we see him attacking before the big moves. His huge engine will make him very tough to beat. Given his lack of a sprint, he needs to arrive solo, if he wants to win.
John Degenkolb – has the sprint, but does he have the climbing form? I was impressed with how he coped with the Kemmelberg, but I'm not convinced he has the form to cope with the Kwaremont and Paterberg. Trek have a very strong team, I hope to see Degenkolb falter early, that would free Stuyven and Theuns up to chase personal glory. I think they would have a better chance than their team leader.
Alexander Kristoff – does he have the form to win this race? No.
Edvald Boasson Hagen – Dimension Data did a great race in Gent-Wevelgem, helping him to make the selection on the Kemmelberg. It was unfortunate that he wasn't able to follow the secondary move, but it was a step in the right direction. He will have a little more confidence heading into Flanders, a race that should suit his characteristics. A top 10 is within is grasp.
Luke Durbridge – the big Aussie has been in very impressive recent form. He was 12th in Kuurne, 6th in Strade, 4th in DDV, 4th in E3 and won the TT in De Panne, only a bad day in the crosswinds cost him the chance of challenging for the overall win. This marks an enormous step forward in his career, Orica now have a serious challenger in these races. I think we'll see him attack early, given his current form, there is no point waiting too long.
Prediction Time
They've made him angry, they won't like him when he's angry! A win for Peter Sagan.

David Hunter
Follow us on @CiclismoInter
Join us on facebook: Ciclismo Internacional
Copyright © 2012-2017 Ciclismo Internacional. All Rights Reserved