Tour of Flanders 2019 Preview
By David Hunter
Antwerpen – Oudenaarde 270km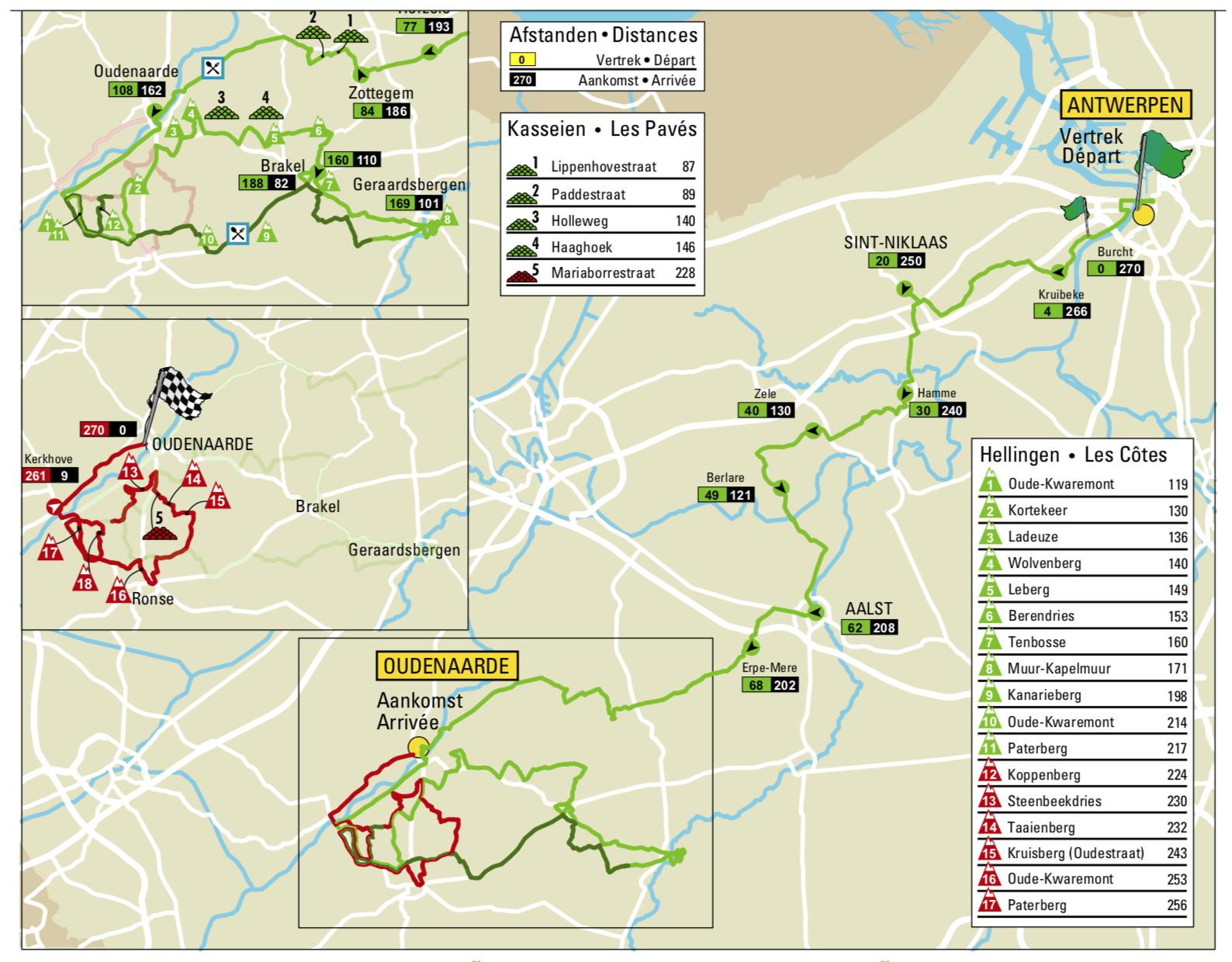 The big one is here.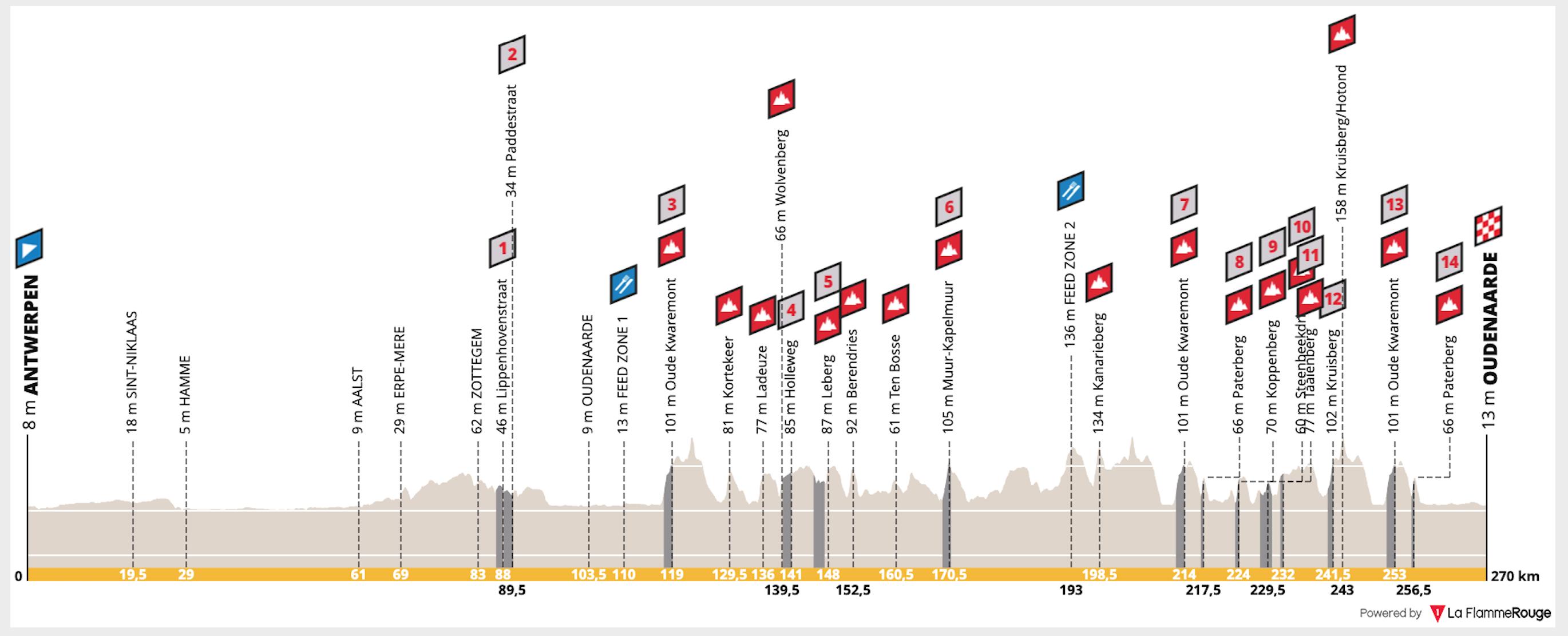 The hardest one-day race in the season. We have 270km full of action, including 14 climbs and many cobble sections, but that's only have the story. Almost the full day the peloton are sprinting into the foot of climbs, accelerating out of corners and basically going full gas for around 100km. It is a race like no other, not even Paris-Roubaix.
Key Climbs
the race begins with the Muur, but there's still a long way to go. That probably won't stop Van Der Poel!
For me, the Koppenberg marks the start of the finale. Not only that, it's probably the hardest climb of this race, 500m at 13.3%.
The Oude Kwaremont, my favourite climb! The final ascent comes with under 20km remaining, it's the length of this climb that can cause some serious issues and a selection is always made at this point.
The climbing finishes with the Paterberg. After such a demanding race, 400m at 13.1%, is enough to make your legs explode.
Weather
Sunny, warm, no wind. Is this Flanders?
The Van Der Poel Effect
We've all seen enough road racing to understand the tactics of the lead riders; sit in the pack and save energy until the finale of the race. A certain cycle-cross superstar doesn't seem to buy into this, he wants to move early and shake things up. This approach is brilliant and gives the other team leaders a headache, just what will they do? This approach didn't work in GW, the other teams hung MVDP out to dry and he used up too much energy, but it did work in DDV.
Attacking early certainly can work, Gilbert won that way in 2017, but it really does depend on the number of domestiques left in the bunch. The Dutch champion doesn't have the benefit of teammates blocking moves, he's at the mercy of the bunch, but it could still work. If he gets into a small group that has representation from a few teams, it could be game over for the peloton. His approach is refreshing and certainly makes life a lot more interesting for the viewing public.
Contenders
QuickStep – the Belgians arrive with Lampaert, Jungels, Gilbert and Štybar as their attacking options. Lampaert is a rider I really like, but this isn't a race for him. In his four participations, he's yet to break into the top 20, the route is just too hilly for him. Gilbert abandoned DDV on Wednesday, complaining of stomach issues, not ideal preparation. After riding as a domestique for most of the season, Flanders and Roubaix were always going to be his big targets, but will illness stop him this weekend? Jungels is a man on form, but this is his first ever Tour of Flanders, winning will be very difficult. Similar to E3, Jungels should be used as an attacking option, forcing the other teams into chasing. That leaves Štybar, a rider who is flying just now, winning Het Nieuwsblad and E3. This season we've seen a much better version of the Czech star, a rider who struggled to win races for quite some time. He has everything required to win this race; it also helps that he rides for the strongest team.
Greg Van Avermaet – words cannot describe how much he wants to win this race. He's been close this season, just losing out to Štybar in Het Nieuwsblad and E3, but he looked very impressive in both races. Van Avermaet is a rider who is always challenging to win the big races, particularly the hard ones. He has deep reserves of stamina and power, but how will he cope with the QuickStep numbers? Will it be the same old story?
Peter Sagan – time to lay the cards on the table, the form just isn't there. He never looked comfortable in E3 and he seemed to lack power in Gent-Wevelgem. Can the great man reverse this recent trend? He probably thinks he can, but this race usually goes to a man in form and Sagan isn't that.
Oli Naesen – I was gutted to hear that he picked up an illness after Gent-Wevelgem. To win this race you have to be 100% and he isn't. Such a shame, his form has been exceptionally good in recent weeks.
Wout Van Aert – can I describe him as a dark horse? Without a win this season, but he's looked very impressive in every race. He's adjusted very well to riding with Jumbo-Visma and they have a team ready to support him deep into this race. Van Aert really impressed me in Gent-Wevelgem, particularly on the Kemmel. He has to start the race as one of the favourites, despite being relatively inexperienced at this level.
Mathieu Van Der Poel – the man everyone's talking about. He doesn't float over the cobbles; he bulldozes over them. He has so much power, it's almost unfair on his rivals, but can he really win the big one? He'll attack early and that move is unlikely to win.
Tiesj Benoot – on the verge of something special. Now, you all know I have a huge amount of time for my Belgian friend, but I'll try and not let my bias get in the way. Aged just 21, he finished 5th here on debut back in 2015, a truly incredible result. Last year, he was the one animating the result in the closing stages, but just missed the attack of Niki Terpstra. The harder the race, the better it is for Tiesj. We saw him in good form in DDV, getting away from everyone in the peloton, apart from Bob Jungels. As I have mentioned, I sense he's on the verge of something special.
Matteo Trentin – 2019 has been a hugely consistent season for the Italian, finishing in the top 10 in Het Nieuwsblad, Milan-Sanremo, E3 and Gent-Wevelgem, the only rider to do so. Mitchelton-Scott have been hampered by injuries, leaving Trentin without proper support in the closing stages. Winning will be complicated, but the podium is a realistic goal for him.
Alejandro Valverde – making his debut in this race at the grand old age of 38! Last year, it was Vincenzo Nibali who instigated the winning move, he was dropped and finished 24th. Valverde would have looked at that performance and thought to himself, "I can do better than that." The world champion doesn't have the form he usually has at this point of the season, but he's an incredible one-day racer. It would not surprise me to see him finishing in the top 10.
Prediction Time
The head says Štybar, the heart says Benoot. You know what I'm going to do; an iconic win for Tiesj Benoot. Just you wait for the podcast!
Remember I've now got a podcast too. Go and give it a listen
David Hunter
Follow us on @CiclismoInter
Join us on facebook: Ciclismo Internacional
Copyright © 2012-2019 Ciclismo Internacional. All Rights Reserved