Tour of Flanders 2020 – Preview
By David Hunter
Antwerp > Oudenaarde 243.5km
Welcome to a slightly shortened Tour of Flanders.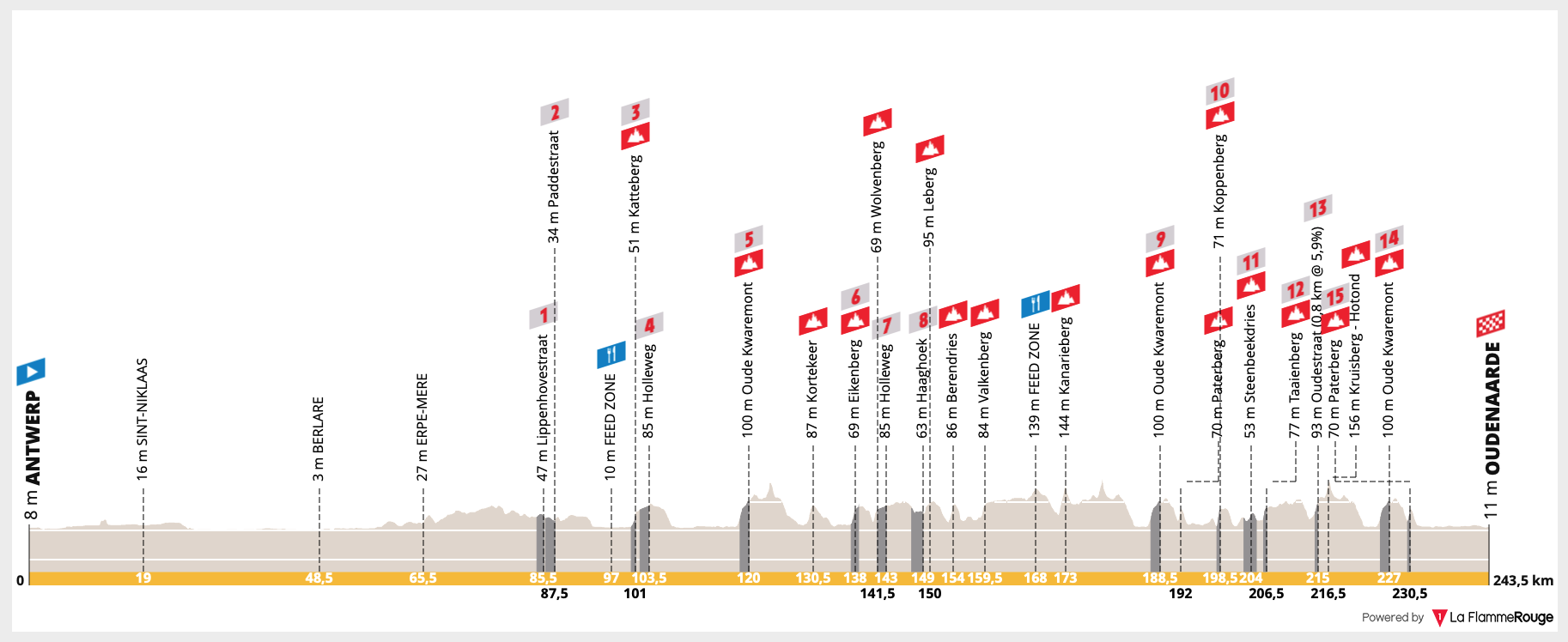 The organisers have chopped around 30km off the route, but it's still as hard as ever, I don't see the change having an impact on the race. It is a shame we don't get to see the Muur-Kapelmuur, but we'll just have to live with it.
Key Climbs
The second ascent of the Oude Kwaremont comes with around 55km to go, this marks the beginning of the finale of the race. Without doubt, my favourite climb in Flanders. So hard at the bottom, but you need to save energy for the top.
The Koppenberg is brutal, a real slog. Moves will go here.
The final ascent of the Paterberg comes with just 13km to go. We'll have to see how many riders are still in contention for the win.
Weather
It might be mid-October, but the weather will be quite good. There is a threat of light showers in the afternoon, but the wind is fairly light, and we might even see some sunshine.
Tactics
In any Tour of Flanders, this is tough to predict. For many of these riders, this is the last race of the season, it is still unsure how the legs will respond to such a challenging day in the saddle, especially at the end of such an intense block of racing.
If Gent-Wevelgem taught me anything, it's that WVA and MVDP are keen on slugging it out like a pair of old heavyweights. MVDP knows that he won't have any teammates deep into the race, the same now goes for WVA as Mike Teunissen is sick and had to pull out the race. This puts both at a disadvantage to some others, which is why they must attack early and blow out the domestiques. How early they go is another question. I think both will be keen on getting the action started very early on, probably on the second climb of the Kwaremont. It would be a mistake to wait until the last lap, at that point they'll be isolated and other teams will have numbers. Go early, and go hard!
Hoping to stop them are QuickStep. Without doubt they are the strongest team at the race, no surprise there! They have Declercq and Devenyns to police, but then have Alaphilippe, Asgreen, Štybar, Sénéchal and Lampaert as their attacking options. That is a ridiculously strong team, they have to think they'll have numbers in the closing stages, which will give them a huge advantage. They know that WVA and MVDP will attack early, it's important for QuickStep to get a few riders up the road before that happens. They will want a position where Alaphilippe can coast through the day, not having to put in a single effort until the big one. Now, given the strength of the big two favourites, this will not be easy, but if anyone can, QuickStep can.
The rest of the teams are not going to be in a position to do much chasing, but some will hope for multiple options in the finale. EF and Trek are probably the best of the rest, having more than one rider in the front group will give them options, but their riders will need to be at their very best to compete for the win.
Contenders
Wout Van Aert – he was sensational in GW. I had feared that we would now start to see signs of fatigue, but he looks as strong as ever. His record this season is almost unbelievable, he really has stepped forward as the best cyclist in the world. What we did see in GW is that being the strongest rider doesn't guarantee the win, he'll have to think very carefully about his tactics, especially after his comments about van der Poel. If the race develops into a battle between the favourites, he will win, it's up to him to make sure that happens.
Mathieu van der Poel – was able to match Van Aert in GW, but it certainly didn't look easy. MVDP seems to have timed his peak well, which isn't easy considering he didn't get to ride the Tour de France. Without those three weeks in his legs he was always going to find it hard against the riders who did participate in France, but he has showed that he can compete against them. As usual, he'll have to think carefully about his tactics, as he will be isolated late in the race. Will he simply try to follow Van Aert? Will he attack and try to put him on the back foot? I can't wait to see what happens.
QuickStep – they have Alaphilippe as their leader, but as I've pointed out, the rest of the squad give them wonderful options. Both Sénéchal and Lampaert impressed in GW, Asgreen is always capable of doing something special, but Štybar doesn't look as strong as usual. The Belgians will think carefully about how they approach the race, they won't let Van Aert and van der Poel simply boss them about. QuickStep must ride an attacking race, constantly getting riders up the road, forcing the big two into chasing and burning matches. If it all comes back together on the final lap, then it's over to Alaphilippe to put in one of his blistering attacks. Seeing the rainbow jersey win Flanders would be some sight.
Mads Pedersen – what a brilliant win last week, his legs are clearly still very good. After blowing up in Binck Bank Tour, most would have written him off, but he showed them. He was second here back in 2018, this is a race that he can win, but will it be this year? His team are good, he'll hope that Theuns, Kirsch and Stuyven can hang around for a long time as numbers will be very important. If the race ends in a reduced sprint, Pedersen will expect to win.
Alberto Bettiol – can he do a Cancellara and successfully defend his title? No.
Søren Kragh Andersen – was flying, but crashed hard in Paris-Tours. His chances in this race all depend on how he has recovered, so we'll have to wait and see.
Oli Naesen – he keeps knocking on the door, eventually it will open. Having gone very close to winning a monument, I do believe he will get one soon. After crashing in the opening stage of the Binck Bank Tour, he was worried his season was over, but finishing second in the final stage showed that he had recovered well. AG2R don't have the strongest team, but Oli can look after himself in races like this. Winning against the power of Van Aert, van der Poel and QuickStep won't be easy, but he can cause a surprise.
Stefan Küng – I've really enjoyed watching him race in the last few weeks. The Swiss TT rider has long been talked about as a classics hopeful, now we are starting to see just what he's capable of. He was great in the Binck Bank Tour, followed that up with an impressive ride in GW, his form is peaking just at the right time. Küng knows he can't follow the attacks in the final lap, he must escape the bunch before the main action kicks off. If he does, he could cause a surprise.
Prediction Time
Going to stick my neck on the line and say that QuickStep will get the better of Van Aert and van der Poel, their team looks too strong for me. The winner of the 2020 Ronde van Vlaanderen will be Julian Alaphilippe.
David Hunter
Follow us on Twitter and Instagram
Join us on facebook: Ciclismo Internacional
Copyright © 2012-2020 Ciclismo Internacional. All Rights Reserved