Tour of Flanders 2021 – Preview
By David Hunter
Antwerpen > Oudenaarde 254km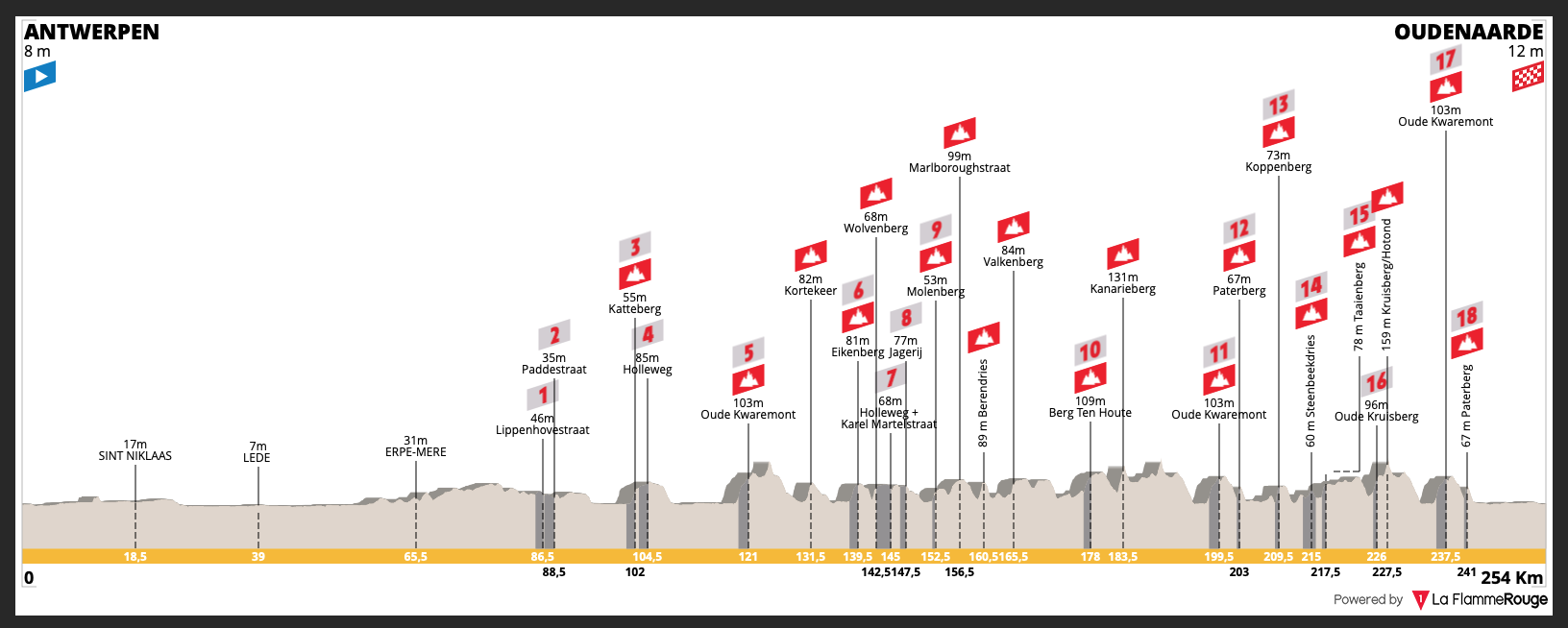 The big one.
For us watching from home it's 254km of pure enjoyment, for those riding it's 254km of pain and misery. I love Flanders, you love Flanders, we all love Flanders.
Weather
Beautiful sunshine, but not as hot as DDV. Temperatures are due to peak around 16 degrees, and we have a wind of 10km/h coming from the west.
Key Points
For me the finale kicks off with the Koppenberg, which comes with 45km to go. The hardest climb in Flanders, thanks to the horrible cobbles and brutal gradient.
The ascent of the Taaienberg is with 37km to go. We've seen in recent races how important positioning is at the foot of this one.
The Oude Kwaremont is climbed on three occasions, the final ascent starts with 29km remaining. This climb is my personal favourite. It's steep at the bottom, but the damage is done on the top.
The Paterberg is also done three times, the crest of the final ascent comes with just 13km to go. It's almost cruel watching riders explode the last time up; this is when the strongest rise to the top.
Tactics
Over to Deceuninck – Quick Step. We've seen in the last week that both van der Poel, and Van Aert are human and can be put into difficulty, but will that happen in this race? Last year those two were on a different level compared to most others, but this year it seems that the gap between them and the other top riders isn't as wide.
On paper the tactics seem obvious and easy to execute. They will look to get riders up the road relatively early in the day, which will force Alpecin-Fenix and Jumbo-Visma into burning through their domestqiues and hopefully isolating van der Poel and Van Aert for the finale of the race. When they looked to jump across, the other DQT riders will catch a free ride, saving vital energy. They did it perfectly in E3, but repeating it in a harder race won't be easy.
They have Declercq to patrol the first 180km of the race. Then they'll start to attack. With so many options it doesn't make sense to wait until near the end, they must open up the race with lots of time left. Lampaert, Asgreen and Sénéchal have all impressed in recent races, if they get up the road they'll be very dangerous. This means Alaphilippe can relax in the group and save his energy for later, but if he senses he's not on a good day he'll join in the early attacking. This race is Deceuninck – Quick Step versus everyone else.
DS Cycling Mole
Who better than to handle the Deceuninck Quick-Step superstars?
Boys, gather round. This is the big one. The one we need to win. Not so Tiny Tim, you punch the tickets for the breakaway. I want a small group and then you manage the gap. Big Bertie and Ballero, you take over when the big man gets tired, do not let dangerous riders up the road. With about 60km to go we start to explode the race, apart from you Julian. You all have the freedom to attack and blow out all the domestiques and force van der Poel and Van Aert into wasting energy. Lampy, Kasper the friendly ghost and Flo-Jo, you all go for it, you can all win the race. Julian, hang back and follow the wheels. Just like in E3, that's how we win this race, and I want to win this race. Do it for me, do it for you, but above all else do it for Flanders!
Contenders
Mathieu van der Poel – just how much did the Italian block of races take out of him? Make no mistake, he blew up fairly spectacularly on Wednesday, there is no way he would normally get dropped on the Trieu. That performance means he starts here with lots of questions about his form, if it was anyone else I would have written them off already, but he's not just anyone. He looked strong in E3, so maybe Wednesday was simply a bad day, but we won't know until Sunday. No matter his form he'll have to deal with being isolated in the finale of the race, as he's likely not to have any teammates left and DQT will probably have three riders. Will he dare to start the attacking early on? Will he wait until nearer the end and hope to form an alliance with Van Aert? Whatever happens, I hope we're in for a treat.
Wout Van Aert – dropped in E3 on the bloody Tiegemberg! Returned to form with a masterful performance in Gent-Wevelgem, which means he starts this race as the favourite. Getting dropped in E3 really isn't a great sign for this race, but was that just a bad moment? The beauty of this race is that the two big favourites start with doubts surrounding recent performances, we won't know what their legs are like until the final 50km. He'll be in the same position as van der Poel, he won't have teammates in the final 30km.
Deceuninck – Quick Step – Alaphilippe should be their main man, but he's another who claims the Italian races have left him tired. Asgreen is flying, his win in E3 was hugely impressive. Lampaert has looked strong in the recent races, but he doesn't have the results to show for it. Sénéchal has also impressed in recent races, but he does have the results to back it up. Second place in E3 was a great result, he also ended up 9thin DDV, but it could have been the win if the chase group worked together. They have an embarrassing number of options, but can they get their tactics right and isolate the big two favourites?
Greg Van Avermaet – made the front group in Sanremo and E3, so he certainly has some good form. He also looked good in DDV, but his group didn't cooperate, and his chance was gone. AG2R will hope to have Greg and Naesen in the front group, that could be critical if DQT are on a good day. They haven't quite got it right yet this season, but Van Avermaet has looked good, and he'll be praying that he can eventually win this race.
Jasper Stuyven – won in Sanremo, was a little disappointing in E3, but returned to form in DDV. Flanders is a tough race for him, I've always thought it's easier for him to win Roubaix, but beggars can't be choosers! Trek-Segafredo are still dealing with their COVID outbreak, which means their team might not be as strong as usual, which makes life harder for Stuyven. On the plus for him, he did look good in DDV, that was a positive sign for this race.
Dylan van Baarle – one of form riders. Impressed in E3, missed the front split in GW, but took a stunning win in DDV. He skipped the opening weekend to try a different approach to the spring classics, this new approach certainly seems to be working. He'll hope that Tom Pidcock has a good day, being without teammates really does make life very difficult. Van Baarle will obviously try to anticipate the big moves by getting up the road before the big attacks start to happen. He is a good rider, but he can't follow the explosive kicks on the Paterberg, and can only win solo. Winning will be tough, but not impossible.
Peter Sagan – his form isn't there yet for this race. I hope he just goes for it and attacks early.
Michael Matthews – his presence in my contenders section might surprise some, but a few of you will know that I'm a big fan of his. He made the front group in Sanremo, and the initial front group in E3, but he eventually crashed out. In GW he again made the front group, but cramps in the finale meant he only finished in 5th. His form is good, of all the fast men I think he has the best chance. He could benefit from some of the big favourites cancelling each other out.
Podcast
If you like betting on cycling, then here's my betting podcast.
Prediction Time
I think we'll see another Deceuninck – Quick Step masterclass and Yves Lampaert will take the win.
David Hunter
Follow us on Twitter and Instagram
Join us on facebook: Ciclismo Internacional
Copyright © 2012-2021 Ciclismo Internacional. All Rights Reserved