Tour of Oman 2015 – Stage 4 Preview
By David Hunter
Sultan Qaboos Grande Mosque – Green Mountain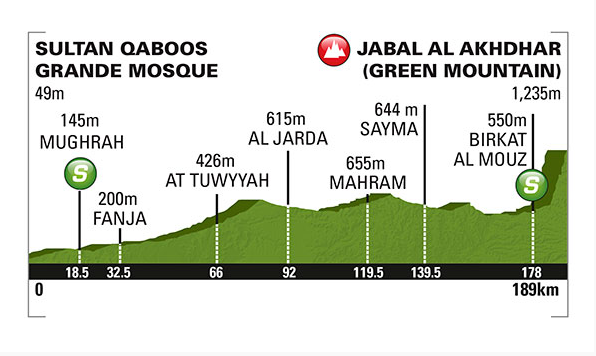 The big GC day is here! The stage is set for another epic day as the riders climb the wide open roads to Green Mountain.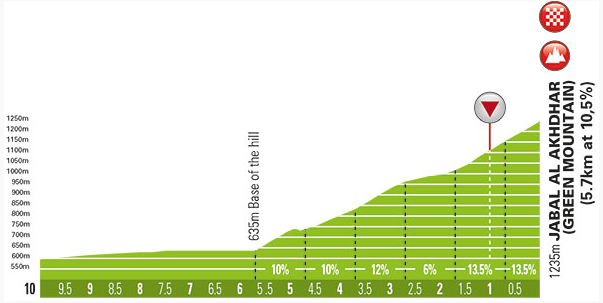 Fans of this race all know this climb. It's 5.7km at 10.5%. Simply, it's bloody hard and only the best survive!
The previous winners on this climb are Robert Gesink, Vincenzo Nibali, Joaquim Rodriguez and Chris Froome. It's safe to say we'll get a new name this year as Nibali and Rodriguez seem short of form.
Alejandro Valverde is the big favourite for the stage and GC. With a slender lead over his rivals, Valverde can sit and mark the attacks, something he is particular good at. One issue is the amount of riders still in contention. Realistically the following riders can still win the race: Valverde, Caruso, Moreno, Van Garderen, Arredondo, Majka, Fuglsang, Valls, Meyer and Meintjes.
There are a couple of issues for Valverde, the most pressing is his team. Basically he lacks support. Very quickly into the climb, he'll only have Amador with him. He's going to hope that some of the other teams come to his aid.
BMC are in the best position as they have Caruso and Van Garderen in contention. An obvious tactic is to take control and set tempo on the climb. They have Velits, Van Avermaet, Teuns, Schar and Hermans. They should be able to last a few kilometres up the climb, then Caruso attacks. The peloton will be small by this point and it should force Valverde into riding across, pulling Van Garderen with him. It's then up to the American to try and take the win. He was 2nd to Chris Froome, in 2014, and he looks strong just now. He always performs well at the start of the year, mainly due to him training at altitude over the winter. The heat isn't a problem either, I remember him winning the 2013 Tour of California in extreme heat.
Rafal Majka is riding well and the "surprise" of 2014 is a massive threat. In my overall preview I doubted whether he would be at this level as he never seems to start the year well. He has proven me wrong and clearly brings form to this race. His team won't be able to offer him a great deal of support, unless Kreuziger can pull something out the back. Best tactic for him would be to follow TJ!
Dani Moreno is now the Katusha leader after Rodriguez faltered. Moreno showed good form in San Luis, way ahead of where he usually is. He finished 14th on this climb, last year, but was working for Rodriguez. Moreno is an impressive climber but I don't think he's good enough to beat the talent already mentioned.
Another showing good early form is Julian Arredondo and he is a rider who can challenge here. The little Colombian had a brilliant 2014 and the other riders will be worried about him. His Giro stage win came from a long break, it really would mark a step-up for him, if he can win from the bunch. Is he ready to make this step?
I did mention Cam Meyer as a rider who could surprise here. Well, he's still in contention but I can't help feel that this climb is just too hard for him to challenge for the win. I hope I'm wrong!
Louis Meintjes also carries some good early season form into this race. He's already competed in the South African nationals and he won the African RR. He can cope with the extreme gradient, he was 2nd on the brutal Monte Bondone climb in the 2014 Giro del Trentino. As part of my Riders to Watch series I hope he can challenge here.
Prediction Time
This day is all about Valverde v Van Garderen v Majka. I see TJ coming out on top and going one better than last year.