Tour of Poland 2015 – Stage 3 Preview
By David Hunter
Zawiercie – Katowice 166km
Today was chaos. It was all going so well for Orica. They delivered a fantastic end to the stage, dominating from 3km out. They had plenty of men left too, but when Docker pulled off, it all went wrong. It was a little early for Ewan to launch his sprint, then Bonifazio got in front of him. Modolo followed onto his wheel and gave Ewan, a little shoulder. The Aussie was off balance and down he went. It was just one of those things but it denied him, Nizzolo and Guardini, a chance to win the stage. Both Kittel and Pelucchi were the beneficiaries, being slightly out of position. It slowed everyone else, allowing them the chance to win. That being said, Pelucchi, did finish very fast. With so many sore bodies, the stage 3 sprint, could be wide open.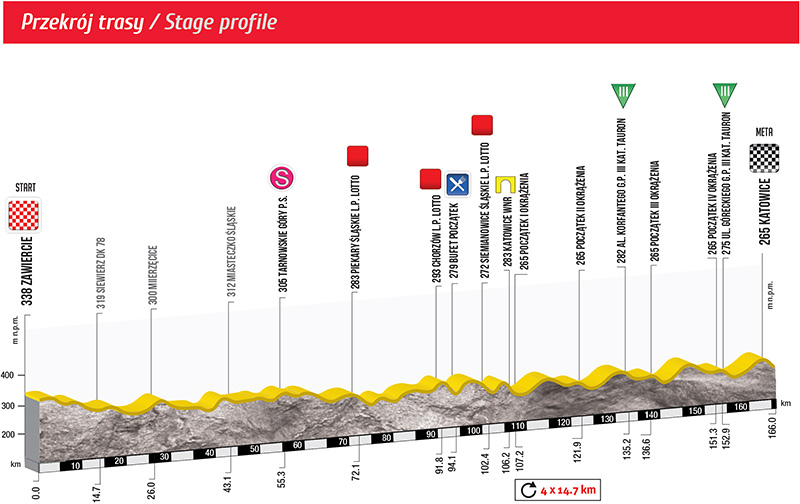 The route is familiar to fans who have watched this race before. The climb is not hard, but is a perfect place to launch a late attack. After two sprints, there are plenty of riders who will want to halt the sprinters. An added complication is the GC men. They will be even more nervous,after today, and will want to be at the very front of the race. GC men and sprinters, don't mix well!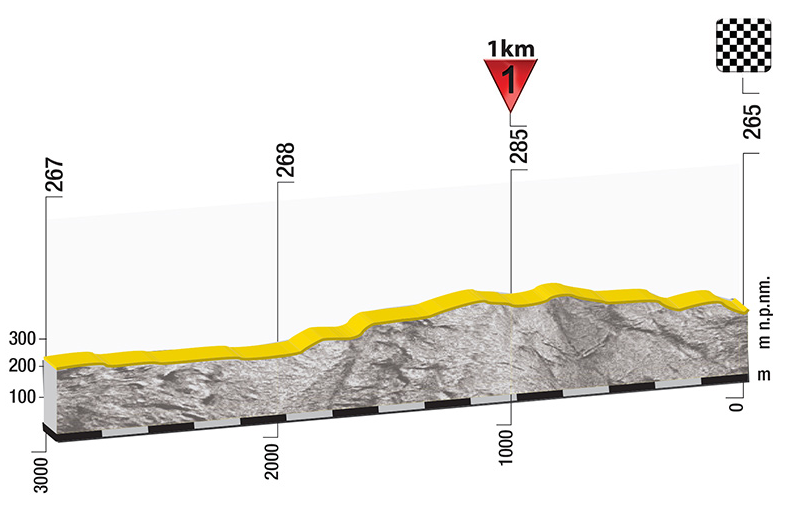 The sprint is going to be very fast, as it happens on the downhill. This caused a surprise, last year, with Jonas Van Genechten taking the win. The super fast finish, does allow some riders to spring a surprise. It also means a better chance for the opportunists. Get 10 seconds on the climb and you'll be very hard to catch. I love this type of finish, as there is something for everyone. It wouldn't surprise me to see Kwiatkowski attack on the climb. His descending skills are brilliant, so it would make sense for him to try and steal some important bonus seconds. Despite having Gianni Meersman, Etixx are only focused on the GC. A 10 second bonus, could be very important, in a race that is likely to be settled by the TT.
Another rider who would love to attack is Alex Dowsett. He's been taking some monster turns and is clearly in form. He also possesses the TT skills required, to hold off a full peloton. One problem is his work for Ion Izagirre. If allowed a little freedom, Dowsett could steal the show.
Giant had to do a lot of work today. Orica were more than happy to control near the end, but with Ewan crashing hard, they might not be so willing to help. Lampre don't have the bodies to help, and are useless at chasing anyway! Some teams might just sense the chance to upset the sprinters. Giant might get help from Trek, as Nizzolo was unlucky today. He was in a great position, but Ewan crashed into his back wheel. How he didn't end on the ground is a mystery to me. The Italian is looking good and will want a stage win, to go with his good legs.
I think Pelucchi got a little lucky. He was way off, with 3km to go, and constantly lost the wheel of Reynes. Fortunately for him, Kittel was also positioned poorly. He managed to follow the wheel of Kittel, always a good thing to do. There was nothing luck about his sprint, it was very fast. IAM will struggle to control any breakaway attempt, inside the closing kilometres.
Guardini looked good but crashed heavily. Modolo was in a great position, but lacked speed. Boeckmans was too far back and isn't as fast as the others.
Watch out for the sprint, it's a sit down effort. Some riders excel when remaining in the saddle, it's a special type of skill.
Prediction Time
It's Kittel, Nizzolo, or a late break for me. The climb is so close to the end, and the circuit is technical, it really should be a day for a late attack. I'll go for a surprise and Alex Dowsett is take the win.
David Hunter
Follow us on @CiclismoInter
Join us on facebook: Ciclismo Internacional
Copyright © 2015 Ciclismo Internacional. All Rights Reserved