Tour of Poland 2015 – Stage 4 Preview
By David Hunter
Jaworzno – Nowy Sacz 220km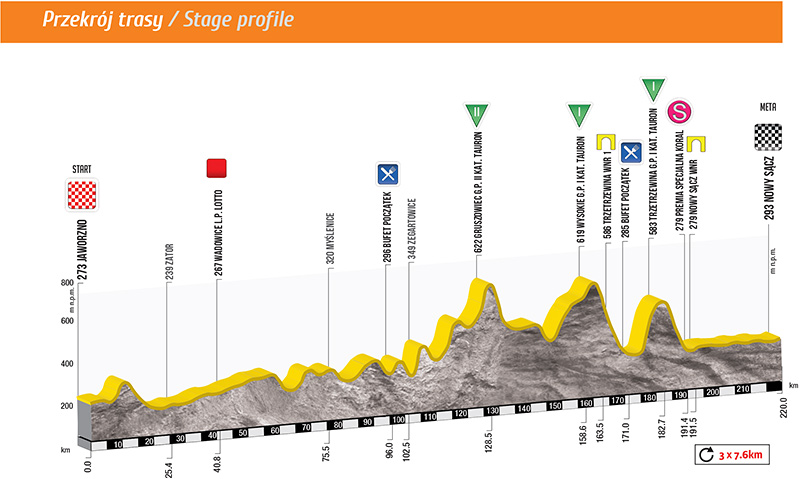 At last, mountains! After 3 days for the sprinters, the fun starts. We have a cat 2 climb, before two cat 1 climbs. Once off the descent, it's another circuit race, with 3 laps of 7.6km.
The organisers haven't been kind, as they haven't disclosed the details of the climbs, and it's very hard to find out about them. Of course, I have done my best, and I do have some rough figures. The last climb, Trzetrzewina, looks very steep, on the profile picture. The fact that the organisers have given it a category 1 rating, might also make you think it's very hard. On closer look, it's not that difficult. I make it around 3km at 7%. I have heard it includes an 18% ramp, but I haven't found such a steep section.
The other cat 1 climb is much longer, but not as steep. The climb lasts for around 9km at an average of around 3%. This is not a difficult climb and I struggle to understand why it's cat 1. Despite the climbs, some sprinters will fancy their chances of making it to the end.
Of the sprinters here, the best climbers are Nizzolo, Mezgec, Meersman and Bonifazio. The Trek man, has been very unlucky, winning only the GP Nobili, in 2015. He has been close on a number of occasions and will look towards this stage as a great opportunity. Looking at Kittel today, I doubt he's in the shape to cope with these climbs. Pelucchi has never been known for his climbing ability either.
JJ Lobato is another sprinter, who can climb. He crashed heavily and hasn't really been contesting the sprints. I don't see this changing for him, especially when the team are focused on Izagirre.
Still talking about climbing sprinters, Mezgec and Meersman, are another two who are more than capable of climbing well. Mezgec is the faster of the two and would be confident of winning, if he survives. Meersman might have to work for Kwiatkowski.
Speaking of the World Champion, he will sense a chance of bonus seconds. Get rid of enough sprinters, by making the race hard, he will have a great chance of the podium. Certainly, he's the fastest of the non-sprinters. Other fast, non-sprinters, are Ulissi, Bole, Bystrom, Lagutin and Paterski. It all depends on how hard they make the race.
One rider who interests me, is Vincente Reynes. He's the lead-out man for Pelucchi, but will get a chance if he fails. He was 2nd on stage 4 of the 2014 Vuelta, which featured a hard, cat 2 climb. If in form, he'll get over the climb and can push a big gear in the sprint. IAM might just sense another chance of success. What a story, if they could make it 3 in a row!
Prediction Time
Due to the lack of information about the climbs, I'm not 100% sure what will happen. The climbs do look too hard for Kittel and Pelucchi, but maybe not for Nizzolo, Mezgec and a few more. For me, Mezgec is the rider they all have to fear. I can't see him getting dropped and he should still have a few teammates left, to set up the sprint. He's the safe pick!
If the peloton is greatly reduced, the lap circuit is good for a late attack. It all depends on how many riders are left to chase.
David Hunter
Follow us on @CiclismoInter
Join us on facebook: Ciclismo Internacional
Copyright © 2015 Ciclismo Internacional. All Rights Reserved