Tour of Poland 2020 – Stage 3 preview
By David Hunter
Wadowice – Bielsko Biała 203.1km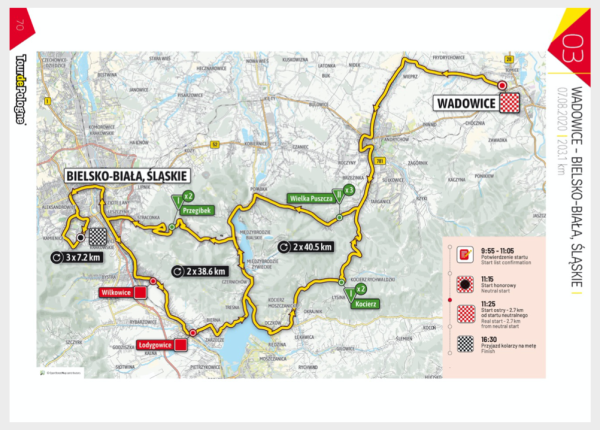 Let the GC fun begin.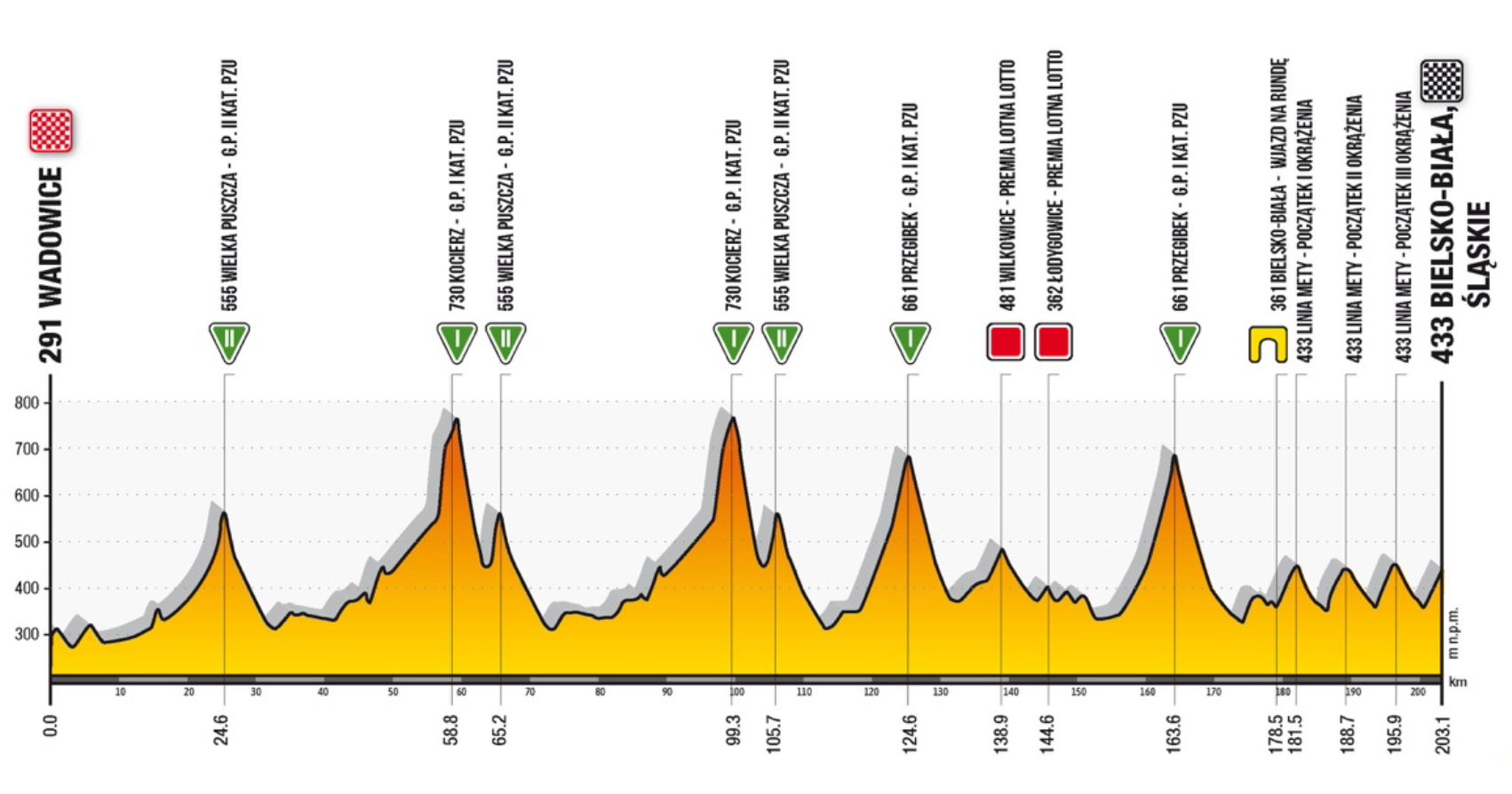 You might remember this finish, it's where Kwiatkowski won in 2018 and last year Luca Mezgec took the day, but this year it's much more difficult. Previously the riders had to deal with the cat 1 climb before the circuit, but that was about it. This year the organisers have rammed a lot more climbing into the stage meaning that the sprinters don't stand a chance.
This is the new cat 1 climb for this stage and the riders have to tackle it twice. It's 1.4km at 12.4% and narrow. This is a very difficult climb, but the final ascent comes with over 100km left in the stage, which would normally reduce the impact it has on the race.
Up next is two ascents of the normal climb we have in this stage, which is long and steady, around 6km at 5%. This climb doesn't usually put riders into difficult, but coming after that really tough cat 1 climb we could see the back door opening and sprinters sliding out of it. After all of this we eventually reach the circuit.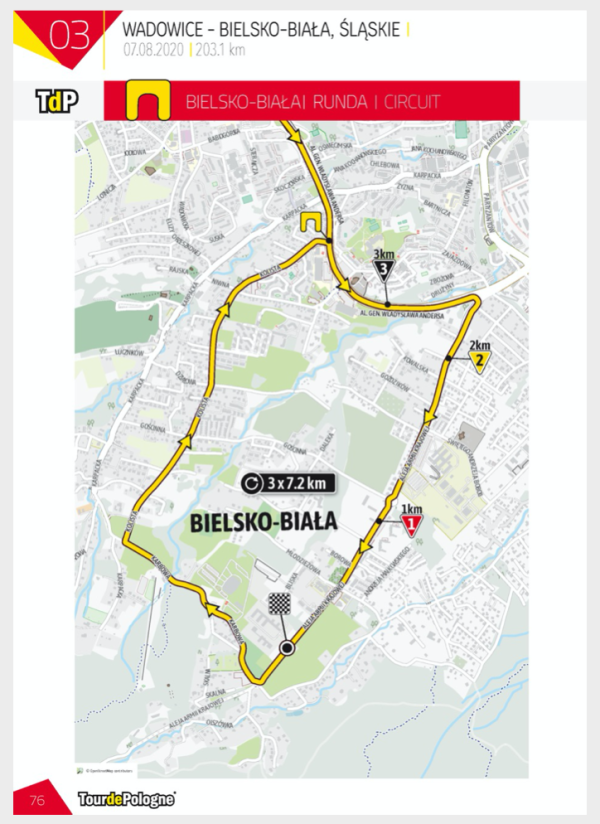 The circuit is a funny one, 4.8km downhill and 2.4km uphill to the finishing line. The downhill is very fast, Ineos absolutely hammered this last year and split the bunch.
As I mentioned the final 2.4km is uphill at a grippy 3.9%. It doesn't seem much, but it's a proper leg sapper. There is a roundabout just before the flamme rouge and positioning for this is very important as only one side of it is open, trying to move up the bunch isn't very easy on this incline.
Tactics
I don't see us simply rolling through this stage and getting a sprint at the end. With just two GC days in the race this is an opportunity to take the race lead and put pressure on your rivals. I doubt we'll see much action before the circuit, once we get there, the fun should start. Hoping that we get a calm race will be some of the fast finishing puncheurs. Will it be possible for someone like Jasper Stuyven to survive?
Weather
Another nice day for the peloton.
Contenders
Jasper Stuyven – it all depends on how the stage is ridden. If Stuyven can arrive at the lap circuit nice and fresh he has a good chance. The problem is that teams are bound to attack and make the final 20km very demanding, which will take some of the kick out of his legs. We saw last year that if the final rise to the line is very fast the sprinters simply drop away in the last kilometre, but Stuyven can climb better than sprinters.
Ryan Gibbons – climbs very well for a fast man, but rarely wins.
Daryl Impey – he should love the look of this one. Impey is a winner, he has the mentality required to turn his talent into victories. Mitchelton-Scott have a number of options for this stage, I expect Impey to have freedom to chase some glory. If we get a sprint, he'll be one of the men to beat.
Paddy Bevin – regular readers will know that I'm a big fan. He's one of those cyclists that can do most things well, he shouldn't be getting dropped in this stage. He has a very fast uphill sprint, if he gets a good position for the final kilometres he should be able to challenge for the win.
Max Schachmann – the fastest of the GC riders. Bonus seconds will be crucial in helping to determine the winner of this race, this is a big chance for the German to steal a march on his rivals. If Bora can make this stage hard enough, Schachmann will have a great chance of taking the stage and the 10 seconds that go with it.
Remco Evenepoel – I wouldn't put it past him, would you? The GC riders will be watching him like a hawk, but the youngster has so much power he get escape even when others try to mark him. I doubt he's fast enough to win the sprint, so he must go long.
Simon Yates – another of Mitchelton-Scott's options. Best known as a climber, the Englishman has a decent kick on him too. With all eyes on Impey, he might be able to slide under the radar and get away. I love watching Yates ride his bike, he isn't scared of attacking and risking it all. With so many options, Mitchelton-Scott have a big advantage in this stage.
Tim Wellens – he'll like the uphill sprint, something he's very good at, but will he wait for the sprint? Wellens is a very attacking rider, if he senses an opportunity to attack, he will.
Eddie Dunbar – Ineos have two leaders at this race, the young Irishman is one of them. As neither of their leaders will win the sprint, they'll attack this stage and try to make it selective. Dunbar has the kick required to surprise some of the bigger names.
Prediction Time
Mitchelton-Scott have the cards to play, they really should be winning this stage. I'll go for a sprint finish and a win for Daryl Impey.
David Hunter
Follow us on Twitter and Instagram
Join us on facebook: Ciclismo Internacional
Copyright © 2012-2020 Ciclismo Internacional. All Rights Reserved