Tour of Poland 2020 – Stage 4 Preview
By David Hunter
Bukowina Resort – Bukowina Tatrzańska 152.9km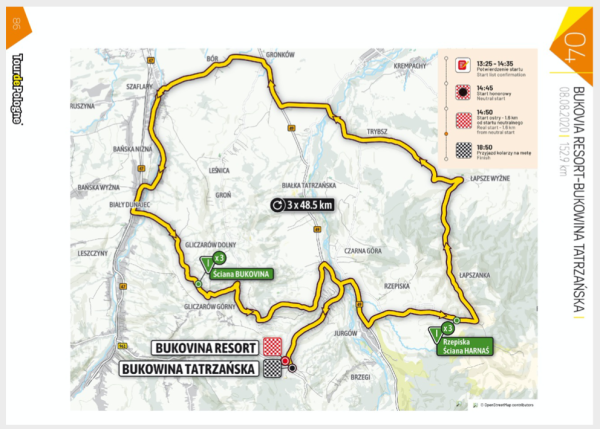 The big GC day.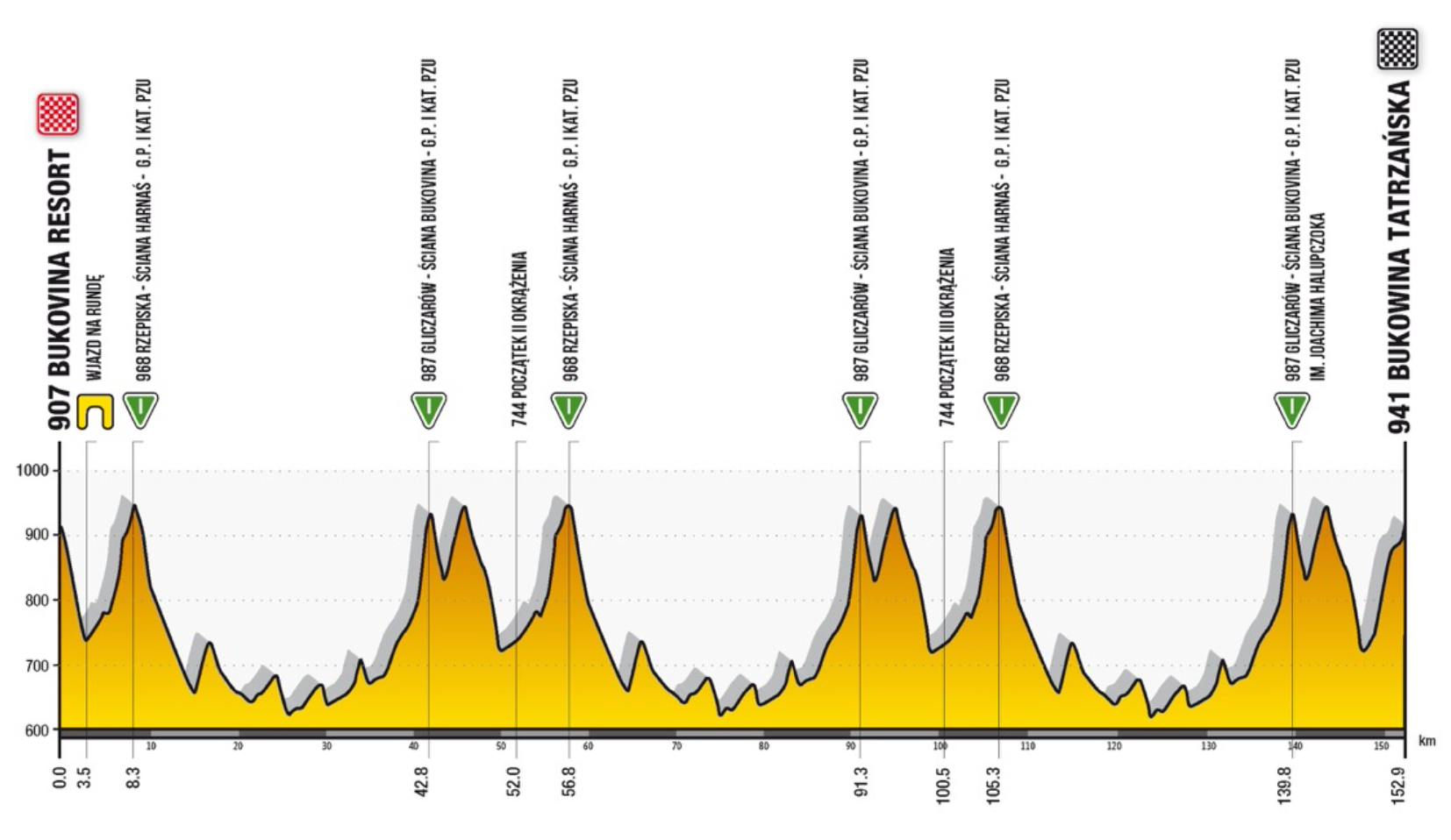 This is the classic stage we usually see in this race, which is good news as last year it was made a little easier, but the climbs close to the finish are back!
Weather
Another nice day, but there is a small chance of rain towards the end of the stage.
Tactics
You better be on the rollers before the stage as things will be crazy from the gun. We've all seen these climbs before, but time for a little recap.
Ściana Harnaś is a little devil of a climb. The first ascent comes within the opening 10km of the stage and it will be hit full gas.
Ściana Bukovina is the main climb of the day. The last time up it crests with just 13km to go, this was removed last year and has thankfully been brought back in. It has a brutally steep section within it(1km at 12%) where the climbers will want to attack.
This is the unclassified climb that comes just after Ściana Bukovina, but don't underestimate it. On the final lap, the crest of this climb comes with just 9km remaining, it is very close to the end. This is where Simon Yates attacked in 2018 and wasn't seen again.
One thing to note is the long flat section before the final set of climbs, which can put off riders from attacking early. From a tactical point of view this stage is fascinating, as it is very difficult, and teams will want riders up the road to enable team leaders to follow wheels in the bunch. Normally things will come back together for a GC battle on the final climbs, but there is no guarantee this happens. Interestingly, there doesn't seem to be any intermediate sprints in this stage.
The other thing I have to mention is the strong possibility of a big group disappearing up the road at the start of the stage. As most teams have multiple options we could see a group of around 20 get a gap and never come back, as long as all the big teams are represented. Like I said, get on those rollers!
Finale
The grind up to finishing line isn't easy either, especially at the end of a demanding stage. The steepest section is at the foot of the climb, but we rarely see riders getting away at this point, but it can happen.
Contenders
Bora – with Schachmann, Majka and Konrad they have plenty of options. Schachmann would be the most likely leader for them, but Majka usually goes well on home soil. With such a strong team they'll be able to shape the race and try to expose weaker squads, something they really need to do. Given the way he rode at Strade Bianche, Schachmann looks in brilliant form and he will be a very hard man to beat in the closing kilometres. Given his sprinting speed, I wouldn't be wanting to take him to the line, but can he hang tough on the steep slopes when the climbers come out to play?
Mitchelton Scott – both Chaves and Simon Yates look good for this stage, the Brit actually won this one back in 2018. It's hard to see either of them getting dropped on the climbs as they love a steep incline. Mitchelton-Scott are a squad who normally get their tactics spot on, and both riders love to attack, so I think we could be in for a treat.
Astana – Fuglsang was looking frisky today, getting in an early break with Thomas De Gendt. That didn't work, but it did show the intent he has. It seems that Fuglsang wants to attack early these days, more of this please Jakob! With Ion Izagirre also in the team he knows that he can put the pressure on with the knowledge that the Basque rider will be getting a free ride back in the bunch. I think we'll see Astana trying something quite early in the stage and launching a few fireworks.
UAE – they have both Ulissi and Rui Costa, two riders I don't have a lot of time for. Neither like to commit to doing work, hopefully they don't win.
Richard Carapaz – today's stage win was well earned by Ineos, they know how to attack that circuit. Being the race leader in this stage isn't ideal, but they do have a very strong squad at this race. On paper I wouldn't say this stage is perfect for him, but the guy is a born racer, he can make stages his style simply by the way he rides.
Remco Evenepoel – all eyes on Remco. Don't underestimate the impact Jakobsen's crash will have had on the whole QuickStep team, but now he's out of the coma we might see the boys in blue come out fighting. Remco was incredibly strong in Burgos, and these hills are probably more to his liking. I'm looking forward to seeing him attack and blow the race to pieces.
Tim Wellens – it shouldn't be too hot for him, which is good news. This style of stage is right up his street, it could almost be in the Ardennes. If Wellens is near top form he will be one of the riders to beat, especially as he'll be racing trying to honour the memory of Bjorg Lambrecht.
Jonas Vingegaard – don't forget about the little Dane. Won a stage last year and one of the most promising young riders in the peloton.
Prediction Time
Anything could happen in this stage. We have a route made for attacking, and a peloton raring to go after months without racing. I expect a very fast start, and a large group to disappear and never come back again. I want to pick Remco, but something is making me doubt myself, and you should always listen to your brain! Team strength is key in this stage, so I'm going with Simon Yates to take the win and race lead.
David Hunter
Follow us on Twitter and Instagram
Join us on facebook: Ciclismo Internacional
Copyright © 2012-2020 Ciclismo Internacional. All Rights Reserved