Tour of Qatar 2015 – Stage 3 Preview
By David Hunter
Lusail – Lusail 10.9km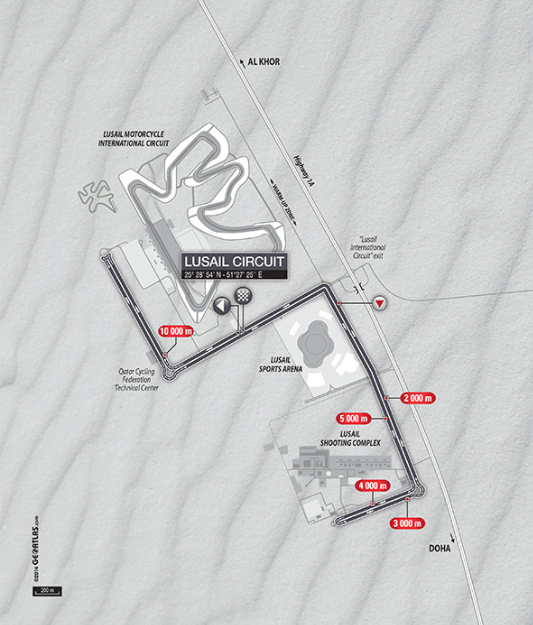 We return to the same TT we had in 2014. Michael Hepburn took the win, beating Lars Boom by 1 second. Hepburn was just the 11th man off and benefited from a change of wind strength. Completing the top 5 were Bennati, Cancellara and Terpstra. The top 5 in 2015 could easily look similar.
Among the early starters this year are Jens Mouris, David Boucher, Johan Le Bon, Lars Boom, Bradley Wiggins and Marcel Kittel.
Wiggins will be wearing his rainbow jersey for the first time and he'll want to do it justice. He certainly starts as the favourite but form cannot be overlooked. In two consecutive stages he has been dropped and look uncomfortable in the wind.
The riders don't get the advantage of using their TT bikes either, they are all on road bikes. In my opinion, that brings everyone a bit closer together. The wind is to be at it's strongest, for the early starters and expect a slight change of direction. It's to be more of a headwind for the early starters and slight more across the later riders. It looks like the later guys get the best of the wind but in an area known for wild gusts, nothing can really be certain.
To win this TT you need power. The riders in contention are: Wiggins, Boom, Cancellara, Bodnar, Terpstra, Sagan, Westra, Boonen, Kittel and Van Keirsbulck.
If the wind does favour the later riders, it puts Terpstra and Sagan at an advantage. The problem for Terpstra is that he's never won a TT in his career. Sagan has 2 prologue wins to his name, in the Tour of Alberta and Tour de Suisse, both over 7km. Riding on his road bike is an advantage to Sagan, a rider capable of enormous power.
Lars Boom has had an interesting couple of days. He was very strong during the opening stage but finished last man today. It sounds like he took it very easy after losing contact early on. Boom's a clever rider, he realised that he should conserve energy and go for the TT instead. Either that or he picked up an illness, we'll not know until tomorrow!
Cancellara also was distanced today and as I have previously said, he doesn't usually start the season well. He is a master at this type of TT and a win wouldn't be a surprise.
Tom Boonen is capable of a good TT performance, when in top form. He's looked good but is he really at the level required to seal a top 5 position?
Maciej Bodnar had a good 2014, on his TT bike. His best result was winning the De Panne TT, beating the likes of Terpstra and Van Keirsbulck. Winning this stage would mark a massive step-up in his career, I'm not sure he's at that level yet.
I'm a big fan of Van Keirsbulck. He has amazing, raw power, more than most riders. Last year, he was 7th, just 13 seconds down on Michael Hepburn. When in the mood, he can deliver a good performance. Sometimes he does save his strength for domestique duties. With 5 Etixx riders ahead of him on GC, it looks like he'll be told to take it easy and conserve his energy.
Prediction Time
The mix of the stronger wind conditions, lack of form and use of the road bikes leads me to believe that Bradley Wiggins will not win. Lars Boom is the next contender, but going out so early will be a disadvantage. It didn't work out that way for Hepburn, in 2014, but I don't see lightening striking twice. Cancellara is also out relatively earlier, so it's going to be hard for him too. If the wind does go against these guys, then it's a battle between Terpstra, Sagan, Boonen and Bodnar. There isn't much between these guys, but Peter Sagan might just have the edge.
Two picks! If the wind is constant, Cancellara wins. If it favours the later starters, Sagan wins.
David Hunter
Follow us in facebook https://www.facebook.com/CiclismoInternacionalLatinoamerica?fref=ts … or Twitter @CiclismoInter
Copyright © 2015 Ciclismo Internacional. All Rights Reserved