Tour of Romandie 2015 – Stage 3 Preview
By David Hunter
Moutier – Porrentruy 173.2km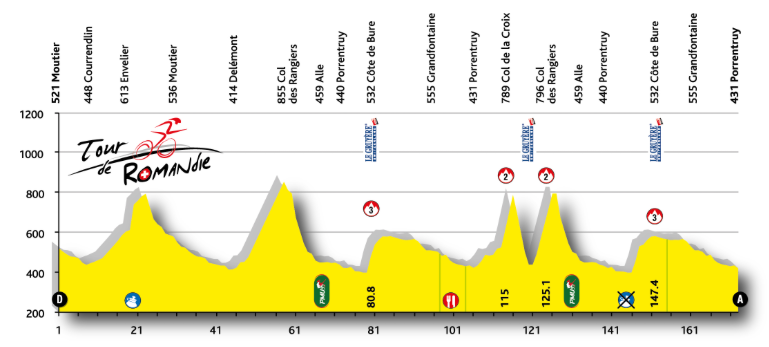 An easy day in the saddle, or is it really?
On first inspection, this looks a fairly standard day. Two cat 3 climbs and two cat 2 climbs. The final cat 2 climb crests 50km from the finishing line and that normally means we would get a bunch sprint. But this is Romandie!
The opening climb is 1.8km at 7.4%. Then we get a nice easy descent, before the crucial point in the day. We have two cat 2 climbs, in very quick succession. The Col de la Croix is 4.8km at 6.3%, with a 10% maximum. We then have a very fast, 5km descent, before the Col des Rangiers. It's 5km at 7.2%, with a 10% maximum. That's almost 10km of climbing, at around 7%.
We then head back to the cat 3, Cote de Bure. In fact, they also tackle the Rangiers twice, but the first ascent is unclassified, and from the easier side(8.5km at 4.4%). This is a challenging day in the saddle.
It is a profile that suits the breakaway riders and quite a few lost time today. Orica have control of the race and will want to ensure that Albasini continues in the jersey. With so many wins in this race, taking another stage isn't essential. I wouldn't expect them to work all day, without help. But who will help them?
Very few teams have a rider capable of winning the stage. If we get a group of 50, then Albasini wins. If a group of around 25, then Rui Costa probably wins. That doesn't leave a lot of teams willing to help the chase. It's certainly on the demanding edge for the sprinters, so don't expect any help from them. Etixx could pitch in, but they can't over commit, with Uran focused on the GC. It looks like a good day for a break.
This looks like being our last day without rain, so get in the break and enjoy a day in the sunshine!
Possible breakaway contenders are: Brandle, Fumeaux, Belkov, Westra, Vichot, Martin, Acevedo, Busche and Geniez. Being their home race, I would expect to see IAM in this break. Brandle is their expert but it could be on the hard side for him, however, he is a machine! Fumeaux was in today's break and looks like their KOM contender. With plenty of points on offer, the KOM jersey might take precedence over Brandle's breakaway hopes.
Astana seem the most likely of setting a fierce pace on the climb. They have plenty of options and if they can slim down the peloton, they stand a chance of attacking and taking a solo win. I don't see many teams setting the pace, on a climb 50km from home. The type of finish we get, really depends on how the riders tackle the stage.
Prediction Time
I'm going to go for the break and Brändle is my pick as Lieuwe Westra (my favourite) had an upset stomach today and will be weak tomorrow.
David Hunter
Copyright © 2015 Ciclismo Internacional. All Rights Reserved