Tour of the Alps 2021 – Stage 3 preview
By David Hunter
Imst > Naturns/Naturno 162km
Another day with a lot of climbing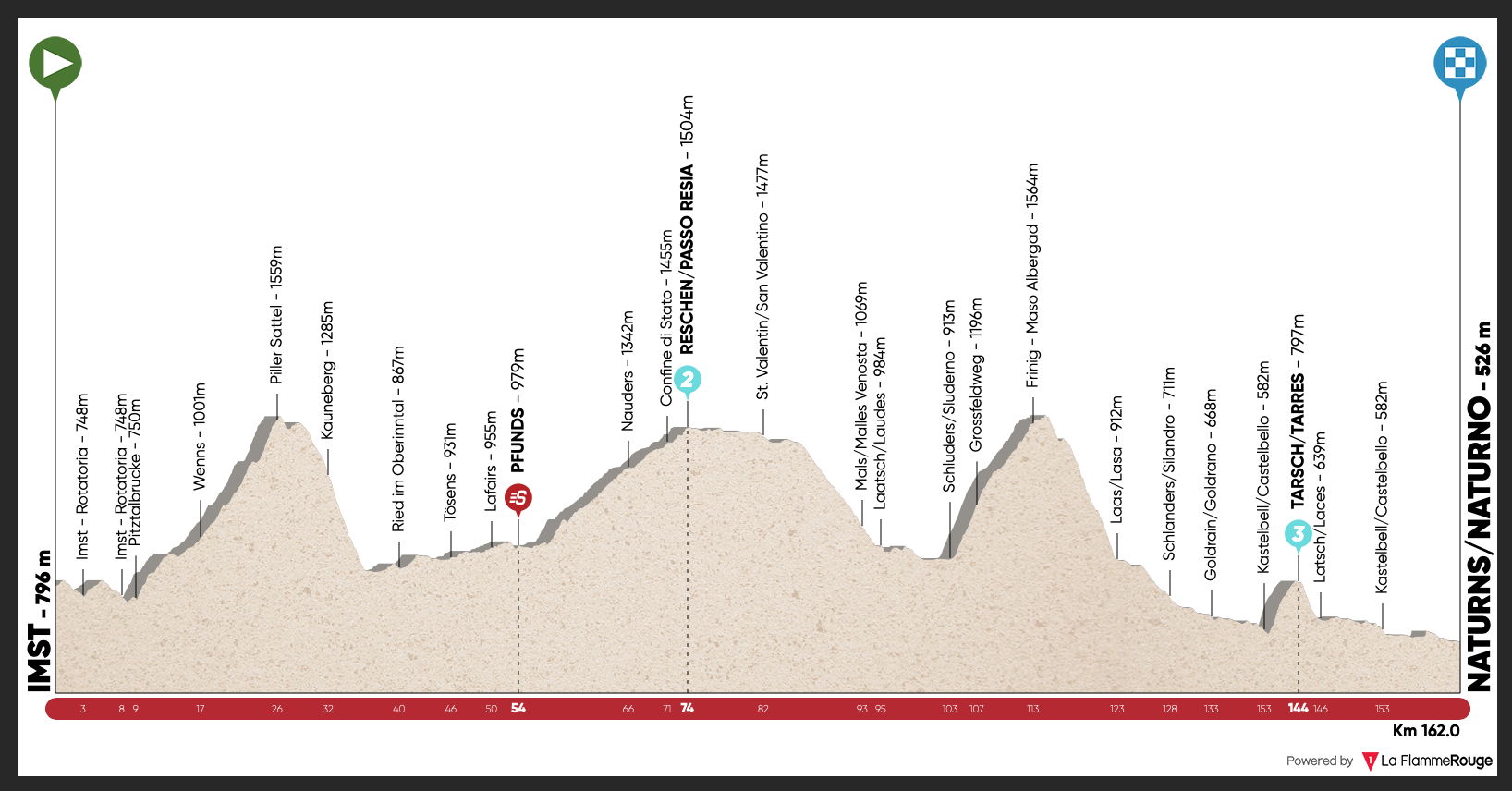 The stage begins with a long unclassified climb.
16.6km at 4.9%, this should really be classified. Normally, this is a perfect start for a big break to get away from the bunch.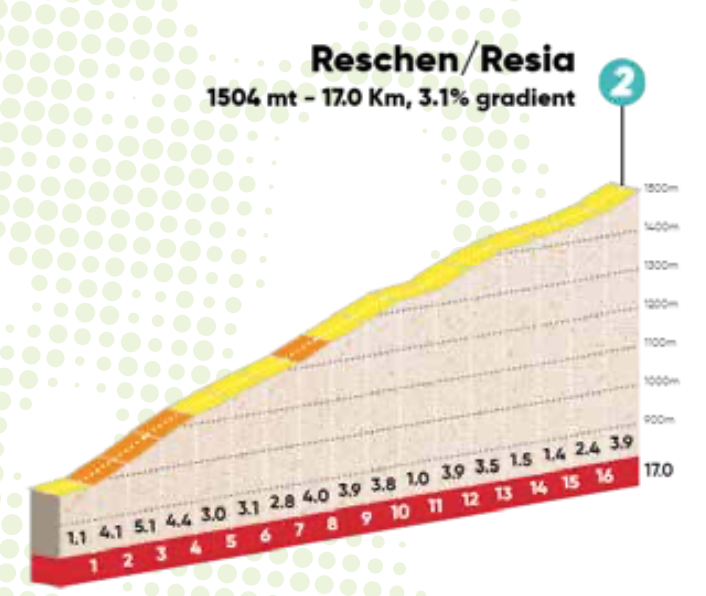 Next up is the cat 2 climb, which is 17km at 3.1%, so it's easier than the unclassified climb. This makes no sense to me!
Another unclassified climb, this one is 10.5km at 6.2%, it's a tough one. The opening 5km is very demanding, averaging 8%. From the crest there is still a whopping 50km still to go. Surely this means we don't see serious GC action.
The final climb is a cat 3 effort. The opening 1km averages 10.7%, and the climb continues on for another 1.5km but at a much shallower gradient. The crest comes with just under 20km still to go.
Weather
Cloudy sunshine, but still not very warm.
Tactics
The big climb looks too far out for big attacks, but some might still try. BikeExchange are in the race lead, and they have quite a good team to control the race for Simon Yates. I would expect Kangert, Nieve and Schultz to be able to set a good pace on the climbs and deter attacks, but they'll still come.
Ineos look the main team who'll want to attack, they have three strong climbers in the team. They'll take over the pace setting on the big climb and see if they can drop the BikeExchange domestiques. If they don't, we won't see gaps between the GC riders. If they do, get ready for some fireworks. Normally, if the big climb crests 50km from home, we don't see a GC day. As this is a short stage race, we could see something different.
Hoping that we don't see a GC day are the breakaway riders. The climb at the start of the stage is good to force a strong break, but the problem is that many riders are still quite close to Simon Yates on GC. There is every chance a rider within 3 minutes of the race lead gets in the break, which means BikeExchange have to chase it down. This break will need to be very strong to survive.
Contenders
Simon Yates – what a win today, he was shifting. He doesn't have to do anything in this stage, simply sit back and let his team control the race. If the opportunity to win another stage presents itself, he'll take it.
Dan Martin – 3rd today was a step in the right direction. This is a good stage for him, he should be able to survive the climbs and he has quite a good sprint too. The closing stages will be chaotic, you'll need good legs and a lot of luck.
Pello Bilbao – easily the fastest finisher of all the climbers. He was close to winning the opening stage, this is another good day for him. He lost a bit of time today, but the big climb being further out means the pace shouldn't be quite as high. He should make the front group, but can he take the win?
Ruben Guerreiro – EF should have two men in the front group, Carthy and Guerreiro. Carthy will likely be marked by Yates, but Guerreiro should have some freedom. He climbs well, and is fast in a reduced sprint, the Portuguese rider ticks a lot of boxes for this stage.
Dani Martínez – given his lack of racing this year, today's result wasn't a surprise to me. Sivakov sits in second place, it will be interesting to see how Ineos approach this stage. I doubt Sivakov can put Yates under pressure, it would be better for the team to give some freedom to others. The Colombian will go better in this stage, and he has the TT engine to take a solo win.
Gianluca Brambilla – yet another who'll hope the front group is around 20 riders big. The Italian will then hope to use the fact he sits quite far down on GC.
Matteo Fabbro – see above.
Romain Bardet – 9th today wasn't a bad result; I really hope his move to DSM gets the best out of him. Back in 2016 I fell in love with the Frenchman, his slow decline has been hard for me to take. I truly hope we start to see the old him soon, what a talent.
Prediction Time
We've seen stages like this in the past. A rider close on GC will get in the break, they won't be able to help themselves. BikeExchange will chase it down, but the big climb being around 50km from the end means that the stage won't be that selective. The front group will be around 20 riders big in the closing stages, that means lots of attacks in the closing kilometres, anyone in the top 20 could take the stage win.
Take your pick from basically anyone in the top 20, I'll say Ruben Guerreiro.
David Hunter
Follow us on Twitter and Instagram
Join us on facebook: Ciclismo Internacional
Copyright © 2012-2021 Ciclismo Internacional. All Rights Reserved