Tour of the Alps 2021 – Stage 4 preview
By David Hunter
Naturns/Naturno > Valle Del Chiese/Pieve Di Bovo 168.6km
Ooooofffff, this is a tough day out.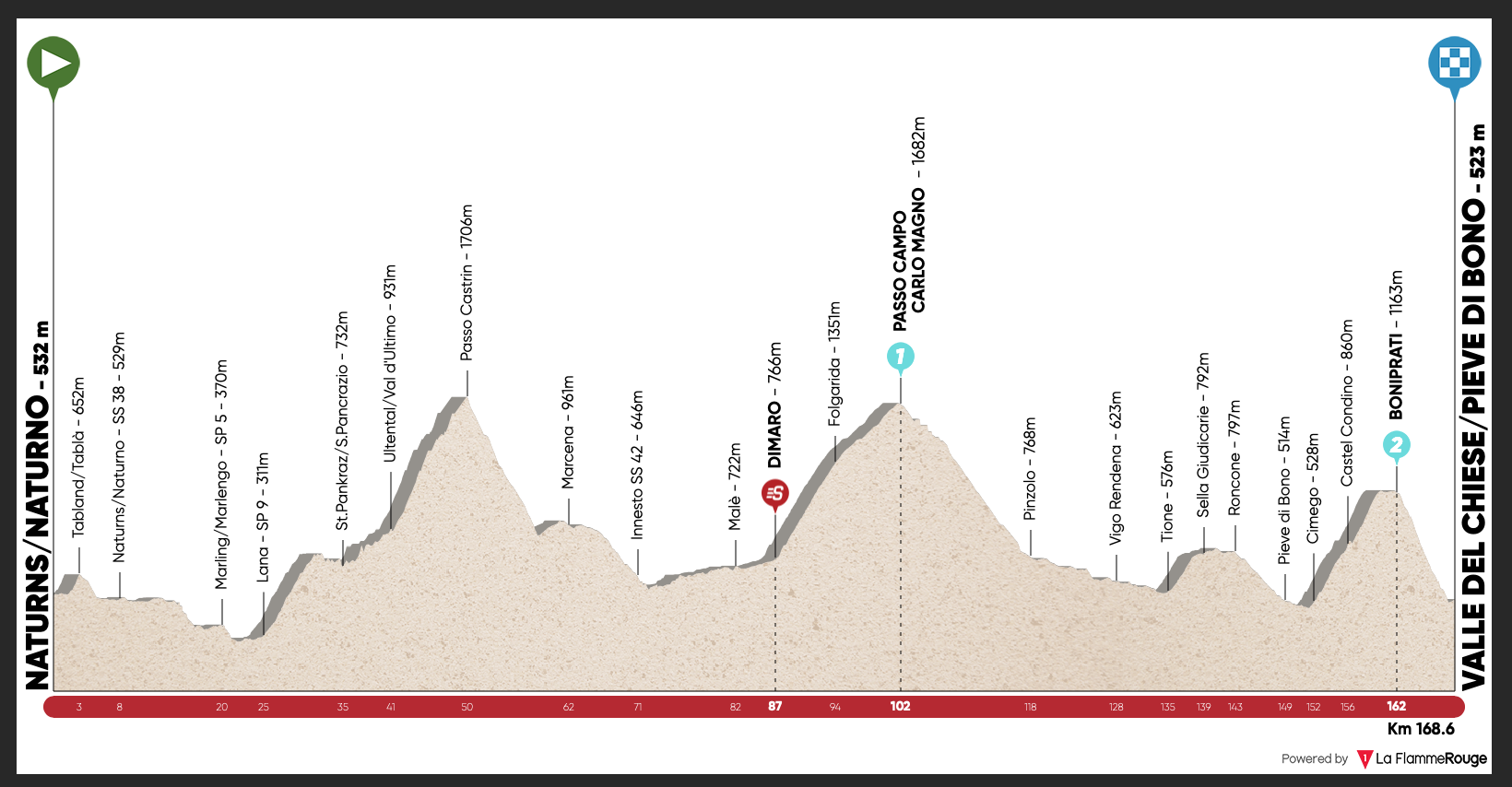 The organisers are up to their usual tricks in terms of the classifications. I'll choose to ignore what they say and classify the climbs myself.
Key Points
We have 1km at about 9% just after the start, but it's not really long enough for the break to form, this should happen on the first big climb.
This starts after 26km. Overall the climb is 24km at 5.4%, that's a cat 1 for me. The worst of it is this 4.3km stretch at 9.7%. This is a great start for the breakaway.
After 80km we get to the next climb, this one is 14.6km at 6.2%, it's another cat 1 for me. The opening half is much harder than the second half.
The last climb of the day is 9.7km at 6.9%, but that includes almost 2km of flat at the top. The opening 8km averages 8.1%, this is very difficult. Yip, another cat 1, maybe even HC.
This is one hell of a descent. Fast as hell, steep, narrow and very technical. It might only last 6km, but damage can be done.
Weather
Down in the valley it will be relatively warm, but a little chilly up high.
Tactics
We have 33 riders within 4 minutes of the race lead, this is far from over. BikeExchange did a good job today, despite the size of the breakaway. This is another day where picking the right break will be impossible, of course some of the top 30 riders will be in it. It's not like you can ask these guys not to attack.
Take Trek-Segafredo for example. They have 5 riders sitting in the top 30, but not one of them has a realistic shot of finishing in the top 10. What do you think they'll do? Wait in the bunch and get dropped on the final climb or go in the break and try to win a stage?
The problem for the break is that we have a lot of downhill and flat throughout the stage, a team like BikeExchange should be able to keep them relatively close, especially if a rider within 2 minutes of Yates is up the road. They just need to make sure the break isn't really big, that would make life very difficult for them. This means it will be hard for the break to take the stage, it'll likely go to the GC group.
Ineos are the team with the most bullets to fire. Sosa and Martínez are too far down to win the GC, which means they'll use them in a traditional fashion. Make the pace really hard on the final climb, drop as many as possible, then Sivakov attacks. The problem for him is Simon Yates, that was one hell of a performance on Tuesday, he's clearly flying just now. The best Sivakov can hope for is the stage, but that won't be easy either thanks to the descent.
Contenders
Simon Yates – what a performance on Tuesday, he was putting out some serious watts. He has a 45 second lead over Sivakov, the Russian is the only rider he really needs to watch. Will Yates want to go on the attack and take another stage win? The Giro starts in two weeks, he needs to save as many matches as he can, we don't want to see him blow in the final week all over again. The stage is his if he wants it.
Pavel Sivakov – Ineos tried to play the numbers game on Tuesday, but Yates was just too strong. The GC position means that Sivakov won't get a free pass from Yates, he'll need to earn the win. This will be very difficult to do, there's no way he'll drop him. His best bet is to try and drop everyone else, arrive with Yates and hope he lets him take the win. I doubt this will happen.
Hugh Carthy – 1:27 behind Yates, that could buy him some freedom. He climbed very well on Tuesday, there was no shame in not being able to follow Yates. He would prefer the finish to be at the top of the climb, but it isn't. With the Giro so close, don't expect him to take any silly risks on the descent, that would be crazy. If he performs as well as he did on Tuesday he can win this one.
Nairo Quintana – he's a whopping 1:52 behind Yates, that certainly will buy him some freedom. Arkéa really attacked the climb on Tuesday, it was great to see them show so much belief in their leader. He was able to follow most of the way up the climb, but was dropped at the same time as Carthy. When Quintana attacks, Yates won't chase, that will be up to others. All he needs is a little hesitation and he'll be off.
Dan Martin – he'll need to climb better than he did on Tuesday if he wants to win this stage.
Aleksandr Vlasov – see above.
Trek-Segafredo – they are the team with lots of options for the break. Take you pick from Nibali, Brambilla, Ghebreigzabhier, Ries and Skjelmose Jensen. It's unlikely they'll win, but they might as well try.
Prediction Time
Will Yates go full and take another stage? With the current position on GC it's perfect for a rider a little further down to take the win. I'll take a win for Hugh Carthy.
David Hunter
Follow us on Twitter and Instagram
Join us on facebook: Ciclismo Internacional
Copyright © 2012-2021 Ciclismo Internacional. All Rights Reserved