Tour of the Alps 2021 – Stage 5 preview
By David Hunter
Valle del Chiese/Idroland > Riva del Garda 120.9km
This should be another day for the breakaway.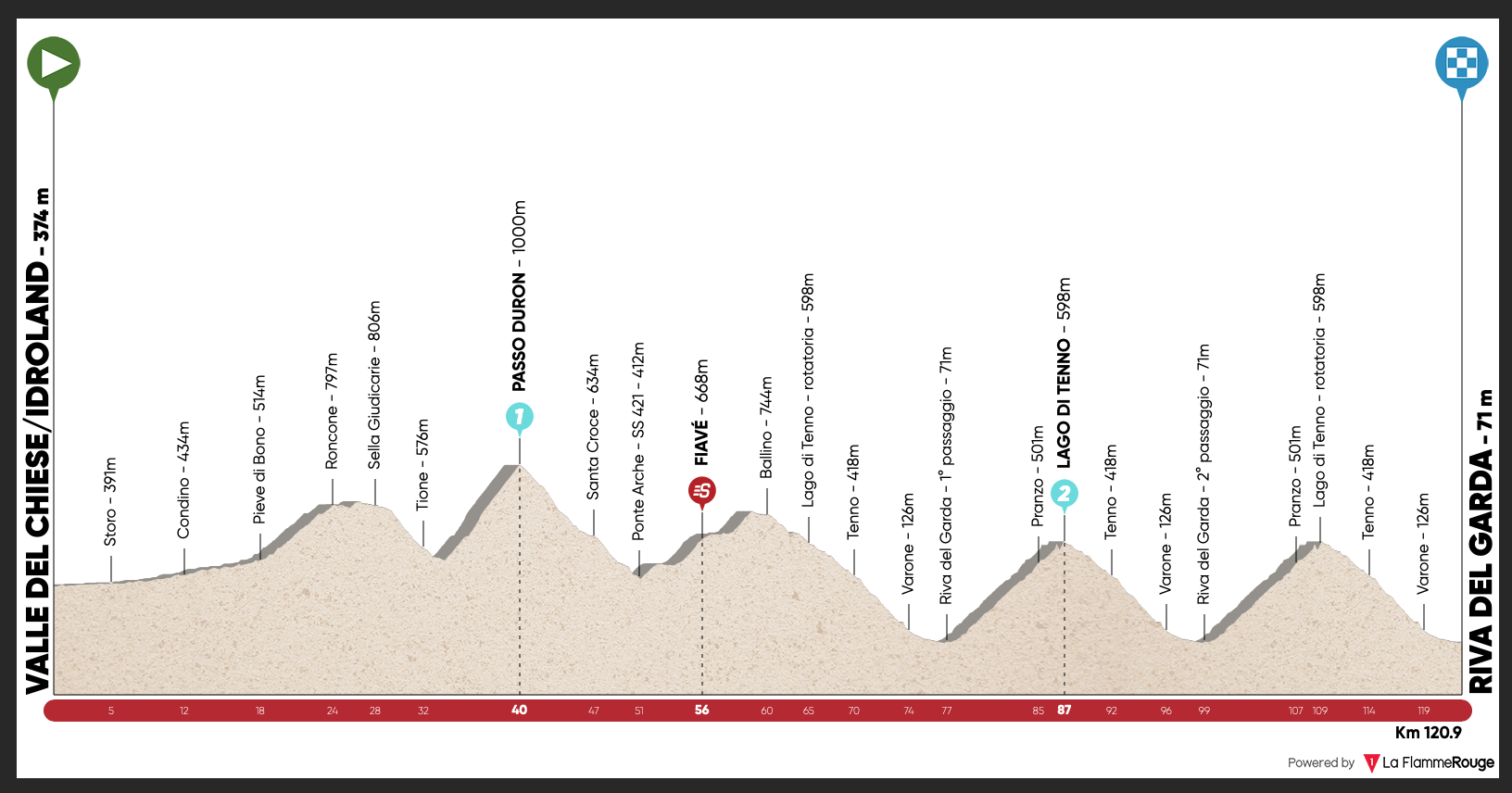 The stage is only 121km long, but it contains lots of climbs. None of these are big mountains, which brings a lot of riders into contention for the stage win. Simon Yates has the overall win in the bag, I don't see any serious GC action happening on the final climb, it just isn't hard enough.
Weather
Some cloud, some sun, not a bad day.
Key Points
5.4km at 4.8% isn't the hardest climb in the world, but it's just about long enough for the break to establish itself. The next climb comes in just 9km time.
This is the hardest climb of the day, 6.1km at 7.6%. If the break didn't form on the first climb, it certainly goes here.
With 44km to go the bunch start the first of two ascents of this climb, only separated by a 12km descent. 9.4km at 5.5% will help to find the strongest in the break, but it's not hard enough for the GC riders to create big gaps. The final time up crests with 12km to go, all of which is downhill. The descent is quite technical and features several hairpins, but it's not as bad as today.
Tactics
The early climbs are good for the break, but BikeExchange will be keeping a careful eye on who is trying to jump. For the first time this week we only have a small number of riders who are a threat to their overall lead, life should be much easier for them. There are only six riders within 3 minutes of Yates, almost all riders in the bunch will have freedom to jump in the break. As the stage is only 121km long, it means that even if a rider who is 3 minutes down on GC gets in the break, BikeExchange won't be too worried. I think they are more than capable of controlling the stage, keeping the gap where it needs to be and winning the overall.
Once the right group gets away, one that involves most of the big teams, everyone in the bunch can sit up and enjoy a stress-free day, and we can focus on the break.
Many riders have already shown themselves this week, I would expect to see all the usual suspects up the road. Despite the final climb cresting with 12km to go, puncheurs will look at the difficulty of it and be confident of surviving. It'll be up to the climbers in the group to push the pace on and make it as hard as possible.
If the break does get caught, it's a great chance for someone sitting in the top 20, but outside the top 5, to take the stage win. Yates won't be chasing, and the climb isn't hard enough to turn the stage into a real GC day.
Contenders
Ineos – they have three good options for this stage: Moscon, Martínez and Sosa. Moscon has been brilliant this week, this is another stage that suits him very well. Their Colombians have been a little below par, but their current GC position will give them freedom. The stage doesn't really suit Sosa, but Martínez will have high hopes.
Gianluca Brambilla – a solid pick for a stage like this. The Italian took a great win in Haut Var, he's been good this week, which will give him hope for this stage. He's 4:19 down, so not a threat on GC. Trek have lots of options for this stage, but Brambilla is the only one with the quality required to win a stage like this.
Luis León Sánchez – he's been very close to a win this year, but it's just managed to elude him. The Spanish champion looks in great form, but he's just lacking a little bit of luck. He's a very strong breakaway rider, he'll have this stage marked in his road book.
Bora – hansgrohe – Fabbro is 3:59 down, but I don't think BikeExchange will be too worried if he makes the move, they should easily be able to ensure the final gap is around the 2-minute mark. The team also have Großschartner, who was second behind Moscon on Wednesday. Both riders are very strong options for this stage, but they need to play a better tactical game in the finale. Hopefully they don't decide to take Moscon to the line again.
Ruben Guerreiro – 3:12 down on GC is borderline in terms of getting some freedom from BikeExchange, but the stage looks good for him. If he does make the move, it means that BikeExchange will have to keep the break around the 3-minute mark for most of the stage. This could tease other teams who have missed the break into chasing, something the breakaway riders won't be keen on. The thing is, you can't tell him not to go for the break, this is bike racing.
Nico Roche – he's been looking quite fast this week. Roche is a good enough climber to cope with the hills in this stage, and he has a lot of experience, which is often needed in this type of stage.
Dan Martin – climbed very well today but crashed twice on the final descent. He now sits 4 minutes down on GC, but we'll have to see if he's carrying any injuries, especially as he's racing Liège on Sunday.
Prediction Time
This really should be another day for the break, I don't see anyone wanting to chase it down. Having numbers in the front group will obviously give some teams the upper hand. This could turn into a battle between Ineos and Bora – hansgrohe. If we get Moscon & Martínez v Fabbro & Großschartner, we'll be in for an entertaining afternoon. I'll go for Matteo Fabbro, I think he's due a win.
David Hunter
Follow us on Twitter and Instagram
Join us on facebook: Ciclismo Internacional
Copyright © 2012-2021 Ciclismo Internacional. All Rights Reserved