Tour of the Basque Country 2021 – Stage 2 Preview
By David Hunter
Zalla > Sestao 153.5km
This first road stage and we're starting with a bang.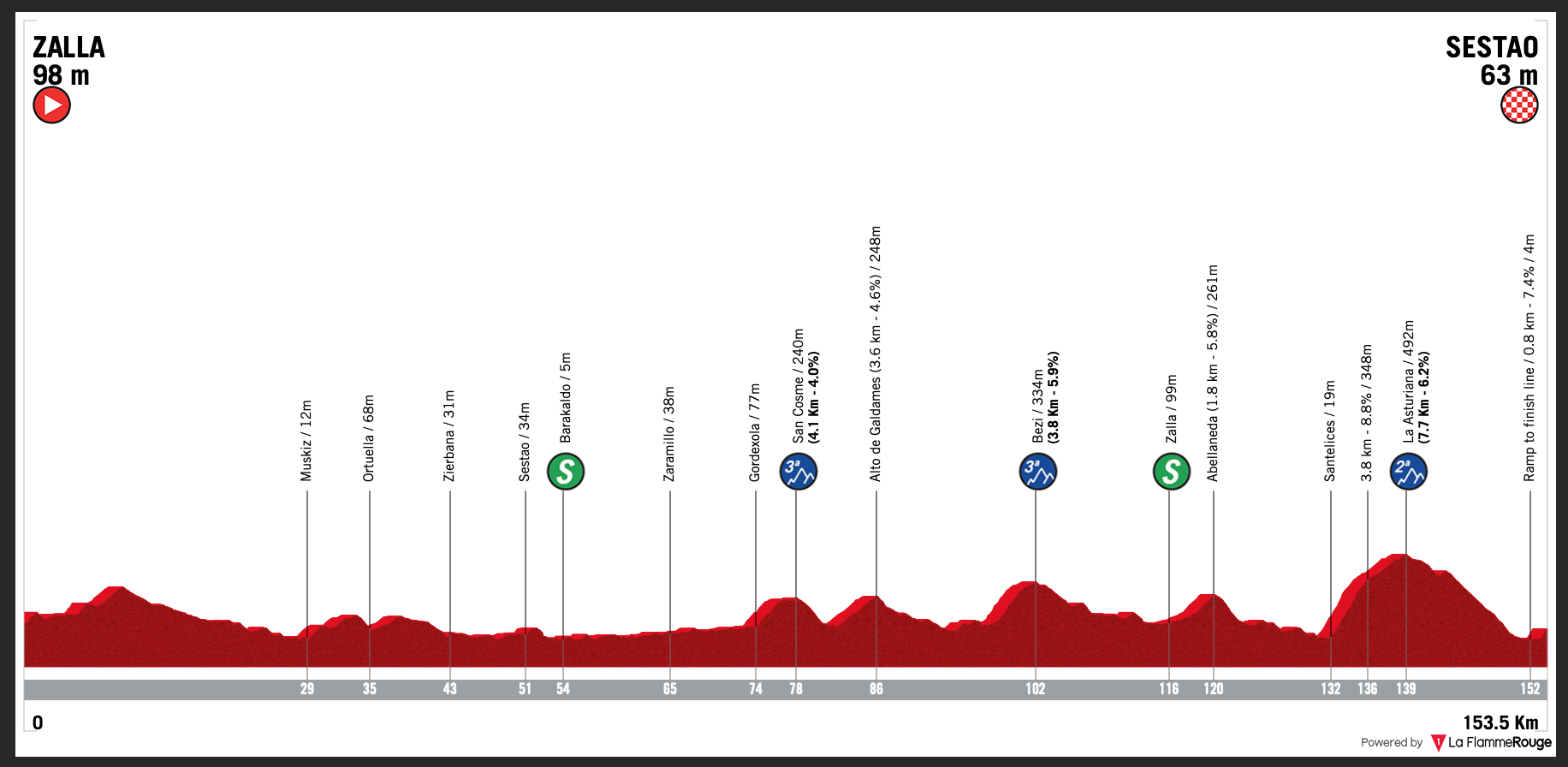 The day has a couple of cat 3 climbs in the opening 100km, but this stage is all about the final 25km.
Key Points
The cat 2 climb, La Asturiana, is 7.5km at 6.2%, but it's much harder than it sounds. It starts with 2.7km at 9.2%, then the rest of the climb is around the 4.5% mark. Starting with such a bang means we're likely to see some long-range attacks, especially as the climb crests with 14km to go, and nearly all of that is downhill.
Technical! The descent does take place on a nice road, but the series of hairpins will allow the better bike handlers to make a difference. The downhill finishes with 3km to go.
The final kilometre rises at an average of 5.4%, but the middle section is awful, with gradients in excess of 10%.
This is a brilliant way to finish the stage.
Weather
Very cold for this time of year, we're talking around 5-10 degrees for much of the day. The other issue is the threat of rain throughout much of the stage. If the clouds burst, it will make it feel much colder, making this stage very hard. When I say very hard, I mean absolutely brutal. Five degrees and rain means this will quickly turn into a GC day. A lot of riders will be hoping the rain stays away, but there are a couple of riders who excel in tough conditions.
Tactics
Who wants to control the big climb? The stage is quite easy before this point, which means the bunch will be big and teams should have most of their domestiques left, but the opening slopes are so steep they will be attacked. The second half of the climb is much easier for teams to control, but the winning move could already have gone. Nearly 3km at 9% is certainly hard enough to interest the GC riders, I expect to see lots of attacks on the climb. It's one of those stages where the "right" move could stick, as long as it features the big teams.
Jumbo-Visma are in the race lead, they might not have some of their big names, but the team is strong enough for a stage like this. The issue could be if some of the GC riders attack, that will force their leaders into reacting. Having Roglič, Vingegaard and Foss high on GC puts the team in a wonderful position. Jumbo-Visma don't have to make the race, that's up to the others.
The attitude of Movistar will be interesting. Valverde looks in great condition, but will he attack or wait for the sprint? Controlling the climb and descent to set up a sprint is a very risky tactic; it requires a very strong team and Movistar don't look that strong to me.
Due to the ITT, we have quite a few teams with multiple riders high on GC. This makes things much harder to predict, especially as the climb crests with 14km to go. Then we potentially have a wet, technical descent to deal with. This stage could end the GC hopes of many riders.
Contenders
Alejandro Valverde – his brilliant win in GP Miguel Indurain was a pleasure to watch, he's back to his best. This is a stage that suits him well, but I don't think he'll be afforded any freedom from the big GC riders. That means he'll find it hard to escape on the climb, he might have to hope that it ends in a sprint. If it does, he'll be fighting for the win.
Jumbo-Visma – Roglič won today, but also having Vingegaard in third place is brilliant for the squad. Both riders will love this type of stage, but Roglič has previously shown weakness in poor weather conditions. Vingegaard is a Dane, he'll love it! If the stage ends in a sprint of some description, both riders are actually very fast, but Roglič has the edge. If the attacks fly on the early slopes of the climb I wonder if Jumbo-Visma will try to control, it's more likely they'll allow Vingegaard to follow the moves, that's the joy of having two riders high on GC. Please note, Foss is sitting in 4th place, but I don't think he's a realistic contender in this race.
UAE – they approach this stage with McNulty, Pogačar and Hirschi in GC contention. The nature of the stage is great for Pogačar and Hirschi, especially if the weather isn't great. Both riders love steep climbs and have a fast sprint, but Hirschi is also an amazing descender. This gives UAE a lot of options when the attacks start to fly, they'll expect to be challenging for the win.
Astana – still without a win this year, but it's coming. Aranburu and Fraile are local lads, they'd love to win this stage, but Aranburu rarely wins. If it turns out to be a hard day, neither will likely feature towards the end. Ion Izagirre doesn't look in top form, but he does go well in bad weather. I think the team will look towards Lutsenko and Fuglsang, both riders will have a good chance considering the difficulty of the final climb.
DQT – another team who have a few options for this stage. They should be riding for Vansevenant, but Honoré should also have freedom after recently taking his first pro win. Honoré will look to anticipate the big moves, he won't be able to follow the attacks from the best GC riders, so he should attack early on the climb. Vansevenant also just took his first pro win, he has an impressive sprint.
Ineos – we'll see if Yates or Carapaz want to test some legs on the climb. Yates is clearly in brilliant form, and he needs to start making some time up on Roglič. Carapaz is a little further down, but as he usually goes well in poor weather conditions, he's exactly the type of rider who can surprise in this stage.
Bora – hansgrohe – they peppered the leader board today, I would expect Schachmann to be their main man for this stage, but Buchmann and Kelderman also provide them with strong alternatives. The fact that we only have one real climb means that Schachmann will have a big say in this stage. He climbs well, descends well, and also has a fast sprint. The German ticks all the boxes for this stage.
David Gaudu – another climber who has the punch required for the steep climbs. Coming from the north of France he should be fine with cold conditions. He doesn't start as one of the big favourites, but he could surprise some of the bigger names.
Sergio Higuita – his TT was disappointing, but he should be able to bounce back in this stage. We'll have to see how he copes with the cold, he's one who could suffer a little.
Michael Woods – the initial slopes of the climb are great for him. I would normally have discounted him for this stage due to the technical nature of the descent, but he coped well in Haut Var, hopefully this means he's been working hard on this aspect. The final kick-up to the line is also good for him, he has to start as one of the favourites.
Benoît Cosnefroy – recovery from a knee injury meant he only started his season just over a week ago, which means he's unlikely to already be at his best. This is a shame as this stage is perfect for him, especially as he's not a GC threat. Saying that, he did go on the attack in Pays de la Loire, so I don't think he should be totally discounted.
Prediction Time
The more I look at the descent, the more I'm convinced Marc Hirschi wins this stage.
David Hunter
Follow us on Twitter and Instagram
Join us on facebook: Ciclismo Internacional
Copyright © 2012-2021 Ciclismo Internacional. All Rights Reserved