Tour of the Basque Country 2021 – Stage 3 Preview
By David Hunter
Amurrio > Ermualde 167.5km
Another day, another steep climb.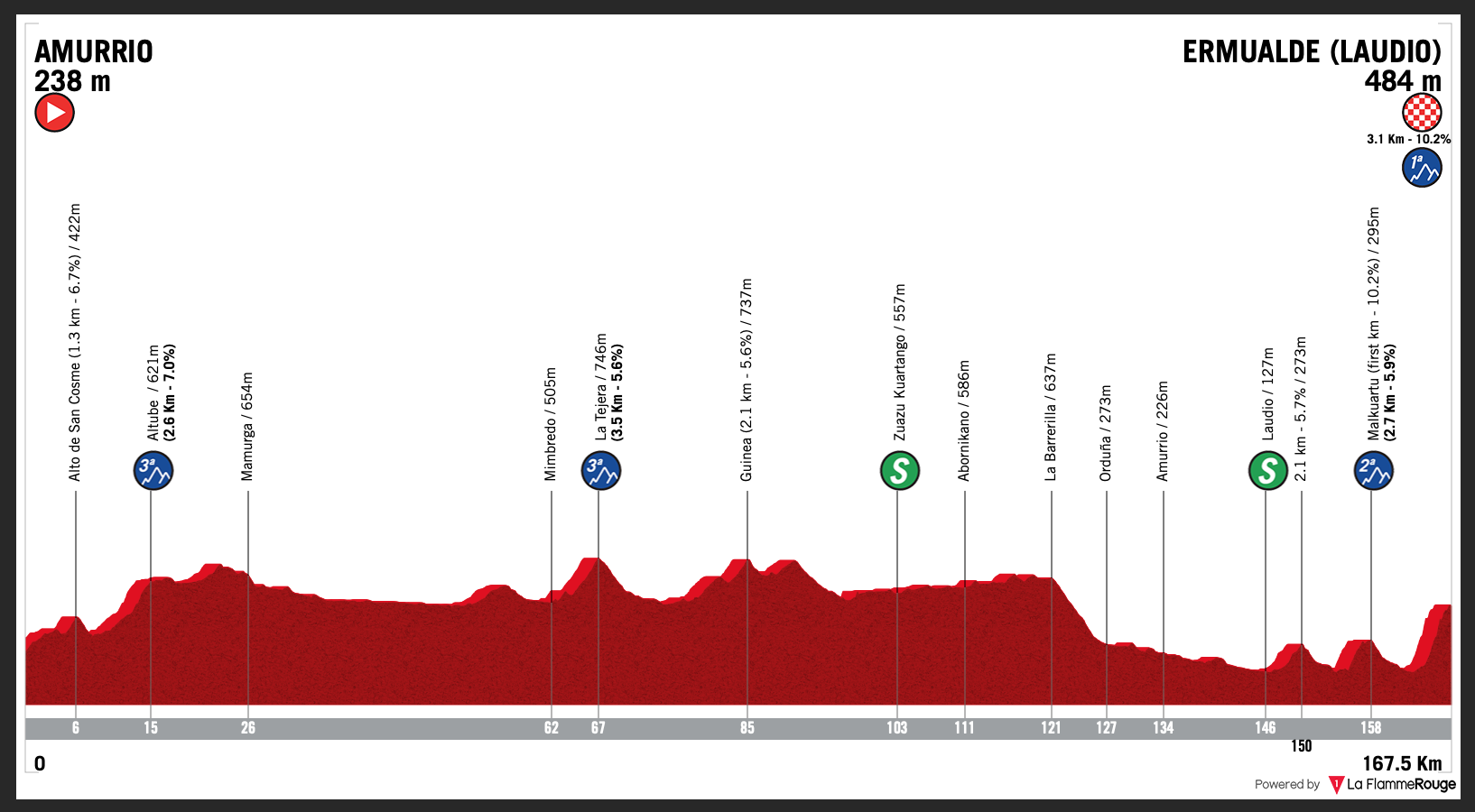 Most of the opening 15km is uphill, which will help the morning break get established. Things will then settle down until the final 12km.
First up is the cat 2 climb, Malkuartu, which is 1.7km at 9.7%. This is tough, but nothing compared to what is coming next.
This is the entrance to the final climb, as you can see it is narrow which means a good position is needed. No doubt we'll see the GC teams race to this point, everyone will want to be at the front.
The final 4km averages 8.4%, but it has 1.5km at 13.5%. Once under the flamme rouge the worst of the climb is over, and the road starts to go downhill, but it does have another little ramp before going down for the final 300m. This is a brutally steep finish, and we'll see some large gaps at the finish.
Weather
Sunny and temperatures should get up to 12 degrees.
Tactics
Nothing fancy here, you simply need to be at the head of the bunch for the start of the final climb. Some teams are usually very good at this, others really do struggle. I would expect Ineos to control the start of the climb, thanks to a good position. Once the attacks start to fly, having teammates doesn't matter that much. This climb is so steep that drafting doesn't really give an advantage, it's all about who has the best legs on the steep climb.
Saying that, Astana were wonderful today and might try to do something a little different. The likes of Aranburu and Fraile won't survive long on the final climb, but attacking on the penultimate climb would make good use of their numbers. Bora are another team who'll hope to have numbers in the front group, but making that tell is all about how good your legs are.
Carapaz lost time today due to a crash, weirdly this strengthens the Ineos position. He can now simply ride in the service of Yates, chasing down any early moves on the climb, waiting for Yates to launch a big one.
Breakaway Hopes
We do have pretty big gaps on GC, which is good news for those wanting to see the break survive. The problem is that we're very early in the race, which usually means the GC teams are keen on chasing the stage win, and domestiques are fresh. Jumbo-Visma won't be chasing, it will be up to Astana, Ineos, UAE and Movistar.
Contenders
Adam Yates – some might disagree, but I think he is brilliant on steep slopes. This is a rider who has won San Sebastian, and a very tough stage in Tirreno, where he dropped Roglič in the process. He is currently riding better than I've ever seen him, this is a great chance to show that he is better than the Slovenians, but that won't be easy. The downhill finish isn't ideal, as he is slower than Roglič and Pogačar, that means he needs to do the damage on the climb.
Tadej Pogačar – looked nice and frisky today, and took back 4 seconds back on Roglič thanks to finishing 3rd. Just like Yates he performs very well on steep slopes, just think back to last year's Valenciana. He will sense a big chance to try and take some more time back on Roglič, I think he'll attack quite early on the climb to try and force others into reacting. He really is a brilliant climber; this should be fun to watch.
Primož Roglič – interestingly he has shown weakness on some steep slopes, but he also has previous of doing very well on them, in this race especially. His style is normally to let it rip at the bottom, but I think he'll approach this climb differently. He has a gap to his main rivals, he doesn't have to force it, he just needs to follow. If I was him I wouldn't waste any energy attacking, as covering the moves of Pogačar and Yates will take all his strength.
Alejandro Valverde – despite his brilliant form I think this is too hard for him.
Michael Woods – the Canadian is the one who can surprise the big three. He is incredible on steep slopes; it really is his speciality. I have a worry about his positioning at the foot of the climb, it's likely he'll start a little far back and have to use up some vital energy moving up the bunch. If he can match the moves of the big three, it will be a huge moment in his career. The flat finish is also good for him, he is quick.
Astana – they were brilliant today, for this stage they will look towards Fuglsang and Izagirre. The problem is that neither really look 100%, and they'll need to be 120% to win this stage.
Bora – too hard for Schachmann, it should be a day for Kelderman, as long as his finger is okay after today's crash. He's good enough on the steep slopes to stay close to the front riders.
Alexey Lutsenko – breakaway hopeful number 1.
Pieter Serry – breakaway hopeful number 2.
Thomas De Gendt – breakaway hopeful number 3.
Andreas Leknessund – breakaway hopeful number 4.
Prediction Time
My head says Pogačar, my heart says Yates. It's a win for Adam Yates.
David Hunter
Follow us on Twitter and Instagram
Join us on facebook: Ciclismo Internacional
Copyright © 2012-2021 Ciclismo Internacional. All Rights Reserved