Tour of Turkey 2017 – Stage 2 Preview
By David Hunter
Kumluca – Fethiye 206km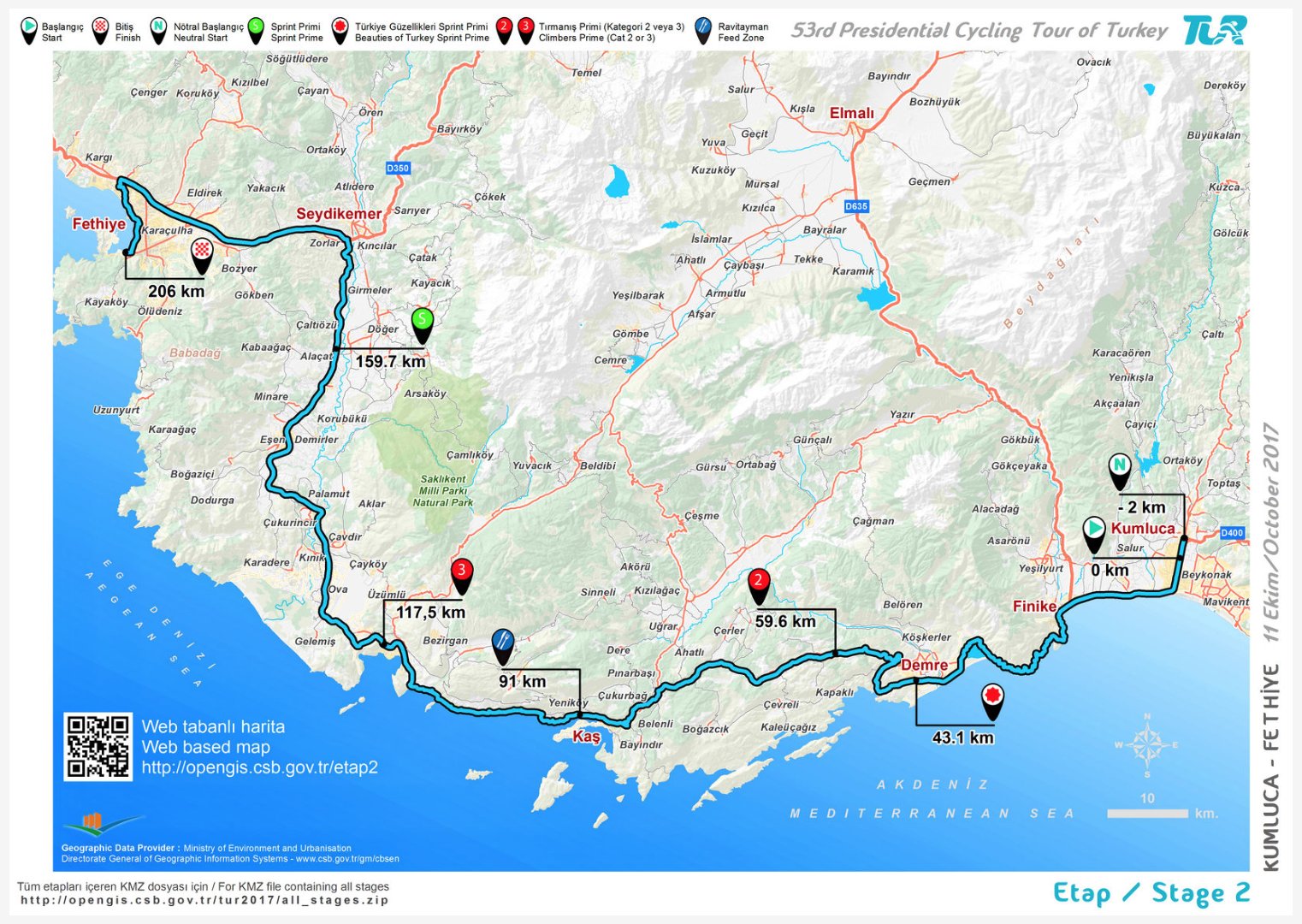 At this time of the year, 206km is quite a long stage. We shall see if any show signs of fatigue.

The peloton are faced with the first proper climb of the race. The cat 2 effort is 14.1km at 4.3% and we have three unclassified kick ups before a steep descent. Coming after 45km of the race, it is very unlikely this climb will have any impact on the race. Expect another bunch sprint.
Finale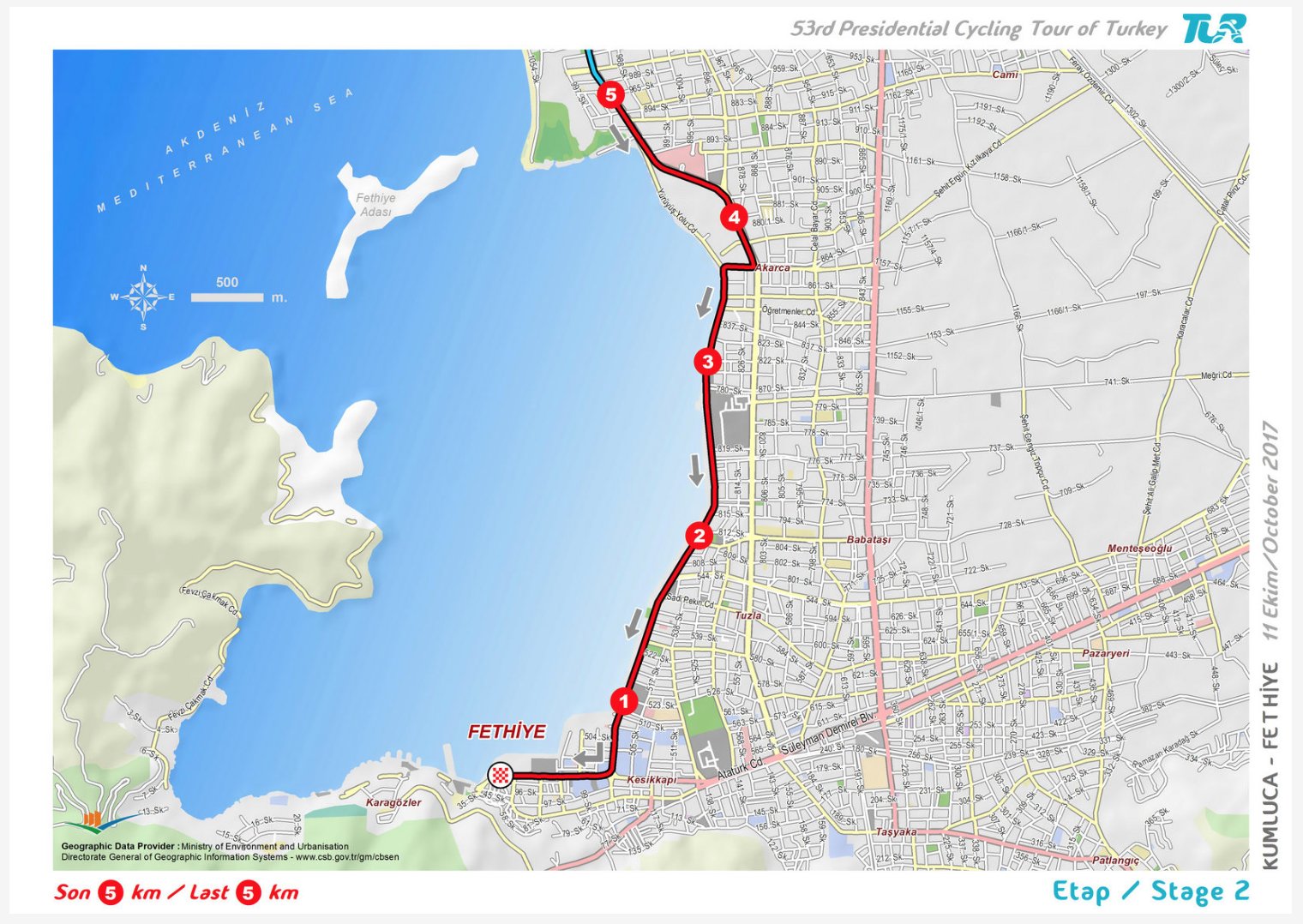 Harder than the opening stage. The first battle will be for the 4km to go sign, with two corners coming straight after. Then we have a period of trains battling each other for the final corner with 500m to go. You have to be in the first 7 wheels to stand a chance of winning.

Another finish that is slightly uphill, but nothing to worry any of the quick men.
Views From The Bunch
Today's sprint was heavily influenced by one man, Shane Archbold of Bora. The Kiwi delivered an awesome lead out, putting Bennett at the head of the race with 200m to go. The move reminded me of another Kiwi, the legendary Greg Henderson. No doubt Greg's coaching has influenced Shane a lot. Anyway, here's what Shane thought about today.
Everything seemed to be going perfectly, but Trek hit the last km hard and you lost a few positions. Was there any panic?
"Never any panic, worst way to deal with a bunch sprint is to panic, few things led me to lose some positions, the most annoying was my chain dropping to the small ring after a couple of bumps."
You took a look over your shoulder and saw Sam. What went through your mind at that point?
"Well it's been a long season for me without racing so it was good to be back doing what I do best, when I saw Sam still on my wheel I knew I can't make any mistakes and had to get him into the best possible position to give him the best chance to win."
After a strong pull, Sam was delivered perfectly at 200m to go. After a tough year, how good was it to be back in the action?
"Oh it was awesome to be back in action, in most sprints it's always good to get to 200m in a lead out, and with Sam's current form all I have to do is show him the line and he will get the job done. 2 races with Sam this year and 2 big wins, can't complain with that."
When are you due a haircut!?
"Hair cut? Why? It brings me power."
Weather
Another day with beautiful sunshine. The wind is stronger than today, again coming off the sea. We do have a long section of potential crosswinds, but I don't see a big selection being made.
Contenders
Sam Bennett – after an impressive opening stage win, Bennett will be looking to double up. He was delivered perfectly by his sprint train, particularly Shane Archbold, but he still had to finish it off. Confidence is a vital commodity for all sprinters, he'll now have more than the others here. The Irishman again starts the stage as the favourite.
Edward Theuns – the Trek train did a good job, but Van Poppel just started to die at the wrong moment. It looked like he just hit the front too soon, after Coledan pulled over a little early. This is just a small issue and I'm sure they'll be keen to put it right in this stage. Theuns proved that he's sprinting well and should again be challenging for the win.
Marco Benfatto – the surprise of stage 1. The Androni sprinter enjoyed some recent success in China, winning 3 stages. He certainly looked to be sprinting well and Androni have fast riders to deliver him into a good position. Beating the world tour sprinters will be a big ask, but you just never know.
UAE – they look to have three options, Zurlo, Kump and Consonni. Of these three, only Kump has the speed to contest for the win, but I'm not sure they'll let him sprint.
Prediction Time
It will be another battle between Trek and Bora and I think we'll see Sam Bennett take another win, but expect it to be closer than the opening stage.
David Hunter
Follow us on @CiclismoInter
Join us on facebook: Ciclismo Internacional
Copyright © 2012-2017 Ciclismo Internacional. All Rights Reserved