Tre Valli Varesine 2019 – Preview
By David Hunter
Saronno – Varese 197.8km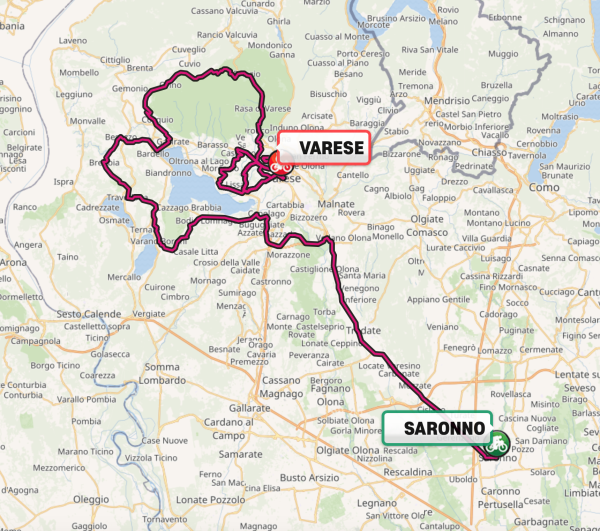 The racing in Italy continues.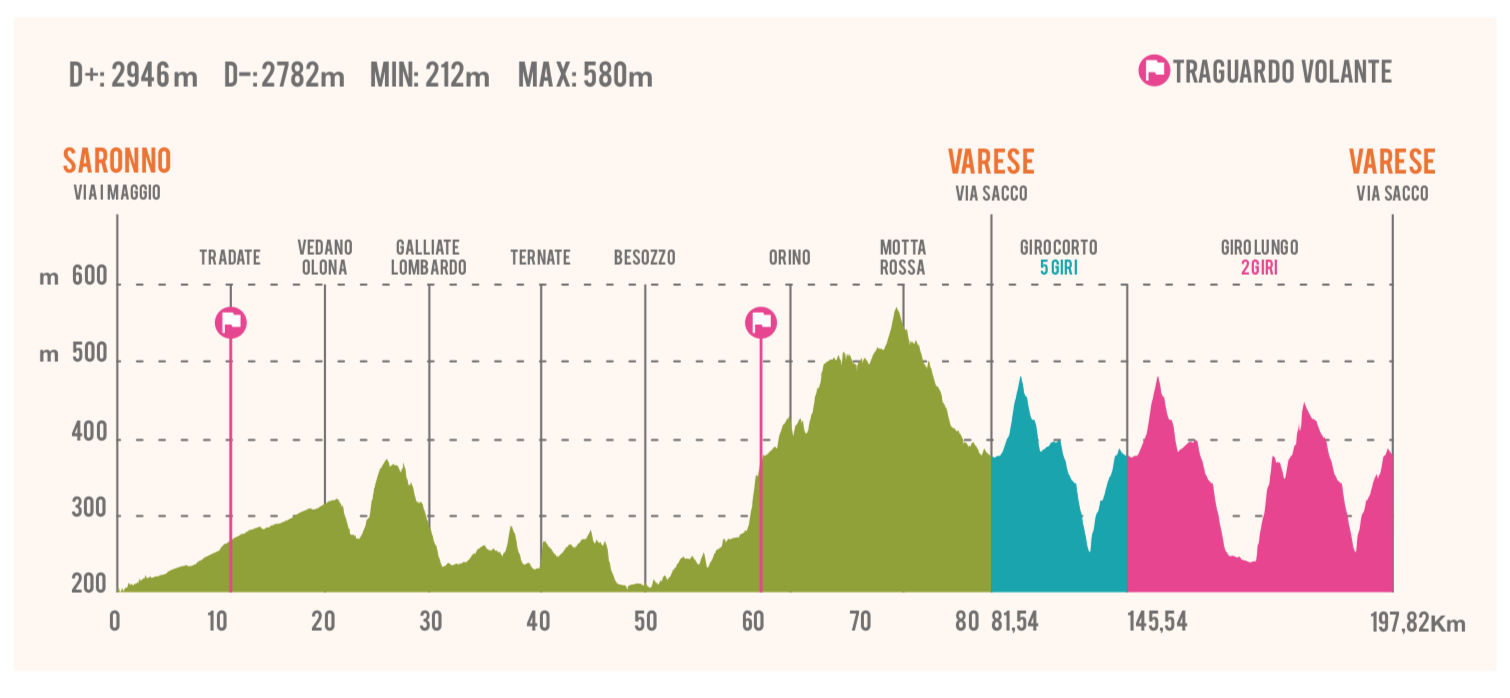 Easily one of the hardest races of the week, this is a lap circuit that pushes the majority of the riders to their limit. If you look at previous winners you'll see a mix of climbers and puncheurs, with the likes of Colbrelli, Nibali, Geniez and Skujinš taking home the title in previous years.
We have two different laps that riders need to cover. The first circuit is done five times and is 12.9km in length. The second lap starts with 50km to go, and although similar, does have a much harder climb to deal with. This climb was introduced last year and had a big impact on the race, it's much harder than it used to be.
The organisers have decided to again change the finale of the race, reintroducing the finale used in 2017 and previous years. This makes the final 4km much harder than last year, it will be interesting to see how the harder final climbs and harder finish impact the race.
The Climbs
This is the climb, which was introduced last year, which had a big impact on the race. 1.5km at 8.5% is tough enough to put some of the fast men in difficulty, swinging the race in favour of the puncheurs. It is quickly followed by another short climb, which Uran used to get away from the peloton.
Finale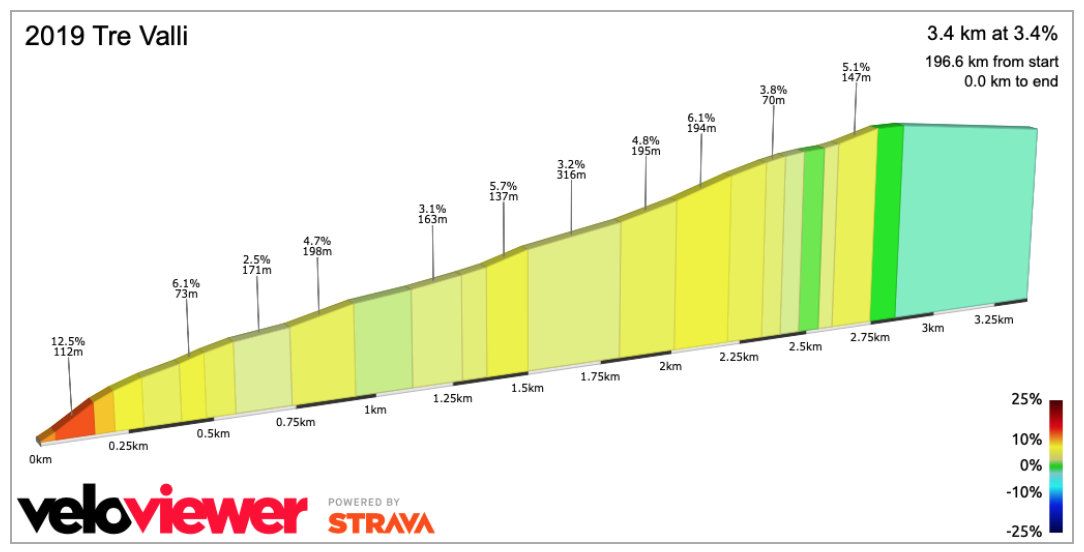 The final 3.5km is a grind up to the line, which is great for those with the legs to attack. You might think it's too hard for Colbrelli, but he won on this exact finish in 2016, but the circuit was easier.
Weather
Another nice Italian day, with sunshine and hardly any wind.
Tactics
Not hard enough for the pure climbers, but they can certainly do some damage and help out their teammates. The final two laps are when we'll see the big hitters come to the front. The lap circuit demands a tough race and that is what we'll get. Teams will realise the importance of getting riders up the road, which makes for a very fast race.
It is very difficult to stop this race ending in a small sprint, it's almost a forgone conclusion. A rider or two will get away on the final climbs, but there should be enough left to chase this down and get a sprint. Only a rider in amazing form can stop this from happening. Teams who have a strong sprinter will look to hold the race together until the final lap, from that point it will be up to their sprinter to follow moves.
Contenders
Sonny Colbrelli – the winner of GP Bruno Beghelli on Sunday, so the form is good. He won here in 2016 and is the best sprint option in the field. The job of the other squads is to make the race too hard for him, which won't be easy. Colbrelli has been climbing exceptionally well this year, and he always seems to perform well at this time of year. With the likes of Nibali and Teuns at his side, Bahrain have the riders to hold things together, but they will get some freedom if Colbrelli struggles with the pace? If the Italian is in the front group at the finish, he will win the race.
Diego Ulissi – it always surprises me that Ulissi hasn't won this race, as it seems great for him. 2nd place back in 2016 was his best result, but this tougher circuit should be music to his ears, and he has to start as one of the big favourites. Ulissi can often be a frustrating rider to watch, he rarely commits to chasing moves himself, preferring to take his chance in hoping that others will do his work. I really hope we see him in attacking mode as this is a race made for him.
Alejandro Valverde – 5th in Emilia and 2nd in GP Bruno Beghelli shows that his form is looking okay after the Vuelta. The Spaniard is a terrific one-day rider, but usually prefers an uphill finish. He needs to attack on the climbs and hope that he has the fastest finish of those left in the front group.
Pierre Latour – exactlyt the type of punchy climber who should go well in this race. It's been a tough year for the Frenchman, with injury stopping him from achieving his goals, but recent form is good. He loves to attack and has a sprint finish faster than most climbers.
Michael Valgren – the form is good! After a tough year, Valgren has bounced back in style, showing a huge amount of mental strength. His recent performances have been very strong, and a big win is surely just around the corner. This is a race that will suit his characteristics, he loves a short climb.
Primož Roglič – why the hell not? After a dominant display in Emilia, the Slovenian is looking incredibly strong, it seems that he simply used the world championships as training! This isn't a perfect route for him, the climbs aren't really hard enough to make a huge selection. It wouldn't surprise me to see Roglič ride for one of his loyal domestiques.
Vincenzo Nibali – doesn't seem to be right at the top of his game, but as the climbs are easier than Emilia, it gives Nibali a chance. We'll have to see if he gets the chance to ride for himself, or help Colbrelli at all costs.
Tim Wellens – this is his first ever participation in this race, but he's one of the big favourites. The climbs are ideal for the Belgian to test his rivals, most cannot survive when he kicks on a short rise. His recent form is good and Wellens is a rider who always seems to start and finish the season in good form.
EF Education First – they have two strong options with Woods and Higuita, who finished 2nd and 3rd on Saturday. The Colombian has a faster finish, meaning that Woods should be used as an attacking option. He was prominent in last year's finale, hopefully he's learned from his mistakes.
Prediction Time
The route is perfect for Ulissi, but he can't be trusted to make the right tactical decisions. Looking at his rivals, I think this is a day for Tim Wellens.
David Hunter
Follow us on @CiclismoInter
Join us on facebook: Ciclismo Internacional
Copyright © 2012-2019 Ciclismo Internacional. All Rights Reserved