Trofeo Calvia 2022 – Preview
By @EchelonsHub
Spain sees the beginning of the European season, and as always one of the first races is the Challenge Mallorca. It used to be a stage-race but nowadays it follows an unusual format where it holds 5 different one-day races on consecutive days and the lineups are essentially the same throughout but with little changes from day to day, where climbers, puncheurs and sprinters will all have their opportunities, but let's see what's in store for tomorrow…

The Route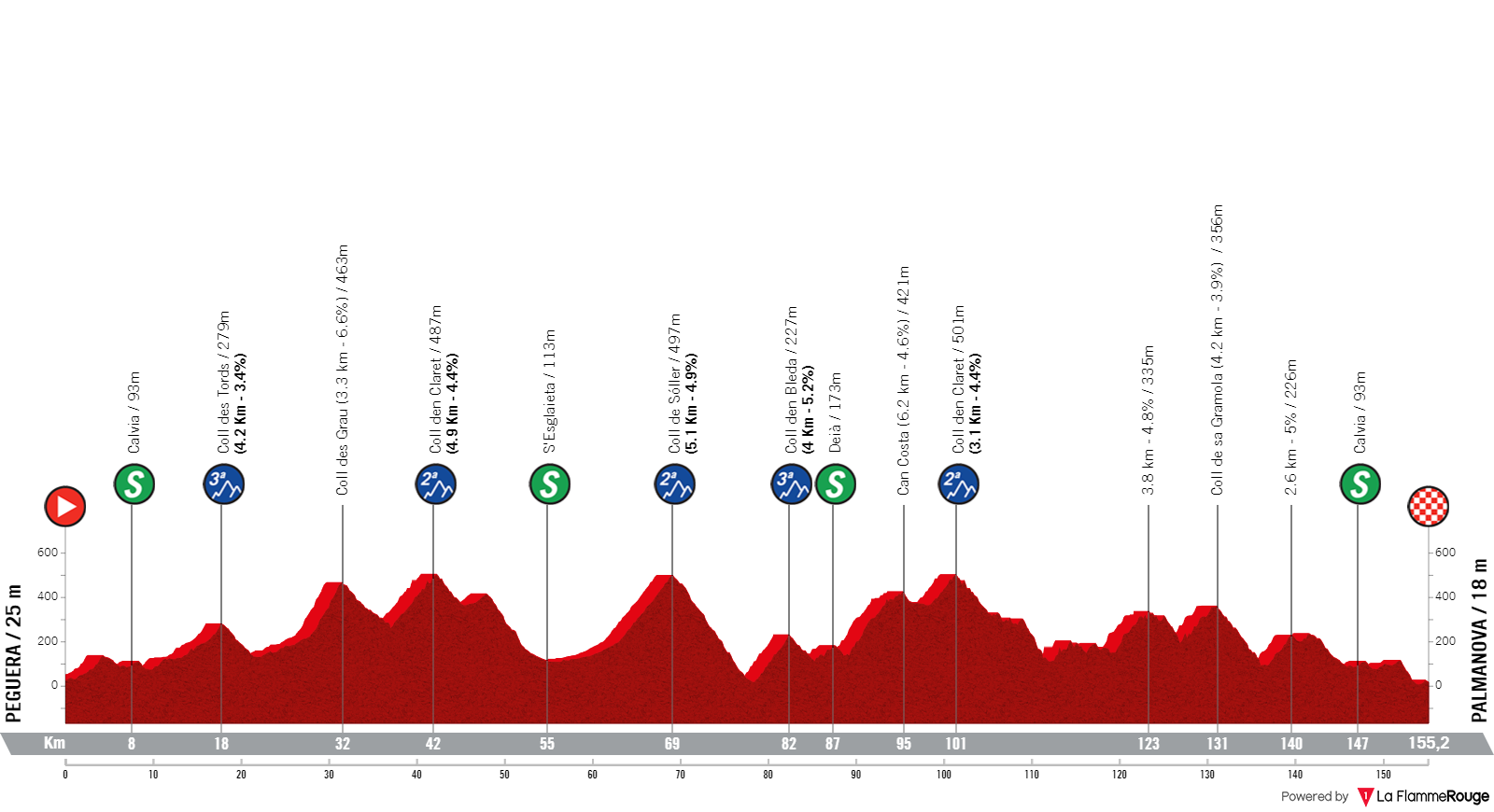 Trofeo Calvia takes place fully within the Serra de Tramuntana mountain range with a specific focus on the western edge. It is a race made for attacking, a roller-coaster in the hills all day long, although it is merely 155 kilometers long it features around 3100 meters of climbing without a single big climb. There isn't a major point in the route I would classify as essential but instead a set of rolling ascents will likely be the spots where the main attacks will come.
With 86, 73, 60 and 54 kilometers to go there is a thick sequence of climbs that should be the hardest of the day, however still quite far from the finale, there is a trio of slightly easier hills which are more likely to see determined attacks which you can see on the profile as unclassified, they summit respectively with 32, 24 and 15 kilometers to go. An unusual race, the win can very well come out of an opportunist move and it definitely benefits those who have prepared well during the off-season, in case everything stays together until the final kilometers, the final 10 kilometers allow for an opportunity to organize a small chase, the downhill trend won't make it an easy task though, the sprint will be flat though so definitely favourable for the fast men that resist.
The Weather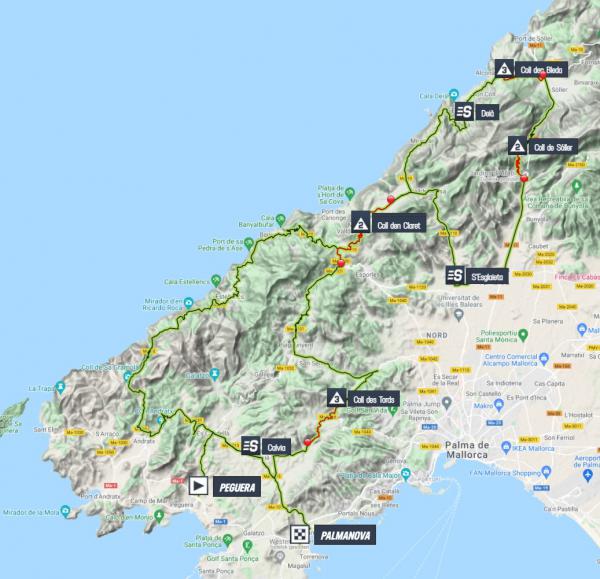 Nothing to note, a sunny day with mild temperatures where the wind should be too weak to play a part.
Tactics
The dynamics of the race will likely be between the teams who will want a compact finish against those wanting small groups and hard pace on the climbs, it's very early on in the season so form will vary quite a lot between those will be on the startline, you have BikeExchange with Michael Matthews who on paper will be the man to beat but they come with only 5 riders, I doubt they will be looking to have the classic chase scenario so they will be attacking, and many of the big teams here have many options so I find it likely that early attacks will have tendency to succeed, with some blocking strategies going on behind to see those moves work.
The Favourites
Michael Matthews – The sprinter who can climb very well. On paper the favourite for tons of races, but the winner of none, as these races are rarely fit for bunch sprints. BikeExchange didn't come with a lineup to protect the Australian it seems, so he either gets in a crucial move or his chances are low.
Movistar – The "home" WT team, Movistar are always a team to consider in these Spanish early season races and they come with a team worthy of favourite status, Alejandro Valverde comes as number 1 and he frequently starts off the season in good form, however this race isn't as hard so I would put the team's chances in Ivan Cortina and Matteo Jorgenson whilst many will be looking at the veteran.
UAE – Coming in with last year's winner Ryan Gibbons they will come with high ambitions, the UAE team don't have a set leader but both Alessandro Covi and Brandon McNulty have the potential to blow it up on the climbs, whilst Gibbons understandably finds a very suiting race for his chances.
Tim Wellens – The Mallorca man some (me) call him, if there's one thing he likes other than rain it's racing in January. Wellens usually starts off the season very strong and has an ideal kind of profile for him with the rolling hills, but he will also have Andreas Kron as a backup who mainly has the explosive capacity that can be decisive in a short group sprint.
Bora – Nils Politt is a very dangerous rider if he ever has a gap and has to be taken into attention at all times, he's got to get over the main climbs first though, but in case they are attacked the team has Patrick Konrad as a major weapon to strike here.
Biniam Ghirmay – A very hyped up young man and for good reason, he's developed as a young puncheur brilliantly but is also having quite the sprint added to his abilities, I suspect he'll still be relatively underated and not marked by the main riders, which can be good for him.
On the climbs I expect to see some moves from other WorldTour teams like Cofidis who have Jesus Herrada, Simon Geschke and Davide Villella all at the start, Ben Hermans for Israel, Aurelien Paret-Peintre and Nans Peters for AG2R and also (non-World Tour) Warren Barguil as a big wildcard.
Vincenzo Albanese comes as a sprinter's alternative who can do really well in this kind of hilly race, and as for the home teams I'd expect some action from Caja Rural, lead by Eduard Prades and Jonathan Lastra, Diego Rubio for Burgos and Juan José Lobato for Euskaltel.
Inside The Bus
This morning I talk to…
#242 Eduardo Sepulveda – So Eduardo we have two options here, Grosu is coming in as a fast man and the first priority is to make sure he can get over the climbs, they aren't too complicated so he's surely our best chance to get a good result here. We have a very complete team, if Grosu struggles make sure you stay with the guys in the peloton and take turns attacking or following moves, one should stick.
#283 Yuki Ishihara – We don't have someone who can realistically be in the fight for the Top10 here, breakaway should be the goal, get some TV time and with some luck still be ahead of the peloton when the attacks start.
#62 Alexander Cataford – We have to make the race hard Alex, we've got Ben and Simon who have the opportunity to get us a win and it's on the climbs that they can make the difference so at the very least we've got to shed the peloton a bit, we really have to set a high pace so focus on that instead of attacking, at least on the uphill sections.
Prediction Time
⭐⭐⭐ Cortina, Gibbons, Wellens
⭐⭐ Matthews, Jorgenson, Covi, Kron, Ghirmay
⭐ Valverde, McNulty, Politt, Konrad, Je.Herrada, Geschke, Hermans, Paret-Peintre, Peters, Barguil, Prades, Lastra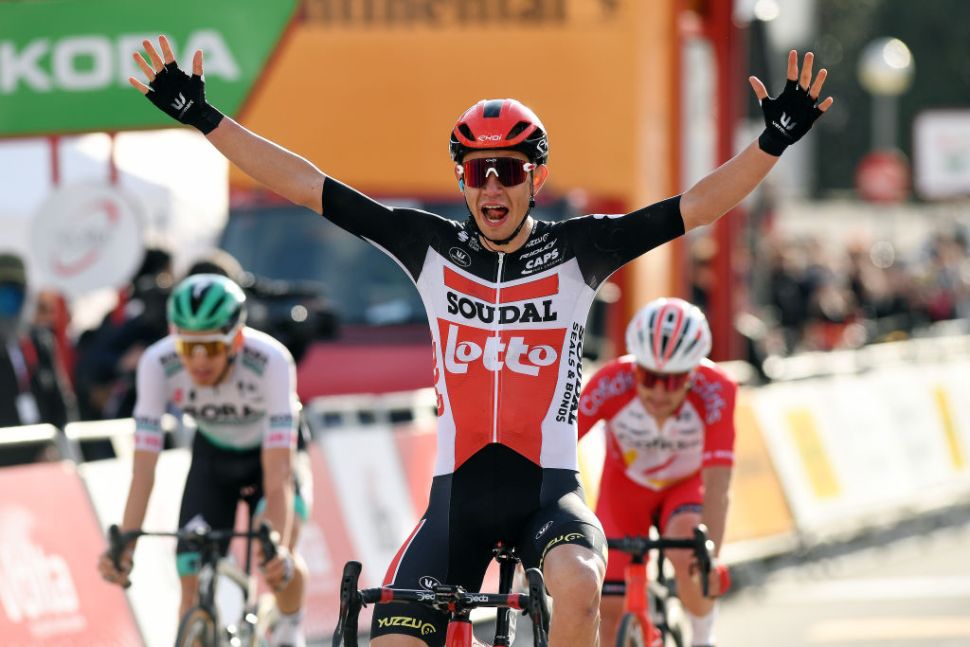 It's going to be a bit of an unusual race for sure, form is largely unknown and many outsiders have the chance to win. I'll go with team numbers and team experience, Andreas Kron is my pick for the win.
Zweeler is a fantasy sports game that includes many sports and cycling is no exception. I ask that you check it out, if you register with the link below you will not only be joining an exciting game but will also be personally supporting me and my work, and allow me to make more content for you!
Tomorrow's race has prizes of at least €100 and an entry fee of only €2.5. Make good use of your knowledge! https://en.zweeler.com/game/cycling/FantasyTrofeoCalvia2022/main.php?ref=790
Rúben Silva
Follow us on Twitter and Instagram
Join us on facebook: Ciclismo Internacional
Copyright © 2012-2021 Ciclismo Internacional. All Rights Reserved