U23 and Junior Report: Jack Haig (interview)
By @pmpalermo
Ciclismo-Internacional has recently tried to throw light on the highly successful Australian cycling factory, which over the years have produced stunning competitors such as Cadel Evans and Simon Gerrans who both have served as excellent ambassadors for years. Now a new generation of talent is knocking on the door, led by guys like Michael Matthews, Caleb Ewan and Campbell Flakemore etc.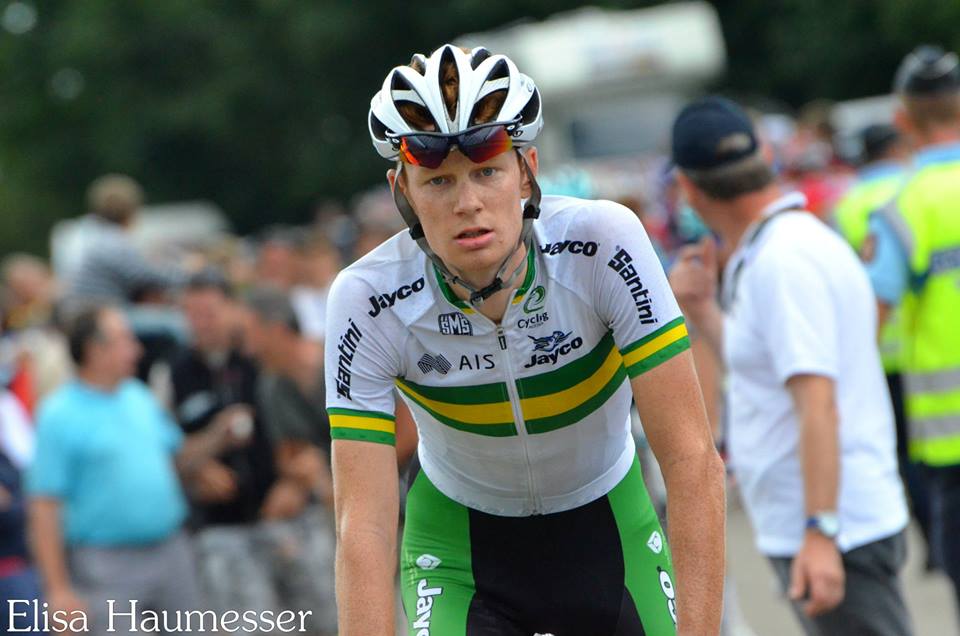 Another young prospect ready to make a name for himself is the newest member of Orica-GreenEDGE, Jack Haig, who with a stunning 2014 campaign showed his all-round qualities right of the bat starting with strong performances at the Australian national championships where he finished in the top-10 in the road race as well as in the Individual time-trail.
He followed up his success by winning the best young rider classification at the Tour Down Under and carried his form into the Harald Sun Tour where he rounded of the podium obtaining 3rd on GC. In Tour of Korea, he was again among the best and secured yet another podium placing after a strong performance on the grueling climb up to Pyeongchang.
Next stop was the Czech Republic were J. Haig participated in the Czech Cycling Tour and played a key role in assisting another shooting-star, young Robert Power in his bid for the overall honors. At the following Tour de Alsace J. Haig, was yet again back in dazzling form and produced a stunning string of performances throughout the entire week enough to see him finish second on GC and winner of the young rider classification. J. Haig closed off his European U23 campaign with a twelfth place on GC at the highly prestigious Tour de L´Avenir.
After such an impressive run Ciclismo-Internacional decided to contact and set up at talk with the talented Australian who was more than willing to share a little about his background: "I originally started out riding MTB back in my hometown Bendingo; I actually never thought I would be a professional cyclist because I didn't really take it serious before I was called up to the U19 national team to participate in a World Cup event. I put in a good performance and finished in the top 50 and thought to myself maybe it's time to take this a little bit more seriously".
Despite his tender age and the fact he just achieved what many young aspiring cyclists dream about, Haig, talks with total calm and focus about his upcoming switch to the World Tour: "Orica was honestly not my first priority when I was searching for a team, but that quickly changed once I gave it some thought and knew what the team was about and could offer me. The fact it's an Australian team naturally plays into my favor and made it a logical and less stressful choice to make".
"I signed the contract with Orica at the World Championships in Ponferrada but honestly we had been in agreement since early March/April. The idea behind the contract is that I start my first full season with the team in 2016. In 2015, I will ride for the Australian U23 national team, and then we will see whether I will make some guest-appearances with Orica in the fall (2015)", he said.
The Australian squad and its setup-of sports director have decided this cautious build-up in an attempt to nurture Jack Haig slowly onto the World Tour. An approach he fully agrees with: "I am completely in agree with this plan of transition. Right now, the most important thing for me is my further development; I want to turn myself into a very well-rounded competitor".
With that in mind, 2015 looks to be a year filled with interesting targets on the U23 calendar where he will be able to show and further improve his skill-set: "Yeah I will mainly ride U23 events in 2015. I won't be racing with Avanti but instead with the Australian U23 team so that will be a difference. I will work really hard and dedicated to hone my strengths and try to improve along the way. I think consistency is one of my biggest weapon, even though I am not a rider who wins very often. I will also be working hard on improving my time-trail, I am good against the clock at the moment, but the objective is to become excellent".
A member of the new-generation Haig, doesn't have a favorite cyclists or idol he used to look up to at a younger age. Not because of doping related issues more so due to the fact he started out competing at a relatively late: "No I don't have any role-model, I started out relatively late so I never had anyone I really looked up to".
"I do however know I want to try and mold myself into a stage-race threat. I would like to do well in multiply day events and why not have a go at the Grand-Tours, that's a big dream of mine anyway".
Many young athletes shines at an relative early age yet burn out or fail to live up to the expectations put upon them. Jack Haig, however, have both the talent and mental determination to be different, be sure to follow his path towards stardom.
Copyright © 2014 Ciclismo Internacional. All Rights Reserved