U23 and Junior report: Javier Montoya (interview)
Yesterday Ciclismo-Internacional opened a new section (U23 and junior report) in which the aim is to shed light on the evolution of some of the world's most talented up-and-coming youngsters. We will try to in light our readers about the future stars of the sport, where their come from, their dreams, strengths or weaknesses on the bike etc.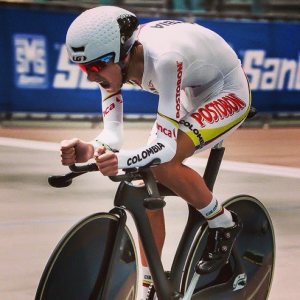 Ciclismo-Internacional therefor had a good chat with one of the most exciting young prospects from Colombia, on the Eve before the start of Vuelta Porvenir, we hereby introduce to you Javier Montoya.
Ok Javier, tells us a little-bit about yourself?
Well, my name is Javier Montoya, but I am better known as "Nacho" both in the cycling community as well as in my family. I was born in Medellin, Antioquia on the 17th of October 1997. I started cycling at age 8, but it wasn't until age 11, I got really serious about it. I currently live in Sabaneta (14 km away from Medellin) I would describe myself as a young rider very motivated by new and exciting challenges. I like to do thing's people thought were impossible and therefor keep challenging myself in that aspect. Before I started with cycling, I played both soccer and basketball, but as I said above at age 11, I decide to go all in on cycling. I am a person who like to give my best every single time.
Do you have a coach or a mentor? Someone who has been very important to your career?
Yeah, actually I have two great coaches at the moment: Gabriel Jaime Velez and Julián Muñoz. The two of them are in command of my workouts, my schedule and while I am out at competitions, they are truly great people and excellent coaches. Gabriel Jaime is full of experience and the director-sportive at Orgullo Antioqueño, and Julian is a former cyclist himself, who rode in Europe and obtained good results, so I honestly think I have knowledge people in my corner who are always looking out for me, both on and off the bike. They have both been very influential in terms of my greatest achievements so far. I also need to thank my track-coach Benjamin Laverde "Mincho" who has been a very important factor in my aim to improve my technique on the bike.
What kind of rider are you? What are your strengths and weaknesses on the bike?
I'm a real all-rounder (1.80cm 62kg), as I defend myself everywhere. My main strengths are climbing and time trailing. As for weaknesses, ever since I was a kid I have worked hard on those trying to minimize them as I always strive to become better.
What races do you dream of winning some day? Do you have anyone in particular?
I would like to win a lot of races in my career. However, I know you need a lot of hard work and sacrifice to obtain that. I would like to be in contention for the Giro d'Italia, Tour of Spain, the world-championships and why not the Olympic Games one day. A path somewhat similar to Rigo Uran who is the cyclists who perhaps inspire me the most.
Tell me more about your time-trail skills then?? Do you enjoy racing against the clock? Is it something you train intensely?
I really enjoy time-trails, and I consider it one of my main strengths. I am still keen on improving through so it's something I always try to incorporate in my training. Time trailing is often a decided factor in the stage-races so yes I am very attentive on it. That goes for my whole team, by the way, we sometimes do thoroughly time-trail sessions as we know it's a very something decisive aspect in modern cycling.
This year is your first in the junior category but can you tell us a little about last years (2013) experiences, where you're happy with the result and the way, the year formed?
2013 was actually a great season for me. I reached both objectives I had pointed out for the season; I won the national championship and the Vuelta al Futuro as well, which, in my opinion, are the two most important races for a Colombian rider in the cadet category, just as I also managed to win several medals on the track and had a number of podium placing's in other races. Overall, I am more than satisfied with how things went last year.
Tomorrow Vuelta Porvenir kicks off, how is your condition and are you ambitious going into the race?
Yes, we have been training very hard with the aim of obtaining both collective and personal success. All depends on how the race will unfold but as a team, we hope to be very much in contention at this Vuelta Porvenir.
You come from a family filled with passion for cycling correct??
Yes, I have an older brother who is professional and rides for Orgullo Antioqueño, a cousin who rode several races in Europe with Colombia es Pasión; and my father was a professional cyclist in the 80-90s who achieved great things, such as being a stage winner and wearing the leaders jersey in Vuelta Colombia. He also rode the World Championships once (in Austria) and won the KOM competition in Vuelta a Chile.
Jakob Lloreda

Follow us in facebook https://www.facebook.com/CiclismoInternacionalLatinoamerica?fref=ts … or Twitter @CiclismoInter
Copyright © 2014 Ciclismo Internacional. All Rights Reserved