UAE Tour 2019 – Stage 3 Preview
By David Hunter
Al Ain – Jebel Hafeet 179.8km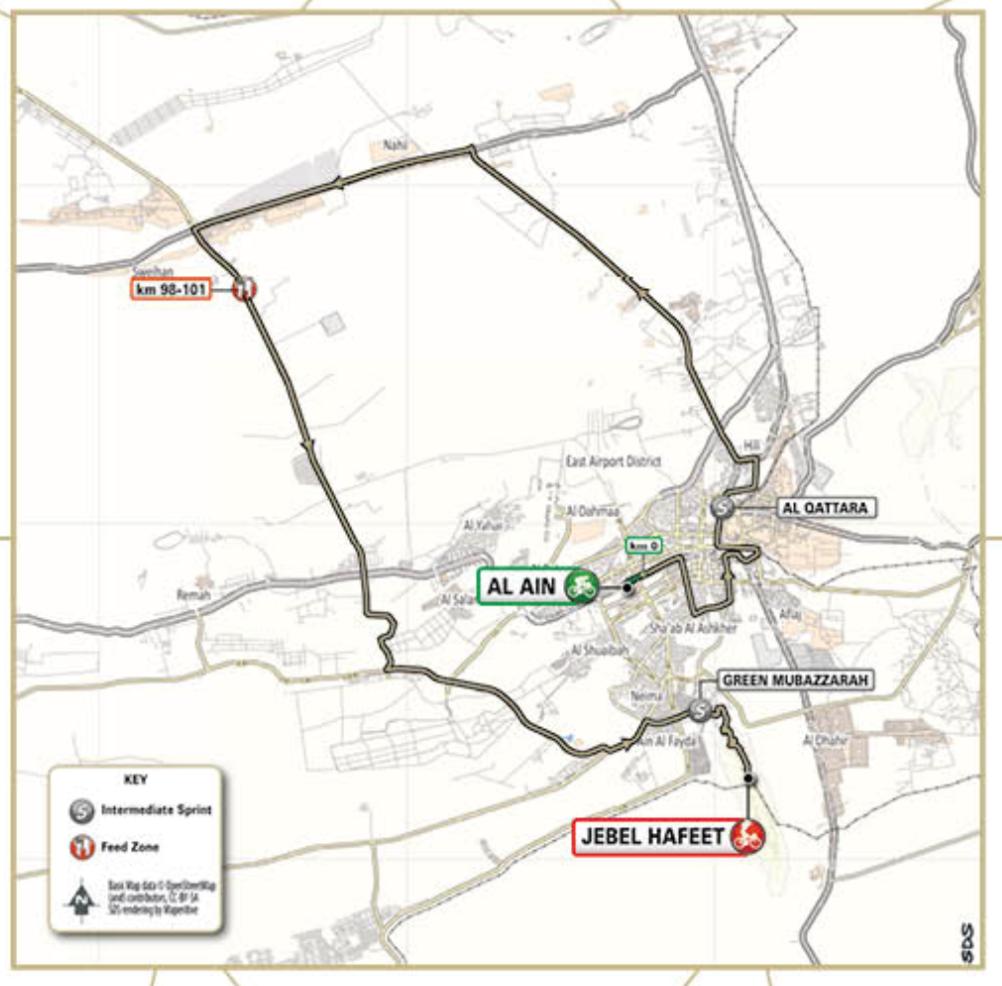 Time for the GC battle to begin.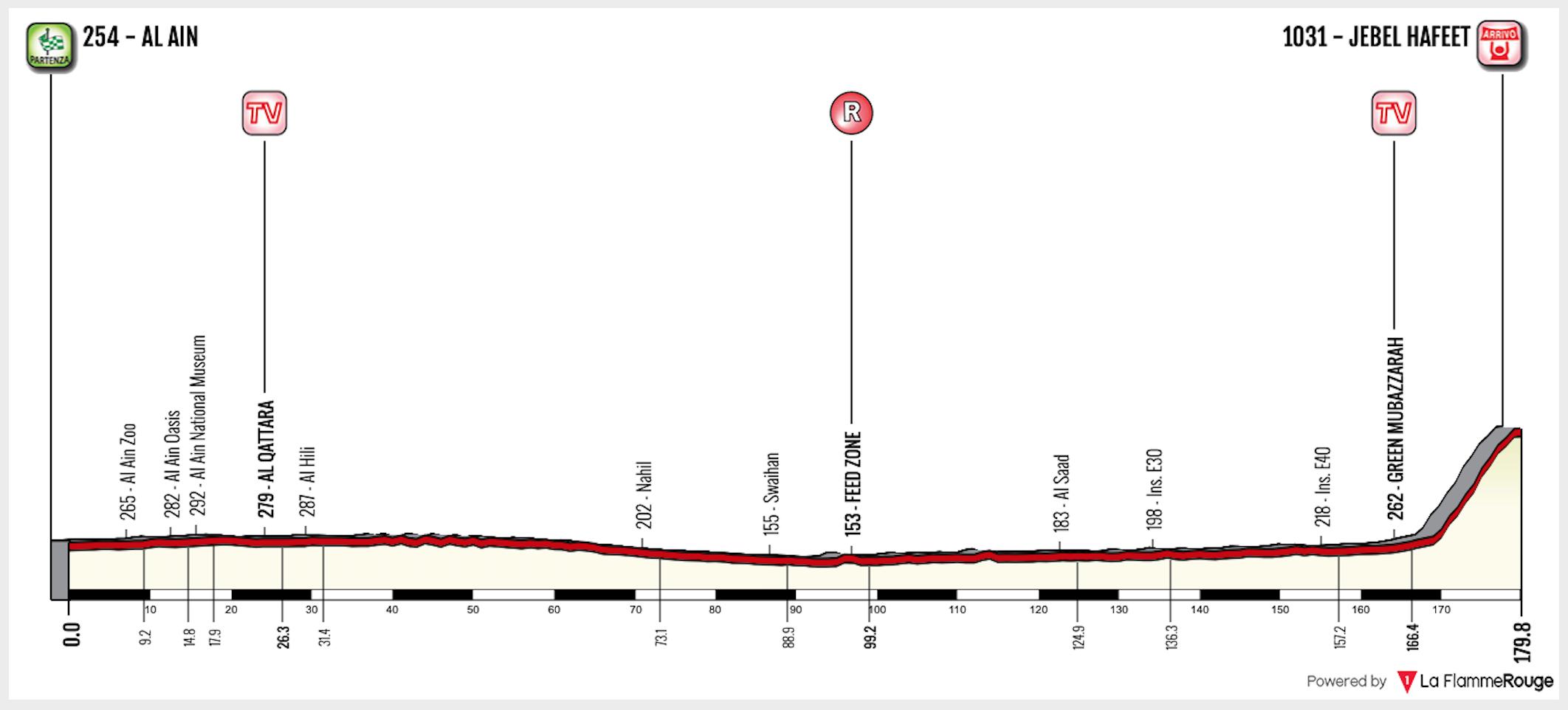 Our favourite segment is back for 2019!
Kittel Watch 
4km to go – Marcel is sitting in a nice spot in the bunch, but only has two teammates in front of him. Looks like Katusha are going with a short train.
3.5km – both Viviani and Gaviria have now moved ahead of Kittel, this is the time he should be moving up the bunch.
3km – the boys start moving up and are now back in a nice spot.
2.4km – Marcel has now become detached from his lead out man and two riders sit in-between them.
2km – they get back together but have to move out to the right of the bunch to again move up. This is the windy side of the road and you shouldn't stay there long.
1.4km – right hand turn and the big man is perfectly placed.
900m – still in a nice spot and still with two men. Things are looking good.
500m – a gap appears on the barriers and Katusha move into it. They are coming fast, and Kittel now sits in 10th wheel. This is promising.
400m – down to his last man, still sitting right where he should be.
350m – the last man (Haller) makes a mess of things and has no pace to launch Marcel. He has to settle into the middle of the sprinters.
200m – Marcel has to launch his sprint from 10th place and he puts down some power, but has to settle for 8th.
Rick Zabel was a DNF and he is usually Marcel's last man. This meant that he only had Dowsett and Haller for the final 4km. They actually stayed together pretty well, but Marcel ended up on the right-hand side, when the sprint launched on the left. Certainly not a disaster and some promising signs for the rest of the race, but what will they do without Zabel?
Potential Crosswinds
15mph wind coming from the North-West for the majority of the stage. Most of this stage is on relatively exposed roads and the long section of cross/tail wind as they head back to Al Ain is perfect some echelon action. Will we get some?
The Climb
9.2km at 7.1% is tough, especially the section from 3km to 4km, which averages just a little under 10%. This is where the first selection is made, in fact, this is where Valverde attacked in 2018, a move which surprised many. It then settles down for a while, before getting really hard at the 7km point. The climb ends by dipping down into a little bowl before a sharp rise to the line. The tailwind will make this climb even harder.
Tactics
2017 saw a tactical battle, with Rui Costa and Ilnur Zakarin escaping with over 6km remaining, they didn't come back. Last year it was Valverde who blow the group apart, before Lopez went ahead. The Spaniard managed to sprint across to him before beating the Colombian in the sprint.
We have a large number of brilliant climbers at this race, some teams even have two or three options. This could lead to a cagey battle on the climb, with teams trying to cancel each other out, just like in 2017. It's a tough one to get right.
It's up to the teams with multiple options to put pressure on those who don't. We should see a lot of attacks and it's a good chance for one of the non-team leaders to surprise.
 It's Weird
Rolling around for 4 hours and then doing an extreme 25-minute effort isn't everyone's cup of tea. It's just down right weird and something the riders don't get to experience much. This is the reason a number of climbers don't go particularly well here, they prefer a harder day in the saddle. Saying that, they'll regret that if we get echelons!
Contenders
Alejandro Valverde – can he take his first win in the rainbow jersey? Valverde was hugely impressive here in 2018 and he'll take to the start line with a lot of confidence. Movistar don't have their A team with them, it looks like Amador could be the only domestique left after just a few kilometres of the climb. This was one of the reasons Valverde attacked early, last year, it blow all the domestiques out the water and left it as a straight fight between the strongest climbers. I wonder if he'll try the same tactic this year? Can he beat the curse?
Primož Roglič – he's just so impressive. 2018 was an enormous year for the silky-smooth Slovenian and he'll be expecting a fast start to 2019. Jumbo-Visma don't have a lot of climbing depth in their team, they can only count on the help of Bouwman and De Plus, that leaves them a little vulnerable. Roglič is defending the yellow jersey, which puts him in an interesting position. Will he chase down the moves himself or rely on his team? Knowing the way he rides, I wouldn't be surprised to see him attacking and taking it to his rivals. Whatever happens, he'll be a hard man to drop.
Dan Martin – he's been eyeing this race up all Winter. This is a huge event for his team, which has made it high on the Irishman's lists of targets for the season. He started off the season well in Valenciana, but that was merely prep for this. UAE had a poor TTT, which could actually help Martin in this stage. Sitting 36 seconds down on GC, he might be offered a little bit of freedom compared to some of the others.
Richie Porte – it seems a weird thing to say, but I don't think this is hard enough for the Aussie. I could be wrong, but I doubt it.
Team Sunweb – the double options begin. Sunweb have Kelderman and Dumoulin, two magnificent options to play. Not only that, but they will also expect Haga and Power to last a considerable distance into the climb and help their team leaders. Having two cards to play should place them at an advantage compared to the other squads, but they were in the same position last year and Valverde still blew them away. Both of their leaders could win, Dumoulin is more likely to attack from distance and Kelderman is better waiting for the final 300m.
Team Sky – another team with two strong options. Sky come to this race with Kwiatkowski and Moscon, two riders who should enjoy the type of effort I explained. With Kenny Elissonde to put the pressure on at the start of the climb, they'll be keen on making life tough for everyone else. Their climbing talent doesn't stop there, as Pavel Sivakov can also put the hurt on, and Sky will no doubt do what Sky always do. We shall have to see if one of their leaders will be able to finish the job off.
Prediction Time
Not many riders come into this race with it marked as a big target. That level of dedication and a carefully managed peak should mean that Dan Martin takes the win.
Remember I've now got a podcast too. Go and give it a listen
David Hunter
Follow us on @CiclismoInter
Join us on facebook: Ciclismo Internacional
Copyright © 2012-2019 Ciclismo Internacional. All Rights Reserved