UAE Tour 2020 – Stage 5 preview
By David Hunter
Al Ain – Jebel Hafeet 162km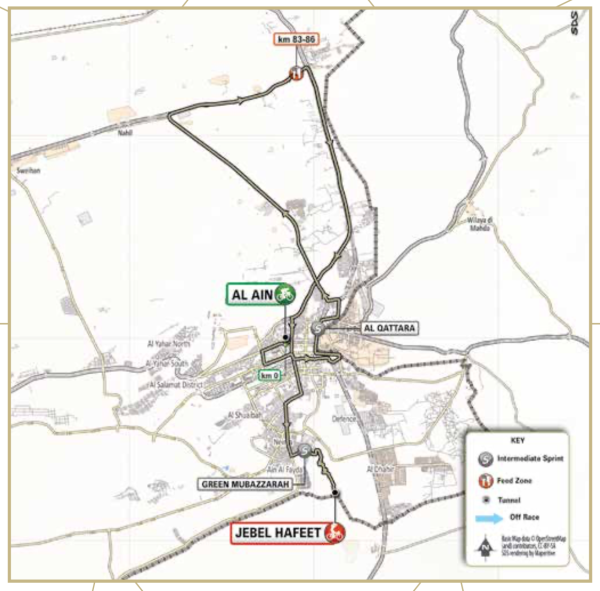 Is anyone looking forward to another finish on Jebel Hafeet? Anyone? Don't all speak up at once!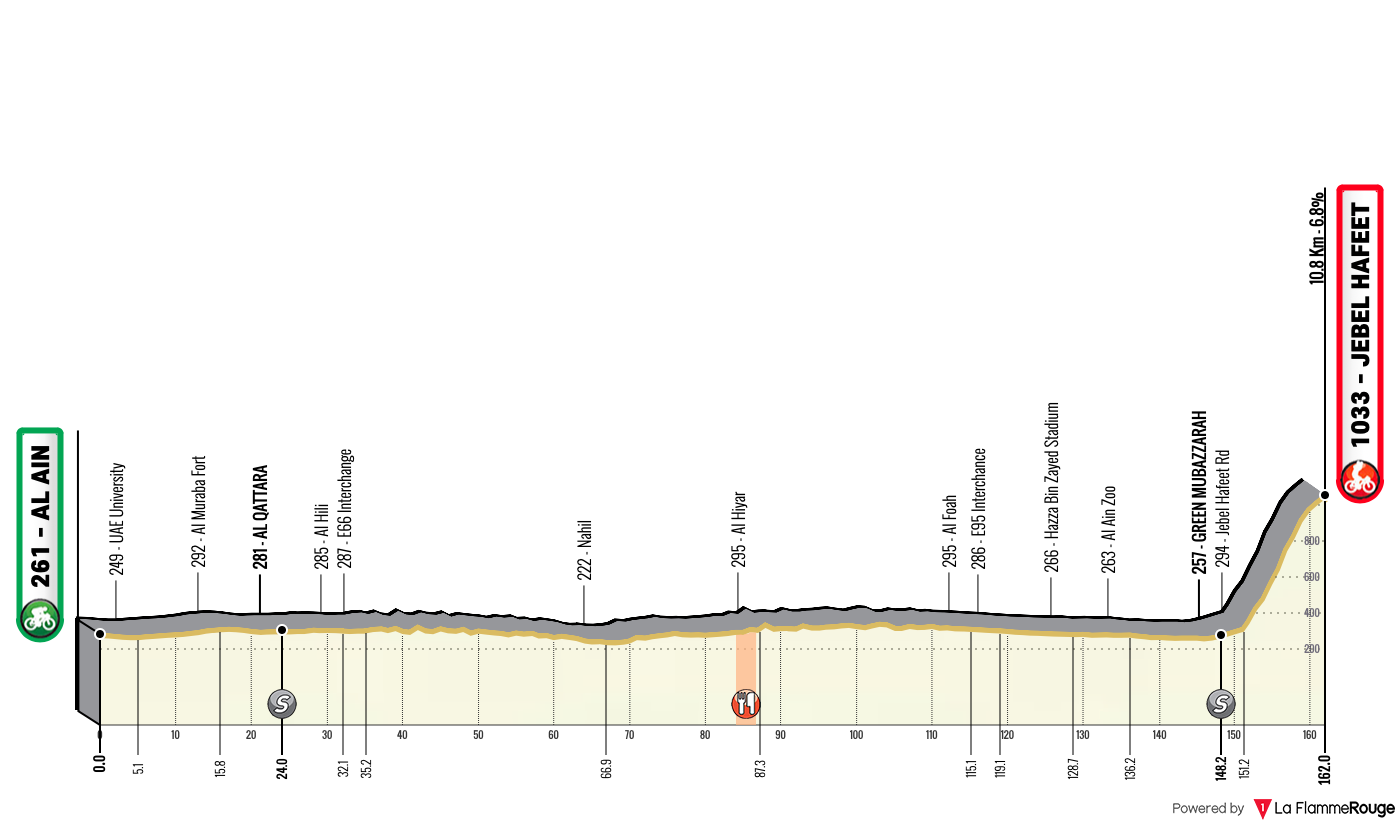 This is the first time we've had a climb of Jebel Hafeet when the GC has already been blown apart. This could mean a breakaway succeeds, it could be the morning break, or a move at the start of the climb. We'll have to wait and see what happens, but it looks like another boring day for the riders fans alike, unless the wind blows.
The Climb
Again? Seriously? Ah well.
Weather
Not as hot as Tuesday, but still warm. The peloton head out into the desert into a headwind, when they turn right they hit a cross/tailwind. At 15km/h, it isn't very strong, but the direction is perfect, and we could see some echelons. Despite a change of direction, the wind remains a cross/tail all the way back to Al Ain, which increases the chances of some fun.
Contenders
Tadej Pogačar – had a lot of pressure on his shoulders on Tuesday, and he couldn't deliver the win his team expected. Expectation was huge, probably too much considering the age of the young climber. UAE will now hope he can win this stage, to give them something to shout about. In Formolo and Ulissi, he has two riders capable of holding things together, allowing Pogačar to attack in the final 3km. Given his sprinting speed, he'll be more than happy to be involved in a sprint finish.
Adam Yates – just needs to be on marking duties. After a hugely dominant performance on Tuesday, he sits with a massive 1:07 gap to Pogačar and 1:35 to Lutsenko. He also has a few riders who'll be very good at protecting him, if we get some crosswinds. Once on the climb, he won't attack, there is simply no need. Yates will have eyes on Pogačar, and he'll simply follow every move he makes. It's unlikely he'll take a second stage win, but you just never know.
Alexey Lutsenko – looked very strong on Tuesday, there was no shame in not being able to follow Yates. He'll have to think hard about his tactics in this stage, no doubt we'll see plenty of attacks from riders who sit around the top 10. As most riders don't pose a threat to Yates, the finale could be very chaotic. Similar to Pogačar, he would back his chances in a sprint.
David Gaudu – similar to last year, he hung on well on Tuesday. Gaudu made the right move in trying to follow Yates, he then did well to dig in and follow Lutsenko, as he was clearly on his limit. Sitting 5 seconds behind the Kazakh, he'll be hoping to squeeze his way onto the podium, but that won't be easy. He's one of many riders who'll hope for some freedom to attack in the closing stages.
Gregor Mühlberger – breakaway hopeful number 1.
Mattia Cattaneo – breakaway hopeful number 2.
Gianluca Brambilla – breakaway hopeful number 3.
Prediction Time
UAE have to go all in for the stage. I reckon we have enough wind for the bunch to split, which will certainly make life interesting. Once we get onto the climb, Yates just needs to follow Pogačar. If the Slovenian wants the stage, his team will need to set a very fast pace on the climb to deter the attacks. He will then launch a big attack and see who can follow. Given the way he was climbing on Tuesday, it would be a big surprise if Yates couldn't follow. If the two of them go the line together, I would expect Yates to be a good boy and be happy with second, but there is no guarantee.
David Hunter
Follow us on Twitter and Instagram
Join us on facebook: Ciclismo Internacional
Copyright © 2012-2020 Ciclismo Internacional. All Rights Reserved