UCI Cyclo-cross World Cup WE Hulst – Preview
By @EchelonsHub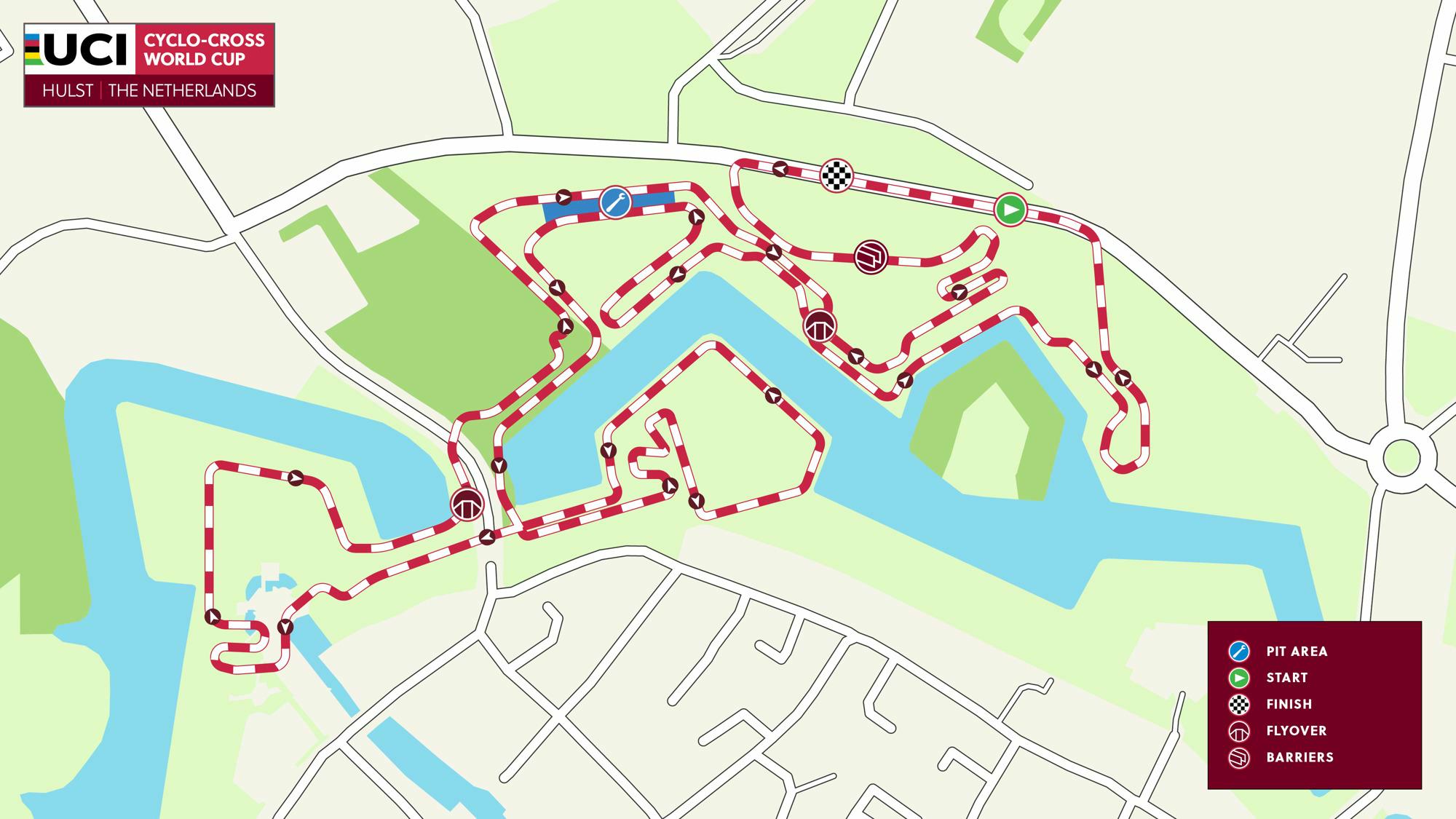 The Course
It's the 13th (well actually, 12th raced) round of the 2021/2022 World Cup and we are in the Netherlands this Sunday to take in another battle on the moat surrounding the town of Hulst. 
With an ever-changing track the riders may be in for a couple surprises, but the classic landscape revolves around the steep banks found around the Binnenvest. It's a treacherous track, there has been some rain earlier this week which should mean there will be mud on the track, specially on the lower areas, but overall I wouldn't expect that to be crucial tomorrow, explosivity will be very important here but most importantly I reckon that avoiding the little mishaps is what will separate the good from the best tomorrow.
The Startlist
| | | | |
| --- | --- | --- | --- |
| 1.Lucinda Brand | 2.Ceylin DC. Alvarado | 3.Denise Betsema | 4.Annemarie Worst |
| 5.Puck Pieterse | 6.Fem van Empel | 7.Shirin van Anrooij | 8.Marianne Vos |
| 9.Yara Kastelijn | 10.Inge VD. Heijden | 11.Aniek van Alphen | 12.Manon Bakker |
| 13.Isa Nomden | 14.Femke Gort | 15.Alice Maria Arzufi | 16.Eva Lechner |
| 17.Silvia Persico | 18.Lucia Bramati | 19.Sanne Cant | 20.Alicia Franck |
| 21.Marion Riberolle | 22.Suzanne Verhoeven | 23.Ellen van Loy | 24.Marthe Truyen |
| 25.Laura Verdonschot | 26.Jinse Peeters | 27.Kiona Crabbe | 28.Julie de Wilde |
| 29.Lotte Kopecky | 30.Raylyn Nuss | 31.Clara Honsinger | 32.Katie Clouse |
| 33.Caitlin Bernstein | 34.Erica Zaveta | 35.Madigan Munro | 36.Anna Megale |
| 37.Emily Werner | 38.Lizzy Gunsalus | 39.Lauren Zoerner | 40.Corey C. Cisek |
| 41.Bridget Tooley | 42.Helene Clauzel | 43.Perrine Clauzel | 44.Line Burquier |
| 45.Olivia Onesti | 46.Camille Devigne | 47.Solenne Billouin | 48.Lucia G. Blanco |
| 49.Sara C. Vega | 50.Lydia P. Larenjo | 51.Sofia R. Revert | 52. Sara B. Talens |
| 53.Marta S. Hernandez | 54.Harriet Harnden | 55.Zoe Backstedt | 56.Amira Mellor |
| 57.Anna Kay | 58.Evie Richards | 59.Ella Maclean-Howell | 60.Emilly C.-Anderson |
| 61.Christine Majerus | 62.Marie Schreiber | 63.Maghalie Rochette | 64.Sidney Mcgill |
| 65.Ava Holmgren | 66.Isabella Holmgren | 67.Siobhan Kelly | 68.Nadja Heigl |
| 69.Tereza Kurnicka | 70.Tereza Vanickova | 71.Karla Stepanova | 72.Barbora Jerabkova |
| 73.Tereza Tvaruzkova | 74.Kata Blanka Vas | | |
The Favourites
Beating Lucinda Brand this is proving itself to be a colossal task, only successful by some. The Dutch are absolutely dominating the World Cup and it will be from them that the main competition will present itself but the names can vary quite a lot, Denise Betsema has been perhaps her most consistent rival but rarely does she have the edge to go over, however this is a good circuit for her regular style of taking the race by the horns so surely she will have a plan to put Brand over pressure, perhaps with some over-the-top moves in groups that can include the likes of Fem van Empel, Puck Pieterse and Shirin van Anrooij, all of them 19 and without having raced this track (last year it was completely different so that can be excluded) within such a field is far from the ideal preparation for a win, however surprises can and do happen.
Ceylin Del Carmen Alvarado had arguably her best performance of the season today and surely she will have drawn quite some motivation from it, she was the winner the last time the riders were on these banks so she will be quite familiar with the task at hand, you also have Marianne Vos, an inconsistent figure on the calendar however in her 6 races this year she has won half and has not gone below a 4th place, she won't be troublesome for the WorldCup points Brand ambitions but if the win is on the line Vos is very much capable of turning the script on it's head.
The likes of Annemarie Worst, Inge van der Heijden, Kata Blanka Vas will also be looking for an opening, Women's races are much more open so easily we could see a surprise result from one of them, North Americans Clara Honsinger and Maghalie Rochette can never be discounted aswell from such a battle, as a wildcard I'll mention Hélene Clauzel who has been riding on a super level in the WorldCup races where she seems to be focusing on quite a lot.
Prediction Time
1st– Marianne Vos
2nd– Lucinda Brand
3rd– Fem van Empel
4th– Ceylin del Carmen Alvarado
5th– Denise Betsema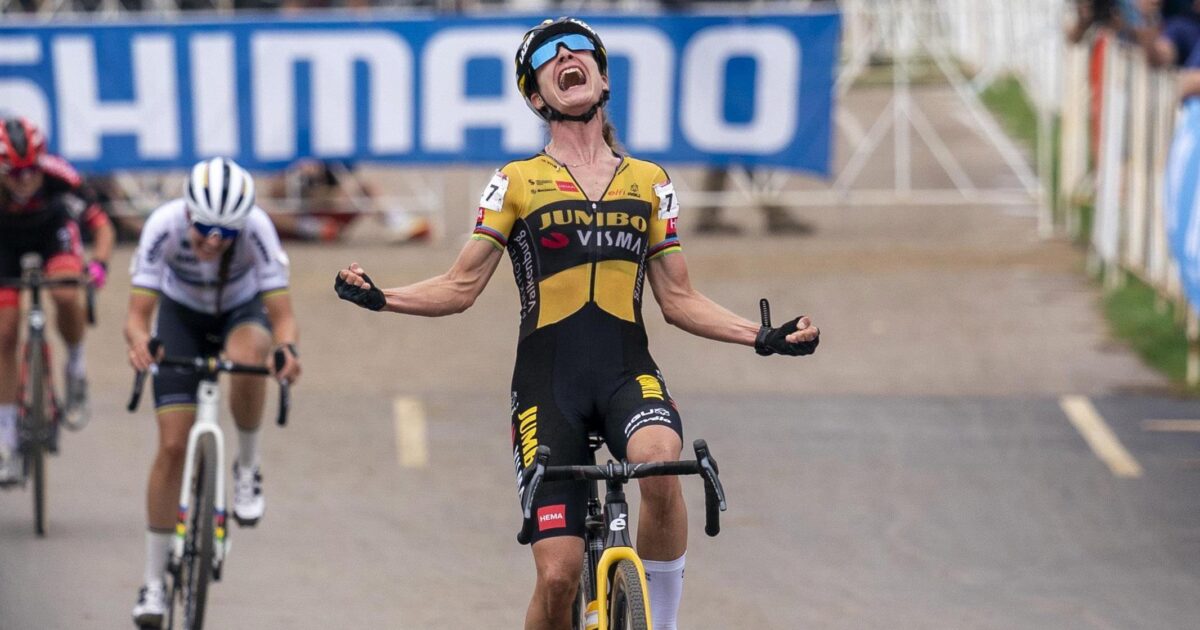 Zweeler is a fantasy sports game that includes many sports and cycling is no exception. I ask that you check it out, if you register with the link below you will not only be joining an exciting game but will also be personally supporting me and my work, and allow me to make more content for you!
https://en.zweeler.com/game/cyclocross/FantasyWorldCupHulstWomen20212022/main.php?ref=790
Rúben Silva
Follow us on Twitter and Instagram
Join us on facebook: Ciclismo Internacional
Copyright © 2012-2021 Ciclismo Internacional. All Rights Reserved