UCI Cyclo-cross World Cup ME Hulst – Preview
By @EchelonsHub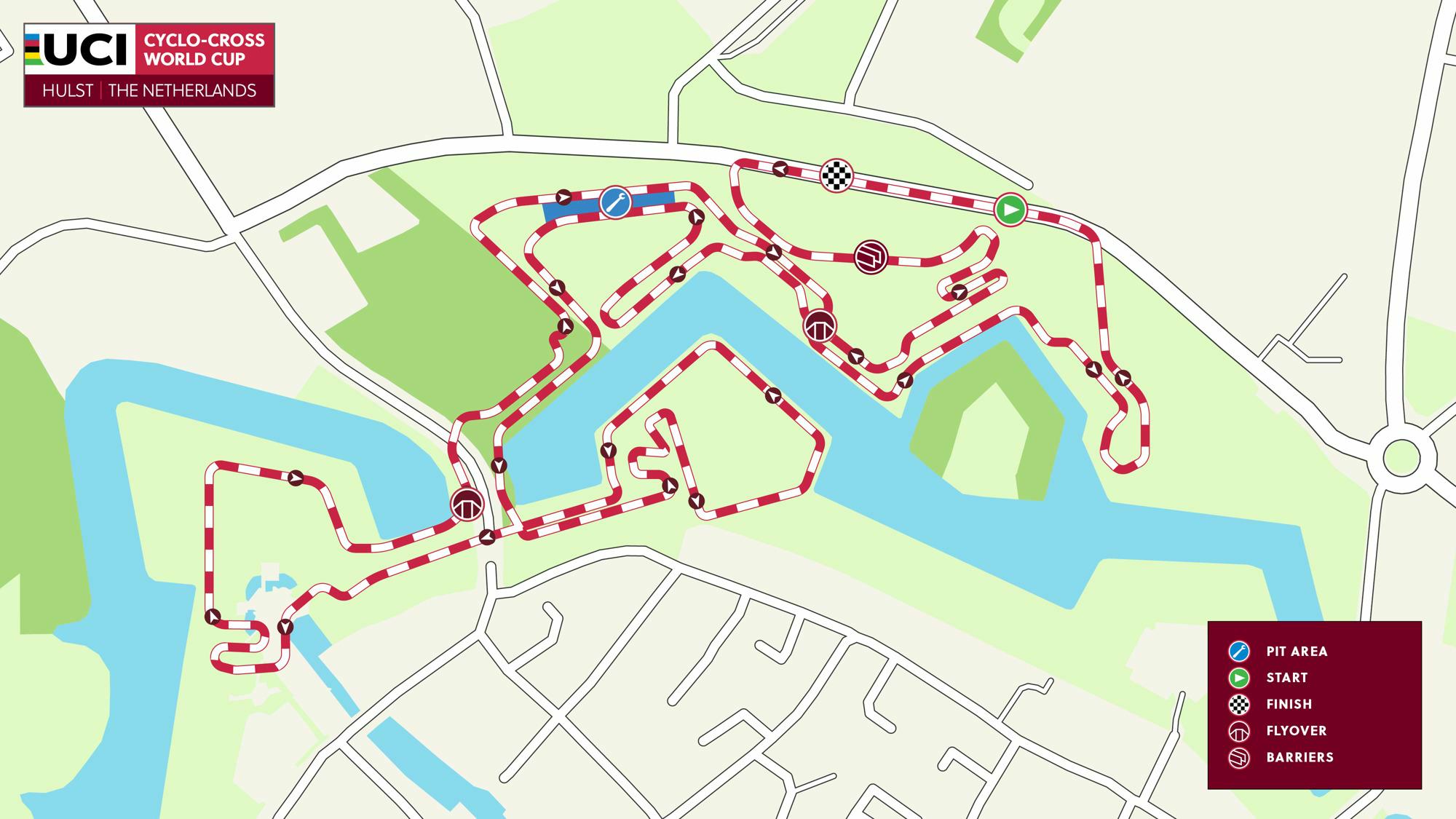 The Course
It's the 13th (well actually, 12th raced) round of the 2021/2022 World Cup and we are in the Netherlands this Sunday to take in another battle on the moat surrounding the town of Hulst. 
With an ever-changing track the riders may be in for a couple surprises, but the classic landscape revolves around the steep banks found around the Binnenvest. It's a treacherous track, there has been some rain earlier this week which should mean there will be mud on the track, specially on the lower areas, but overall I wouldn't expect that to be crucial tomorrow, explosivity will be very important here but most importantly I reckon that avoiding the little mishaps is what will separate the good from the best tomorrow.
The Startlist
| | | | |
| --- | --- | --- | --- |
| 1.MVDP – DNS | 2.Lars van der Haar | 3.Corne van Kessel | 4.Ryan Kamp |
| 5.David van der Poel | 6.Mees Hendrikx | 7.Gosse van der Meer | 8.Luke Verburg |
| 9.Stan Godrie | 10.Bailey Gronendaal | 11.Tibor del Grosso | 12.Hugo Kars |
| 13.Danny van Lierop | 14.Wout van Aert | 15.Eli Iserbyt | 16.Toon Aerts |
| 17.Quinten Hermans | 18.M. Vanthourenout | 19.Laurens Sweeck | 20.Vincent Baestaens |
| 21.Daan Soete | 22.Niels Vandeputte | 23.Toon Vandebosch | 24.Thijs Aerts |
| 25.Emiel Verstrynge | 26.Joran Wyseure | 27.Tim Merlier | 28.Clement Venturini |
| 29.Theo Thomas | 30.Valentin Guillaud | 31.Aurelien Philibert | 32.Timothe Gabriel |
| 33.Eddy Fine | 34.Kevin Kuhn | 35.Gioele Bertolini | 36.Jakob Dorigoni |
| 37.Felipe Orts | 38.Kevin Suarez | 39.Mario J. San Milan | 40.Arnau P. Figueras |
| 41.Alain S. Fernandez | 42.Matej Ulik | 43.Michael Boros | 44.Lubomir Petrus |
| 45.Simon Vanicek | 46.Tomas Paprstka | 47.Daniel Mayer | 48.Jakub Riman |
| 49.Robert Hula | 50.Jakub Kucera | 51.Tom Pidcock | 52.Cameron Mason |
| 53.Thomas Mein | 54.Ben Turner | 55.Corran C.Anderson | 56.Rory Mcguire |
| 57.Curtis White | 58.Kerry Werner | 59.Gage Hecht | 60.Scott Funston |
| 61.Caleb Swartz | 62.Andrew Strohmeyer | 63.Sam Noel | 64.Jules van Kempen |
| 65.Tommy Servetas | 66.Sam Brown | 67.T. Cloutier – RES | 68.R.Ellwood – RES |
| 69.Marcel Meisen | 70.Florian Hamm | 71.Lukas Herrmann | 72.Pascal Toemke |
| 73.Luca Harter | 74.Heinrich Haussler | 75. Philipp Heigl | 76. Michael VD. Ham |
The Favourites
With almost every big name in the thick of it today in Baal we won't have many riders going in with fresher legs so balance is assured, Mathieu van der Poel has been the great dominator of this circuit in the last few years (unsurpringly) but with a buildup of health issues the number 1 won't be at the startline.
Wout van Aert will though and he is on quite a run of form. Ever since coming back to the cross bike he has not missed on a single win and without a doubt he is the man to beat tomorrow. Although not unbeatable he puts on a hard task for everyone else, as with Tom Pidcock, neither are focusing on the World Cup standings which puts them on a more favourable position where they can take advantage of the internal battle for points to have little restbites on the wheels that can in the end dictate a difference. This is a course that will suit Pidcock, he was close to the win today and he is excellent in technical and explosive circuits, that won't put him ahead of Van Aert in terms of chances to take the win but surely he is the rider who is set to put on the most pressure.
Eli Iserbyt has the WorldCup lead with a good margin and I wouldn't imagine him taking crazy risks in the steep chutes in order to claw back a fraction of a second, without real mud and an explosive track I expect him to perform well and see his gap increase over his nearest oponents, that will depend though on how his first couple laps are, as he has the tendency to be very inconsistent so his best shot is to start the race as close to the front as possible even if it means spending that little extra.
Michael Vanthourenhout is having 290 points, Toon Aerts 276 and Quinten Hermans 261 which makes up for the podium fight which is very open. Quinten Hermans was the only big name to have missed today and the course is good for him tomorrow, he will have a tough challenge to gain ground on Vanthourenhout and Aerts though as they are carrying some great form, specially Vanthourenhout who recently conquered Namur in what was perhaps the biggest win of his career.
A strong start will be very important here as mishaps and blocking will occur early on, Lars van der Haar is usually quite a fast starter so I imagine he will also try to be in the podium fight, we've got Laurens Sweeck, Vincent Baestaens and Daan Soete who will try to use experience to grab a strong result and will have to battle some U23's who will be on the same event tomorrow, with Niels Vandeputte, Mees Hendrikx, Toon Vandebosch, Ryan Kamp and Cameron Mason as riders to watch, adding to that Ben Turner, who finished 6th today and is riding for his new team Ineos, is also a big wildcard for tomorrow.
Prediction Time
1st– Wout van Aert
2nd– Tom Pidcock
3rd– Toon Aerts
4th– Eli Iserbyt
5th– Lars Van der Haar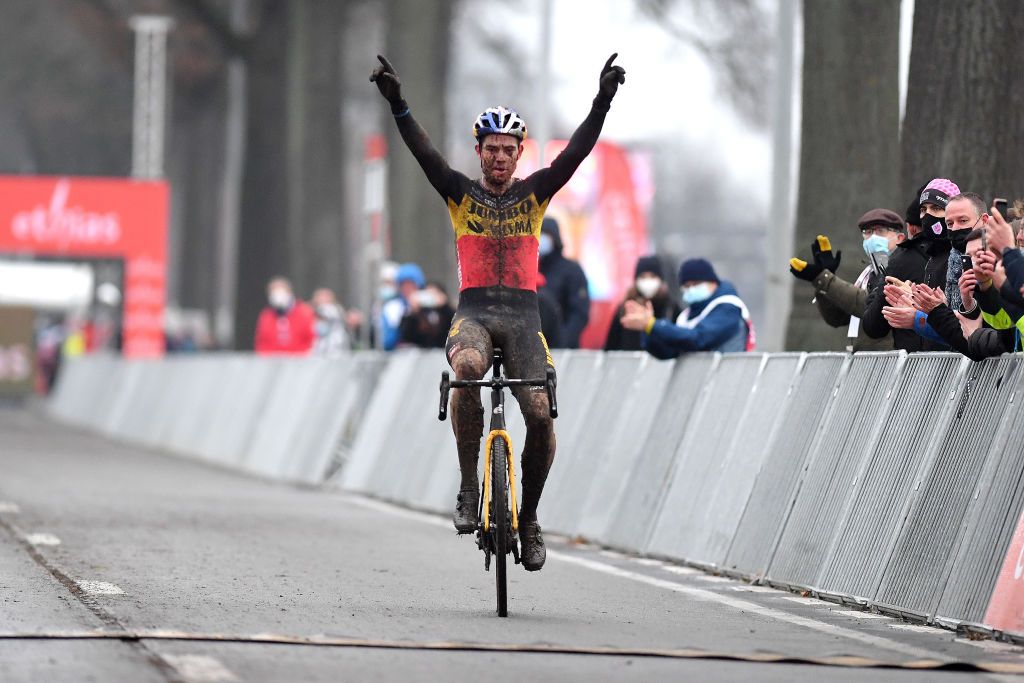 Zweeler is a fantasy sports game that includes many sports and cycling is no exception. I ask that you check it out, if you register with the link below you will not only be joining an exciting game but will also be personally supporting me and my work, and allow me to make more content for you!
https://en.zweeler.com/game/cyclocross/FantasyWorldCupHulstMen20212022/main.php?ref=790
Rúben Silva
Follow us on Twitter and Instagram
Join us on facebook: Ciclismo Internacional
Copyright © 2012-2021 Ciclismo Internacional. All Rights Reserved