UCI Cyclo-cross World Cup WE Flamanville – Preview
By @EchelonsHub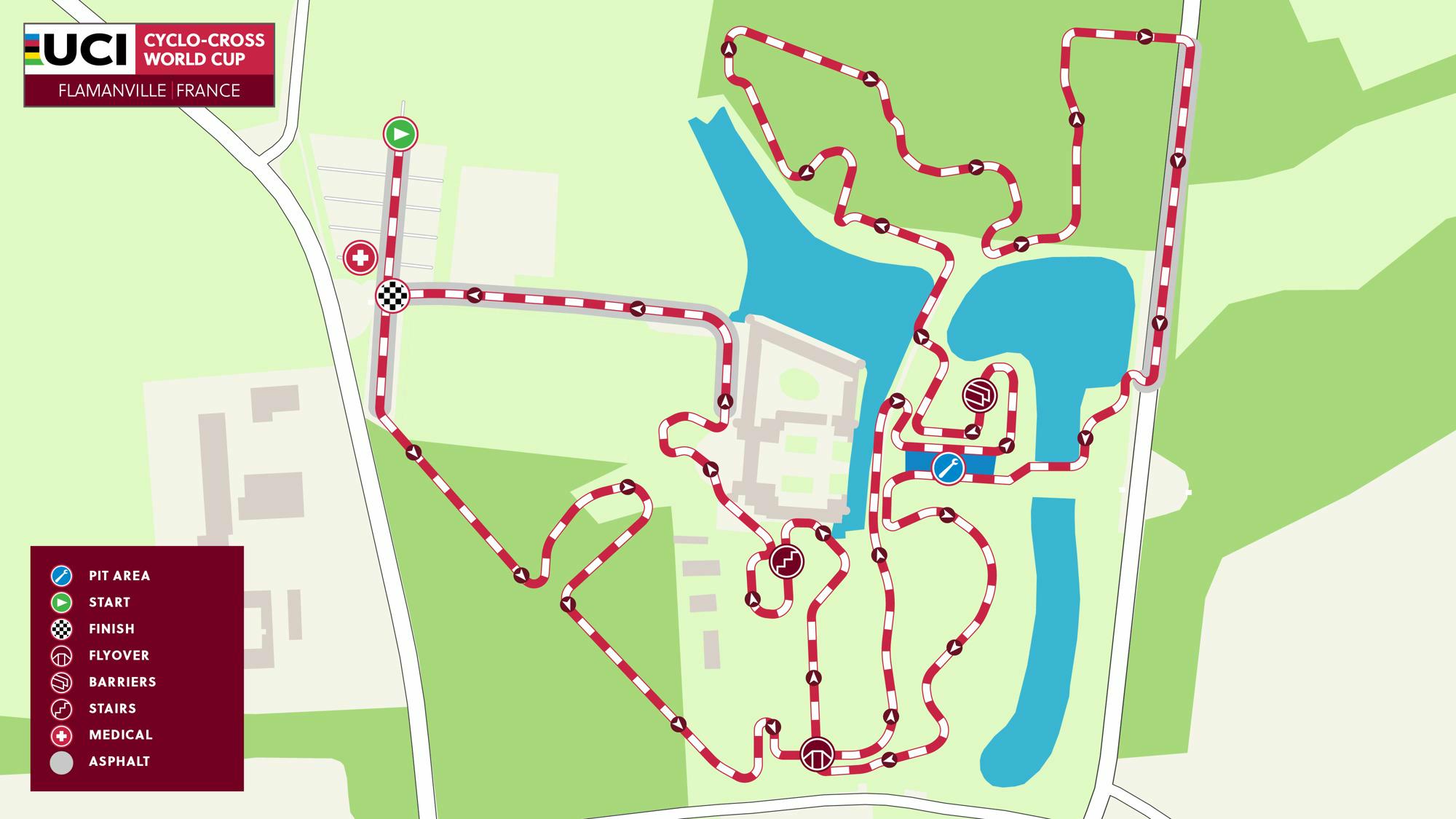 The Course
It's the 14th and penultimate round of the World Cup tomorrow and it will take place in France on the Flamanville track, it will be a different round as it will be the first (and probably only) time both Lucinda Brand and Denise Betsema are absent from the race, the latter perhaps more surprisingly as this is exactly the kind of opportunity that she needed to feed any dream of still capturing the World Cup. Nevertheless there are some names missing but we should absolutely still expect a top notch race.
The forecast is of a dry track, perhaps not completely but I don't expect mud to have any influence on the race and it is one where the main obstacle should come from the fatigue build-up over the course over a race that will be jam-packed with technical sections and stairs. It doesn't feature any major climb but the circuit does include two big stairs sections, a few short but quite steep chutes towards the end of the circuit – both up and down – and a combination of many short non-technical ascents and a very twisting route.
---
Video: Recon of the track from 2020 (same this year and conditions should be too)
---
The Startlist
| | | | |
| --- | --- | --- | --- |
| 1.LB – DNS | 2.DB – DNS | 3.Puck Pieterse | 4.Fem Van Empel |
| 5.Inge van der Heijden | 6. Manon Bakker | 7. Aniek Van Alphen | 8.Silvia Persico |
| 9.Eva Lechner | 10.Alice Maria Arzufi | 11.Gaia Realini | 12.Lucia Bramati |
| 13.Sanne Cant | 14.Alicia Franck | 15.Marion N. Riberolle | 16.Suzanne Verhoeven |
| 17.Ellen van Loy | 18.Marthe Truyen | 19.Laura Verdonschot | 20.Kiona Crabbe |
| 21.Julie Brouwers | 22.Loes Sels | 23.Taylor Kuyk-White | 24.Corey Coogan |
| 25.Jennifer Malik | 26.Helene Clauzel | 27.Perrine Clauzel | 28.Amandine Fouquenet |
| 29.Anais Morichon | 30.Olivia Onesti | 31.Solenne Billouin | 32.Viviani Rognant |
| 33.Camille Devigne | 34.Amandine Vidon | 35.Cyriane Muller | 36.Laura Porhel |
| 37.Gwenning Le Dantec | 38.Lucia Gonzalez | 39.Aida Nuno | 40.Lydia Pinto |
| 41.Christine Majerus | 42.Sidney McGill | 43.Kristyna Zemanova | 44.Tereza Vanickova |
| 45.Kata Blanka Vas | 46.Tereza Kurnicka | | |
This is according to the official startlist, it can at times not be completely accurate.
The Favourites
With Brand, Vos and Alvarado, the podium in the Rucphen nationals last week, and Denise Betsema all missing, just to name a few, tomorrow provides a brilliant opportunity for an outsider win in the big stage and a lot of names will be hungry for that win.
The Dutch should nevertheless have the best odds to take this one as they still come with a good lineup, a very young one I must say but the new generation is more than ready to take over. Puck Pieterse and Fem van Empel should be the headliners, having some good skills they will be taking over the responsabilities of the Dutch nation to get racking up those wins, which have been all but one in the World Cup except for Overijse where Kata Blanka Vas won and she is back this weekend and as one of the main contenders.
The Dutch also have cards in Inge van der Heijden and Manon Bakker who have some races where they excel and get some impressive results, on the other side of the Benelux you've got Sanne Cant who has gotten into good form over the Christmas period and with a brilliant win last week in the national championships she comes with renewed confidence, perhaps not the best circuit for her but definitely the best chance she has gotten this season to jump on the podium of a World Cup, Eva Lechner and Silvia Persico also bring a great opportunity for Italy to get a strong result whilst Hélene Clauzel fuels the home nation's hopes of a Top5, or perhaps better.
Prediction Time
1st– Puck Pieterse
2nd– Kata Blanka Vas
3rd– Fem van Empel
4th– Sanne Cant
5th– Hélene Clauzel
Zweeler is a fantasy sports game that includes many sports and cycling is no exception. I ask that you check it out, if you register with the link below you will not only be joining an exciting game but will also be personally supporting me and my work, and allow me to make more content for you!
Tomorrow's race has prizes of at least €100 and an entry fee of only €2.5. Make good use of your knowledge!
Link: https://en.zweeler.com/game/cyclocross/FantasyWorldCupFlamanvilleWomen20212022/main.php?ref=790
Rúben Silva
Follow us on Twitter and Instagram
Join us on facebook: Ciclismo Internacional
Copyright © 2012-2021 Ciclismo Internacional. All Rights Reserved