Unsung Heroes of the Peloton (I): Stig Broeckx
By David Hunter
I decided it was time we started to focus on the real heroes of cycling. These riders are often called domestiques, which can almost seem like an insult. They are amongst the most talented sportsmen in the world, capable of incredible feats of stamina and power. No, they don't often win stages, but without them, their team leader wouldn't either. For every Greipel and Froome, there are 8 men riding behind them, helping them to achieve their goals. For many years now, I have been fascinated by these men and their ability to eat pain.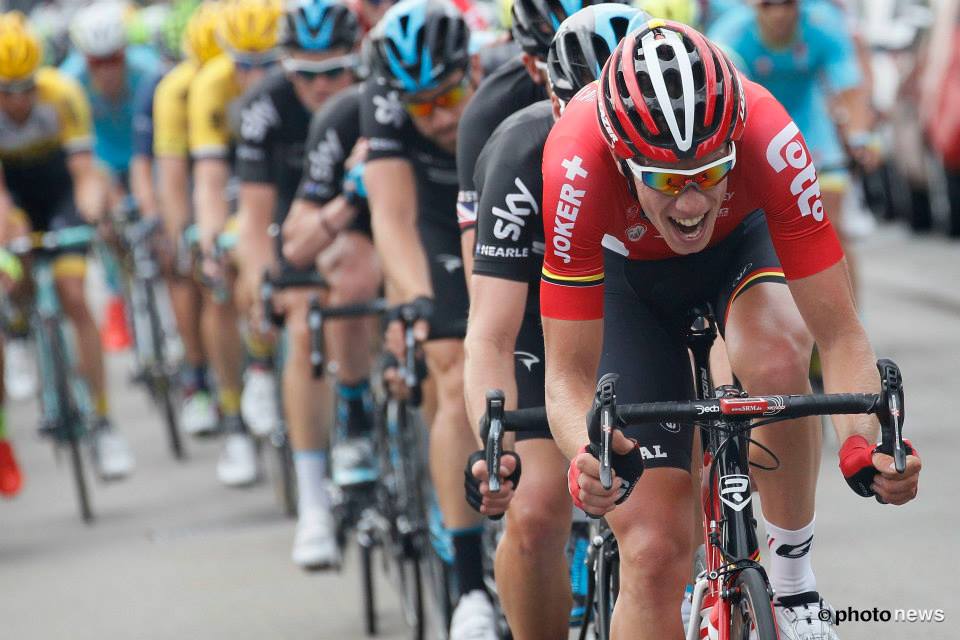 They know that they aren't going to get many chances to ride for themselves, but they still continue to devote their life to the sport. It's a role that many people don't have the psychological ability to cope with. These riders are special in so many ways and teams know that. When they find good ones, they hold onto them for dear life. The attitude of the "star" rider is also crucial, they must ensure to make everyone feel appreciated and loved. To put it simply, they need them.
The roles differ, from rider to rider. Some are needed to bring back the break. Others work before the sprint, positioning their team in the final 10km. Others do the "donkey work" in the mountains or in the valleys. Whatever your job, you need to be super fit and super motivated.
My first rider is Stig Broeckx of Lotto Soudal. The Belgian rider is 25 years old and about to start his 3rd pro season with Lotto. He doesn't have a pro win to his name, something very common with these loyal workers. I started by asking him to define his role within the team.
"It depends from race to race and which teammates are riding. If Greipel is riding and it's a sprint stage, my role is to control the breakaway. From the first minute I'm there, trying to let go a small group of riders go, but not a teammate of a sprinter. If you let go, for example, a rider from Etixx when Cavendish is starting, you're in trouble. Because that team is not gonna try to close the breakaway.
When the breakaway is gone, we immediately give them a good advantage so nobody tries to jump across to them. Then we make a good pace and close the gap smoothly, so our sprinter is as fresh as possible. The art is to take them back as late as possible and increase the pace for the finale, so nobody tries to jump and there is no stress for the lead out.
If Greipel's typical lead-out is not there I have to bring them into the last 3km. In the Flemish classics my role is to assist the leaders as long as possible. One moment you bring them to the front for every climb or cobblestone section, the next moment you're bringing bottles and riding in the wind for them."
Being an all-round rider is a great help to the team. It isn't easy to find such riders, as Stig explains."If you have to close the breakaway, you need to have a big engine. It's a long effort and you need the power to increase in the final. If you're bringing the lead-out to the last 3km, you need to fight for your position, keep your cool and never panic. It's a typical pursuit effort so it's explosive to position yourself but also a long effort, to keep increasing smoothly.
In the Flemish classics it's kind of the same effort. You also need parcours knowledge to be at the right spot at the right moment. You have to fight for position and time good when you bring the leader there."
Having to fulfil many roles, means that you need to careful consider your training schedule. "Yes! You need to do long hours to grow your engine, but keep training your explosive efforts. For example, I'm really good in 20min efforts but also 1min efforts are important to sprint up a Flemish hill and to bring the lead-out into position. As a young rider you need to practise every effort, because your role can change during the years."
Depending on your role, some riders are finished doing their job hours from home. I asked Stig when his work is done for the day. "My race ends when the tank is empty. In a sprinter-stage, you have to catch back the breakaway, but then the job is not done. You always try to keep the team as long as possible at the front. In the classics you bring the leader as far as possible into the final. When you're dropped you stay cool and try to come back. While passing the cars you take some bottles and get back in front, so your leader saves as much energy as possible."
Basically, your job is never done! It's that attitude that I love, you might be on your knees but you still go to the car, get bottles and haul ass back to the front. These "little" things go under the radar of most people, but not us real fans. Speaking of bottles, I'm love watching how many they can take. "Standard 8: 7 for your teammates and 1 extra. On hot days 10."
In the last couple of seasons, the Tinkoff vest has been introduced. I'm interested to see what the water carriers think of this new invention. "In the beginning I thought it's handy and quick. Now I'm so trained at taking bottles, I probably can do it in the same time. It's more flexible without the vest. When you give your bottles from the right side, you push the rest to the middle so you're back in balance. In the summer it's extra cool! You also have less waste, throwing such a vest away is un-ecological. When you keep the vest in your pocket it's not comfortable."
That sounded like a no to me. It must be nice on a roasting hot day, getting 10 cold bottles in your jersey. The point about balance is something I've never even thought about! Whilst we're on the topic of getting stuff from the cars, I asked what his favourite musette treat is, something us geeks love to hear about! "A cola and different flavours of rice cakes. I like surprises."
Food can be very dull for the pro peloton. Pasta for breakfast, lunch and dinner is not something we'd look forward to. On the subject of boring aspects of cycling, I asked Stig if he was fed up of hotels yet. "Yes I am. My perfect holiday is staying home or to go camping."
Back to the real stuff! The role of a domestique changes greatly depending on the size of the team. Sometimes you have 9 but in other races 8 or just 6. This has a huge effect on your role and how much work you need to do. "It changes a lot(with less men)! There is less control and an easy sprint stage can be changed in a hectic finale. For a rider you have to be careful with your powers, so there are always enough riders in the end to control the race. Your lead out is gonna be shorter, so you have to time it better and use the other teams more."
To give you an idea of how much work is done, I asked Stig how many calories he burns each day. "Climbing stages are always around 5000kcal, even when you're riding in the gruppeto, it's just surviving. Classic-stages burn even more, with the atmosphere and parcours, you can always do something more and the distance is longer."
In terms of being a successful team, the work of the coaches is crucial. I asked Stig what the best and worst bits about his role were. "I love it when a plan comes together! When you can fulfil your role perfectly and your leader can do a good shot at victory, it's really nice to be part of it. It isn't even important if you're winning or not, but it obviously feels better when you do. Sometimes it's frustrating when you have to work too early in the race, so you can't ride the final. I didn't become a rider to race just the first 100km's of the race. But every young rider has to overcome this period and to show the best he can do, so he can move up the hierarchy."
This is a hugely important point for young riders. When you first move into the pro ranks, you need to prove your ability. Very few riders simply walk into protected rider status, you need to earn your stripes! "It isn't hard at all to stay motivated, but sometimes it's hard to wait for your own opportunity. That gives you even more strength to train hard so I'm ready when my chance is there. As a young rider you always need to have the ambition to win races. If the team gives you opportunities – even in small races – you can get better and work for the day to come."
Team unity is also a very important part of a winning team. Riders who like each other, are happy to spend time with each other, often make for the most successful teams.
"On the bike I'm always there. I'm loyal and they know the team can trust me, that I fulfil also off the bike. I'm really a lover of life and like to laugh. I'm always the last one to leave the dinner table."
I asked Stig who is his hardest working team-mate and who is the best rider to work for. "Lars Bak! Strong as hell and hilarious next to the bike. Andre Greipel is the best to ride for. A family man and a leader on and off the bike."
I always get the impression that Greipel is the best rider to work for. I am lucky enough to talk to a lot of the Lotto boys and it's clear that they all have enormous respect for Greipel. We all know what he can do on the bike, but little is said about off the bike. Whatever he does, he seems to have the respect of all his teammates.
He might only be young, but I wondered what advice, Stig, would give to any rider just turning professional. "Never lose faith and stay cool. If you're trying to push your results it often works the opposite way. Everybody gets their opportunities, you just have to be ready to take them."
Wise words from a young rider, the idea of patience is key, but also not over-training. It is easy to "cook" young legs.
We ended our chat by longing towards the future and I asked if he saw his role changing, in the future. "I hope so. I'm entering my 3rd year as a pro, I'm starting to feel stronger and more experienced. I want to become the last man joining the leader in the classics. I think you need goals, dreams and points of improving to get everything out of your body and career."
Stig Broeckx, unsung hero of the peloton, it was a pleasure. Such an intelligent young man who fully appreciates what needs to be done, to get to where he wants. He has the drive, he has the motivation and he has the engine. I predict a bright future!
David Hunter
Follow us on @CiclismoInter
Join us on facebook: Ciclismo Internacional
Copyright © 2015 Ciclismo Internacional. All Rights Reserved