Volta a Catalunya 2018 – Stage 6 Preview
By David Hunter
Vielha – Torrefarrera 194km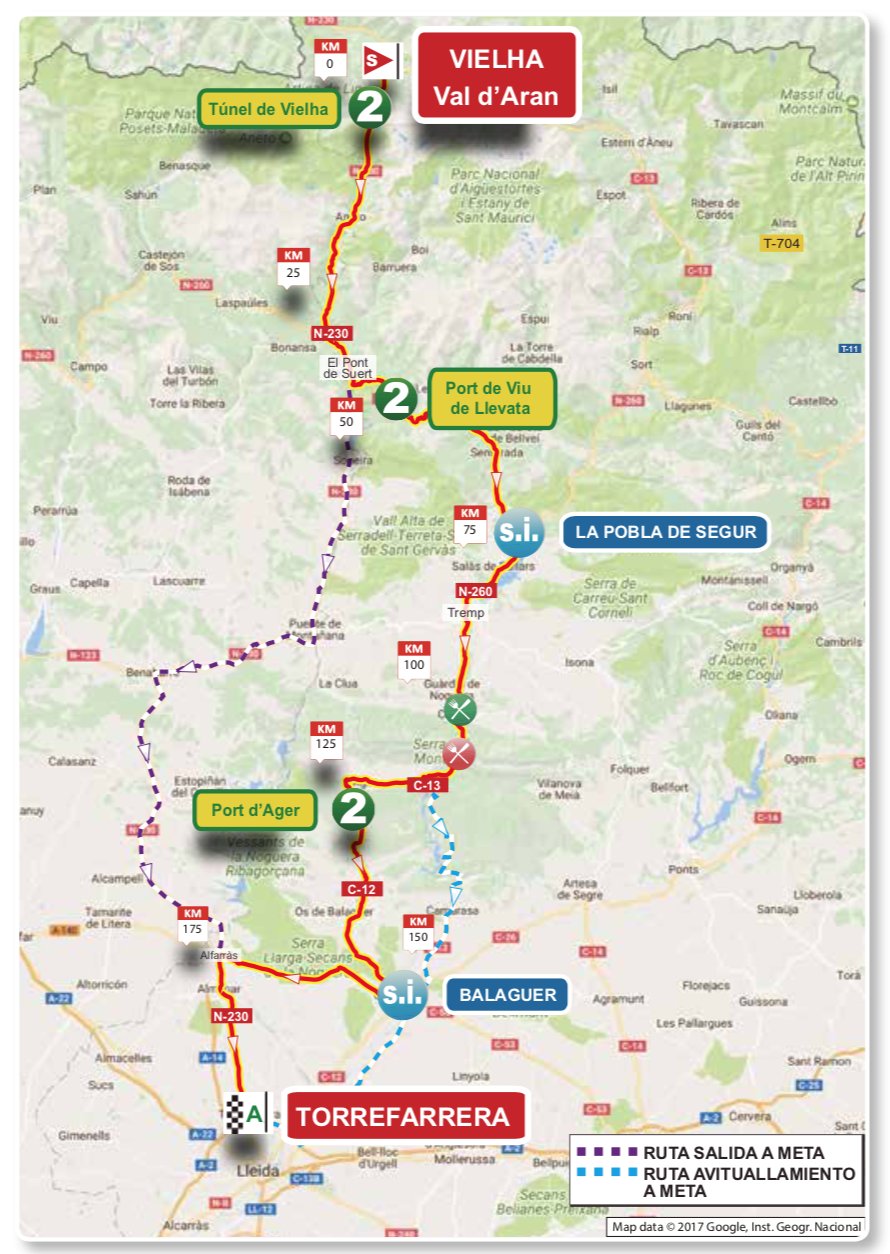 Another quiet day for the GC riders.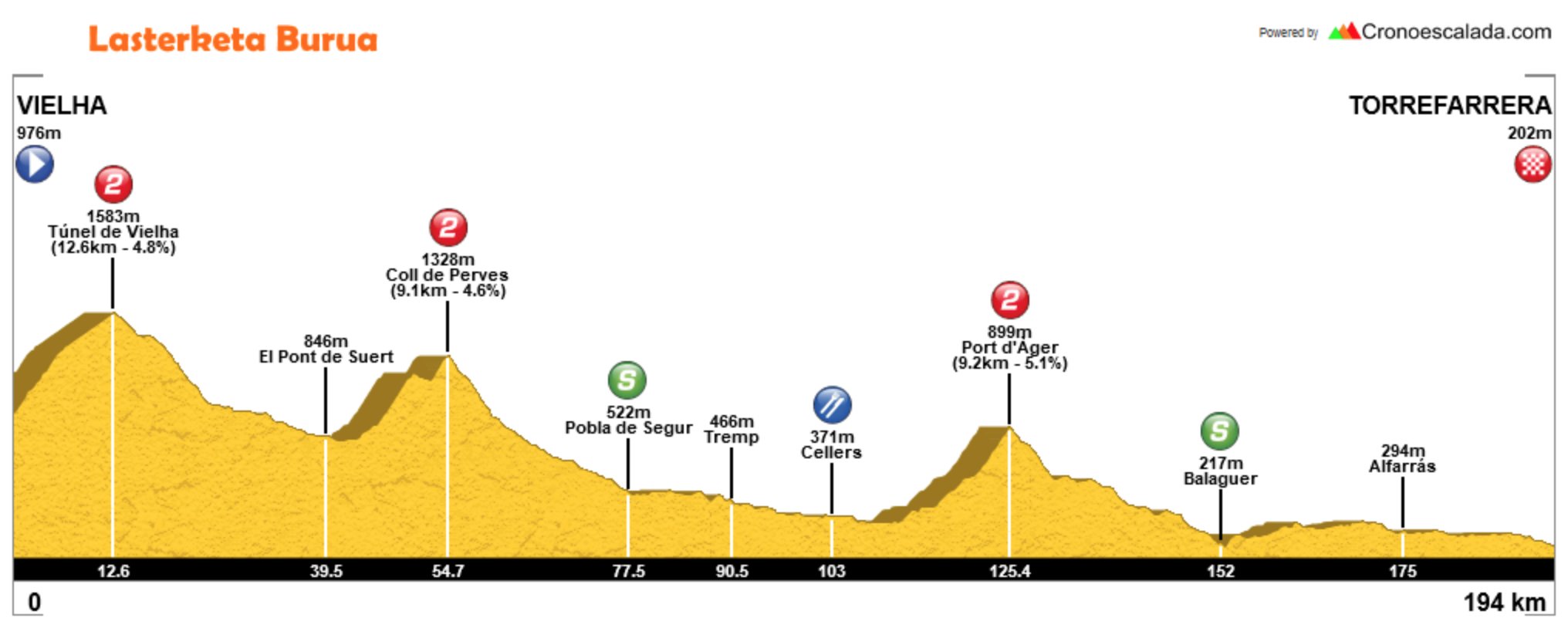 Again, this looks like a great day for the breakaway riders. We have huge gaps on GC and only a few teams will be happy with a reduced bunch sprint.
The stage starts with an immediate climb, most riders usually hate this. If it was a grand tour, we could see a team trying to isolate a GC rider, but I'm not sure anyone has the will to do this here.
Instead, expect to see a big fight to join the break. They only way we'll get a reaction from the bunch is if there is a GC threat in the move. Movistar will carefully look to see who is trying to make the move. The break could take a long time to form, it might not even happen until the first descent. Much of the opening climb takes place in a tunnel, this is the hill they descended down today.
The final climb crests with 70km remaining, that's a long way to go. It is possible for the peloton to increase the pace and chase the break, it just all depends on who misses the move. Mitchelton-Scott and Bora are the obvious choices, as Impey and McCarthy are much faster than the other riders. We shall see if the break gets the green light. If a rider like Sagan or Matthews was here, this stage would end in a sprint. As we are lacking such riders, it is a big ask for a team to ride all day when their "fast" man just isn't that fast.
Mitchelton-Scott are down to just 6 men, after Adam Yates had to abandon. With Simon Yates high on GC, he won't be asked to do any work. This means Daryl Impey only has 3 men to chase the break, that just isn't enough help.
Bora have just 5 men left, but no GC rider. It seems obvious to me, the two teams will need to work together, if they want a sprint. If either team gets a rider in the break, I don't see it coming back. It really is finely balanced.
Finale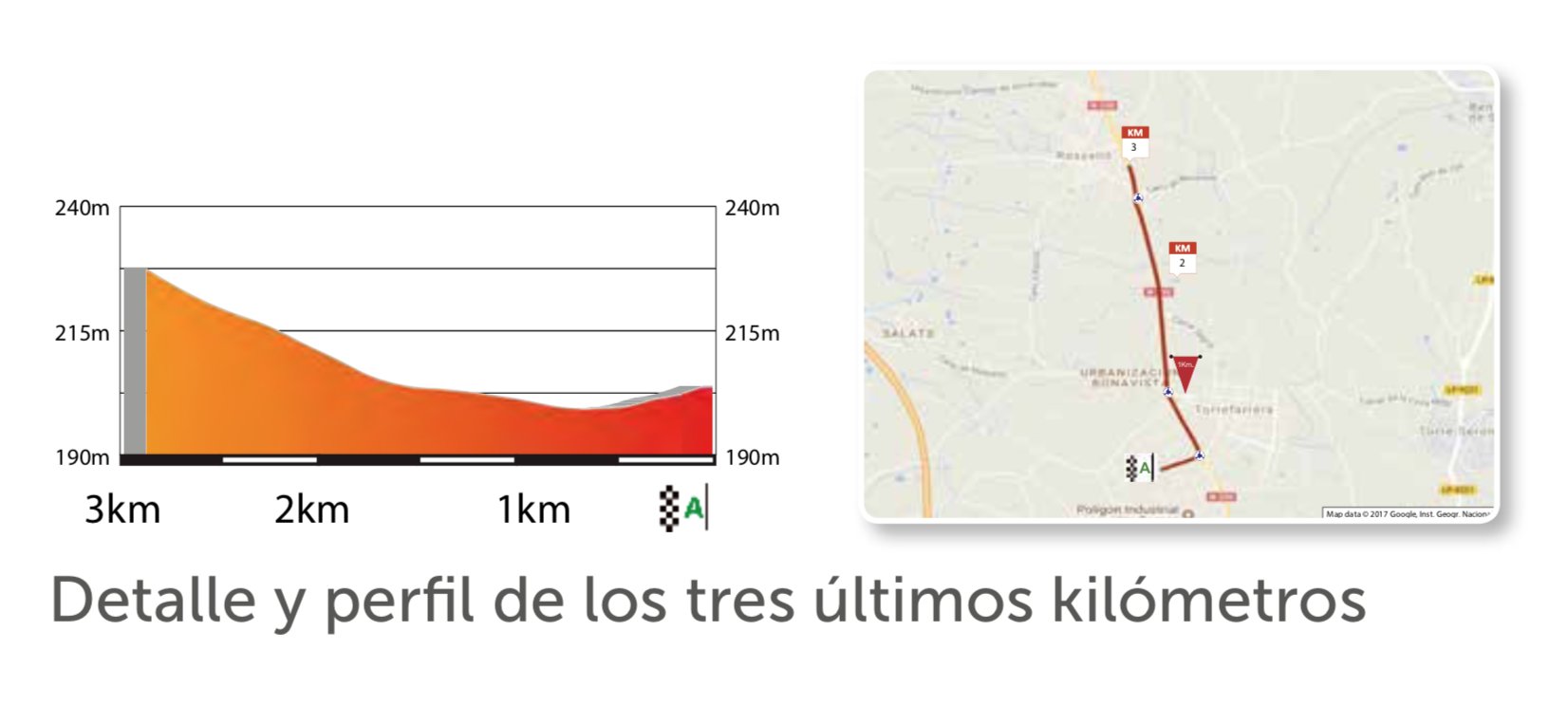 A little dip down before a gentle rise to the line. We have a very late corner, first through could hold on for the win.
Weather
Lots and lots of rain. There is actually a risk of flooding! There will also be a gentle wind from the north, meaning a tailwind for the majority of the stage.
A lot of the early part of the stage is at over 1000m of altitude, at this height, the rain will fall as snow. This means we are in for an very tough start to the stage. This snow will make the beginning of the stage very hard indeed.
Contenders
Daryl Impey – I was surprised he lost to Valverde on Tuesday. The South African is faster than the Spaniard, but he lost crucial positions in the final corner. In order to try and defend his world tour lead, Impey could do with a stage win. As I have mentioned, Mitchelton-Scott will struggle to hold the break, but I expect them to try and set up a sprint.
Jay McCarthy – it will be interesting to see if Bora want to chase. McCarthy is a rider I really like, one that has gradually improved over the last few years. This is a stage that he can win, he and Impey are very close in speed. He would also have been disappointed to lose Tuesday's sprint to Valverde, especially as he was in a great position. I wonder if the Bora DS will make a phone call to his equivalent at Mitchelton-Scott.
Alejandro Valverde – the best rider in the world. I think given his start to the season, he has earned this title. Valverde is enjoying a truly remarkable spell in an already glittering career. Given his current legs, Movistar will be happy to work for a sprint. Their power would be crucial in ending the hopes of the break.
JJ Rojas – If Movistar don't fancy working, they might release one of their domestiques. Rojas is a tremendous rider, someone who is extremely loyal. Last year, he came very close to winning a stage of the Vuelta, something I hoped he would do. If given the green light, he would be ideal for this stage.
Nico Roche – BMC always like to be present in breaks. Roche has had a quiet race, but he does shine in the medium mountains.
James Knox – it would be great to see QuickStep's neo-pro given the chance to attack. I think we've all been impressed by the work Knox has managed to get through in his first races with the squad. The Englishman is a brilliant climber, despite being used as a "wind eater" in some races. After a very impressive under 23 career, I hope to see him in the morning move.
Prediction Time
One of those stages where it all depends on who makes the move. I'll go for a breakaway win and Nico Roche to take the spoils.
David Hunter
Follow us on @CiclismoInter
Join us on facebook: Ciclismo Internacional
Copyright © 2012-2018 Ciclismo Internacional. All Rights Reserved